Spaghetti Carbonara!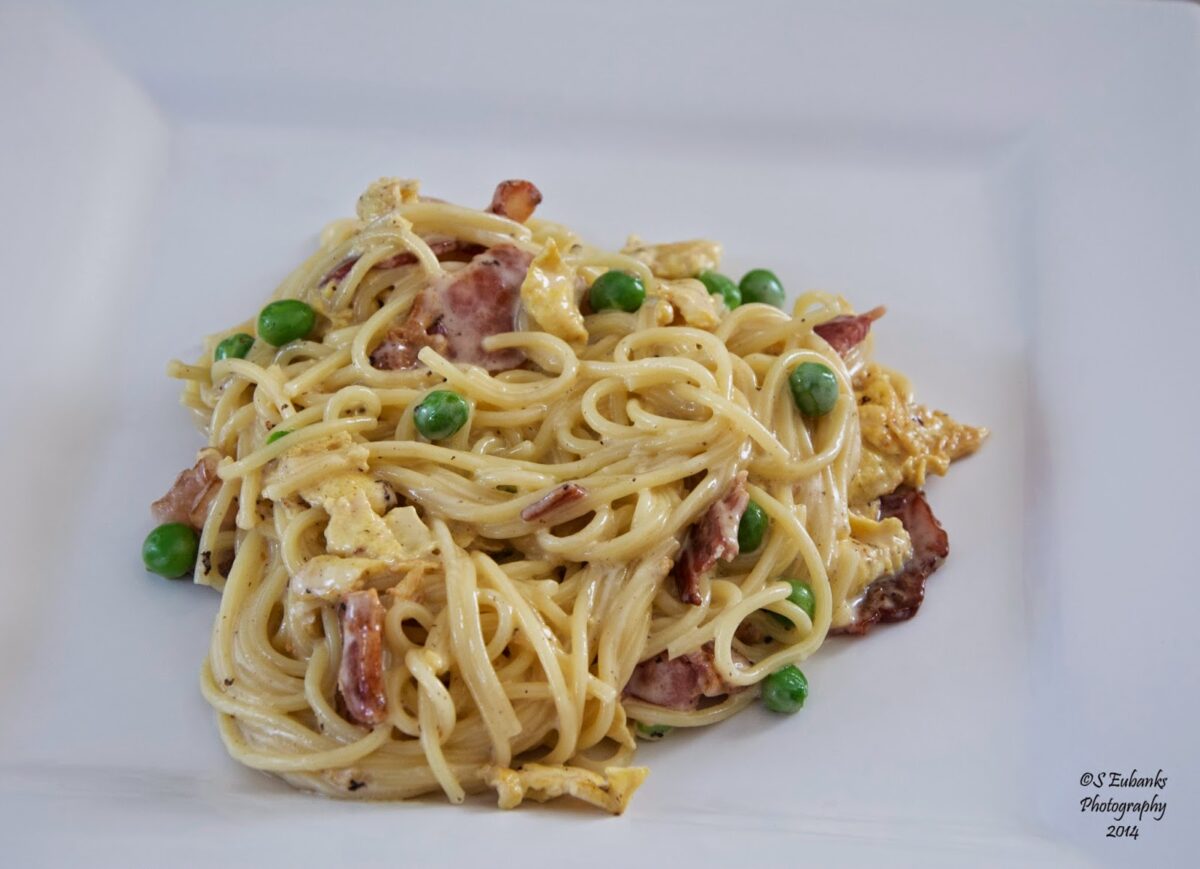 Spaghetti Carbonara is a comfort food which evokes memories of a girls night many years ago full of laughs, drinks, great company and learning to cook Spaghetti Carbonara.  Years later, whenever I see this dish on a menu, I am immediately taken back to that night.  You can really make this with a variety of pastas, so maybe the title should be pasta carbonara? Either way, this is a great dish for a quick work from home lunch or a busy dinner!
Pasta Carbonara vs Spaghetti Carbonara
Carbonara is any pasta made with bacon or ham, an egg, and cream. So any pasta can be a carbonara as long as it has those 3 other elements. I typically have a ton of spaghetti in my pantry, so we typically make spaghetti carbonara here. However, if you have penne, or linguini, etc on hand, just cook it to the desired done-ness and follow the rest of the instructions outlined here. It will always be a yummy and quick treat!
As for the bacon or ham, if you don't have traditional bacon in the refrigerator, don't sweat it. While I probably wouldn't make it with leftover ham from a holiday dinner–though you can try–I would probably stick to the Italian cured pork realm. So anything like pancetta, Parma ham, prosciutto, etc would work with this recipe. This is a great way to also use up bits and pieces you might have in the frig. If you don't have enough for one meat, then make it a combo carbonara!
Work From Home Recipe or Quick Weeknight Dinner!
This dish is simple, delicious and can be ready in as little as 15 mins, which makes it the perfect to make during a work from home lunch break or even a weeknight meal.  Plus, it has bacon in it, and how can you go wrong with bacon?!?! To speed this recipe up even more for the work from home lunch break, I would cook the bacon the night before and reserve any bacon grease you want to cook with the next day. That way, all you have to do is boil noodles, start the sauce, then quickly combine everything.
So as a tip of the hat to my girls back home… Spaghetti Carbonara!!
Other Great Recipes
If you like this pasta recipe, you might also love our Cajun Crab Alfredo recipe or our Bacon Ranch Orzo Salad just in time for your spring and summer meals! Or learn to make your own pasta!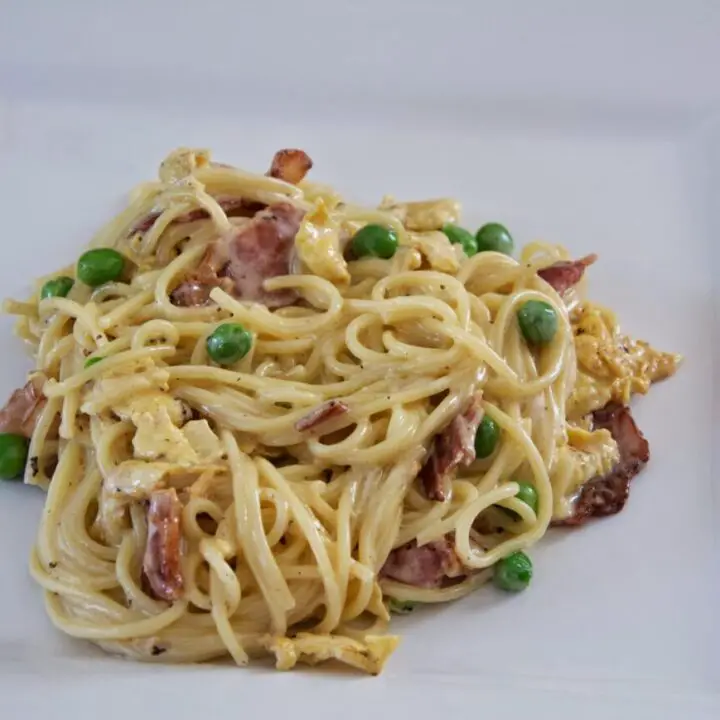 Spaghetti Carbonara
Ingredients
4 Strips Bacon
1 t. Minced Garlic
1/4 lb Spaghetti (or enough for your family)
1/4 C. Peas
2 Eggs, mixed well
1 C. Heavy Cream
3/4 C. Parmesan Cheese
Black Pepper
Instructions
In a medium pot of boiling water, drop spaghetti and cook 6 minutes.
At the 6 minute mark, drop in peas and cook another 2-3 minutes until pasta is done.
While pasta is cooking, cook bacon in a large skillet on low until done.
Remove bacon and place on paper towels to drain.
In the remaining bacon grease (you can remove some if you'd like), cook garlic about a minute
Add eggs and scramble the mixture.
When eggs are done, remove pan from heat and add heavy cream and parmesan cheese. Stir until mixed and return to a very low heat.
Stir frequently and allow mixture to slightly thicken--about 2-3 minutes.
Drain spaghetti and peas in a colander and add to the skillet.
Stir until well coated, then allow to cook for another 2 minutes.
Season with black pepper and parmesan, then enjoy!
Nutrition Information:
Yield:

4
Serving Size:

1
Amount Per Serving:
Calories:

415
Total Fat:

33g
Saturated Fat:

19g
Trans Fat:

1g
Unsaturated Fat:

12g
Cholesterol:

186mg
Sodium:

551mg
Carbohydrates:

15g
Fiber:

1g
Sugar:

3g
Protein:

16g
Some of the links in this article are "affiliate links", a link with a special tracking code. This means if you click on an affiliate link and purchase the item, we will receive an affiliate commission. The price of the item is the same whether it is an affiliate link or not. Regardless, we only recommend products or services we believe will add value to our readers. By using the affiliate links, you are helping support our Website, and we genuinely appreciate your support.
Please follow and like us:
---