Instant Pot Pot Roast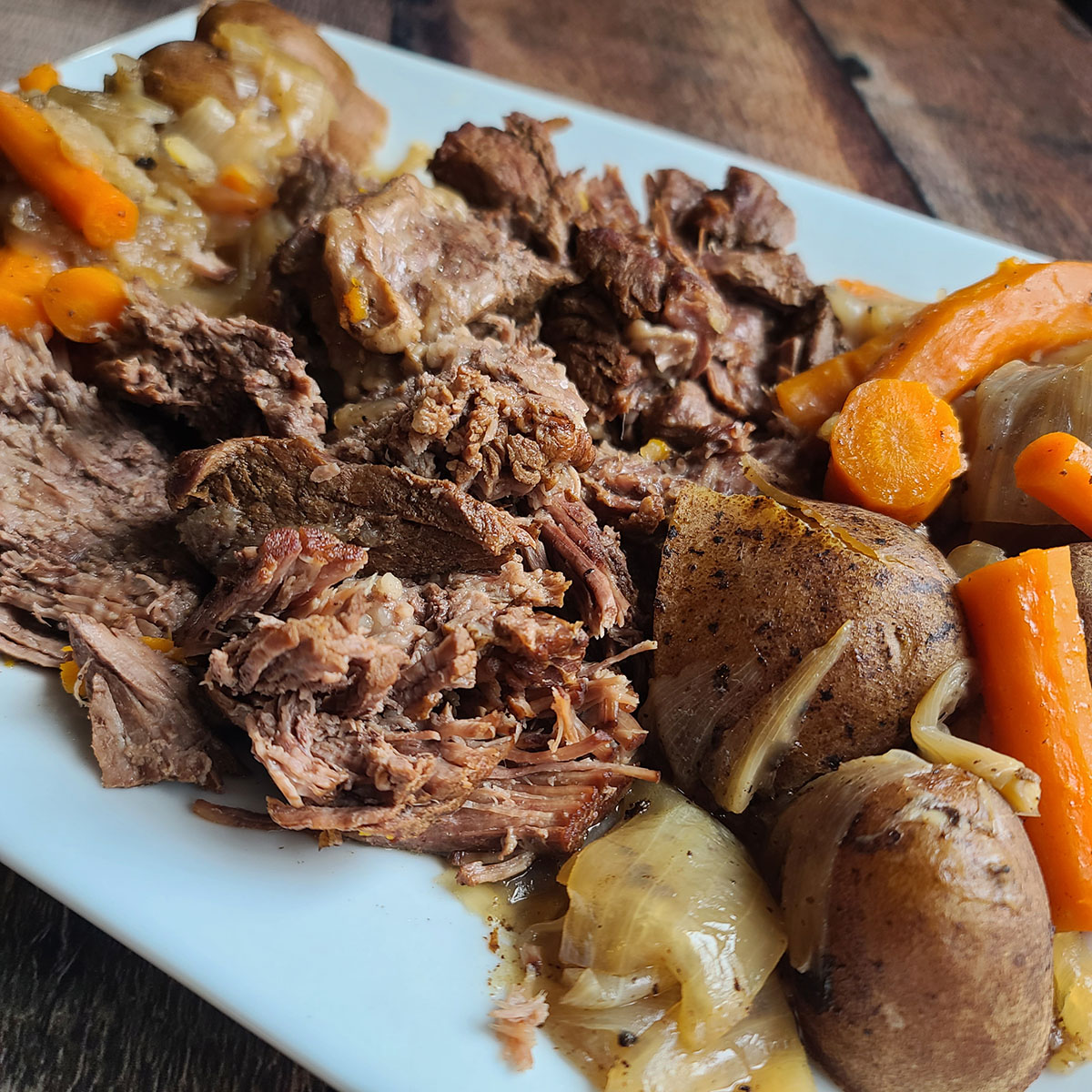 Quick and easy is the name of the game around here during the week. Dinner also has to taste good too. So, when I got my Instant Pot, one of the first things I wanted to try was Pot Roast. The preparation takes minimal dishes, cooks in one pot, and can be thrown together pretty quickly. For a weeknight meal, this can be in the Instant Pot in 15 minutes and have it cooked in about an hour. Perfect for throwing together during a work from home break and having it on the table when work is over! This Instant Pot Pot Roast recipe is one you will want to rotate through your menu regularly!
Please note: This post contains affiliate links.
Instant Pot Pot Roast Cooking Times
One hurdle for me to overcome when I first got my instant pot was figuring out cooking times. While you can restart the instant pot process if your dish needs more cooking, it slows down the process. So, I went on a search for a time table and found several different sources for cooking times.
For Pot Roast, what I found says large chunks of beef should cook on high pressure for 15-19 minutes per pound. Thank goodness for cell phone calculator apps, because the pot roast I had to use today was 2.25lbs! Therefore, for my 2.25lb roast, the cooking time was 42.7minutes (2.25×19 minutes). I just rounded it down to 42 minutes since the 19 minute/lb is the high end of the spectrum and my pot roast was really tender. In addition to the 42 minutes of active cooking time, you will also want to let your instant pot sit for 10 minutes after the cooking time is over to do a natural release. It likely won't release completely after 10 minutes, so you can do a quick release after that natural release time is over.
The Vegetables
Since the cooking process takes about and hour, you will want to make sure your vegetables are on the chunky side. This is not the time to use your baby carrots. Instead, you will want to use large carrots which are cut into about 2 inch chunks. Also use the biggest onion that you have, cut it in 2 inch chunks and throw it in the instant pot with the rest of the veggies.
For the potatoes, I only had small russet potatoes on hand today, so I cut them into two inch chucks and threw them in the pot. However, if you can avoid cutting your potatoes, they will retain their shape a little easier than mine did. (Really, I don't mind–it all tastes good!). Ideally, if you have some red or yellow potatoes about 2 inches in diameter, I would recommend using those. If, however, like me all you have are russets, go for it!
Instant Pot Pot Roast Gravy?
This recipe makes plenty of broth leftover to make gravy. If you so choose, just turn your instant pot onto Sautee, and go for it. Depending on how much broth you have leftover, you may need to play with the amount of water and cornstarch slurry you use. For starters, start with 1/2 cup of water and whisk in 3 T of cornstarch. Then whisk all of that into the broth and see if it thickens to your liking. If it doesn't, keep making the slurry and adding it until you get the desired consistency of gravy. Note: Do not add cornstarch to hot liquid as it will not combine easily and may leave you with clumpy gravy.
Disclosure: As an Amazon Affiliate, I earn from qualifying purchases.
Tools Used For This Recipe
Other Great Recipes
Another great Instant Pot recipe that makes a quick and easy side is this Instant Pot Corn on the Cob. One of the best ways to make corn on the cob for sure!
Or if you want to add a little somethin' to elevate this pot roast even more, try some Roasted Garlic!
Need another Quick and Easy Recipe? Then our Frito Chili Pie recipe might be just the ticket!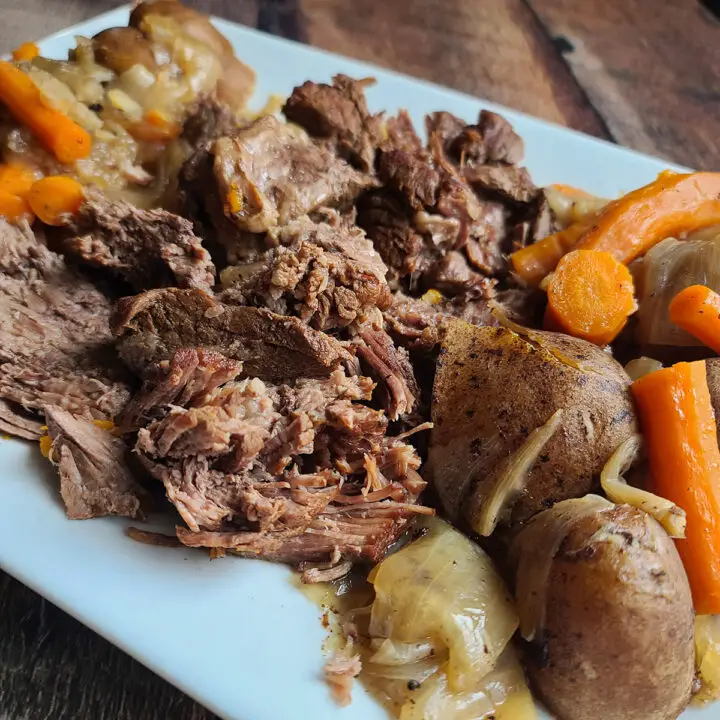 Instant Pot Pot Roast
Additional Time:
10 minutes
Total Time:
1 hour
10 minutes
Quick and delicious Instant Pot recipe which is perfect for any weeknight or busy weekend!
Ingredients
2 1/2 lb Pot Roast
1 t. Kosher Salt
1 t Fresh Cracked Black Pepper
1 t. Onion Powder
1 t Garlic Powder
1 Qt. Water
1 1/2 t. Beef Better Than Bouillon
1 T. Worcestershire Sauce
1 lb Potatoes, about 2 inch size
5 Large Carrots, cut in 2 inch Chunks
1 Large Yellow Onion, cut in 2 inch chunks
Instructions
Season pot roast with Salt, Pepper, Onion Powder and Garlic Powder.
Turn on Instant Pot to Sautee, and sear each side for 3-4 minutes each.
Once meat is seared, add part of the water and scrape up the brown bits from the bottom of the pot. (If you do not do this, you may get the dreaded Burn notice!)
Once the bottom of the pot is scraped, add remaining water and the better than bouillon. Mix until combined.
Turn off the Sautee function.
Add Worcestershire sauce, and all the vegetables around the pot roast.
Pressure Cook on High for 42 minutes.
After the pressure cook time has expired, allow to release naturally for 10 minutes. Then quick release the remaining pressure following your manufacturer's instructions.
Take meat and vegetables out of Instant Pot, shred the meat, and enjoy!
Notes
If your pot roast is larger, just adjust cooking times. Cook large pieces of beef for 14-19 minutes on high for each pound of meat.
Nutrition Information:
Yield:

4
Serving Size:

1
Amount Per Serving:
Calories:

1012
Total Fat:

55g
Saturated Fat:

22g
Trans Fat:

0g
Unsaturated Fat:

26g
Cholesterol:

342mg
Sodium:

934mg
Carbohydrates:

34g
Fiber:

5g
Sugar:

5g
Protein:

90g
Some of the links in this article are "affiliate links", a link with a special tracking code. This means if you click on an affiliate link and purchase the item, we will receive an affiliate commission. The price of the item is the same whether it is an affiliate link or not. Regardless, we only recommend products or services we believe will add value to our readers. By using the affiliate links, you are helping support our Website, and we genuinely appreciate your support.
Please follow and like us:
---