Frito Chili Pie Recipe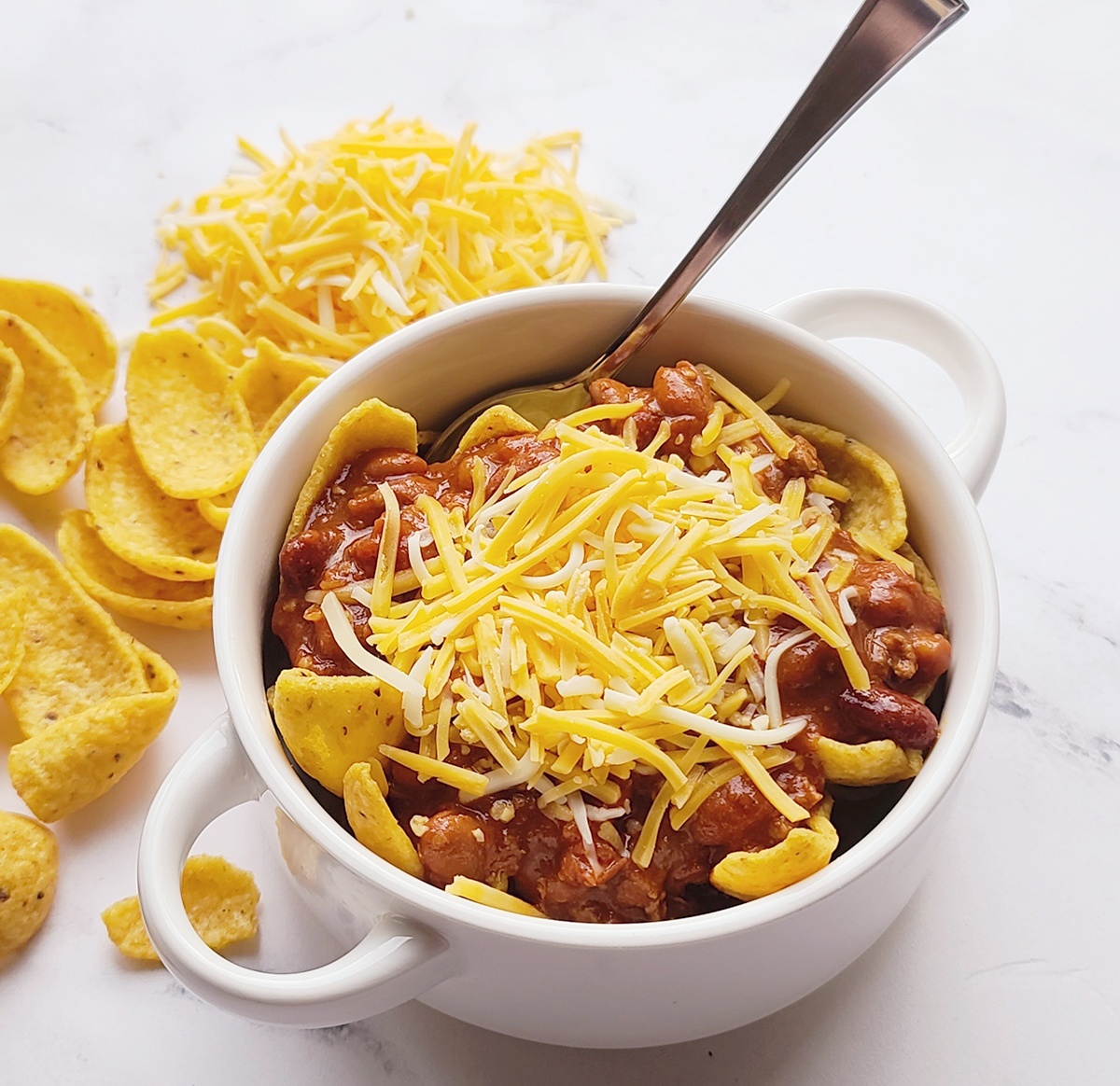 When the seasons change, Frito Chili Pie is one of those warm meals that hit the spot and quickly feeds a crowd.
Frito Chili Pie is one of my favorite comfort foods, that deserves to be celebrated everywhere. The crunchy corn chips paired with a delicious chili take a weeknight meal from good to "YUM!" instantly.
Please note: This post contains affiliate links. We earn a commission on qualifying purchases from these links. Thank you for your support!
The Origin of Frito Chili Pie
Frito Chili Pie is definitely a Southwestern/Midwestern dish. While there are reports of Frito Chili Pie being served in New Mexico in the 1960s, stories from Texas say the mother of the inventor of Fritos was the first to serve this combination of goodness in the 1930s. Thank you momma Doolin, and thank you Texas!
Regardless of where it originated from, the Frito Chili Pie is something to be shared far and wide for everyone to enjoy. So, let's get started:
Key Ingredients
Ground Beef
Diced Onion
Minced Garlic
Salt and Pepper
Chili beans-canned
Red Kidney beans-canned
Great Northern beans (or Cannellini beans)–canned
Packet of Chili seasoning
Diced Tomatoes (with chiles if you want to spice it up a bit)
Water
Chili Powder
Ground Cumin
Frito Chips–I love the scoops for this!
Shredded Cheese–I use a Mexican blend
Optional Toppings for Frito Chili Pie
Chopped Onions
Jalapeno Slices
Shredded Lettuce
Sour Cream
Diced Avocado
Sliced Green onions
Pico De Gallo
Can I Used Canned Chili for Frito Chili Pie?
Yes! I prefer to make my chili, but if you have some canned chili to use or don't have the time to make your chili then warm up the canned chili and serve..
How to Make Frito Chili Pie
One of the reasons this meal is such a crowd pleaser is everyone gets to assemble and top their own Frito Chili Pies. After your chili is cooked, it is as easy as 1-2-3: First, layer your corn chips on the bottom of your bowl (don't be stingy here!). Second, spoon your chili on top of the corn chips. Third, Top with cheese, and anything else your heart desires! It is that simple!
Crockpot Chili Shortcut
If you are anticipating a busy night, then making your chili in the crockpot might be the perfect answer to a grab-and-go kind of night. By cooking your meat, onions, and garlic ahead of time, you can easily dump all the chili ingredients in a crock pot and let it cook on low for at least 4 hours while you are busy elsewhere. Then, when it is time to eat, fill your bowls with the corn chips, spoon on some chili, top with cheese and anything else that looks good, and dinner is done!
Make a Frito Chili Pie Bar for a Crowd
Cooking for a crowd couldn't be simpler than with Frito Chili Pies! By using the crockpot or even a roaster oven to cook your chili, the serving becomes a breeze. Just set out the chili, Fritos, and toppings for the crowd and let people dig in!
Variations
Bison Meat Chili–You can make your chili with ground bison meat instead of ground beef.
Venison Chili–Have a hunter in the family? Then you may have some ground venison meat in the freezer just waiting for a delicious chili!
Chili Cheese Frito Pie–Use the Chili Cheese Fritos for more spice!
Vegetable Power–Add more veggies (like red and green peppers) while you are cooking the onions to sneak some more veggies into the stew.
Walking Frito Pie–Instead of putting your Fritos in a bowl, put your chili in an individually-sized bag of Fritos. By spooning your chili and toppings into the bag, this instantly becomes a portable and easily disposable meal–perfect for tailgates, BBQ's, or even camping!
Baked Frito Chili Pie–In a casserole dish or a cast iron pan, layer in the Fritos, chili and cheese. Then bake at 350 degrees for 20-30 minutes until the cheese is melted.
Tools for this Recipe
Other Great Recipes from Mason Jars and Me
Andouille Crab Bowtie Pasta Alfredo Recipe
Spinach Pesto and Sugar Snap Pea Linguine
Cajun Seasoned Turkey Breast Instant Pot Recipe
Staying Connected
We love to be connected with you! Join us on Facebook or Instagram, or sign up for our newsletter below (it's free!).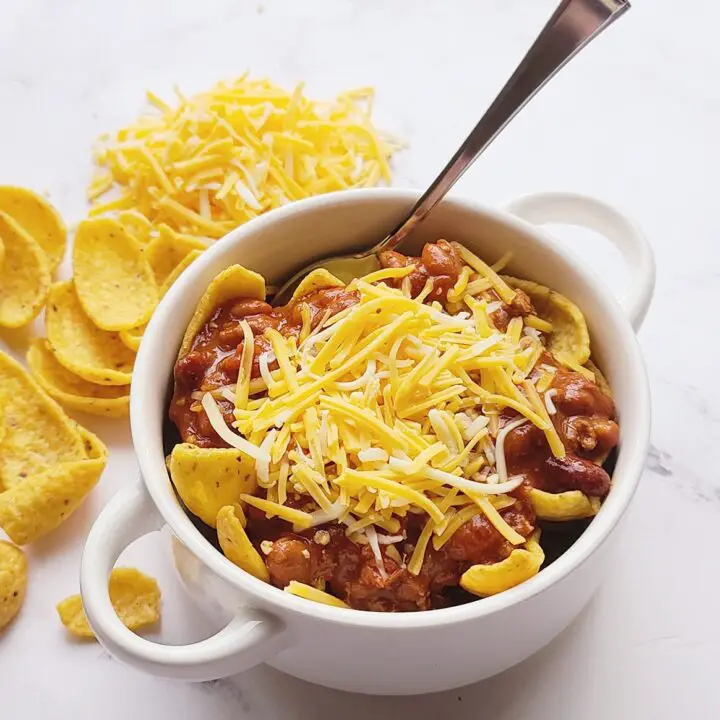 Frito Chili Pie Recipe
Frito Chili Pies are comfort food perfect for busy weeknights or even for serving a crowd.
Ingredients
1 lb Ground Beef
1 Small Onion, diced
1 T. Garlic, minced
Kosher Salt, to taste
Black Pepper, to taste
1 packet Chili Seasoning
1 T. Chili Powder
1 T. Ground Cumin
1 15 oz Can Chili Beans, drained
1 15 oz Can Cannellini Bean, drained (or use Great Northern beans)
1 15 oz Can Red Kidney Beans, drained
1 28 oz Can Diced Tomatoes
1 Small Can Diced Chilis (optional)
1 Large bag of Corn Chips (I prefer Frito Scoops)
2 C. Shredded Cheese
Instructions
1. In a large pot, brown ground beef along with onions until ground beef is cooked. Lightly salt and pepper the meat and onions while cooking.
2. Add minced garlic to the pan and cook for 1 min.
3. Mix in the chili seasoning packet, chili powder, and cumin to the meat mixture and allow to bloom for 1-2 minutes.
4. Then add diced tomatoes, beans and chilis to the mixture. Stir until well combined. (If the chili seems too thick, you can add a cup of water here to thin it out a little.)
5. Bring the chili to a simmer and cook for 20-30 minutes stirring occasionally. (You can leave it to simmer for much longer, just be sure to keep stirring to ensure it does not burn to the bottom of the pot.
6. Once the chili is ready, fill the bottom of your bowls with corn chips. Then Spoon on Chili and top with cheese and any other toppings you desire.
Nutrition Information:
Yield:

6
Serving Size:

1
Amount Per Serving:
Calories:

901
Total Fat:

41g
Saturated Fat:

16g
Trans Fat:

1g
Unsaturated Fat:

17g
Cholesterol:

138mg
Sodium:

1987mg
Carbohydrates:

73g
Fiber:

18g
Sugar:

13g
Protein:

62g
Some of the links in this article are "affiliate links", a link with a special tracking code. This means if you click on an affiliate link and purchase the item, we will receive an affiliate commission. The price of the item is the same whether it is an affiliate link or not. Regardless, we only recommend products or services we believe will add value to our readers. By using the affiliate links, you are helping support our Website, and we genuinely appreciate your support.
Please follow and like us:
---