Spinach Pesto and Sugar Snap Peas Linguine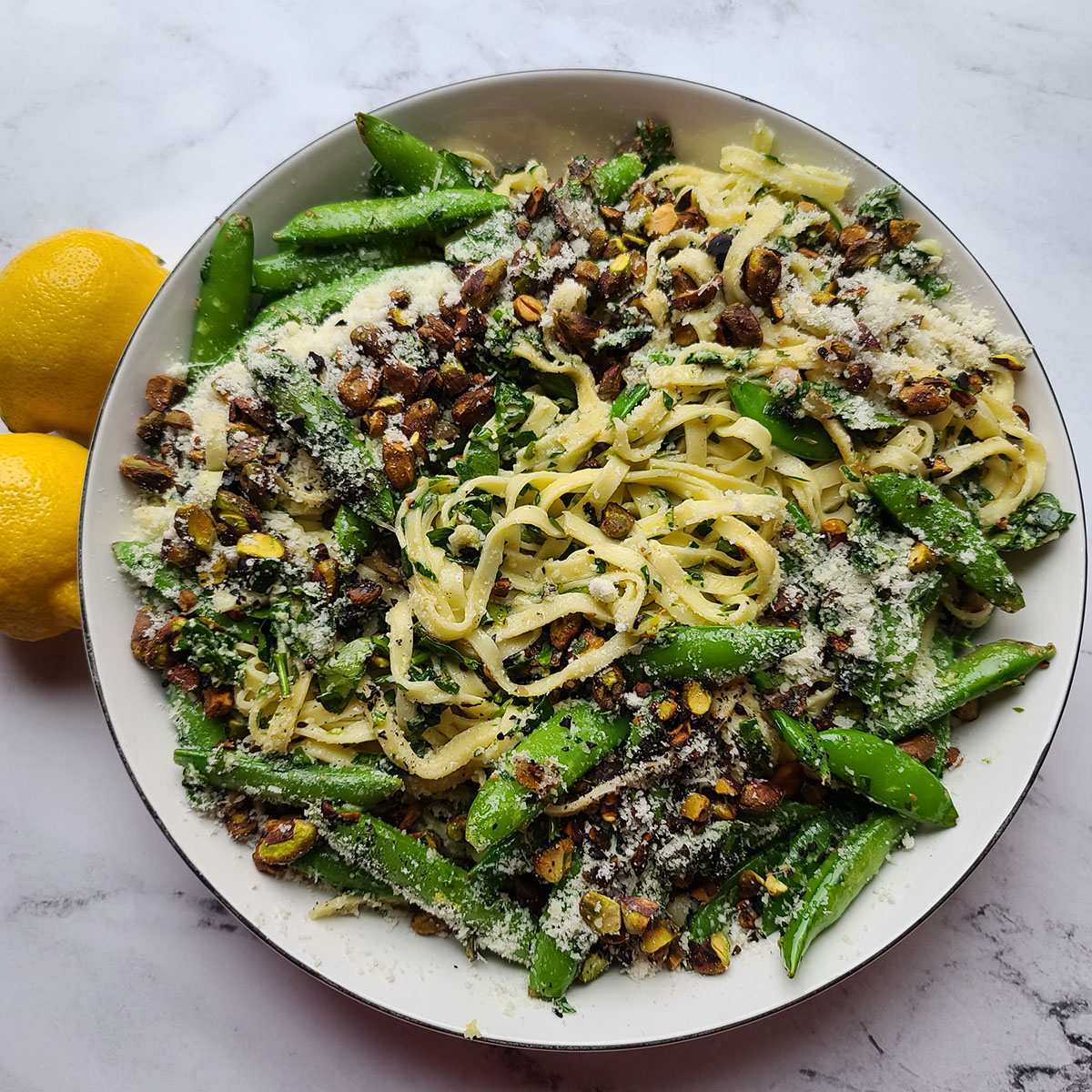 April showers, bring May flowers–and vegetables! While it is still early Spring in the north there are still several vegetables that are, or will be, ready to harvest soon, and two of those vegetables are peas and spinach. These two vegetables are great together in a variety of recipes, but one of my favorite ways to enjoy this paring is in this unique sugar snap peas recipe. It is fresh, fast, and absolutely delicious–and it happens to be vegetarian!
Please note: This post contains affiliate links. We earn a commission on qualifying purchases from these links. Thank you for your support!
Sugar Snap Peas vs Snow Peas
Sugar Snap Peas are the thicker edible pod peas which you often find bagged in the produce section. It's cousin, the Snow Pea, is the flat edible pod pea which is also found next to the Sugar Snap Peas. Both are delicious, and both are growing in my garden. Both could also be used in this recipe. However, I prefer the Sugar Snap Peas for the added crunch and texture that they bring to this dish.
Spinach Pesto–really?
Yes, really! A little secret–I actually don't enjoy traditional pesto all that much. There have been a few versions that I liked, but it's not something that excites me when I see it on a menu. However, I do enjoy spinach pesto and arugula pesto quite a bit. (If you want a bit more bite to this dish, substitute baby arugula for the spinach and it is delicious too!)
When making the pesto, you could use a food processor to chop the baby spinach finely. That wasn't my choice for this evening, because I didn't want to make any more dishes to clean. (Can I get an amen to that?!?) Instead, it was somewhat therapeutic to just dice the spinach with a chef's knife. Once the spinach is finely diced, zest your lemon into the bowl with your spinach, add the grated parmesan cheese, and begin drizzling olive oil into the mix until it is the consistency of a rough paste. Then juice your lemons into the bowl, season with salt and pepper, and set aside.
Fresh or Dried Linguine
I am a big proponent of using what you have. So, if all you have in the pantry is dried linguine–use it! Fresh linguine has a more delicate taste than the dried stuff, but it is more expensive in the store. Now, if you have a pasta press, then I 1000% recommend that you make your own linguine. (You can even make it ahead and freeze in small 'nests' for use later. Just add a minute or two to the cooking time in this recipe to cook to your desired level of doneness.) I make batches of pasta occasionally and freeze, but didn't have any left in the freezer so went with the fresh store-bought stuff this time.
Add Protein?
While this sugar snap peas recipe is written as a vegetarian recipe, and does have some plant-based proteins in it. If your family is like mine, the first question might be 'Where's the meat?' If they aren't all-in for the plant-based version, then chopped grilled chicken breast is a great addition! It can even be kept as a side and added at the end to the bowls who want the meat. Just salt and pepper the chicken, grill, then cut and add to the dish. Either way, this is a fantastic meal!
Other Great Recipes
If you would like another simple but delicious pasta dish, our Spaghetti Carbonara recipe is a sure winner! Want another vegetarian idea? This Fall Kale Salad is delicious! Or, looking for a way to use some of your spinach? This Spinach Artichoke Dip is a show-stopper.
Tools Used
Share the Love!
When you make this dish, please come back and tell us how much you liked it! We would also love to hear about how you made the recipe fit your family. You can comment below, or reach out on Facebook or Instagram.
Finally, if you like what you see here, and want updates in your inbox from us, sign up for our mailing list below.
Thank you for making Mason Jars and Me a part of your family dinners!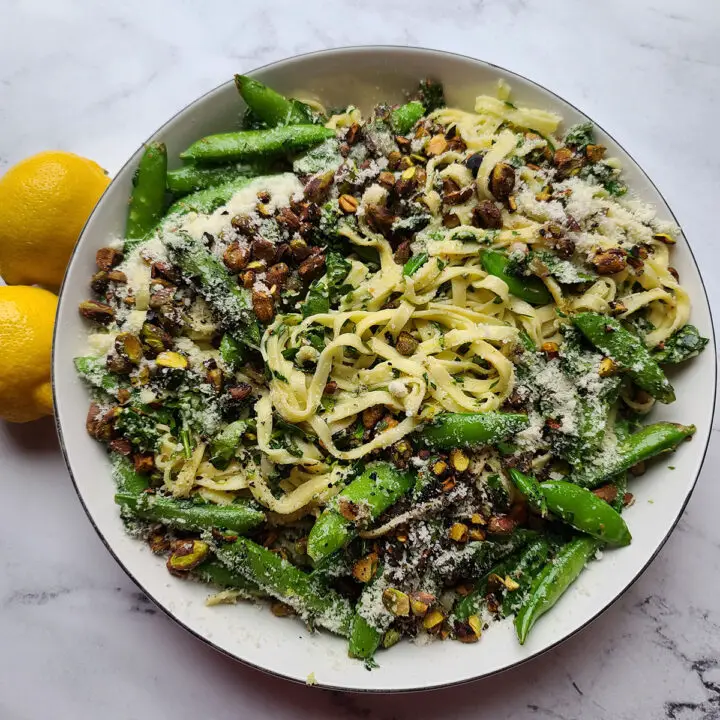 Spinach Pesto and Sugar Snap Pea Linguine
A fresh linguine recipe which will sure to become a family favorite!
Ingredients
12 oz. Fresh Linguine Pasta
1/4-1/2 C. Olive Oil
1/4 C. Shelled Pistachios
1 Shallot
1/2 C. Grated Parmesan Cheese
6 oz Sugar Snap Peas
3 oz Baby Spinach
1 1/2 T Minced Garlic
1 Lemon
Kosher Salt
Fresh Cracked Pepper
Instructions
1. Fill a large pot with water and bring to boil for the pasta.
2. While the water is heating, finely chop the spinach, zest the whole lemon, cut the lemon into wedges.
3. Add the spinach, lemon zest, Parmesan cheese. Season with Salt and pepper, then begin drizzling in olive oil until the mixture is a rough paste. (You may or may not use all of the olive oil.)
4. Once the pesto is done, squeeze the lemon wedges into the pesto and mix. Set aside.
5. Small dice the shallot.
6. Heat a large skillet (with no oil). Add pistachios and toast until slightly golden (about 2 minutes).
7. When pistachios are done, set the pistachios aside and wipe out the pan.
8. Add 1 T of olive oil in a large skillet. When warm, add shallots and minced garlic to the pan. Cook for 2-3 minutes or until the onions are softened and golden.
9. Add the sugar snap peas to the skillet, season with the kosher salt and fresh ground pepper and cook until the peas are bright green and to your desired level of doneness. Remove skillet from heat.
10. Drop the pasta into boiling water and cook 4 minutes or according to the package instructions
11. When done, reserve 1/2 C. of the pasta cooking water and add the pasta, water, and pesto to the skillet. Stir until combined.
12. If you want a formal presentation, move the pasta mixture to a bowl and top with toasted pistachios and your desired amount of parmesan cheese (the more the better, right?!?) If you don't want a formal presentation, top with the pistachios and parmesan and serve!
Nutrition Information:
Yield:

4
Serving Size:

1
Amount Per Serving:
Calories:

583
Total Fat:

45g
Saturated Fat:

8g
Trans Fat:

0g
Unsaturated Fat:

35g
Cholesterol:

10mg
Sodium:

372mg
Carbohydrates:

37g
Fiber:

4g
Sugar:

4g
Protein:

11g
Some of the links in this article are "affiliate links", a link with a special tracking code. This means if you click on an affiliate link and purchase the item, we will receive an affiliate commission. The price of the item is the same whether it is an affiliate link or not. Regardless, we only recommend products or services we believe will add value to our readers. By using the affiliate links, you are helping support our Website, and we genuinely appreciate your support.
Please follow and like us:
---