Cajun Seasoned Turkey Breast Instant Pot Style!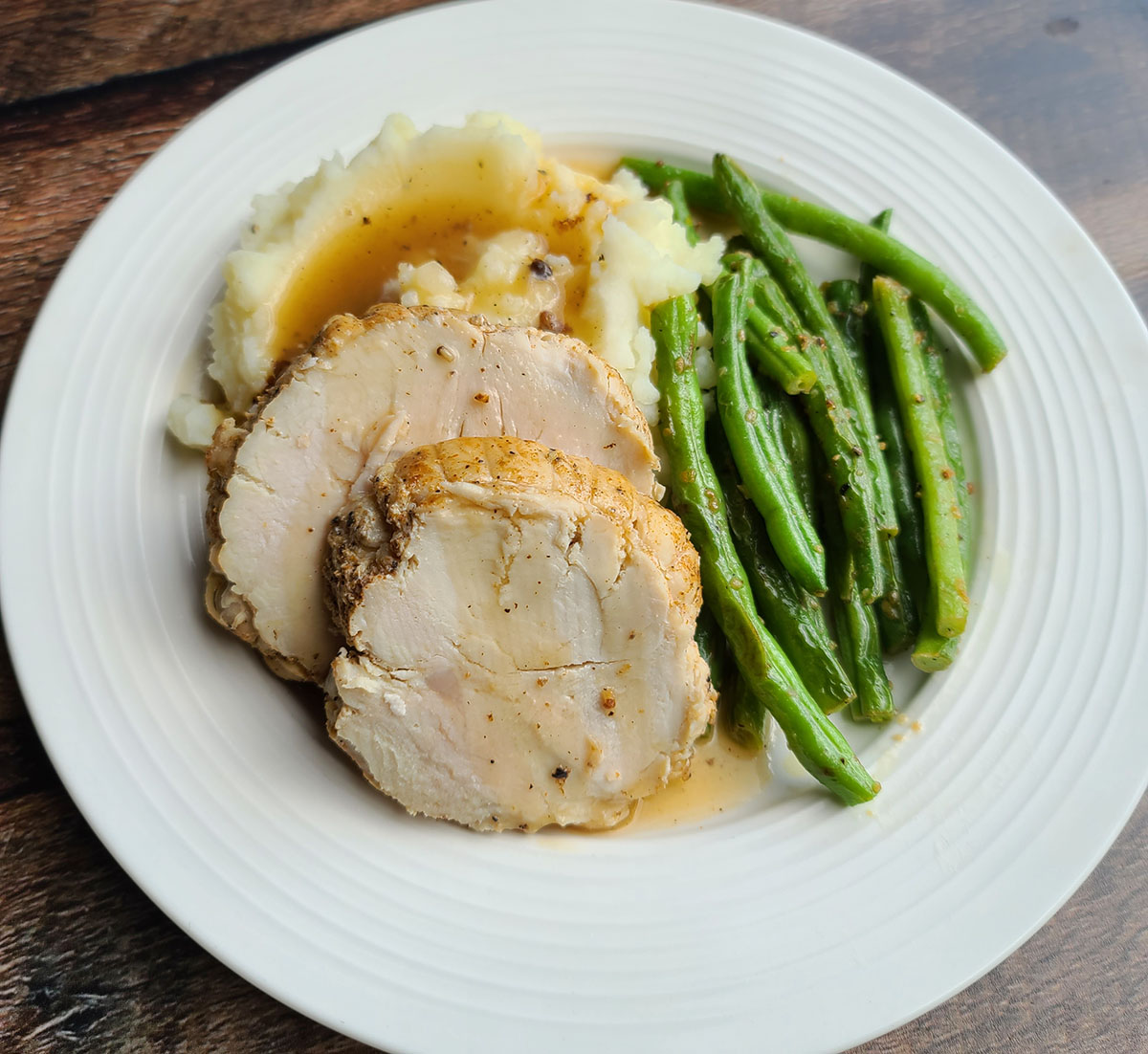 When I hear that turkey is on the menu, I typically think Thanksgiving. You know, the beautiful Thanksgiving turkey sitting on the table, ready to carve surrounded by family and friends. It is a beautiful mental picture! However, turkey is something I have come to enjoy at other times of the year. And in a more dynamic range of flavors. This Cajun Seasoned Turkey Breast Instant Pot recipe is one I know you will enjoy again and again. Especially since it is super simple, quick, and is probably some of the best turkey you will ever taste! In fact, I would dare to say that this might replace at least part of your November festivities because it is that good!
Note: This post contains affiliate links and ads from Amazon and our other affiliate partners. We earn a commission from all qualifying sales. Thank you for your support as we continue to produce quality content for you!
Turkey Breast
For this recipe, I used a boneless 3lb turkey breast from my local grocery store that I purchased when they were on sale. (You can make this with a bone-in turkey breast, but the results might not be the same.) I think the boneless comes out with much more juice in the meat. Plus it is super easy to carve and looks nice when on a platter!
Preparing the Turkey Breast
The preparation for the turkey breast is extremely easy! If your turkey is frozen, defrost it in the refrigerator. Then, about an hour before you want to eat, take it out of its packaging. (If your has a netting around it, leave it on until after the turkey breast is completely cooked. This will help keep it in the shape that it is, and will prevent the meat from falling apart.) Then, it's time to season the turkey. Just sprinkle Kosher Salt, Fresh Ground Pepper, and Cajun seasoning on all sides of the turkey breast. That's it… nothing else! Super easy!
Searing in the Instant Pot
While you are seasoning the turkey breast, turn your Instant Pot onto the sauté function (on high), and begin heating the olive oil. Once the oil is hot, start searing each side of the turkey breast until all sides and ends are slightly golden. When the turkey is seared on all sides, remove the turkey breast to a cutting board. Then pour two cans of chicken broth into the Instant Pot.
While the broth is boiling, scrape the bottom of the Instant Pot until all the browned bits are free from the bottom of the pot. (If you do not deglaze the bottom of the pot, you will likely get a BURN notification in the middle of the pressure cooking process. If this happens, you will have to start the process again after you scrape off the burned bits and your turkey will not turn out as delicious.)
Ready for the Instant Pot Magic!
Once the bottom is clean, turn off the Sauté function, and insert the metal lifting rack that came with your Instant Pot. Then place your turkey breast in the instant pot and put the lid on. Set the Instant Pot to Pressure Cook on HIGH for 6 mins for every pound of meat you have plus one more minute. So, in my case, I had a 3lb turkey breast. Which means 3 times 6 mins is 18 minutes plus one minute means my cooking time was set to 19 minutes. Make sure your lid is set to seal and press Start.
Once the turkey breast is done with the active pressure cooking stage, let your Instant Pot do a natural pressure release for another 17 minutes. This continues the cooking process for the turkey while depressurizing the Instant Pot. At 17 minutes of natural release, you can then do a quick release of the rest of the steam. Once the Instant Pot is fully depressurized, you can remove the turkey breast and let it rest for about 5 minutes before carving.
Gravy Anyone?
All the leftover broth and juices in the bottom of the Instant Pot are perfect for making gravy! Just turn your Instant Pot back on and select the Sauté mode on HIGH. Then, continue like you would making gravy on the stovetop. I am not the best at making homemade gravy, so I took the gravy packet that was included with my turkey breast and poured it in there. If you don't have a gravy packet, take a 1/4 cup of water and mix with 3 T cornstarch. Whisk until smooth. Then, you can start slowly pouring in about half of the mixture and whisking into the mix. If, after 5-8 minutes of boiling and whisking your gravy isn't thick, add in a little more of the cornstarch slurry and repeat until you get the desired thickness.
The Best Instant Pot Turkey Breast!
In less than an hour, you can make this delicious and juicy turkey breast in the instant pot. In addition to the meat being cooked to perfection, the Cajun seasoning also brings another level to this recipe. If you don't like things really spicy, use about half of the recommended seasoning amount. If you like things on fire, use more. You can really control the level of Cajun heat you bring to this recipe. In the end, when you add the gravy and maybe some mashed potatoes, all the flavors just pop!
If you want just a plain turkey breast, you can do that too. The salt and pepper are all you need–leave out the Cajun seasoning. Additionally, instead of slicing thick like I did for this recipe today, you can always slice this thin and make sandwiches. Whichever approach you take, you will still get a deliciously juicy turkey breast which undoubtedly have you coming back for more!
Tools Used for this Recipe
Other Great Recipes
Stay Connected!
We love to stay connected with you! Join the Mason Jars and Me community on Facebook or Instagram to stay up-to-date on new recipes, tips, and our community.
You can also sign up below for our newsletter to receive an email when we publish a new recipe!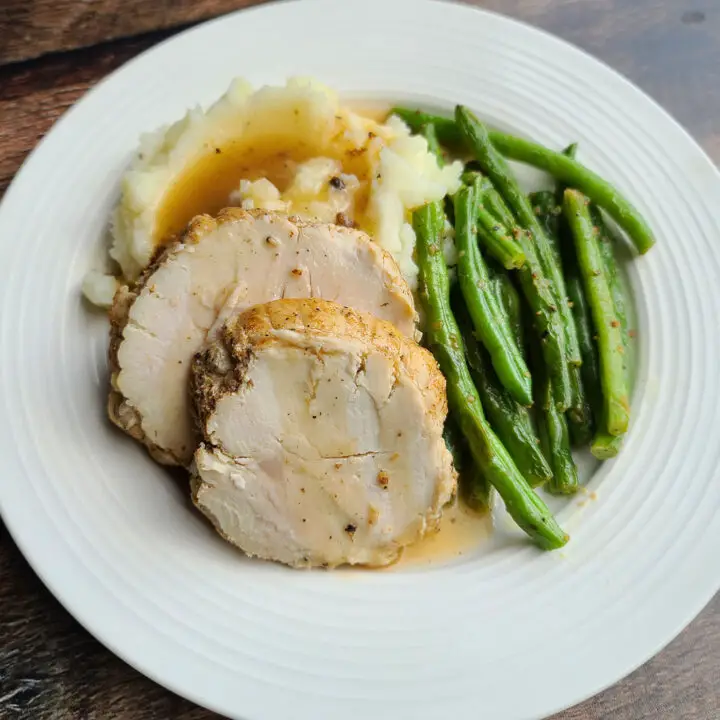 Cajun Seasoned Turkey Breast Instant Pot Style
Additional Time:
5 minutes
An Cajun seasoned Instant Pot recipe which will change the way you look at cooking turkey breast forever!
Ingredients
1-3 lb Boneless Turkey Breast
2 t. Kosher Salt
1 t. Freshly Ground Black Pepper
2 T. Cajun Seasoning
2 T Olive Oil
2 14.5oz cans Chicken Broth
Instructions
If the turkey breast comes in a net, leave the netting on and season the whole turkey breast with the kosher salt, pepper and Cajun seasoning.
Turn the Instant Pot Saute mode on to High, and heat the oil until hot.
Sear all sides and ends of the turkey breast until slightly golden in color.
Remove turkey breast from instant pot and pour in both cans of chicken broth.
As the chicken broth comes to boil, scrape the bottom of the chicken pot until all the browned bits come free from the bottom.
Turn off the instant pot.
Insert the metal lifting rack which came with your Instant Pot and then place the turkey on the rack.
Put on the lid and seal
Turn the Instant Pot on to the pressure cook option and set it to High for 19 mins (or 6 mins for each pound, plus one minute).
Hit Start and let cook.
When the pressure cooking is finished, allow the Instant Pot to do a natural release for 17 mins, then do a quick release to allow the remaining steam and pressure to release.
When completely de-pressurized, remove the turkey breast and allow to rest for 5 mins.
After resting, it's time to eat! Enjoy!
Notes
Instant Pot recommends 6 minutes cooking time per pound of turkey breast.
Nutrition Information:
Yield:

8
Serving Size:

1
Amount Per Serving:
Calories:

287
Total Fat:

7g
Saturated Fat:

2g
Trans Fat:

0g
Unsaturated Fat:

5g
Cholesterol:

137mg
Sodium:

1797mg
Carbohydrates:

1g
Fiber:

0g
Sugar:

0g
Protein:

52g
Some of the links in this article are "affiliate links", a link with a special tracking code. This means if you click on an affiliate link and purchase the item, we will receive an affiliate commission. The price of the item is the same whether it is an affiliate link or not. Regardless, we only recommend products or services we believe will add value to our readers. By using the affiliate links, you are helping support our Website, and we genuinely appreciate your support.
Please follow and like us:
---