Pickled Radish Recipe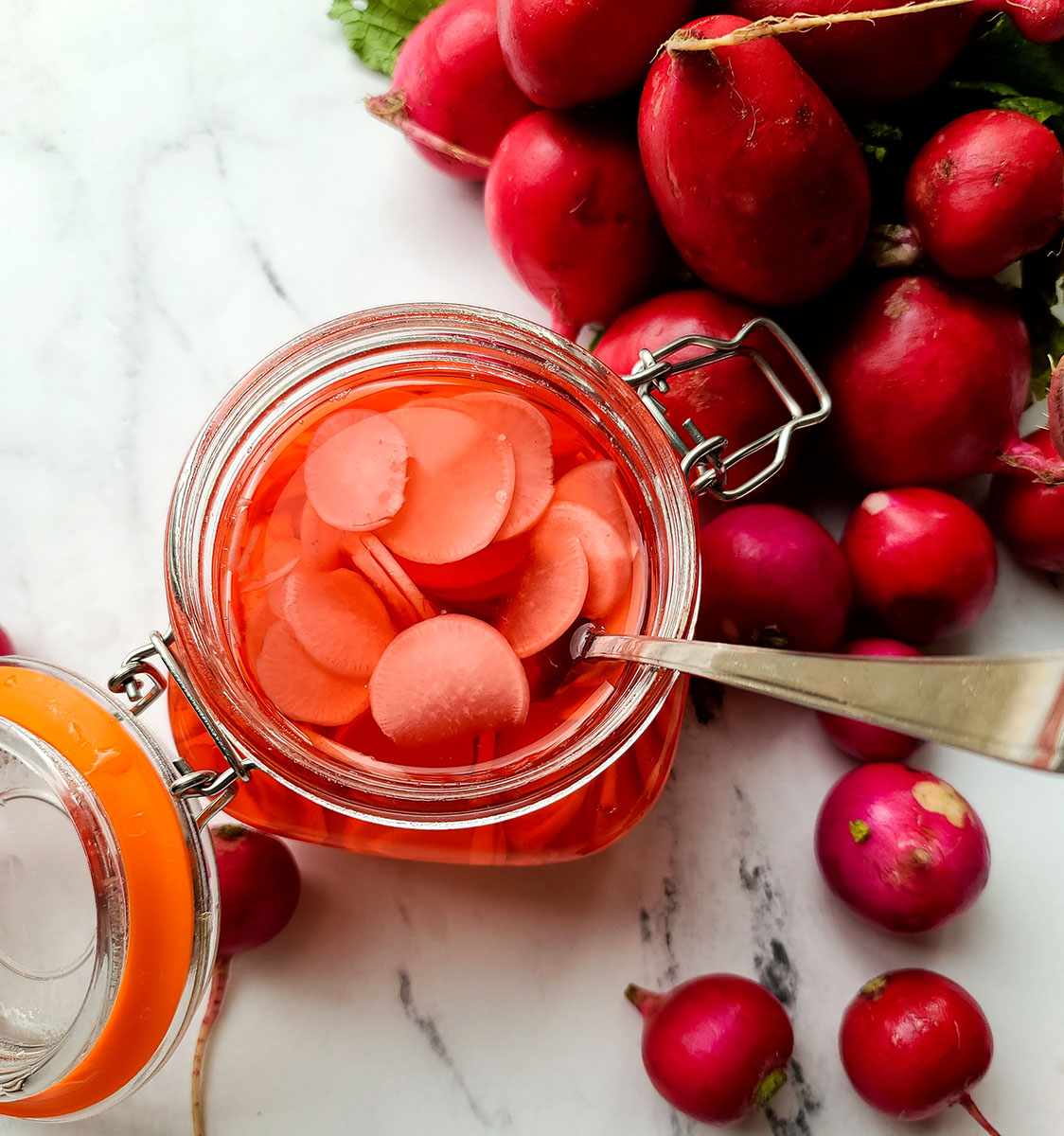 Early Spring is the season for radishes since they are typically some of the first vegetables that come out of the garden in the Spring. In fact, radishes take approximately 30 days from seed to harvest which makes them one of the fastest growers around! So, with radishes being in season, I have a ton in my refrigerator which are ready to eat. One of the best ways to enjoy radishes is to pickle them and use them on tacos! (Guess what we will be cooking up next?!?) This pickled radish recipe is super quick and will last for a long time in your refrigerator which makes them perfect for experimentation!
Quick Pickled Radishes
The process of quick pickling is one that I really enjoy because it is simple and–well–quick. For this pickled radish recipe you only need 5 ingredients: radishes, apple cider vinegar, raw sugar (or regular will do fine too), salt, and water. Just mix the mixture together and add to your chosen jar or vessel. Then add the radishes until your jar is full. Let sit for 1 hour on the counter, then refrigerate for use on your next recipe which needs a hint of pickled radishes!
Slicing Radishes for Pickling
The hardest part of this recipe is thinly slicing the radishes. For that job, I tend to either use a mandolin or I will do it with a knife. If you choose to slice with a knife, the best way to keep the radish stable while you are cutting is to shave off a flat side, place that side onto the cutting board, and slice the radish that way. This eliminates just one more variable when trying to avoid cutting yourself!
What Kind of Radishes?
Until a few years ago, I did not realize the variety that existed in the radish family. They can be mild, spicy, round, long, great for roasting, etc. As I developed my gardening knowledge, I realized there is a plethora of varieties! So for this recipe, I will tell you I used a pretty run-of-the-mill globe variety. These are the typical radish found in your grocery store labeled as radishes. However, if you wanted to experiment with others for this recipe, go for it!
Disclaimer: As an Amazon Associate, I earn from qualifying purchases.
Tools Used for this Pickled Radish Recipe
Looking for Something More?
If you enjoyed this recipe, you may enjoy our Undercover Kale Salad too!
Join the Fun!
Also, if you try this recipe, we would love to hear about it! Leave a comment below or let us know on our Facebook or Instagram accounts! We also invite you to sign up for our newsletter so you don't miss any of our future tasty features.
Pickled Radish Recipe
Total Time:
1 hour
10 minutes
Transform those radishes into something that will dress up your salad, taco, and much more!
Ingredients
2 Cups Radishes, sliced thin (about one bunch of radishes)
1/2 C Apple Cider Vinegar
1 T. Raw Sugar
1 t. Kosher Salt
1 C Hot Water
Instructions
1. Fill a jar with the sliced radishes.
2. Mix the hot water, apple cider vinegar, sugar, and salt until the salt and sugar have dissolved.
3. Pour the mixture over the radishes until the radishes are covered.
4. Let jar sit uncovered on the counter for an hour.
5. Place jar in refrigerator and then enjoy once the radishes have chilled.
Nutrition Information:
Yield:

20
Serving Size:

1
Amount Per Serving:
Calories:

5
Total Fat:

0g
Saturated Fat:

0g
Trans Fat:

0g
Unsaturated Fat:

0g
Cholesterol:

0mg
Sodium:

122mg
Carbohydrates:

1g
Fiber:

0g
Sugar:

1g
Protein:

0g
Some of the links in this article are "affiliate links", a link with a special tracking code. This means if you click on an affiliate link and purchase the item, we will receive an affiliate commission. The price of the item is the same whether it is an affiliate link or not. Regardless, we only recommend products or services we believe will add value to our readers. By using the affiliate links, you are helping support our Website, and we genuinely appreciate your support.
Please follow and like us:
---