Scrambled Eggs Primavera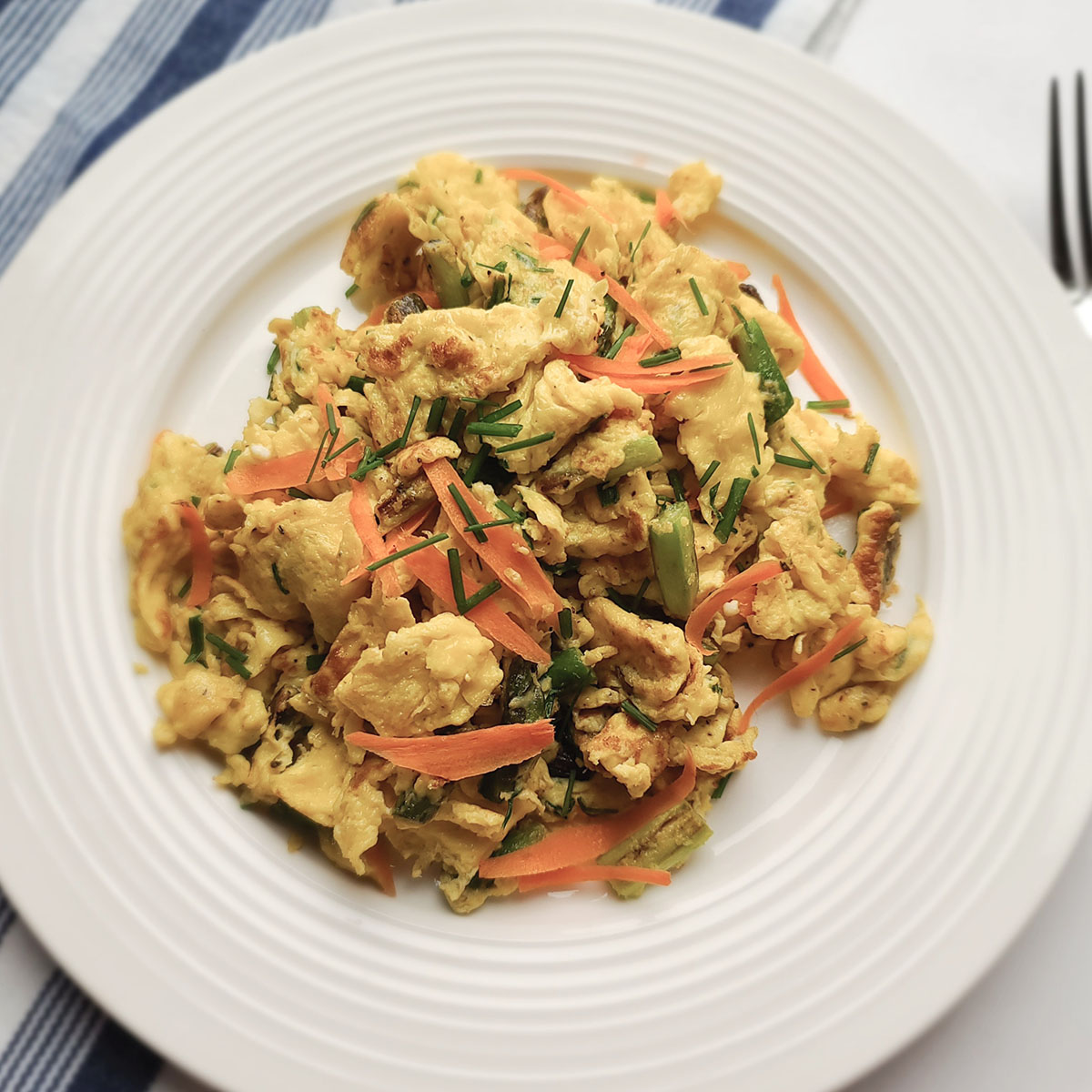 The emergence of Spring brings with it the fresh vegetables that we all crave at the end of a long winter. As such, the Italians came up with a descriptor of the freshness of the season in the word primavera. Basically, primavera is spring vegetables sautéed olive oil. So, when I stood in front of my open refrigerator this morning trying to decide what to make for breakfast, the word primavera came to mind. Why not make a Scrambled Eggs Primavera?
The Vegetables
I saw some beautiful asparagus and carrots, and there was also some chives in the freezer. Perfecto! The asparagus I had was a little on the big side, which can be a little tough. So, I took the spears and lightly peeled the bottom two-thirds to get the more tender inner flesh. (If you have smaller tender asparagus, you can totally skip this step.) Then I cut off and discarded the ends and cut the remaining spears into 3/4″-1″ pieces. (The goal is to make them bite sized.)
For this recipe, I also used just one carrot. Since the puppy loves carrots and comes running every time he hears a vegetable peeler working, I didn't even use the whole carrot. (Puppies need veggies too, right?!?) After the carrot was peeled, I set it aside. The carrot will be used to make ribbons, like I did in the Instant Pot Eggroll in a Bowl recipe. These ribbons are so thin they cook instantly as soon as they hit the hot eggs. All the while, bringing sweetness to the scrambled egg party.
Fresh Chives All Year Long
This recipe calls for fresh chives which you can get from many grocery stores in the little herb clamshells. While that is super easy and a fantastic way to incorporate fresh herbs into your cooking, there is an even more convenient and much less expensive way to get fresh chives (and other herbs). That is, to grow your own!
I know, some of you are thinking 'But I can't grow anything!' Really, if you can grow grass or weeds in your yard, you can grow chives. These things are super hardy and don't take a lot of work. With just one $3-$4 chives plant from the nursery, you can grow chives for years and years to come!
I live in gardening zone 5b where we get cold temps and snow for months at a time, and the pot of chives I bought probably 7 years ago now lives year round in two pots at the bottom of my deck stairs. The key to lots of chives is to cut only 1/2 the plant at a time every week or so. Whatever I don't use I mince and store in a plastic container in the freezer for use throughout the rest of the year on eggs, potatoes, you name it. I have not been without chives for 7 years now for the same price as just one grocery store clamshell!
Scrambled Eggs
Aside from the veggies, the co-star of this dish is the scrambled eggs. This recipe calls for heavy cream or whole milk to be whisked into the eggs to bring that fluffiness to the eggs. However, if you are dairy free, try substituting some olive oil and whisk together. Besides the eggs and milk, the only other thing you need to add to any scrambled egg recipe is a little salt and pepper. I primarily used kosher salt in everything as well as fresh ground pepper because they bring a little extra something to food that regular table salt and ground black pepper just can't give. However, if you don't have those preferred ingredients, use what you have! Your kitchen=your laboratory!
More Great Recipes to Try
If you are on the search for the ultimate egg breakfast, you won't want to miss the Perfect Eggs Benedict recipe!
Want a vitamin-packed Maine Berry Smoothie for breakfast?
This Instant Oatmeal Recipe is perfect for those busy weekday mornings.
Or if you want the perfect butter to add to your toast, you can learn to make your own butter!
Share the Fun!
We would love to see your version of this recipe! If you make this, share a photo with us by tagging @masonjarsandme on Instagram or visit our Facebook page!
Don't want to miss another Mason Jars and Me recipe? We have a newsletter!! Just signup for our mailing list and you won't miss another tasty treat!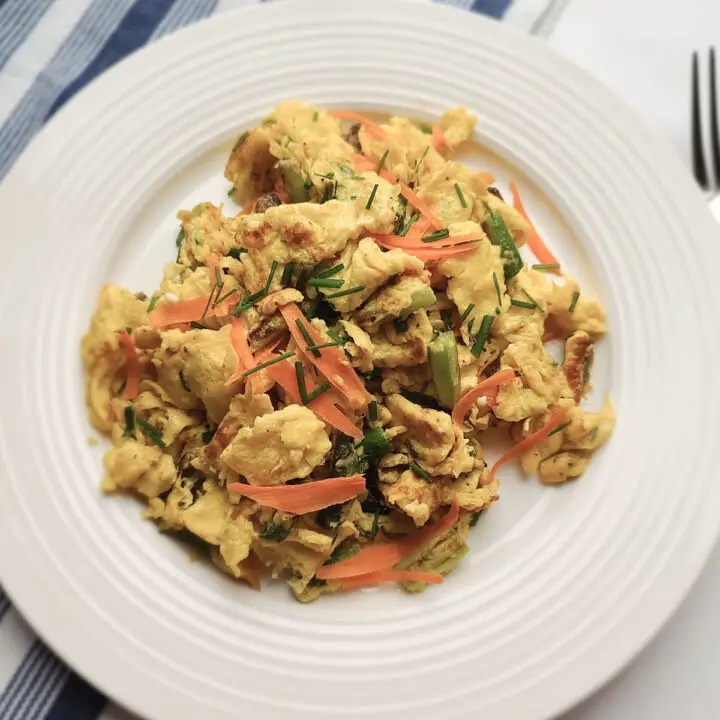 Scrambled Eggs Primavera
A Spring-time approach to Scrambled Eggs!
Ingredients
5 Asparagus Spears
1 Carrot
4 T Minced Chives, divided
6 Eggs
1 1/2 T. Heavy Cream (or Whole Milk)
1 T. Olive Oil
Kosher Salt
Fresh Cracked Pepper
Instructions
Wash asparagus, cut off and discard ends, then--if large spears--lightly peel the bottom two-thirds of the asparagus. Cut into 3/4"-1" pieces.
Peel carrot and set aside
Heat olive oil in a large skillet, then add asparagus and salt and pepper to taste. Mix asparagus with the oil and cook until slightly browned--approximately 2-3 minutes. Do not over cook.
While the asparagus is cooking, crack all the eggs into a bowl and whisk in the heavy cream (or milk) until completely combined.
When the asparagus is cooked, poor in egg mixture, and sprinkle 2T of the mined chives into the pan.
Let eggs cook for 30 seconds then begin scrambling with your spatula until the eggs are cooked.
Remove the pan from the heat, and peel your desired amount of the peeled carrot over the mixture to make thin carrot ribbons. Mix into the eggs.
Sprinkle the eggs with the rest of your chives and a few more carrot ribbons, and enjoy!
Nutrition Information:
Yield:

2
Serving Size:

1
Amount Per Serving:
Calories:

333
Total Fat:

25g
Saturated Fat:

8g
Trans Fat:

0g
Unsaturated Fat:

15g
Cholesterol:

571mg
Sodium:

526mg
Carbohydrates:

6g
Fiber:

2g
Sugar:

2g
Protein:

21g
Some of the links in this article are "affiliate links", a link with a special tracking code. This means if you click on an affiliate link and purchase the item, we will receive an affiliate commission. The price of the item is the same whether it is an affiliate link or not. Regardless, we only recommend products or services we believe will add value to our readers. By using the affiliate links, you are helping support our Website, and we genuinely appreciate your support.
Please follow and like us:
---