Maine Berry Smoothie: How to Make A Smoothie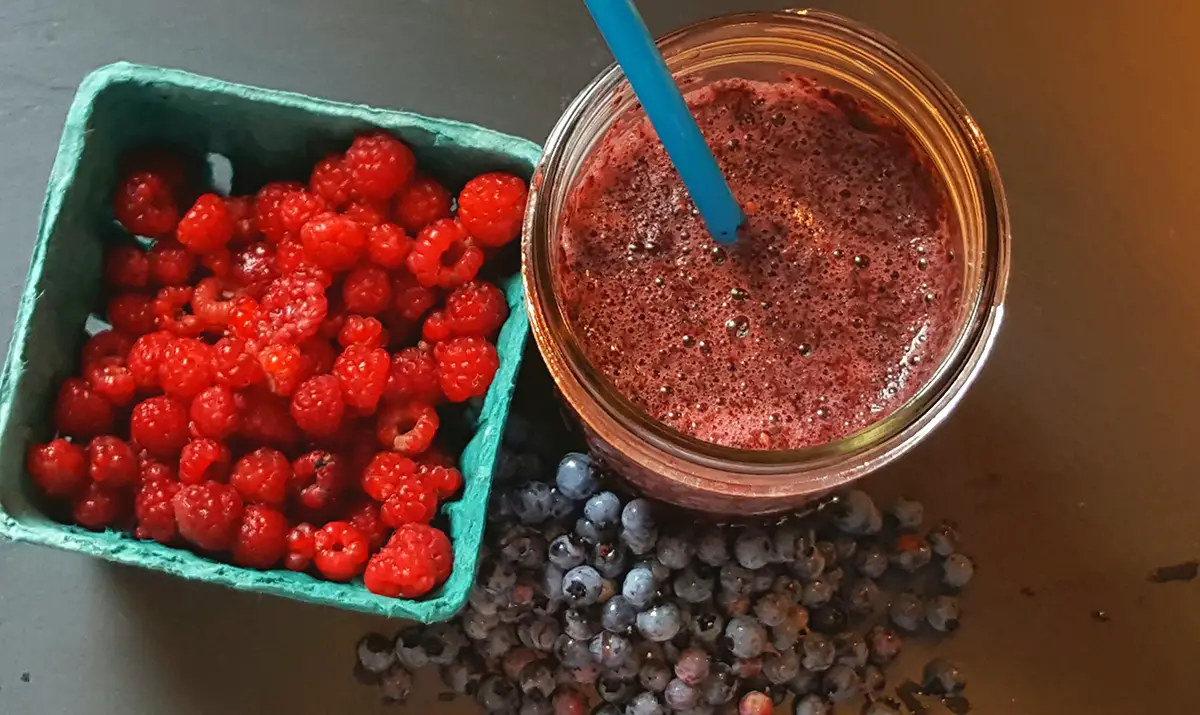 Learning how to make a smoothie is a tasty way to add extra servings of fruits and vegetables into your diet!
It is berry season in Maine, and I am in heaven!  The new property has revealed tons of Maine wild low-bush blueberries, wild raspberries, and a dash of wild strawberries as well!  With this new-found bounty (and leftover Maine blueberries I was hoarding in my freezer from last season), it is all about the berries in the kitchen today.  So I threw together a smoothie.  
Now, I'm not a smoothie everyday kind of person, but this recipe could make me one! The outstanding blueberries and raspberries used to make this smoothie are really what made it shine.  If you don't have fresh berries in the freezer, you can always make them with frozen fruit from the freezer aisle too. If you can find Maine wild blueberries, grab them!  You will not be sorry you did! 
Disclosure: As an Amazon Associate I earn from qualifying purchases.
How to Make a Smoothie from Scratch: Keys to Outstanding Smoothies
High quality ingredients–The better quality your ingredients the better your smoothies will be.
Start with frozen fruits and veggies–Frozen fruits and vegetables will help give your smoothie a cool smoothie-like consistency. You can always use fresh fruits and vegetables, you just won't have the same consistency as frozen.
A good liquid to mix in–I make smoothies with fruit juice, milk, almond milk, coconut water, and even yogurt. (I know yogurt isn't technically a liquid, but it fits here!)
Tasty Add-ins–You may want to add in some tasty ingredients like honey to naturally sweeten your smoothies. For some people, the fruit may be sweet enough, but I have found we prefer something sweet added in. Just taste as you go!
A GOOD blender–The better your blender, the easier this process will be!! I prefer to use a Ninja blender for all my smoothies.
A Big Straw–The thicker the straw, the better! Try a reusable Boba straw like this one!
Now onto the main event! Smoothies are very adaptable so experiment away! Some of my best smoothies happen when I am out of a specific ingredient, so I channel my inner Swedish Chef and substitute like crazy! Frozen watermelon, coconut, peaches, etc… it can all go into a smoothie!
This recipe makes 2 pints of smoothie, so grab a friend, and enjoy!
Items Used for this Recipe
Share the Fun!
If you enjoyed this recipe, you may also enjoy our Strawberry Lemonade Popsicles recipe or our Mulled Apple Cider recipe! We would love to see you enjoying these recipes, so share your pictures with us on Instagram or Facebook by tagging us @masonjarsandme
Also, if you don't want to miss another recipe from us, be sure to subscribe to our newsletter to receive a notification when our next recipe posts! Thanks for reading!!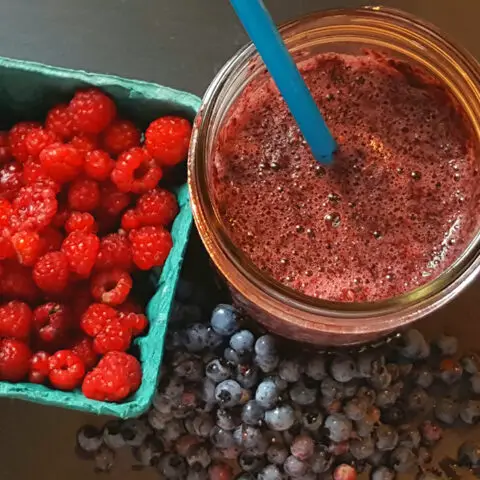 Maine Berry Smoothie
Ingredients
1 C Frozen Blueberries
1 C Raspberries (Frozen or fresh)
1 and 1/2 handfuls of baby Spinach
1/2 Cup Cran-Grape Juice
2 T Honey (optional)
Instructions
Wash your fruits and veggies and place in your food processor or blender.
Blend on high until berries and spinach are thick, then add 1/4 cup Cran-Grape Juice.
Blend on high again until you've reached your desired texture (you may need to add the rest of the juice at this time.
If the smoothie has too much of a bite for you (thanks to the cran-grape juice), add in your honey and blend again.
Pour into your glass, add a straw and enjoy!
Nutrition Information:
Yield:

2
Serving Size:

1
Amount Per Serving:
Calories:

177
Total Fat:

1g
Saturated Fat:

0g
Trans Fat:

0g
Unsaturated Fat:

1g
Cholesterol:

0mg
Sodium:

15mg
Carbohydrates:

44g
Fiber:

7g
Sugar:

27g
Protein:

2g
Some of the links in this article are "affiliate links", a link with a special tracking code. This means if you click on an affiliate link and purchase the item, we will receive an affiliate commission. The price of the item is the same whether it is an affiliate link or not. Regardless, we only recommend products or services we believe will add value to our readers. By using the affiliate links, you are helping support our Website, and we genuinely appreciate your support.
Please follow and like us:
---