French Apple Pie Recipe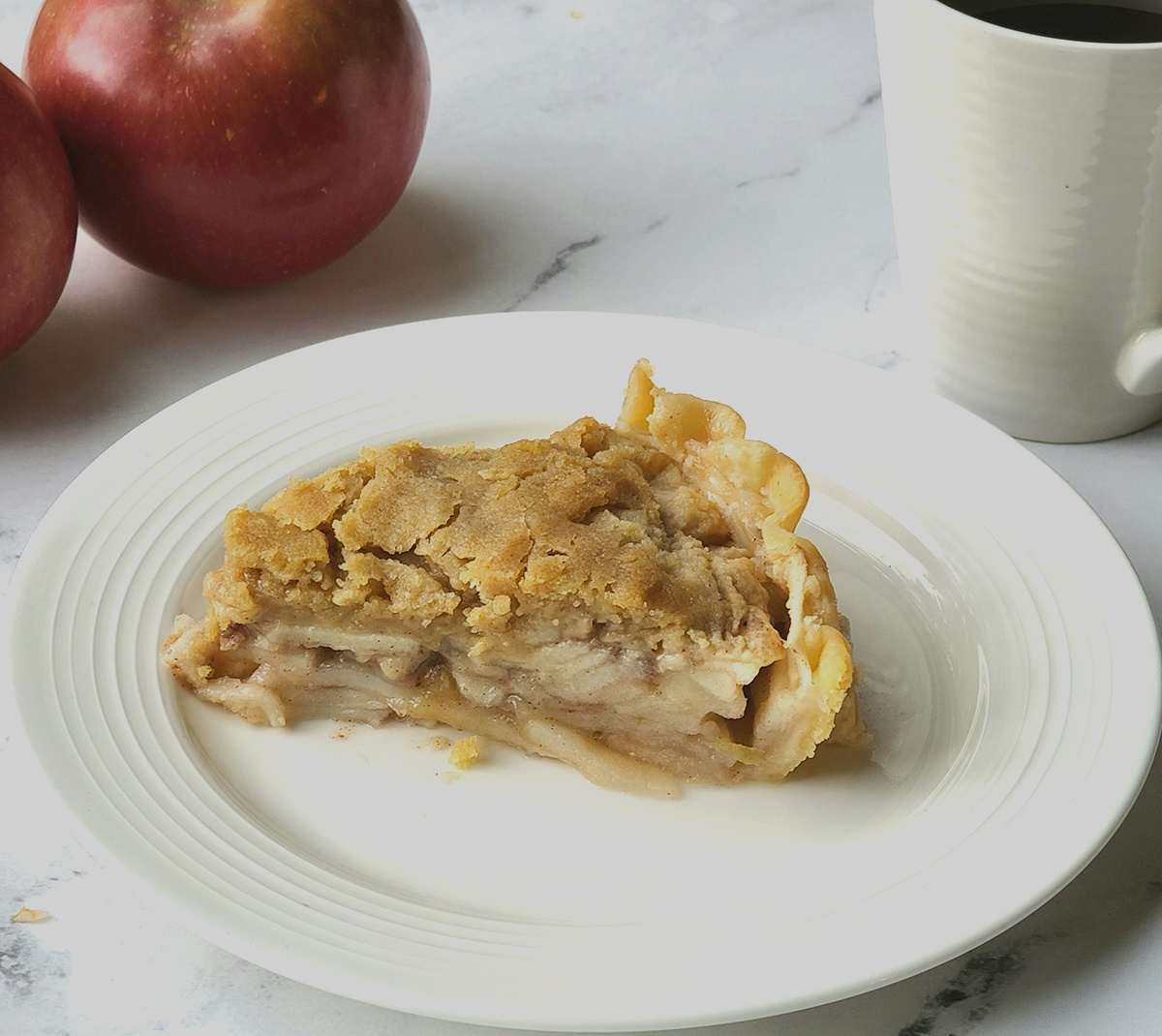 This delicious homemade French Apple Pie recipe (more commonly known as a Dutch Apple Pie recipe) is one that I learned to make as a kid (and even won a cooking contest with it then!). The simple ingredients and method to make this recipe not only makes it a perfect dessert for busy nights–or even the holidays!
Great home bakers and cooks are a part of the proud heritage of my family, and this French Apple Pie recipe was a family favorite while I was growing up. Now that I have easy access to all sorts of apples during the Fall in Maine, I like to make this one a couple times every Fall and then again for the holidays.
So today as I threw this pie together, nostalgia reigned in my kitchen.  Usually, the crust is homemade, but today I was in a rush and had pre-made pie crust on hand so that is what I used.  (Be on the lookout for my pie crust recipe coming soon!) I hope this recipe warms you as much as it has warmed my soul throughout the years!
French Apple Pie vs. Dutch Apple Pie
If you are a foodie, you may look at this recipe and think this is a Dutch Apple Pie recipe–and you would be right! This apple pie recipe does fit better into the Dutch Apple Pie camp, but when I learned to make it the recipe was called French apple pie. So… in our house it is a French apple pie. 🙂
The true difference between a French Apple Pie and a Dutch Apple Pie is pretty significant. The Dutch Apple Pie has a crumble topping. While the French Apple Pie traditionally does not have a top crust. Instead, the pie is baked upside down without topping and then flipped for serving–say what?!?
Ingredients for this Homemade French Apple Pie Recipe
Apples–You will need approximately 4 cups of cored and sliced apples. You can leave the peel on if you want. I usually remove them just because my apple peeler will do it for me.
Sugar–I typically use the traditional granulated sugar. However, you can use raw sugar in equal amounts.
Flour–Regular all-purpose flour.
Apple Pie Spice–You can find this in most spice aisles or you can make it yourself!
Kosher Salt
Butter–I use unsalted butter when baking.
Brown Sugar
Pie Crust–You can make this with a pre-made pie crust, and it will turn out great. If you make your own, bonus points!!
What Kind of Apples Should You Use?
Apple pie recipes are largely a matter of personal preference. Additionally, the type apples used in apple pie recipes is also up to interpretation. Traditionally, people gravitate toward the more tart and crisp Granny Smith Apple or even Macintosh apples for pies. Apples on the sweeter end of the spectrum such as Honeycrisp will work because they are crisp and hold their form better than say a Cortland which will make a softer filling. In the end, they all taste good, it just depends on how sweet and how much structure you want to have in the pie filling when cooked.
How to Store an Apple Pie
Once your pie has cooled, cover it with plastic wrap. I always refrigerate pies after they have cooled. If you make them ahead of time, you can easily make them a day or two ahead of the event and they will store well in the refrigerator.
For serving later, either enjoy directly from the refrigerator or warm a slice in the microwave for a few seconds and serve with some cold vanilla ice cream–yum!
Disclosure: As an Amazon Affiliate, I earn from qualifying purchases.
Tools Used for this Recipe
Other Great Recipes
If you haven't seen our Thanksgiving recipe round up, you may want to pop on over there to see what else can be paired with this homemade apple pie recipe for the holidays! Or, if you are in the mood for cookies, these Chocolate Crinkle Cookies are a perfect snack for the season.
Share the Fun!
Sharing this recipe with your friends and family on social media is one of the best ways to share this yumminess! Also, if you want to know when our next recipe is published to the website, sign up for our (free) newsletter. (If you are looking at this on a mobile device, scroll down for the sign up box. If you are using a desktop computer the signup is in the column on the right side of the screen.
Thanks for sharing, and we hope you love this recipe!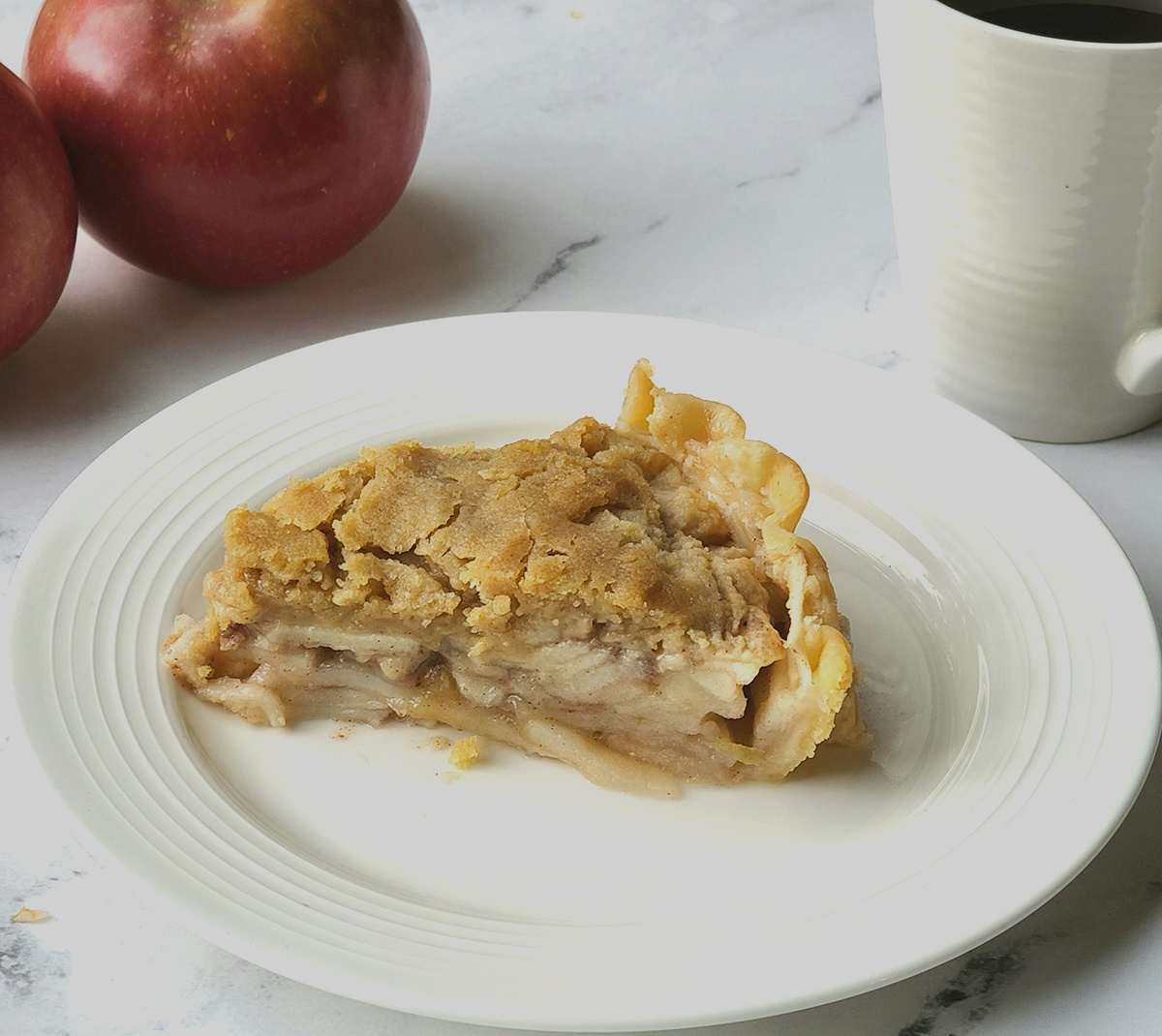 French Apple Pie Recipe (aka Dutch Apple Pie Recipe)
Total Time:
3 hours
10 minutes
Also known as a Dutch Apple Pie, this one-crust apple pie recipe with a crumble topping is incredibly simple to make and super delicious!
Ingredients
4 C. Sliced Apples
3/4 C. Sugar
1/4 C. Flour
1 t. (heaping) Apple Pie Spice
Dash of Kosher Salt
1/2 C. Butter, cold
1/2 C. Brown Sugar
1 C. Flour
1 Pie Crust
Instructions
Preheat the oven to 425 degrees..
Place the sliced and cored apples into a large mixing bowl.
Add sugar, flour, apple pie spice, and kosher salt to the apples and mix until the apples are well coated.*
In a separate bowl, combine flour and brown sugar then mix until well combined.
With a pastry cutter, cut in the butter into the flour and brown sugar mixture until the butter is pea-sized.
Place the pie crust in a pie pan-use a deep pie pan if you have it--and dock (pierce the bottom of the crust) with a fork
Place apple mixture into the pie crust.
Pour the brown sugar and butter mixture over the apples and press down to ensure it does not move and the pie is coated with topping.
Place in the oven and bake for 40 minutes.
Cover the pie edges with foil and bake for another 10 minutes or until the topping is golden.
Remove the pie and allow to cool at least 2 hours before cutting.
Notes
*If you allow the apple filling mixture to sit for 20-30 minutes, the moisture from the apples will pool in the bottom of the bowl and will make your apple pie less runny in the end. This is optional, but does help to keep the pie from break apart as much when serving.
Nutrition Information:
Yield:

8
Serving Size:

1
Amount Per Serving:
Calories:

453
Total Fat:

19g
Saturated Fat:

10g
Trans Fat:

0g
Unsaturated Fat:

8g
Cholesterol:

31mg
Sodium:

237mg
Carbohydrates:

69g
Fiber:

3g
Sugar:

39g
Protein:

4g
Some of the links in this article are "affiliate links", a link with a special tracking code. This means if you click on an affiliate link and purchase the item, we will receive an affiliate commission. The price of the item is the same whether it is an affiliate link or not. Regardless, we only recommend products or services we believe will add value to our readers. By using the affiliate links, you are helping support our Website, and we genuinely appreciate your support.
Please follow and like us:
---