Chocolate Crinkle Cookies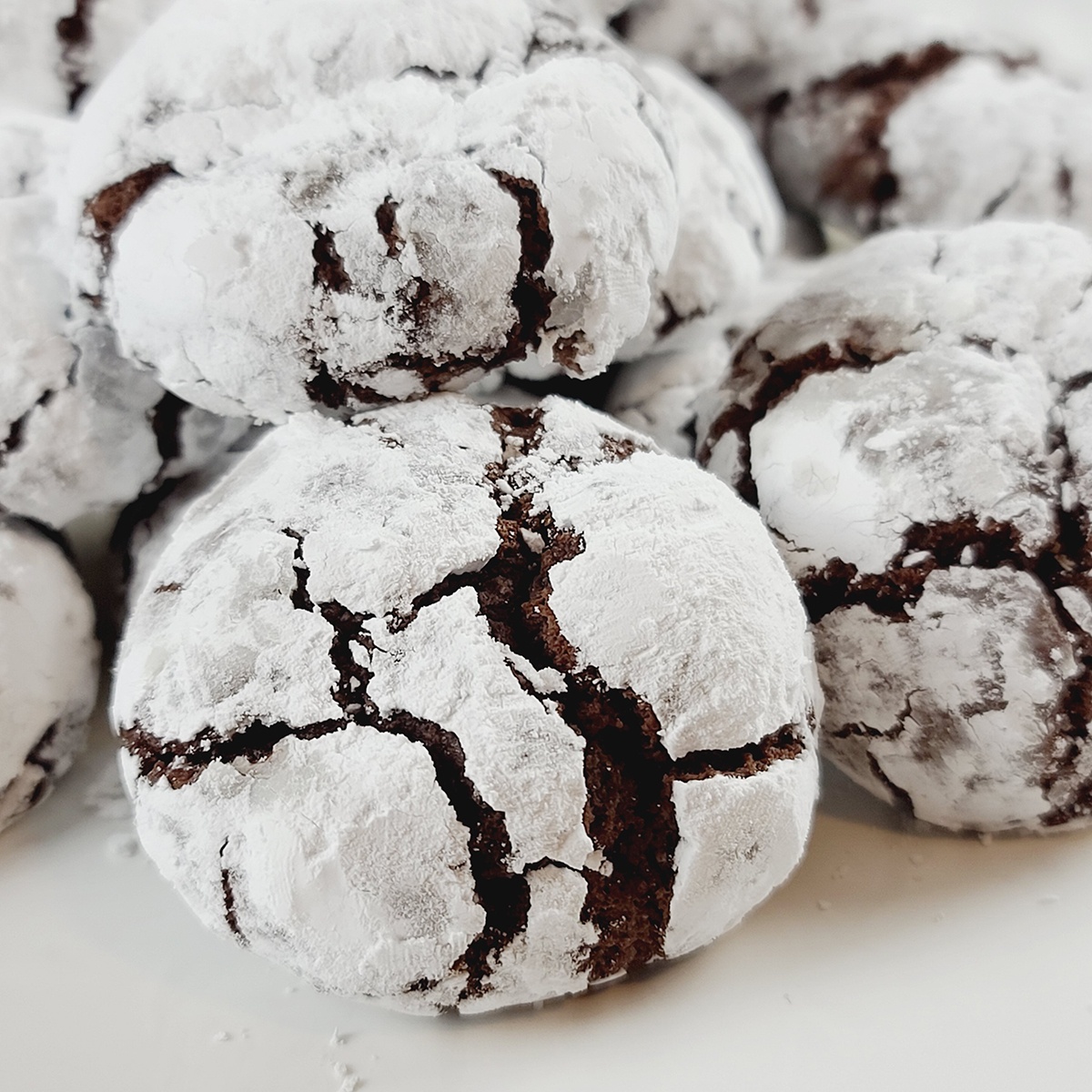 Chocolate Crinkle Cookies are a quintessential beacon of the holiday season. Between the luxuriously snowy coating and the aroma of chocolate, these Christmas cookies set the holiday mood!
As beautiful ornaments on cookie trays for the past century, Chocolate Crinkle Cookies are a must for every Christmas season. Also, known as Chocolate Crinkles, these cookies are great excuse to enlist the help of the junior bakers in your house as the rolling and powdering of these cookies is just incredibly fun! So, let's gather the supplies and get started baking!
Note: This page contains affiliate links from Amazon and other affiliate partners. We earn compensation based on qualifying purchases from these links. Thank you for your support as this enables us to bring quality content to you!
Key Ingredients for Chocolate Crinkle Cookies
For these delightful cookies, you will need the following ingredients:
Unsweetened Cocoa Powder–Use your favorite kind
All-Purpose Flour
Baking Powder
Kosher Salt
Butter–Room temperature and unsalted.
Granulated Sugar
Vanilla
Eggs
Powdered Sugar
Once you have all of these gathered (and the butter is at room temperature), you are ready to make the cookie dough.
How to Make Chocolate Crinkle Cookie Dough
In a bowl, sift in your cocoa powder, flour, baking soda and salt. Then stir until the mixture is uniform in color. Next, in a separate bowl, cream together your butter and sugar until the mixture is crumbly like sand. Then into the butter and sugar mixture add in the vanilla and eggs and mix until completely incorporated. Finally, stir in the dry ingredients until all the flour is incorporated.
How Long to Chill Chocolate Crinkle Cookie Dough
After the cookie dough is made, comes a crucial part of this cookie making process–the chilling. The reason this step is so critical is the cold dough is what causes it to crack in the heat of the oven to make the beautiful crinkle designs we all love. Best practice is to cover the dough with plastic wrap or a lid and chill overnight. However, you will still get good results if you chill for a minimum of 4 hours.
Rolling the Cookies
You can make these cookies as small or as large as you like. (Although you may have to adjust your bake time to accommodate for cookies that are especially large or small.) Generally, these cookies are rolled into 1 inch to 1 1/2 inch balls and then rolled in powdered sugar. In order to get the beautiful snow-like coating on the cookies, you will want to roll them twice in the powdered sugar to get a luxuriously thick coating. (This is the fun part!)
If you are working with just one baking sheet, be sure to return the cookie dough to the refrigerator between pans of cookies so the dough does not get too warm. You will notice that your hands will get coated with cookie dough even with the cold dough. However, if it is warm–oh boy! Get ready to scrub your hands afterwards!
Baking the Chocolate Crinkles
Once the cookies are coated, place on a baking sheet lined with a baking mat or parchment paper for easy cleanup. Then bake for 10-12 minutes until the cookies are set and you do not see a lot of moisture in the cracks. These cookies will continue to bake slightly after you take them out of the oven and they rest on the cookie pan for 5 minutes. After the 5 minute cooling period, remove the cookies from the cookie sheet and place on a baking rack to finish cooling.
Storing Chocolate Crinkle Cookies
If kept in an air-tight container or storage bag, these cookies will retain their soft texture and delightful flavor for about a week (if they last that long!).
Can You Freeze Chocolate Crinkle Cookies?
Yes! Once baked, you can freeze these cookies for at least a month in an air-tight, freezer container or freezer bag. When you are ready to use them, just sit them on the counter and allow to thaw.
You can also freeze the dough balls (before adding the powdered sugar) in an air-tight container for up to 2 months. Then, when you are ready to use them, just thaw on the counter for 30 minutes and roll in the powdered sugar as described above. This is an excellent cookie dough for freezing and using like this since we want them to be super cold for optimal crinkling!
Double the Recipe for Sharing!
If you love this recipe as much as I do, you may want to double it to share with family and friends. Typically, when I make this recipe as it is written here, it makes about 2 1/2 dozen cookies. So, if you are making cookie trays (or just freezing some for later!) double the recipe for approximately 5 dozen cookies.
Disclosure: As an Amazon Affiliate, I earn from qualifying purchases made from links in this post. Thank you for your support!
Tools Used for this Recipe
Share the Love!
If you loved this recipe, we would love to hear from you!
You can find us on Facebook or Instagram. From there you can also share this recipe from our Facebook page with all your friends and family!
If you would like to sign up for our newsletter (it's free!), just fill out your information below!
Other Great Recipes
Merry Christmas and Happy Holidays to everyone!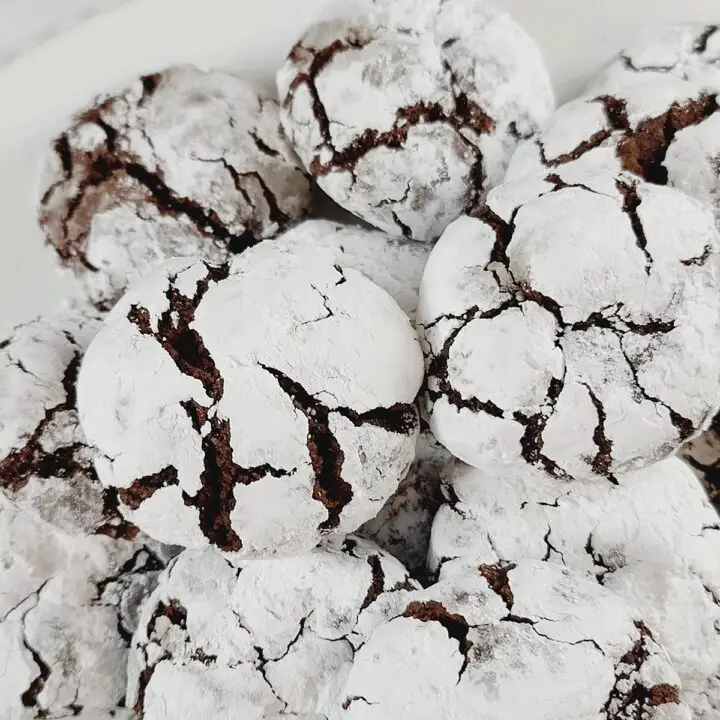 Chocolate Crinkle Cookies
Total Time:
8 hours
26 minutes
Chocolate Crinkle Cookies (also known as Chocolate Crinkles) are a holiday classic!
Ingredients
1 C. Unsweetened Cocoa Powder
2 C. All-Purpose Flour
1 1/2 t. Baking Powder
1/4 t. Kosher Salt
1/3 C. Butter, unsalted and at room temperature
1 1/2 C. Granulated Sugar
2 t. Vanilla
4 Large Eggs
1 C. Powdered Sugar
Instructions
Preheat oven to 350 degrees.
Sift into a bowl the cocoa powder, all-purpose flour, baking powder, and salt.
Mix until the ingredients are uniform in color.
In a separate bowl, mix together the butter and sugar using a hand mixer (or stand mixture) until the butter and sugar are fully incorporated and texture of sand.
Add the vanilla and eggs to the butter and sugar and mix until fully incorporated.
Then add the dry ingredients from the first bowl into the wet mixture and stir until all the flour is incorporated and the dough is uniform in appearance.
Cover with plastic wrap and chill in the refrigerator overnight (or 8 hours)
After the dough has chilled, roll the dough into balls.
Then roll the dough balls in the powdered sugar twice for a thick coating of powdered sugar.
Place on a baking sheet lined with a baking mat or parchment paper, and bake for 10-12 minutes.
Allow the cookies to cool on the baking sheet for 5 minutes, then remove to a cooling rack until completely cooled.
Notes
Sifting the dry ingredients into the bowl will allow for uniform distribution of the cocoa powder and will prevents lumps, or pockets, of cocoa powder in the finished product.
Chill time can vary from 4 hours to overnight. The colder the dough is before going into the oven the more beautifully crinkled the cookies will be.
If doing multiple batches of cookies, place the cookie dough back in the refrigerator while the cookies bake to ensure the dough is properly chilled before going into the oven.
Nutrition Information:
Yield:

30
Serving Size:

1
Amount Per Serving:
Calories:

124
Total Fat:

3g
Saturated Fat:

2g
Trans Fat:

0g
Unsaturated Fat:

1g
Cholesterol:

30mg
Sodium:

61mg
Carbohydrates:

22g
Fiber:

1g
Sugar:

14g
Protein:

2g
Some of the links in this article are "affiliate links", a link with a special tracking code. This means if you click on an affiliate link and purchase the item, we will receive an affiliate commission. The price of the item is the same whether it is an affiliate link or not. Regardless, we only recommend products or services we believe will add value to our readers. By using the affiliate links, you are helping support our Website, and we genuinely appreciate your support.
Please follow and like us:
---