Divine Tiger Butter Recipe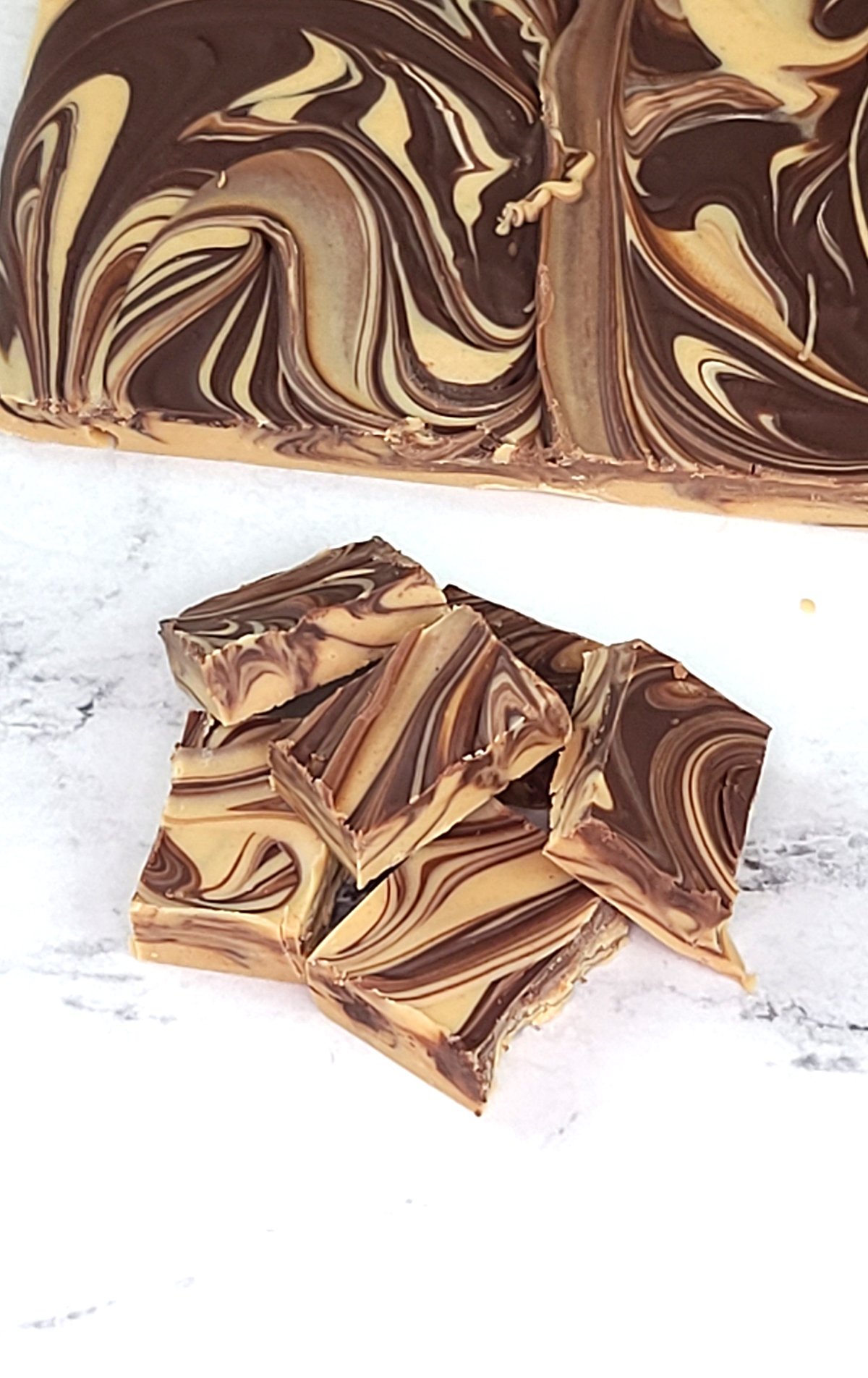 If you love peanut butter and chocolate, then Tiger Butter (also known as Tiger Butter fudge) is for you! The recipe is so simple, yet so delicious that it really should come with a warning label!
On the scale of 1 to 10 of easiest recipes out there, this Tiger Butter recipe is certainly a 10. With three simple ingredients and incredibly easy cooking instructions, this recipe is a favorite during the busy holiday season when we all want something easy but delicious.
Note: This post contains affiliate links and ads from Amazon and our other affiliate partners. We earn a commission from all qualifying sales. Thank you for your support as we continue to produce quality content for you!
What is Tiger Butter?
Tiger Butter is a combination of peanut butter and chocolate in a fudge-like form. Oftentimes, you will see this referred to as a fudge, but it really is more appropriately classified as a chocolate since it does not contain any added butter, milk, or sugar as you see in most fudges. Simply, Tiger Butter is a chocolate peanut butter you can eat like a candy which makes it perfect for snacking or even a spot on that holiday cookie plate with our Chocolate Crinkle Cookies!
Key Ingredients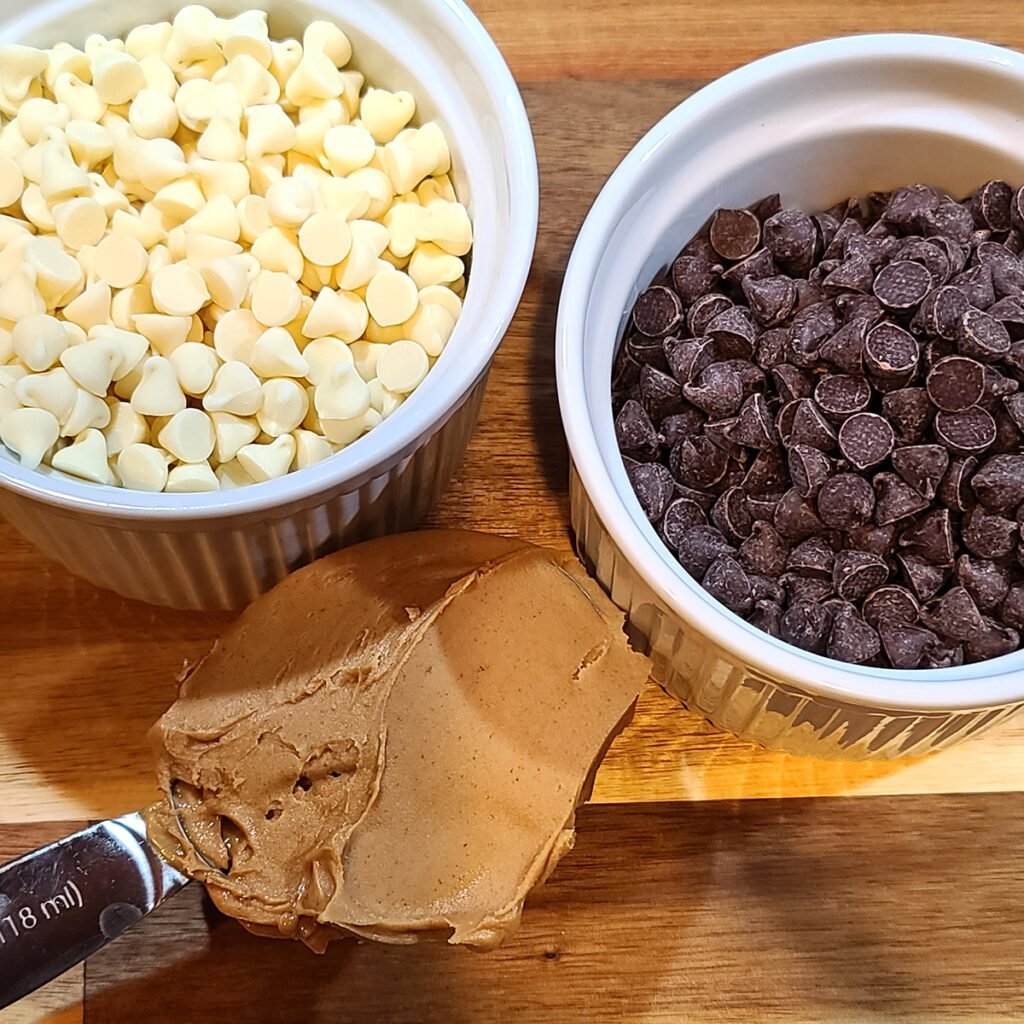 The purity of this recipe is part of it's magic. Just three ingredients are used to make this Tiger Butter recipe:
Peanut Butter
White Chocolate Chips
Semi-Sweet Chocolate Chips
Since this recipe is so simple in the ingredients list, it is key that you use quality ingredients. Using peanut butter that you and your family loves is important here. (This is the time to pay a little extra for the good stuff!)
Also, using the best chocolate you can is critical. When making chocolate like this, I try to use Ghirardelli brand chocolate chips. First off, they are soo good! But, more importantly, they melt and make some fabulous chocolate recipes without the after taste that some of the more inexpensive brands can have. If you can't swing the more expensive stuff, try your favorite brand of chocolate chips and see how they do.
How to Make Tiger Butter
The steps to making this Tiger Butter recipe are:
Prepare Your Pan
Melt White Chocolate & Peanut Butter
Pour Into Pan and spread out.
Melt Semi-Sweet Chocolate
Pour Semi-Sweet in various spots on top of the White Chocolate mixture.
Swirl with a knife
Let cool
Enjoy!!
Helpful Products for this Recipe
What Size Pan Should I Use?
You can make this recipe in a variety of pan sizes. Today, I wanted to make a thinner version of this candy so I elected to line a quarter-sized baking sheet lined with parchment paper. You can also use an 9×13 baking dish. Tiger Butter is decadently rich so I enjoy thinner and smaller bite-sized portions which is why I elected to make mine thinner. If you want a thicker end product, then use an 8×8 pan.
How to Melt Chocolate
For this and most candy recipes, I highly recommend that you melt your chocolate using the double boiler method. Essentially, that means you place a small pot of water on the stove to simmer, then place a metal or glass bowl on top of the pot of water so the steam heats up the bowl. All you have to do is stir the chocolate until it all melts. I find that this method produces a more silky and shiny chocolate.
The other method to melting chocolate is in the microwave. This isn't my preferred method because it often produces a more grainy texture to the finished product. In a pinch, however, the microwave method works. By heating the chocolate for 30 seconds, stirring and then repeating until the chocolate is melted, you will ensure your chocolate doesn't burn here. I actually find this method to also be a bit more tedious (and maybe more time consuming) than just putting a pot of water on the stove.
Getting the Perfect Swirled Chocolate
One of the most enjoyable parts of this recipe for me is swirling the chocolate. Part of me just enjoys making something so pretty. The other part of me just enjoys playing with my food!
In order to achieve the optimal chocolate swirl, there are a couple key things to remember. First, the peanut butter and white chocolate layer goes in the parchment-lined pan first. By putting this mixture in first, you give it time to slightly cool.
Then, melt the semi-sweet chocolate and put spoonfuls of the semi-sweet chocolate in various locations on top of the white chocolate mixture. (Do not spread the chocolate out… just spoon it on in various places.) Once you have your semi-sweet chocolate strategically placed, then take a knife and just starting running it through all the chocolate. This will make the perfect swirls.
How to Store Tiger Butter
Once the chocolate is swirled, you can either let it sit on the counter until it has cooled and set up. Or, you can cover it with plastic wrap and put it in the refrigerator to set. After the chocolate has set, cut into squares and store in an air-tight container.
Staying Connected
We love to be connected with you! Join us on Facebook, Instagram, or sign up for our newsletter here (it's free!).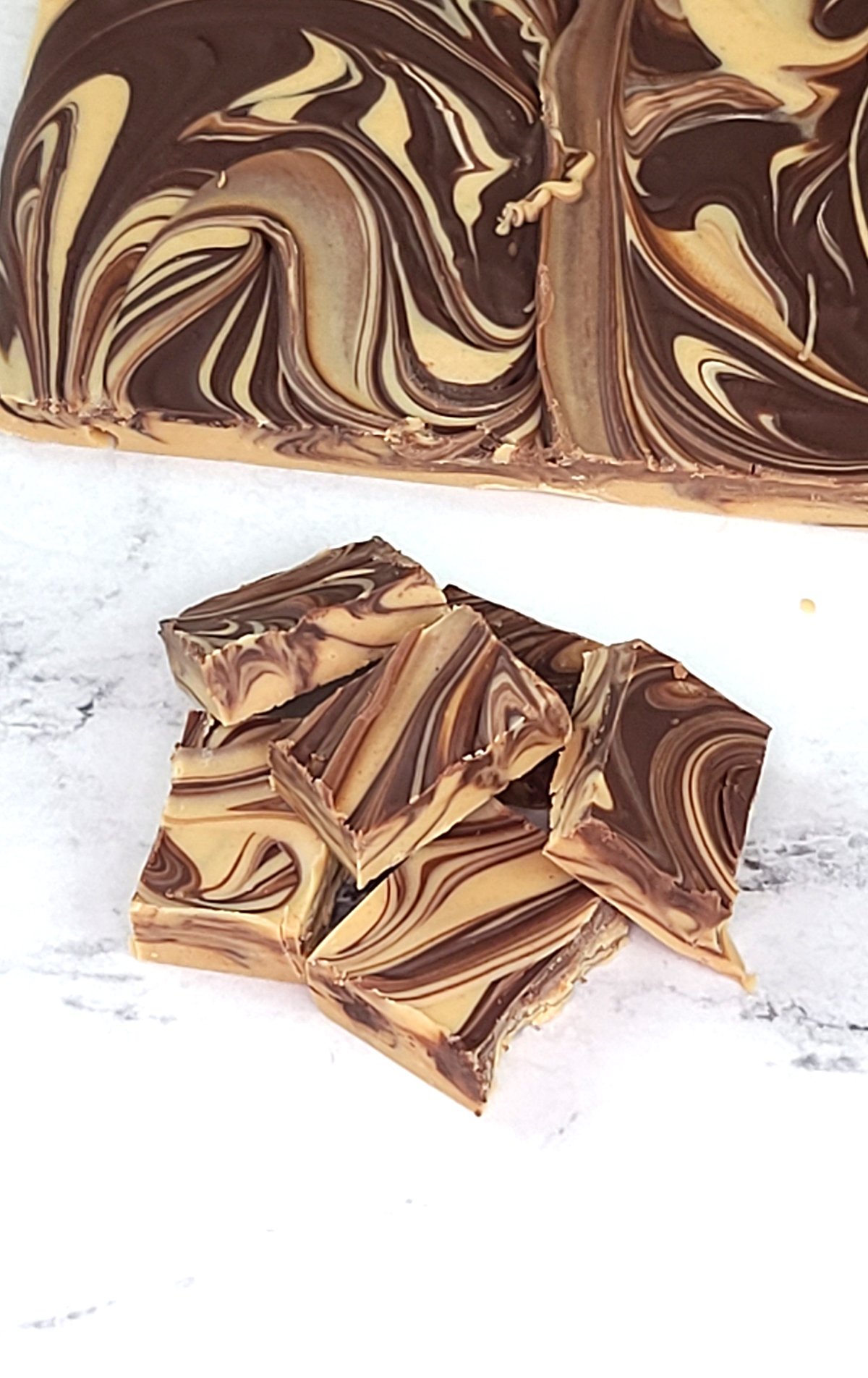 Tiger Butter Recipe
Total Time:
1 hour
15 minutes
Calling all Peanut Butter and Chocolate lovers! This simple, yet decadently-rich candy is perfect for your next holiday cookie plate!
Ingredients
1 (11oz) Bag of White Chocolate Chips
1/2 Cup Peanut Butter
1/2 Cup Semi-Sweet Chocolate
Instructions
Put a small put of water on to simmer.
Line a 9x13 pan with parchment paper.
Place the peanut butter and white chocolate chips in a metal or heat-safe glass bowl and place on top of the pot with the simmering water.
Stir the mixture until all the chocolate has melted and it is smooth.
Pour the peanut butter and white chocolate mixture into the parchment-lined pan.
In another bowl (metal or heat-safe glass) place the semi-sweet chocolate chips, and place on top of the pot with the simmering water.
Stir the chocolate until it has completely melted and is smooth.
Spoon the semi-sweet chocolate onto the white chocolate mixture in various places.
Swirl the chocolate with a knife.
Allow to cool until the chocolate has set.
When completely cooled, cut into inch squares or to your desired size.
Notes
Use quality peanut butter and chocolates for this recipe since they are the only ingredients.
You can utilize a microwave to melt the chocolate. However, I find this produces a more grainy texture than the double-boiler method described above.
Nutrition Information:
Yield:

24
Serving Size:

1
Amount Per Serving:
Calories:

58
Total Fat:

4g
Saturated Fat:

1g
Trans Fat:

0g
Unsaturated Fat:

2g
Cholesterol:

0mg
Sodium:

28mg
Carbohydrates:

5g
Fiber:

1g
Sugar:

3g
Protein:

1g
Some of the links in this article are "affiliate links", a link with a special tracking code. This means if you click on an affiliate link and purchase the item, we will receive an affiliate commission. The price of the item is the same whether it is an affiliate link or not. Regardless, we only recommend products or services we believe will add value to our readers. By using the affiliate links, you are helping support our Website, and we genuinely appreciate your support.
Please follow and like us:
---