Instant Pot Jasmine Rice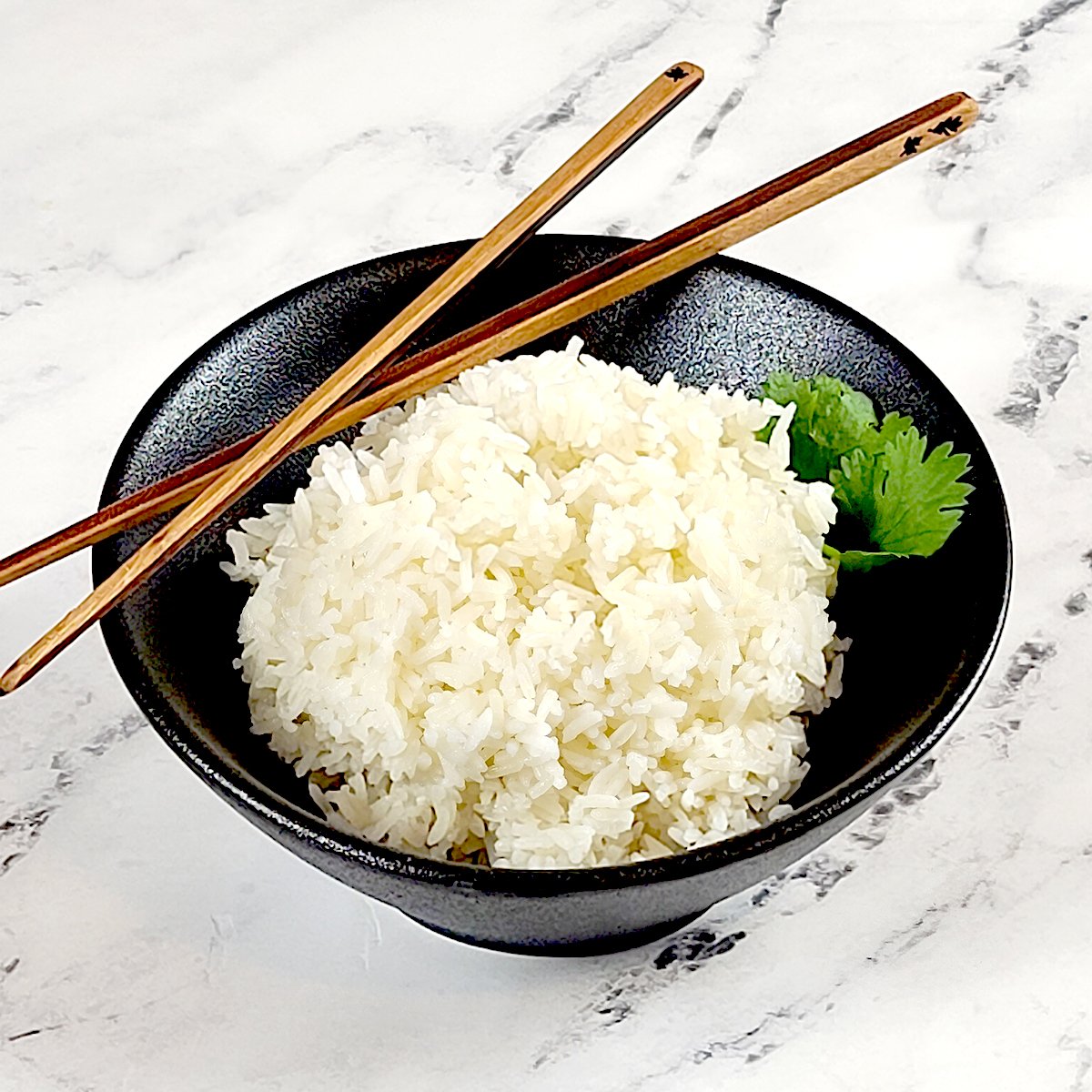 Fluffy and easy to make, Instant Pot Jasmine Rice is the perfect pairing for your next meal!
Soft, chewy, and slightly sticky, Jasmine rice is adds a perfect floral note to any dish. However, if cooked incorrectly, Jasmine Rice can become a mushy ball of mess. So learning to cook it properly is essential to mealtime happiness, and that is where the Instant Pot (or electric pressure cooker) comes in. While you can cook Jasmine Rice on the stovetop, in the microwave or in a rice cooker, I have found that the Instant Pot is a perfect method for cooking rice of all kinds because it is simple and retains the moisture needed to cook the rice to its perfect consistency. Plus, it is fast!
Note: This post contains affiliate links and ads from Amazon and our other affiliate partners. We earn a commission from all qualifying sales. Thank you for your support as we continue to produce quality content for you!
What to Serve with Jasmine Rice
Jasmine rice can be served with anything you would serve with rice. Most popularly, this rice is used in Southeast Asian cuisine, but it is much more versatile! Try using it with these recipes:
Jasmine Rice Instant Pot Ingredients
Before we talk about how to cook jasmine rice in the instant pot, we do need to prepare the ingredients. There aren't many, which truly makes this the simplest recipe.
Jasmine Rice (also called Thai fragrant rice)
Water
Kosher Salt
Is Jasmine Rice Gluten Free?
Jasmine rice itself is naturally gluten free. However, if you or someone you are cooking for are especially sensitive to gluten, some rice is packaged in facilities where they process other grains. Therefore, there is a risk of cross-contamination, and using a rice that is labelled gluten free is wise.
Do You Have to Rinse Jasmine Rice?
Yes, yes, yes! Jasmine rice definitely needs to be rinsed before cooking. The reason for this is Jasmine rice is coated with a higher level of starch on the exterior of each grain. Therefore, rinsing your rice will remove that starch and prevent a mushy ball of mess in your bowl!
How to Rinse Rice
The best way to rinse your rice is to use a fine-mesh strainer and run water over the rice in your strainer until the water coming out of the strainer is no longer cloudy. You will find another common method of rinsing rice out there of putting the strainer filled with rice into a bowl of water and swishing it around, then dumping the bowl of water and repeating a few times until the water is clear in the end. When using the first method, the result will likely be a more fluffy rise since the starchy water was rinsed immediately off the grain instead of sitting in the water as it was swished. Regardless of the method you use, the key to perfect Jasmine rice is in the rinse!
How to Cook Jasmine Rice in Instant Pot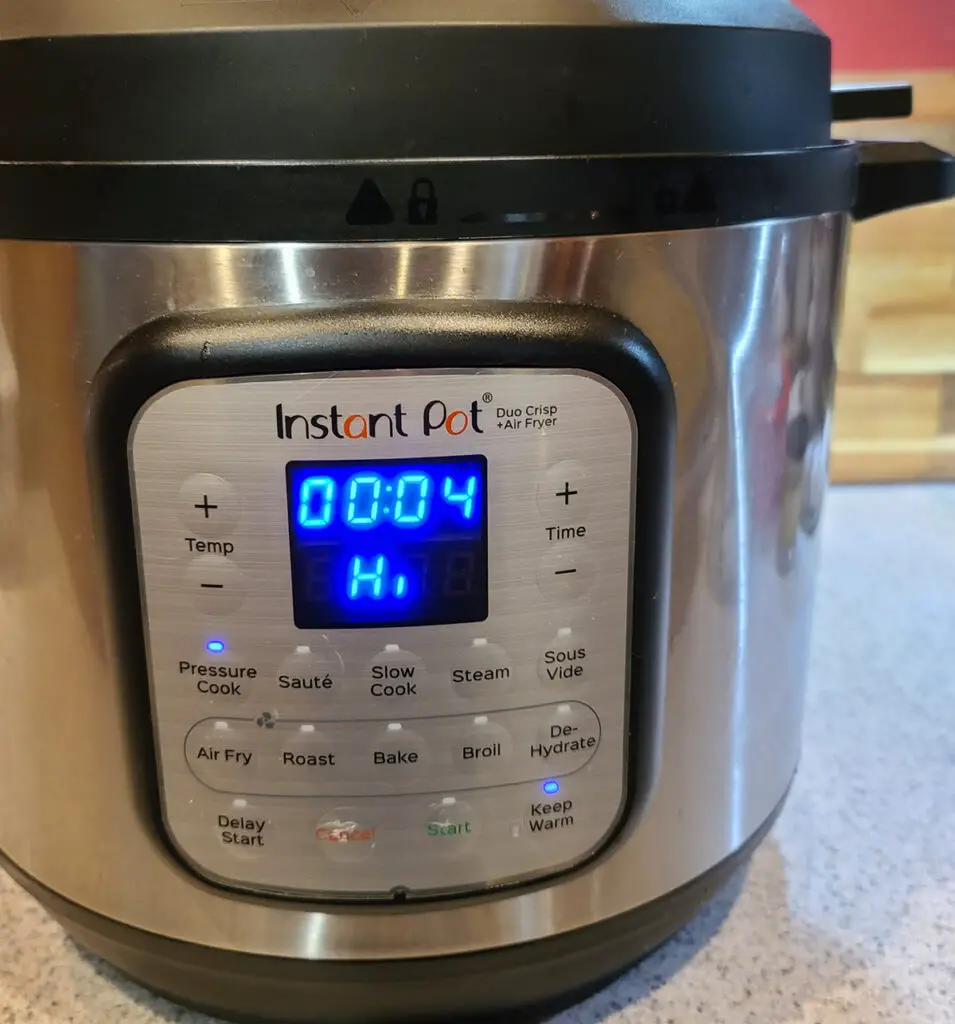 Once your rice is rinsed, the rest of this recipe is simple! Place your rinsed rice in the Instant Pot with an equal amount of water. This 1:1 ratio of rice to water is perfect for electric pressure cookers. In addition to your rice and water, you may opt to include some salt for flavor at this point.
How Long to Cook Jasmine Rice in Instant Pot
Set your Instant Pot to cook for 4 minutes with a natural release of 15 minutes. With the time it takes to build up pressure, cook, and then release pressure, the total time it takes is about 25 minutes.
Add the ingredients to the Instant Pot, close the lid, and make sure the valve is in the sealed position.
Select "Pressure Cook" and make sure it is set on High.
Set the time on the pressure cooker for 4 minutes.
Once the active cook time is over, allow the rice to sit on the "Warm" mode for 15 minutes. (This is what is called a "Natural Release".) The rice is passively cooking throughout this natural release process.
When the Warm timer counts up to 15 minutes, release the remaining pressure by positioning the steam release valve to its venting position and waiting until the pressure is fully released from your pressure cooker. (See your manufacturer's instructions for more specific instructions on how to know when your pressure cooker is safe to open).
Your rice is now ready for fluffing and your plate!
How Much Rice Can I Cook in My Instant Pot?
Since, I have an 8 qt Instant Pot, I do not cook less than a 2 cup portion. However, if you have a smaller Instant Pot, you could cook a 1 cup portion of rice with 1 cup of water. If you want to cook a larger amount of rice, just remember it is a 1:1 ratio of rice to water.
Can I Use The Rice Button for Jasmine Rice?
No. The built in rice button setting on pressure cookers are typically configured to cook regular white rice which take 2-3 times longer to cook than Jasmine Rice. If you were to use the rice setting, it would seriously overcook it. Instead, 4 minutes on High pressure with a 15 minute natural pressure release will make some fabulous Jasmine Rice!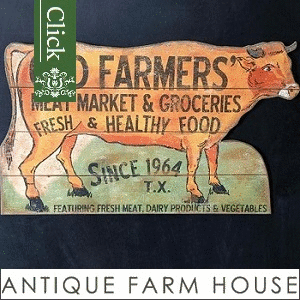 Variations
Substitute Chicken Broth for Water in an equal amount.
Melt Butter or Ghee into the rice after it finishes cooking.
Add lime juice to your rice after it is cooked for a bright citrus flavor!
How to Store Cooked Jasmine Rice
Any cooked leftover rice, can be stored it in an air-tight container in the refrigerator for up to 3 days. (Tip: Leftover rice is perfect for making fried rice!)
Items for This Recipe
Staying Connected
We love to stay connected with you! Join the Mason Jars and Me community on Facebook or Instagram to stay up-to-date on new recipes, tips, and our community. If you are looking for more vegetarian dishes, check out our vegetarian recipes category.
You can also sign up below for our newsletter to receive an email when we publish a new recipe!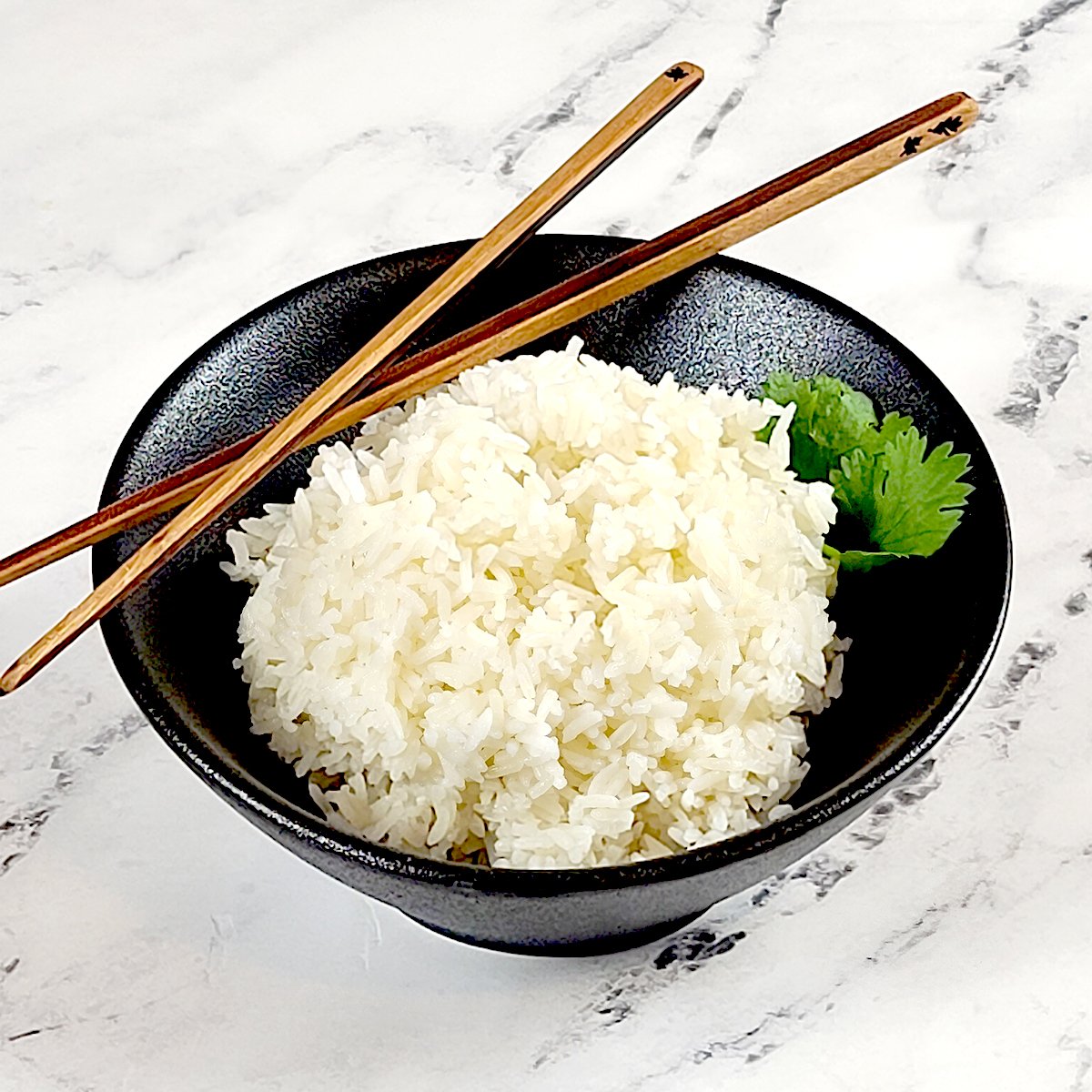 Instant Pot Jasmine Rice
Additional Time:
15 minutes
Have you ever wondered how to cook Jasmine Rice in Instant Pot? This recipe takes the guess-work out of making the perfect Jasmine Rice!
Ingredients
2 C. Jasmine Rice, uncooked
2 C. Water
3/4 t. Kosher Salt, optional
Instructions
Rise your rice until the water runs clear.
Put rice, water, and salt into the Instant Pot.
Seal the instant pot and set to High pressure for 4 minutes and press start.
After the active cook time is over, allow for a 15 minute natural pressure release.
Release the remaining pressure following your device manufacturer's instructions.
Remove the lid and fluff the rice.
Notes
Always consult your manufacturer's instructions on proper operation of your Instant Pot or pressure cooker.
This recipe was written for an 8 qt Instant Pot.
Nutrition Information:
Yield:

6
Serving Size:

1
Amount Per Serving:
Calories:

68
Total Fat:

0g
Saturated Fat:

0g
Trans Fat:

0g
Unsaturated Fat:

0g
Cholesterol:

0mg
Sodium:

161mg
Carbohydrates:

15g
Fiber:

0g
Sugar:

0g
Protein:

1g
Some of the links in this article are "affiliate links", a link with a special tracking code. This means if you click on an affiliate link and purchase the item, we will receive an affiliate commission. The price of the item is the same whether it is an affiliate link or not. Regardless, we only recommend products or services we believe will add value to our readers. By using the affiliate links, you are helping support our Website, and we genuinely appreciate your support.
Please follow and like us:
---