Eggroll in a Bowl–Instant Pot Style!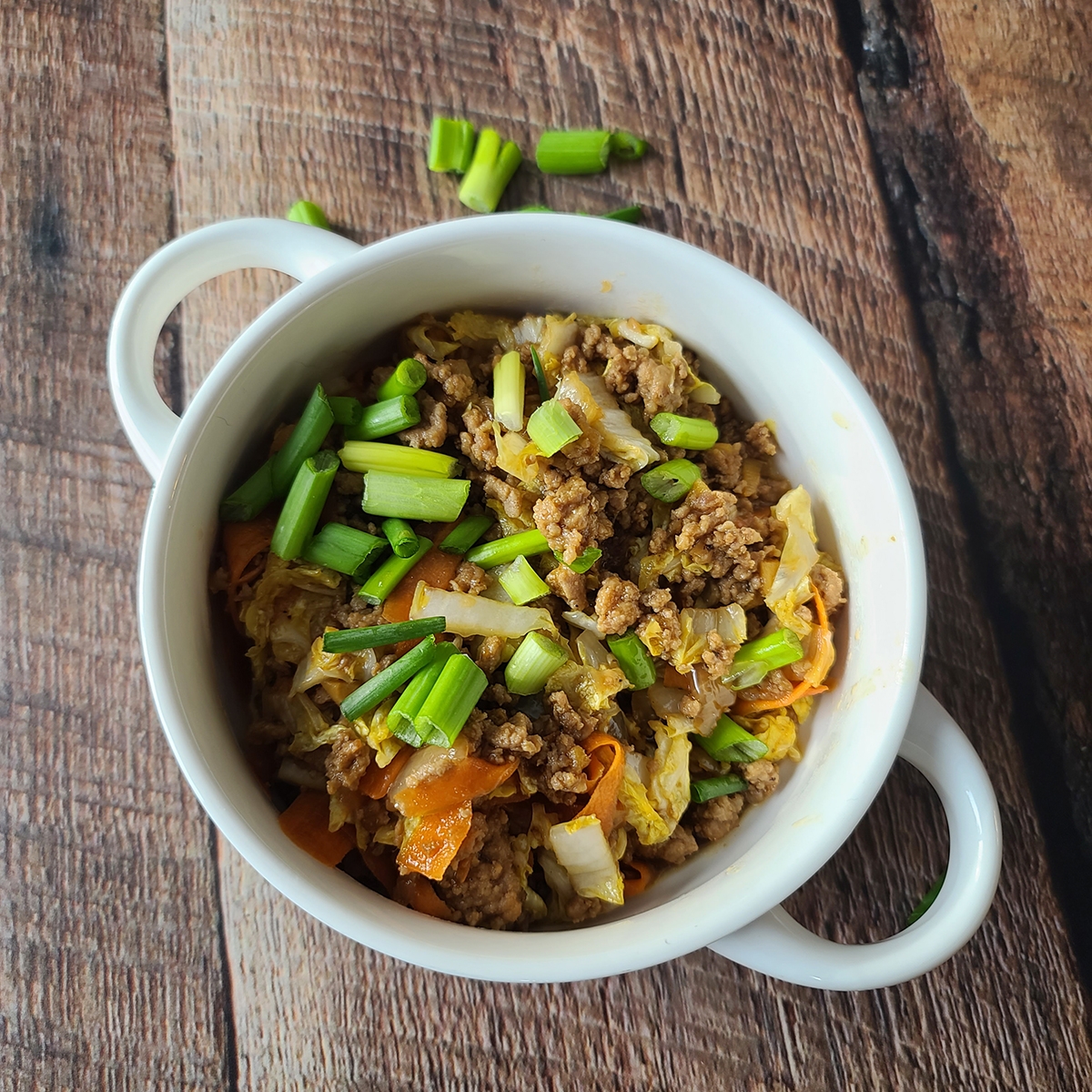 Ok, so I joined the party… During Black Friday sales this past year, I bought an Instant Pot Duo Crisp and have been loving all it can do! (I even bought my mom one too–hi mom!) Over the past couple of months, we have air fried egg rolls, French fries, potatoes, etc. and have made everything from apple crisp to pulled pork in the Instant Pot. I have to say this thing is awesome! So, when I found some cheap ground pork on sale and had Napa cabbage in the frig which needed to be used, my thoughts went to how I could use those ingredients in the Instant Pot. And, to the joy of my taste buds, I made this fabulous Instant Pot Eggroll in a bowl recipe!
Cabbage–Napa Cabbage, Green Cabbage, Red Cabbage…
Napa Cabbage (or Chinese Cabbage) is not a vegetable that I grew up eating. Really, we didn't eat any kind of cabbage regularly. So, when researching what to do with the Napa Cabbage in my frig, I found that this is often a staple in Asian cuisines and are sometimes substituted with its green and red cabbage cousins which come in the round heads. These substitutions can work if that is all you have, but they don't always produce the same texture and taste as Napa Cabbage brings to these dishes.
For this recipe, you will want to thinly slice the head across the Napa cabbage into 1/4″ strips until you have 7-8 cups of cabbage. This will usually mean you will use a large head of cabbage for this meal, which is perfect because it provides a great deal of green and volume to the recipe! If, however, you don't have, or can't find, Napa cabbage in your area, you can take a short cut and use a couple bags of premade coleslaw veggies (green and red cabbage with carrot shavings) to speed up the recipe. However, as said before, it does change the taste and texture of the recipe. But… we are all busy, and sometimes the bag is a matter of survival, so you do you. 🙂
Pork or Chicken or Beef?
This eggroll in a bowl recipe does not discriminate against any genre of ground meat. If you can put the ground meat you have in an eggroll, you can put it in this recipe. I only used pork because that is what I had on hand, but this dish would be great with ground chicken or beef or ??
Egg Roll in a Bowl Tips
This eggroll in a bowl is fabulous because it only takes the one pot in the instant pot to make which makes it a fabulous weeknight meal. When everyone is busy trying to balance the world around them, having a simple recipe is key.
So, to make this recipe as painless as possible, here are a couple tips:
First, While browning the meat, shred or thinly slice your cabbage into 1/4 inch strips across the head.
Second, Instead of chopping carrots, while standing there stirring the meat, take the peeled carrots and continue to make thin ribbons from the carrots using your peeler. This will ensure the carrots cook quickly. You may not be able to ribbon the whole carrot–since you have to hold on to it somewhere!–but my dogs always like carrot treats so it doesn't go to waste in this house!
Third, I used an 8 qt instant pot for this recipe, so if your instant pot is smaller, just divide the cabbage and carrot mixture in half and wilt into the meat mixture in batches.
Serve this Instant Pot Eggroll in a Bowl recipe with cooked rice or quinoa to make it stretch or eat as-is for a delicious meal. Either way, I know you are going to enjoy it!!
Disclaimer: As an Amazon Affiliate, I earn commissions on qualifying purchases.
Tools Used for this Recipe
Other Great Recipes
If you like this recipe, you are really going to want to try our Bok Choy Noodles with Chicken recipe, our Ginger Meatball Ramen Recipe, or our Shrimp and Snow Pea Stir Fry recipe!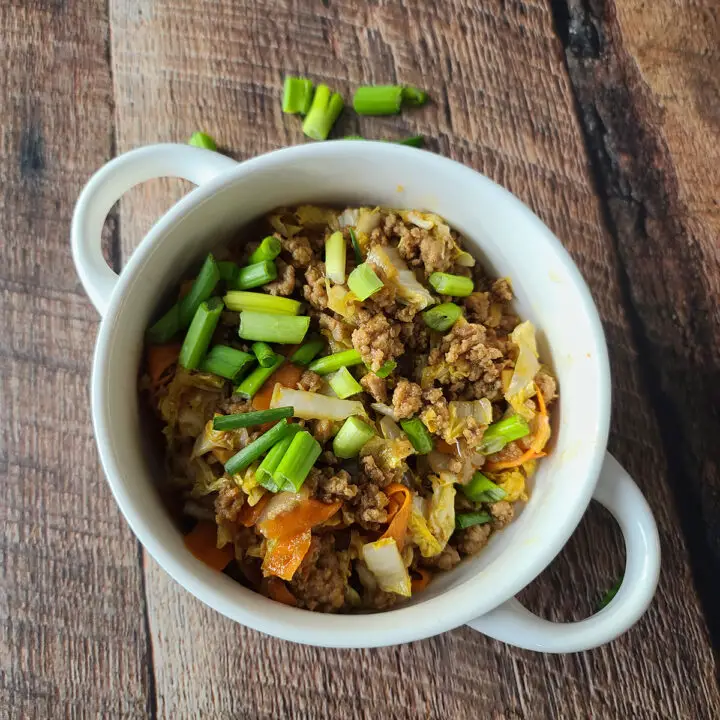 Instant Pot Egg Roll in a Bowl
Additional Time:
10 minutes
A quick, easy and delicious way to enjoy your next eggroll!
Ingredients
1.5 lbs ground pork
3 cloves garlic, minced
1 Tablespoon fresh ginger, minced
3 green onions sliced (white and green parts divided)
1/4 C beef broth
3 Tablespoons soy sauce
1 Tablespoon hoisin sauce
1 Tablespoon rice wine vinegar
1 Tablespoon sesame oil
1 Tablespoon honey
1/2 teaspoon white ground pepper
Kosher salt, to taste
pepper, to taste
7-8 cups Napa Cabbage, thinly sliced (about 1 large head)
1 1/2 cups carrots, thinly shredded or ribboned
Instructions
Set the Instant Pot to Sauté, add meat, and cook until browned. Stir occasionally
To the browned meat, mix in garlic, ginger, and the whites of the green onions. Cook for another minute.
Press cancel on the instant pot to stop the sauté function.
While the meat is cooking combine the soy sauce, hoisin sauce, rice wine vinegar, sesame oil, honey, and white ground pepper. Whisk until fully combined.
While the pot is still hot, poor the broth over the meat mixture in the instant pot, and stir to release any bits of food sticking to the bottom of the pot. (This will help prevent the dreaded BURN notice!)
Then mix in the sauce.
Seal the lid according to the device's instructions and pressure cook on High for 3 minutes.
Once the pressure cook timer is finished, carefully do a quick release of any remaining pressure according to your device's instructions.
Mix the cabbage and carrot ribbons into the meat mixture, cover lightly with the lid (do not seal the pot) and allow the vegetables to wilt for 2-3 minutes. (If you have a smaller Instant Pot, you may need to mix in half, let it wilt, then mix in the other half.)
Serve with cooked rice or quinoa and garnish with green onion tops and sesame seeds (optional)
Nutrition Information:
Yield:

6
Serving Size:

1
Amount Per Serving:
Calories:

521
Total Fat:

28g
Saturated Fat:

9g
Trans Fat:

0g
Unsaturated Fat:

15g
Cholesterol:

107mg
Sodium:

834mg
Carbohydrates:

32g
Fiber:

2g
Sugar:

5g
Protein:

42g
Some of the links in this article are "affiliate links", a link with a special tracking code. This means if you click on an affiliate link and purchase the item, we will receive an affiliate commission. The price of the item is the same whether it is an affiliate link or not. Regardless, we only recommend products or services we believe will add value to our readers. By using the affiliate links, you are helping support our Website, and we genuinely appreciate your support.
Please follow and like us:
---