Ginger Meatball Ramen Recipe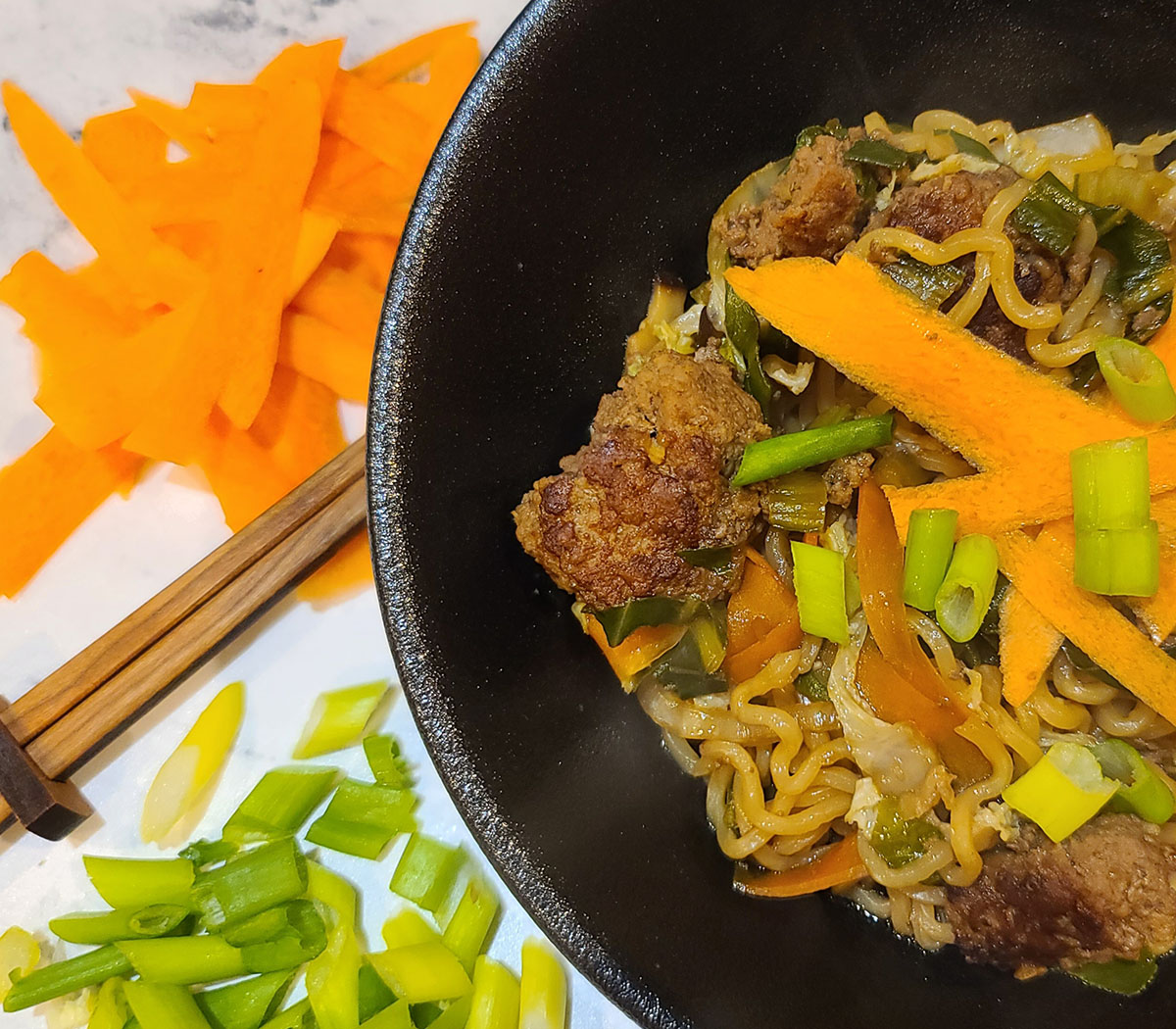 Ramen is one of those categories of foods, that I really didn't fully appreciate until I was well into adulthood. Growing up, ramen meant the packaged ramen flavored with the included flavoring packets–that was it. Then in college came the addition of some mixed veggies to the pot as the ramen cooked. It wasn't until after college and I began travelling a lot that I discovered a much bigger world of this Japanese treat. So, as I was staring at the load of veggies I have in the frig ramen came to mind. However, I wanted something pretty substantial, so when I saw the ground beef on the top shelf, the idea for this Ginger Meatball Ramen recipe was born.
Not Your Typical Ramen Recipe
I am in no way claiming that this is an authentic Japanese ramen recipe. In fact, this is probably closer to a Mongolian Beef Ramen recipe than it is a traditional ramen. This recipe has a lower ratio of broth than a traditional ramen. The meat and veggies are also cooked in the pot with the noodles instead of letting the raw veggies soften in the hot broth. Finally, there is no egg in this recipe as more traditional ramens include. With that said, this take on ramen is sure to please!
Key Ingredients
Ground Beef
Ginger
Garlic
Hoisin Sauce
White Ground Pepper
Kosher Salt
Olive Oil
Shitake Mushrooms
Napa Cabbage
Baby Bok Choy
Carrots
Sesame Oil
Rice Vinegar
Soy Sauce
Brown Sugar
Chicken Broth
Ramen Noodles
Green onions
Ginger Meatballs
The protein portion of this ramen recipe is beyond good. Fresh ginger, dried minced onions, minced garlic, some ground white pepper, and a little hoisin sauce mixed with ground beef makes a delicious meatball! The ground white pepper gives the meatballs the perfect nip of flavor alongside the ginger. You don't want to leave this out or substitute regular black pepper–it will not taste the same. The ground beef I used for this was an 85/15 blend from Butcher Box. You can always use an 80/20 blend, but your meatballs might fall apart with the added fat content.
I have been using Butcher Box for quite some time, and I absolutely love their products! The beef is grass fed which makes all the difference in the end product. Growing up in the Midwest, I ate a lot of beef in my lifetime, and this is some of the best I've had. (I'll have to tell you more about their divine ribeye steaks and bacon some other time!) If you want quality meat delivered to your door, then this is certainly the way to go!
Back to the meatballs…once the meatballs are mixed, you will want to form them into 1 inch diameter meatballs. You only use a pound of ground beef in this ramen recipe because you make a ton of tiny tasty meatballs! Once they are formed, heat the olive oil in the bottom of a large pot and place the meatballs in the hot oil. The meatballs will take about 5 minutes and a couple turns to be cooked through and browned on the outside. A couple may fall apart while turning which is no big deal, the full meatball just makes a pretty final product. (If they are broken, they taste just the same. 🙂 )
The Ramen
When the meatballs finish cooking, it is time to start building the ramen base. Start by adding the diced shitake mushrooms to the pan and let them cook about a minute. Then add more minced ginger to the pot and stir everything together. Let the mixture cook for about 30 seconds, then mix in the thinly sliced boy choy stems and let everything cook for about a minute. Finally, add in the broth and the rest of the boy choy, Napa cabbage, and 1/2 cup of carrot sticks (I used shavings) to the pot. Add all the sauce ingredients and bring the whole pot to boil.
Once the pot is boiling and the vegetables have reduced in volume slightly, nestle in the two cakes of dried ramen and cook for six minutes. (If you choose to use fresh ramen noodles, just follow the noodle cooking instructions that come with the ramen.) The result will be noodles coated in a beautiful sauce which are full of flavor!
Serving the Ramen
When ready to eat, serve your pipping hot Ginger Meatball Ramen with some green onions and a few carrot shavings (or matchsticks). I think the best way to eat any noodle dish like this is with chop sticks and out of a ramen bowl. You can always use a traditional bowl, but why not make the dinner special with some special dishes?!? I use my ramen bowls for multiple dishes, and love, love, love mine.
Disclosure: As an Amazon Affiliate, I earn from qualifying purchases.
Items Used for this Recipe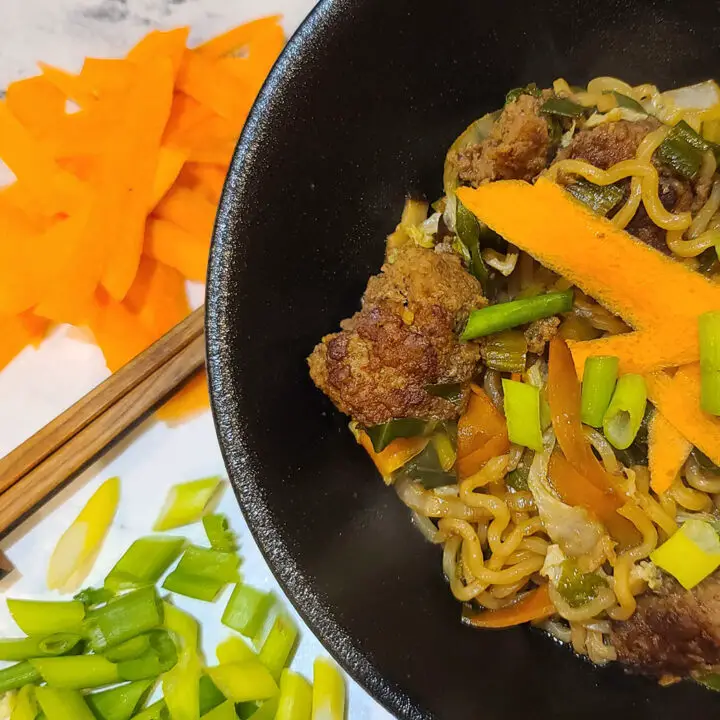 Ginger Meatball Ramen Recipe
A tasty meatball ramen recipe for any occasion!
Ingredients
1 lb Ground Beef (preferably 85/15 or higher)
2-1inch pieces of ginger, peeled and minced
2 T. Minced garlic
1 t. Hoisin sauce
1/2 t. Ground White Pepper
1/2 t. Kosher Salt
1 T. Olive Oil
3 oz Shitake Mushrooms, diced small (approximately 5 shitake mushrooms)
1/2 Napa Cabbage, thinly sliced
2 Heads Baby Bok Choy, thinly sliced and sliced stems separated
1/2 C shredded or shaved carrots (reserve a few for garnish)
1/4 t. Sesame Oil
1/2 t. Rice Vinegar
1 T. Hoisin
1/8 C. Soy Sauce
1/4 t. Ground White Pepper
3 T. Brown Sugar
2 C. Chicken broth
2 Packages Ramen, flavoring packet discarded
4 Green onions, diced and greens separated.
Instructions
In a bowl, mix ground beef, half of the ginger, all the minced garlic, 1 t. hoisin sauce, 1/2 t. ground white pepper and kosher salt.
Form into small meatballs (1-1 1/2 inch diameter sized meatballs).
Heat olive oil in a large pot. Add meatballs. Cook and turn until all sides are brown and the meatballs are cooked through.
Add shitake mushrooms to the pot and cook 1 minute.
Add other half of ginger to the pot and cook 30 seconds.
Add sliced Bok Choy stems and cook 1 minute.
Add rest of Bok Choy, cabbage and carrots to the pot. Cook 1 minute.
Mix sesame oil, rice vinegar, 1 T. hoisin, soy sauce, ground white pepper, and brown sugar Then add to the pot. Mix until everything is coated.
Add chicken broth and bring to boil.
When everything is boiling tuck the two ramen cakes into the pot and cook 6 minutes. (If there is not enough liquid to cover everything, add more chicken broth.)
Garnish with carrots and green onion tops and enjoy!
Nutrition Information:
Yield:

4
Serving Size:

1
Amount Per Serving:
Calories:

933
Total Fat:

42g
Saturated Fat:

14g
Trans Fat:

1g
Unsaturated Fat:

22g
Cholesterol:

217mg
Sodium:

2763mg
Carbohydrates:

79g
Fiber:

8g
Sugar:

16g
Protein:

60g
Some of the links in this article are "affiliate links", a link with a special tracking code. This means if you click on an affiliate link and purchase the item, we will receive an affiliate commission. The price of the item is the same whether it is an affiliate link or not. Regardless, we only recommend products or services we believe will add value to our readers. By using the affiliate links, you are helping support our Website, and we genuinely appreciate your support.
Please follow and like us:
---