Shrimp and Snow Pea Stir Fry Recipe
It may be the beginning of July, but in Maine we are just wrapping up our Spring-like weather. My garden is still in Spring mode with loads and loads of peas, so the menu has been dominated by snow and shelling peas. Every year I promise myself I'll plant more so I have some to preserve for those long winter months, but every year they seem to disappear all too quickly. This is year no exception, so I am deciding to be content with the bounty I have now and made a shrimp and snow pea stir fry recipe which showcases these peas!
Disclosure: As an Amazon Associate I earn from qualifying purchases.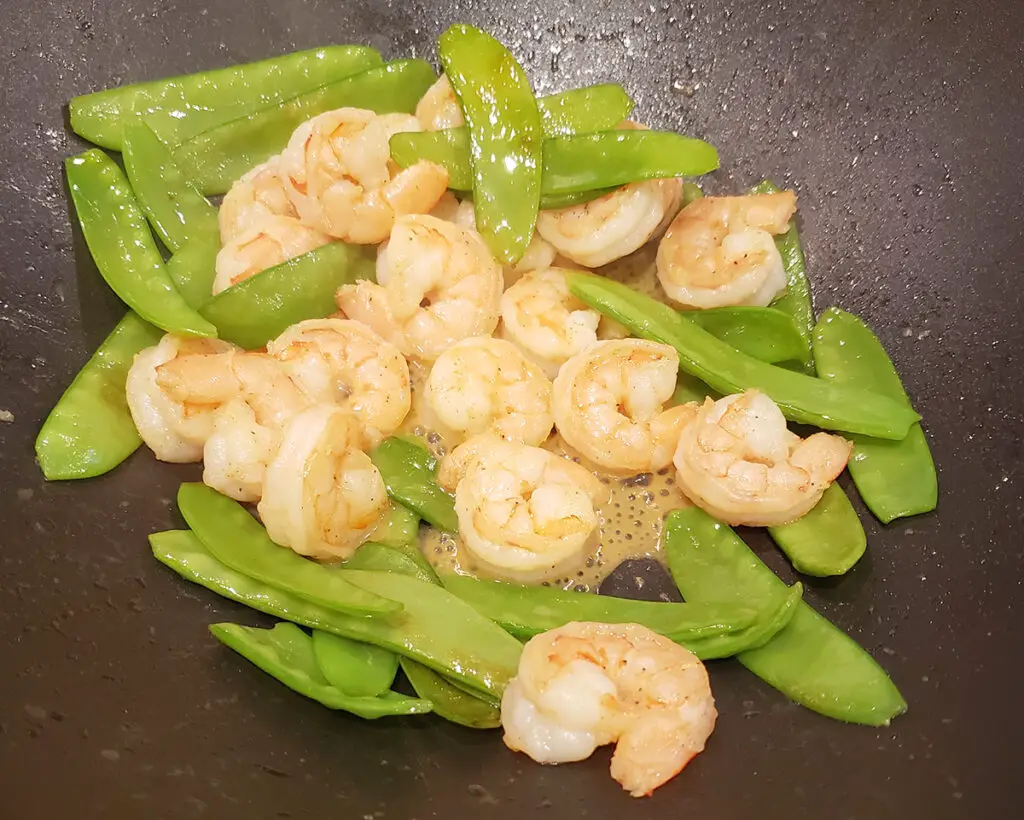 Snow Peas and Woks
For this stir fry recipe, I am using some of the snow peas I harvested earlier in the day. Snow peas are the fully edible flat peas which are packaged in your produce section. The delicate nature and taste of these peas make them the perfect addition to any stir fry or pasta dish. Just cook them in your wok for about 2 minutes and add back into the recipe at the end. (The wok I have pictured here is my absolute favorite! I have tried two cheaper versions and found that this one is the best!) When they cook up snow peas turn a beautiful bright green which is an added a pop of color to your dishes!
How to Make This Stir Fry Recipe
This shrimp and snow pea stir fry recipe is perfect for those hot days when you want something fast that will not heat up the kitchen much. To keep the heat down in the summer, I generally use a rice cooker. Once a week I cook up a batch of rice to use all week. (This is part of my weekly meal prep!) Then, what I don't use that night goes into the refrigerator for Fried Rice, Mexican rice, stuffed pepper filler, etc the rest of the week. Then, once the rice is done, it takes less than 10 minutes to put this yummy meal together. Truly a dinner in a snap!
Want something to go alongside your Shrimp and Snow Pea Stir Fry? Try our Baked Crab Rangoon!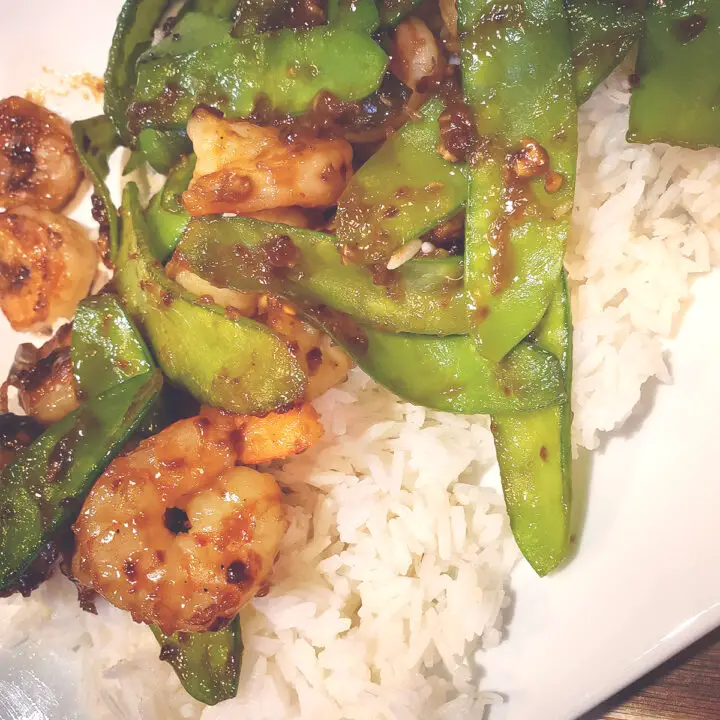 Shrimp and Snow Pea Stir Fry
Ingredients
1 lb Shrimp, faw--shelled and de-veined
2 C Snow Peas (or more if you have them!)
1 T Olive Oil
1/4 C Soy Sauce, low sodium
1 T Hoisin Sauce
2 T Corn Starch
1-2 T Red Pepper Flakes, to taste
1-2 Garlic Cloves, minced
1 T Ginger, minced
Ground Pepper to taste
Cooked Rice
Instructions
In a skillet or wok, heat olive oil on medium to medium high heat until hot, then add peas.
Cook peas for approximately 2 minutes or until peas are bright green and cooked to desired texture
Remove peas from pan.
Add shrimp to pan and cook 2-3 minutes per side or until pink and cooked through (you may want to add some pepper to the shrimp at this point).
While shrimp is cooking, in a separate bowl, mix together soy sauce, hoisin sauce, corn starch, red pepper flakes, garlic and ginger until corn starch is not lumpy. (If you want a more runny sauce, add more soy sauce–just be sure it's low sodium or you run the risk of making the dish entirely too salty.)
When shrimp is done, add peas back into the pan, and add sauce to pan. Stir and allow to cook for 1-2 minutes until the sauce is reduced slightly and peas and shrimp are coated.
Plate on a bed of cooked rice, and enjoy!
Nutrition Information:
Yield:

3
Serving Size:

1
Amount Per Serving:
Calories:

394
Total Fat:

8g
Saturated Fat:

2g
Trans Fat:

0g
Unsaturated Fat:

6g
Cholesterol:

319mg
Sodium:

2223mg
Carbohydrates:

37g
Fiber:

5g
Sugar:

6g
Protein:

42g
Some of the links in this article are "affiliate links", a link with a special tracking code. This means if you click on an affiliate link and purchase the item, we will receive an affiliate commission. The price of the item is the same whether it is an affiliate link or not. Regardless, we only recommend products or services we believe will add value to our readers. By using the affiliate links, you are helping support our Website, and we genuinely appreciate your support.
Please follow and like us:
---