Bacon Ranch Orzo Salad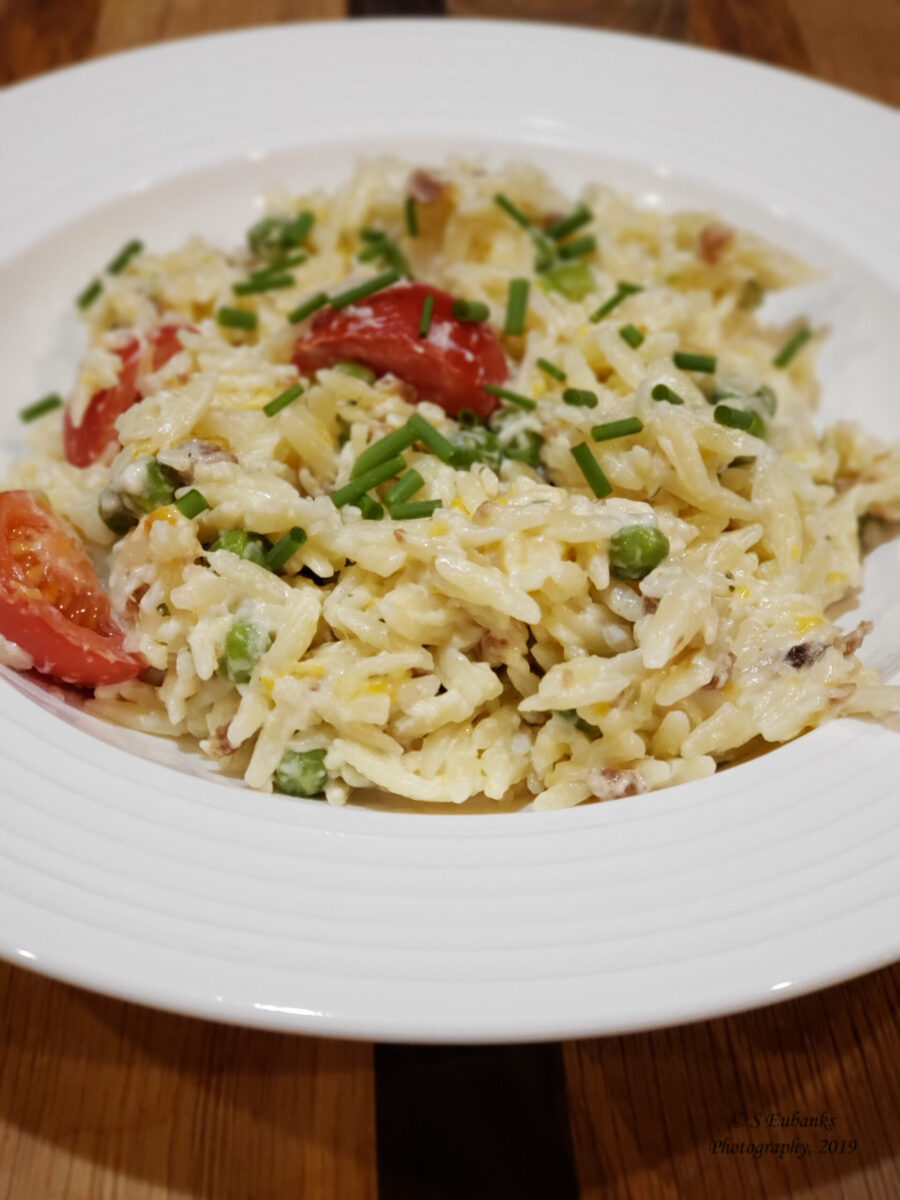 Tired of potato salad in the summer and want something more? This Bacon Ranch Orzo Salad recipe is a perfect summer side!
It is summer garden season in Maine, and I am picking the biggest cherry tomatoes! Usually, I pop a few of these in my mouth as I pick veggies. However, this year, these morsels of goodness are destined for another treat–this Bacon Ranch Orzo Salad recipe!
Note: This post contains affiliate links and ads from Amazon and our other affiliate partners. We earn a commission from all qualifying sales. Thank you for your support as we continue to produce quality content for you!
Since school in Maine does not start until after Labor Day, summer is still in full swing here. And like much of the country, spending time with family and friends this time of year in Maine usually involves BBQs, a day on the water, or just hanging out together on the deck. I have an event tonight to attend, and this dish is coming with me. So, light the Tiki torches, bust out the beverages, and let's enjoy some good food together!
What is Orzo?
Orzo is an Italian Pasta that looks like large grains of rice. The word Orzo literally means 'barley' in Italian because is looks like the unprocessed form of barley. Whatever it may look like, this pasta is perfect for using in summer pasta salads because it doesn't feel as heavy on the stomach afterwards as more traditional bowtie or macaroni pastas might. It is also perfect for using in soups as a substitute for rice!
Quick and Easy Orzo Salad
The simplicity of this recipe is divine, and since it is better warm you can serve this during your next picnic or bbq and the flavor won't suffer. Literally, just cook the orzo, mix the rest of the ingredients, and then combine with the drained orzo pasta.
Since this recipe will only take you 15 minutes, it also qualifies as a fabulous weeknight meal! Just whip it up and enjoy warm. While the salad is good refrigerated, it is outstanding served warm because the bacon bits infuse their flavor into the whole salad with the heat.
One of the pantry staples used in this recipe is powdered ranch dressing mix (linked below). I buy it in canisters instead of packets. (Keep it in your cabinet to add to chips, sprinkle over popcorn, or even to make this salad!) You can also make your own if you don't want to use the pre-packaged stuff. Either way, the powdered ranch dressing mix is essential!
Disclosure: As an Amazon Associate I earn from qualifying purchases.
Items Used in this Recipe
Looking for Something Else?
If you like this recipe, another quick and easy lunch or dinner idea is this Apple & Fontina Grilled Cheese recipe or even our Spaghetti Carbonara recipe!
Share the Fun!
We would love to see your version of this recipe! If you make this, share a photo with us by tagging @masonjarsandme on Instagram or visit our Facebook page!
Don't want to miss another Mason Jars and Me recipe? We have a newsletter!! Just signup for our mailing list and you won't miss another tasty treat!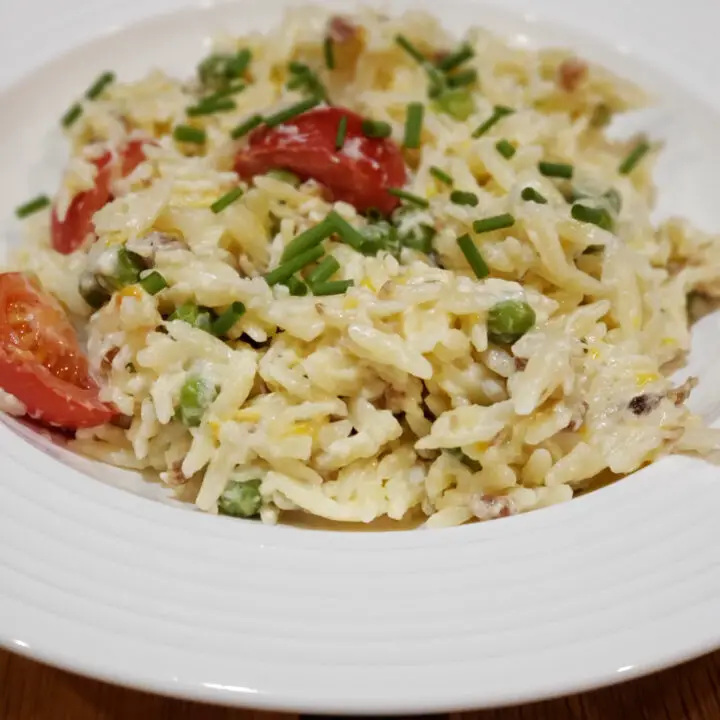 Bacon Ranch Orzo Salad
This Bacon Ranch Orzo Salad is great as a side for your barbeque or as a summer meal!
Ingredients
1 Box Orzo
1 Small Bag Frozen Peas
3 T Ranch Dressing Mix
1 C Milk
1 C Mayo
1 C Cherry Tomatoes, halved
1 package Real Bacon Bits
2 C Mexican Shredded Cheese Mix
Chives, chopped
Instructions
Fill a large pot with 4 quarts water and place on stove to heat. Add salt to the water to taste.
When water is boiling, add the box of orzo and boil 5 minutes.
While orzo is cooking, in a separate bowl mix Ranch dressing mix, milk and mayo. Once fully mixed, place in refrigerator.
When orzo has boiled for 5 minutes, add frozen peas to the pot. Return to boil and cook peas and orzo an additional 5 minutes.
Drain orzo and peas, put in a bowl and place in the refrigerator for 5 minutes.
Remove orzo and peas from refrigerator and add ranch dressing, cheese, bacon bits and tomatoes. Mix until combined.
Top with chopped chives and enjoy!
Nutrition Information:
Yield:

6
Serving Size:

1
Amount Per Serving:
Calories:

492
Total Fat:

40g
Saturated Fat:

11g
Trans Fat:

0g
Unsaturated Fat:

27g
Cholesterol:

54mg
Sodium:

831mg
Carbohydrates:

20g
Fiber:

2g
Sugar:

3g
Protein:

15g
Some of the links in this article are "affiliate links", a link with a special tracking code. This means if you click on an affiliate link and purchase the item, we will receive an affiliate commission. The price of the item is the same whether it is an affiliate link or not. Regardless, we only recommend products or services we believe will add value to our readers. By using the affiliate links, you are helping support our Website, and we genuinely appreciate your support.
Please follow and like us:
---