Apple & Fontina Grilled Cheese-How to Make a Grilled Cheese Sandwich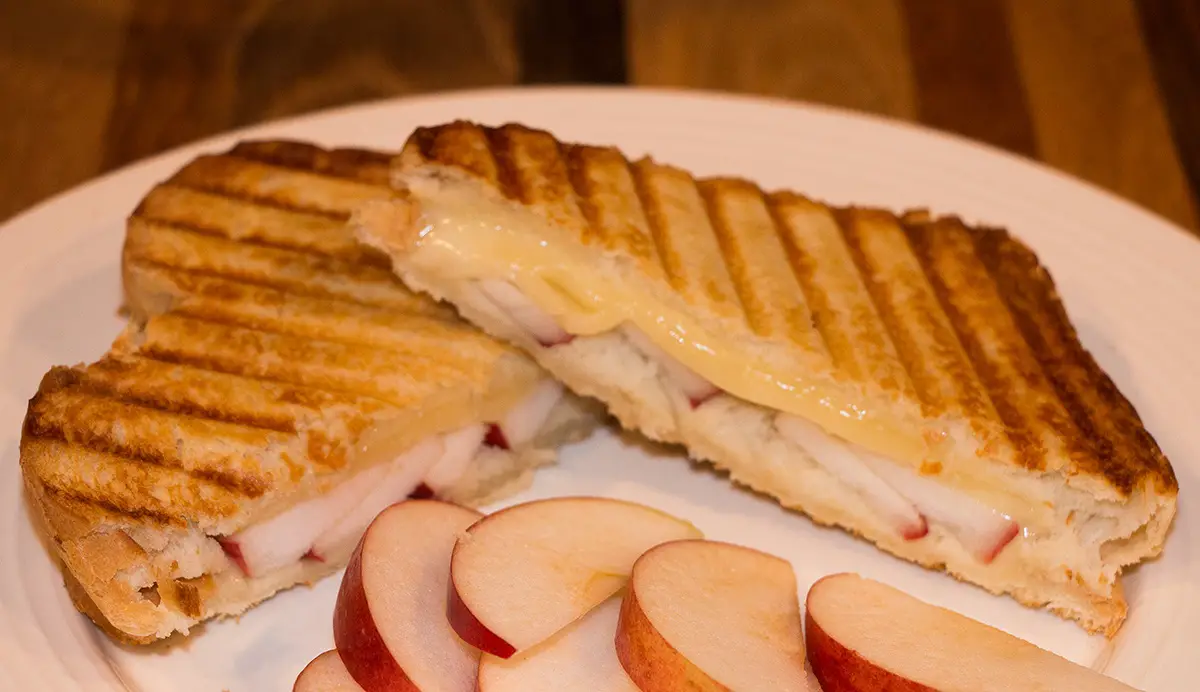 Who doesn't love grilled cheese sandwiches? Whether on its own or with a warm cup of soup, this comfort food is good any time of the year. It isn't quite soup season here, but I was craving a grilled cheese this week and found the perfect fancy combination! This warm and satisfying quick Apple & Fontina Grilled Cheese Sandwich will definitely make you smile!
Disclosure: As an Amazon Associate I earn from qualifying purchases.
How to Make A Grilled Cheese Sandwich
While you can make this in a frying pan on your stove, I have always loved the grill marks of buttered bread in a panini maker. (Is it really a grilled cheese, or is it a panini in this form? I'm not sure. But I know it is delicious!) So, after buying an inexpensive panini maker  during the day after Thanksgiving sales a few years ago for $10, I began to experiment with all things grilled cheese in search of the perfect grilled cheese sandwich recipe.  What a delicious experiment! Then, things took a turn into the more savory and sweet arenas. That is when I landed upon the Apple & Fontina combination with a drizzle of honey–yum!
Tips for the Perfect Grilled Cheese Sandwich
First, I've found that Texas Toast style bread is the best for any and all grilled cheese sandwiches.  In my panini maker, it compacts down into the perfect sandwich which is not as big as you might think. And has the perfect ratio of denseness to not be overly dense in the end.
Second, while quality cheese is always important in a grilled cheese sandwich, the apple is the star of this show. Personally, I enjoy my apples on the sweet side and went with a Cortland for this.  Honeycrisps, Galas, Spencers, etc are all great options–especially since we are adding honey.  If you try this with a tart apple, let me know in the comments how it went–I'd love to hear from you!
Finally, if you are looking for a panini maker.  Get one with good non-stick plates which you can remove.  (Believe me, it's much easier to clean than the one I have!)  A good option is this OptiGrill which not only works as a panini maker, but is also a countertop grill which you can cook steaks, burgers, etc on.  I have family who has this model, and have witnessed its wonders.  (And yes, I am a bit jealous!)
Other Great Recipes
If you are looking for another great grill recipe which can be made on the bbq or even on an indoor grill, you won't want to miss this Grilled Chicken Caprese recipe! Want another apple recipe? Try this French Apple Pie recipe!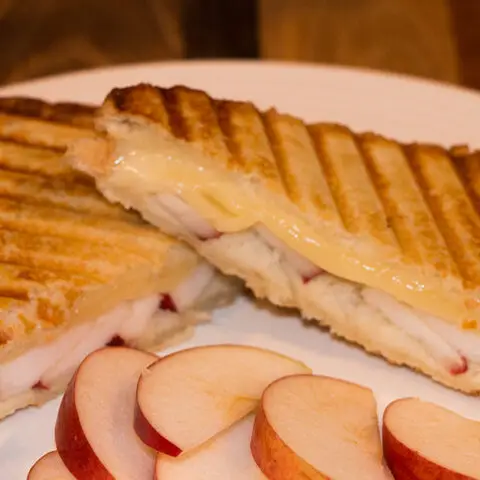 Apple & Fontina Grilled Cheese Sandwich Recipe
Grilled Cheese sandwiches are some of the best simple and quick sandwiches. While delicious in a traditional form, grilled cheese is transformed in this elevated version!
Ingredients
2 Slices Texas Toast style bread
5 Apple Slices, thinly sliced
2 Slices Fontina cheese
Drizzle of Honey
1 T. Butter, melted
Instructions
Preheat your grill.
Place the 2 slices of fontina cheese on one slice of bread.
Place the apple slices on top of the cheese.
Drizzle with honey.
Place the 2nd piece of bread on top.
Brush one side of the sandwich with melted butter and place butter side down on your hot grill.
Brush the other side of your sandwich with melted butter.
Close the grill and cook until the cheese is melted.
Allow sandwich to cool a bit before serving. (The hot honey will burn your mouth if it doesn't cool first!)
Notes
This recipe is for one sandwich.
**This sandwich contains hot honey. Allow sandwich to cool before eating in order to avoid burning your mouth on the honey.
Nutrition Information:
Yield:

1
Serving Size:

1
Amount Per Serving:
Calories:

989
Total Fat:

42g
Saturated Fat:

22g
Trans Fat:

1g
Unsaturated Fat:

17g
Cholesterol:

95mg
Sodium:

1069mg
Carbohydrates:

137g
Fiber:

16g
Sugar:

79g
Protein:

24g
I hope this inspires your grilled cheese making adventures!
Some of the links in this article are "affiliate links", a link with a special tracking code. This means if you click on an affiliate link and purchase the item, we will receive an affiliate commission. The price of the item is the same whether it is an affiliate link or not. Regardless, we only recommend products or services we believe will add value to our readers. By using the affiliate links, you are helping support our Website, and we genuinely appreciate your support.
Please follow and like us:
---