Red Beans and Rice Recipe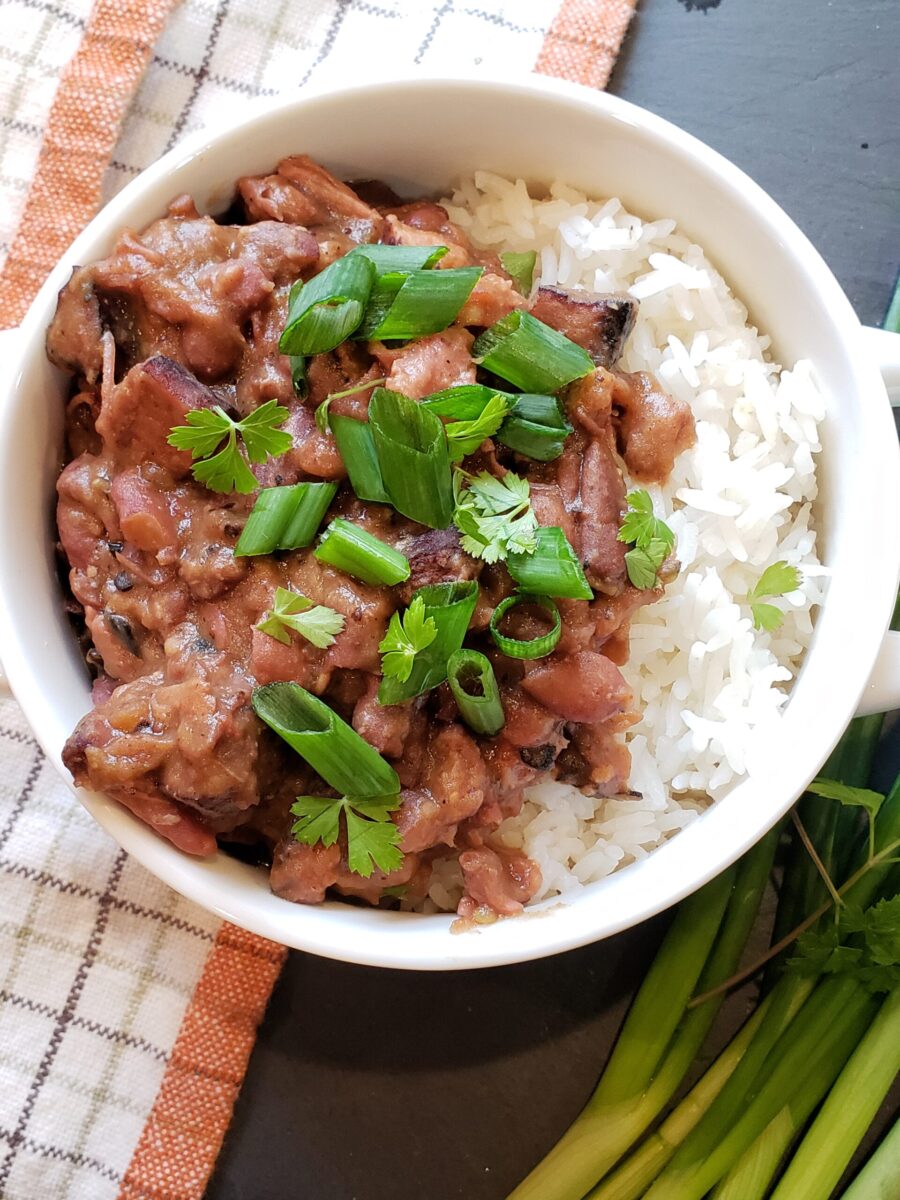 If you love this Cajun Style Red Beans and Rice recipe, you will love our Cajun Crab Alfredo too!
Are you craving some delicious New Orleans style Red Beans and Rice? I wish you could smell my house right now because this afternoon I made the best Cajun Style Red Beans and Rice, and it is amazing! This Red Beans and Rice recipe rivals every version I tried in New Orleans, and it always leaves people wanting more!
What Kind of Meat Goes into Red Beans and Rice?
The keys to making this fabulous recipe are ham hocks and andouille sausage. I always have ham hocks in the freezer waiting for various bean recipes in the winter.
What are Ham Hocks?
Ham hocks are a joint of the ham (also known as a ham knuckle), which is used to flavor all sorts of dishes from collard greens, to lima beans, to our red beans and rice today. They are often substituted with a ham bone in recipes which originated from the Northern US, and while that substitution works well, it isn't quite the same flavor. Ham hocks aren't as popular in the Northeast like they are in the Midwest and South, so when I find them, I usually stock up on a couple packages. They then hang out in my freezer until I am ready for them. If you can't find them where you are, just use a ham bone instead.
What is Andouille Sausage?
In the U.S., Andouille sausage is a highly seasoned and smoked sausage made of pork butt. This spiced up version of the original andouille sausages which came out of France is courtesy of our Cajun/Creole friends in the South–Thank you, Friends! It is pretty easy to find andouille sausage now since a few of the major sausage companies have picked it up. I have also found some more local versions of andouille sausage which are fantastic too! Of course, the closer you are to Louisiana, the greater artisan varieties you will find.
How to Store Jalapenos for Winter Use?
My freezer also has a section of last year's jalapenos from the garden. All you have to do is slice them longwise and remove the pith and seeds. Then throw them in a freezer bag and they are ready for use when there aren't any growing outside. I have also found over the years that jalapenos seem to get hotter when frozen, so beware!
Spicing Things Up
This recipe is not light-your-mouth-on-fire hot, but it does have lots of great flavor and spice which makes it the perfect dish for a chilly night! If you want to add a little more heat after adding the jalapenos, use more ground cayenne pepper or substitute a can of diced tomatoes with chilies for the can of diced tomatoes. Since the diced tomatoes and chilies at is what I had in the cabinet today, that is what I used for this red beans and rice recipe.
Cooking Red Beans and Rice
Another key to great red beans and rice lies in the cooking vessels you use. I have a huge cast iron pan (linked below) which I love to use to brown all the meats and veggies for the first part of this recipe. Then, I pour all of that goodness into a huge stock pot (also linked below). The flavors that develop throughout the day in the stock pot are just amazing. While this recipe takes a while to cook, it is worth every minute!
Disclosure: As an Amazon Affiliate, I earn from qualifying purchases.
Items Used for this Recipe
Share the Fun!
We would love to see your version of this recipe! If you make this, share a photo with us by tagging @masonjarsandme on Instagram or visit our Facebook page!
Don't want to miss another Mason Jars and Me recipe? We have a newsletter!! Just signup for our mailing list and you won't miss another tasty treat!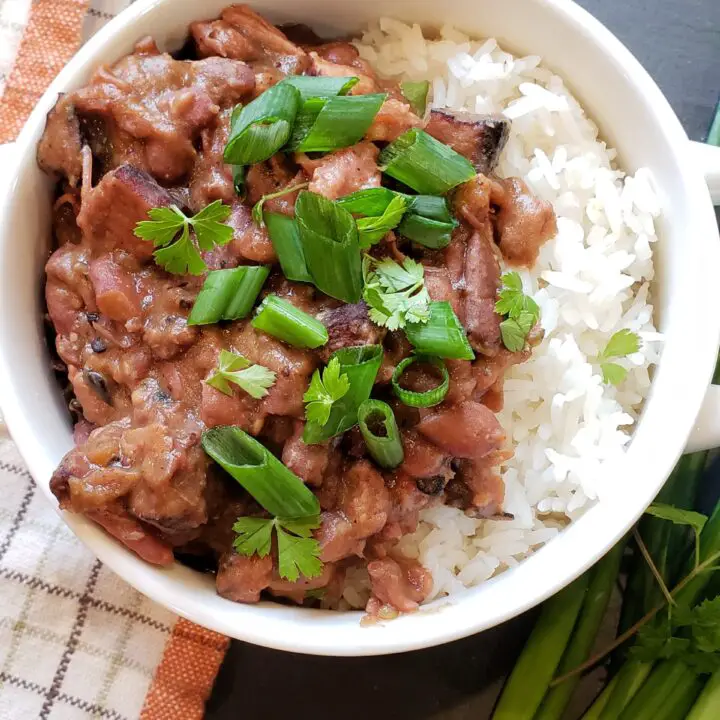 Cajun Style Red Beans and Rice
Cook Time:
3 hours
25 minutes
Total Time:
11 hours
25 minutes
This flavor-filled experience is one which will bring back memories of that last trip you made to New Orleans!
Ingredients
1 lb Dried Red Beans
2 Ham Hocks
12 oz Package of Andouille Sausage, diced
1 Onion, diced
2 Jalapenos, small diced
1/2 Can Diced Tomatoes, Strained
2 t. Brown Mustard
6 Cloves Garlic, mined
1/4 C Red Wine Vinegar
2 t. Dried Thyme
6 Bay Leaves
1 t Cayenne Pepper
1 T. Kosher Salt
1/2 t. Black Pepper
Steamed White Rice
Instructions
 Cover the dried beans with at least 2 inches of water and soak overnight.
Strain off water from beans and rinse.
Put beans, ham hocks and bay leaves into a large stock pot and cover with water (I used about a quart and a half of water.)
Simmer beans.
While beans simmer, place andouille sausage in a skillet and cook 5-8 minutes or until brown and crispy.
Add onions and cook an additional 5-8 minutes.
Combine jalapenos, garlic, thyme, tomatoes, red wine vinegar, brown mustard, cayenne pepper, salt and pepper.  Add to sausage and onion mixture.
Cook for another 5-8 minutes on medium.
 Add sausage mixture to beans and simmer for 3 hours.
Remove ham bones and bay leaves after 3 hours, remove meat and return meat to stock pot.
With a potato masher, mash about 1/2 the beans and bring back to simmer.
Simmer until the beans are creamy.
Serve with rice and enjoy!
Nutrition Information:
Yield:

8
Serving Size:

1
Amount Per Serving:
Calories:

274
Total Fat:

14g
Saturated Fat:

5g
Trans Fat:

0g
Unsaturated Fat:

8g
Cholesterol:

38mg
Sodium:

1265mg
Carbohydrates:

22g
Fiber:

5g
Sugar:

2g
Protein:

14g
Some of the links in this article are "affiliate links", a link with a special tracking code. This means if you click on an affiliate link and purchase the item, we will receive an affiliate commission. The price of the item is the same whether it is an affiliate link or not. Regardless, we only recommend products or services we believe will add value to our readers. By using the affiliate links, you are helping support our Website, and we genuinely appreciate your support.
Please follow and like us:
---