Delicious Beef Stew Recipe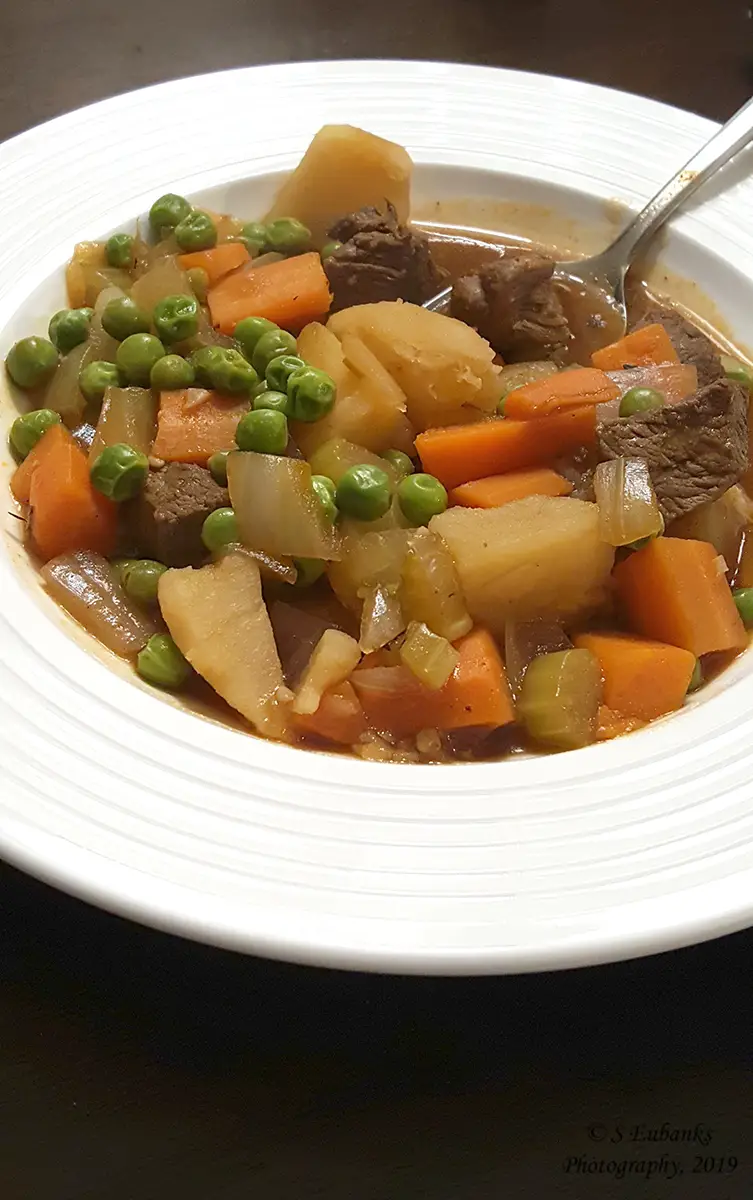 Old Man Winter has certainly come to visit in Maine this week! Feet of snow, freezing rain, sleet, wind–you name it, we got it! So while inside trying to survive the latest round of the white stuff, it was time to make something that filled the stomach and warmed the soul. This delicious beef stew recipe is sure to warm you up on a cold day!
Beef stew is one of my favorite cold weather dinners, and I had everything to make it on hand. (After three trips to the grocery store this week…ha!) So as the snow fell, beef stew simmered on the stove.
Beef Stew Varieties
There are various ways to make Beef Stew–some have you dredge the meat in flour first and then cook it, others have you add the flour after browning the meat and yet others leave the thickening to the end–I am in the latter camp. Since I like my stew more soup like than the thick stews you might see, some may say this is a soup–tomato, tamato.
The method I use is equal parts water and cornstarch mixed together until no longer lumpy then add to the stew. How much you use, really depends on how thick a stew you want..I only use 1/4 C water and 1/4 C cornstarch. I like this method better, because I don't taste the flour on the meat–good meat shouldn't be punished like that!
Disclosure: As an Amazon Associate I earn from qualifying purchases.
Beef Stew Recipe Hack
This beef stew adventure nearly didn't happen though because I forgot beef stock at the store (and I wasn't going back a fourth time!?!). Fortunately, I had some wonderful beef stock base in the frig which saved my dinner plans for the evening. The Better Than Boullian Beef base is some of the best I've found..I even love their Chicken base too.
Sitting down with this stew was the highlight of my evening…hopefully you will feel the same! I hope you enjoy this soul-warming winter hug!
More Great Recipes to Try
Potato, Leek and Dill Soup–it has bacon in it, so you know its good!
Pot Roast is delicious!
Pork Chops and Pears with a Gorgonzola Sauce is also a winner!
Delicious Beef Stew
Total Time:
1 hour
10 minutes
Ingredients
1 lb Beef Stew Meat (or more to your taste)
1 Onion, Diced (About a cup diced)
2 Stalks of Celery, large diced
3 Carrots, large diced
2 Potatoes, large diced
3 T Minced Garlic
1/4 C. Tomato Paste
2 T Worcestershire Sauce
2 Quarts Hot Water
3 T. Better Than Bouillon Beef Base
2 t. Dried Thyme
1 Small Bag of Peas (or more if you want  )
1/4 C. Cornstarch
1/4 C Water
Salt
Pepper
2 T Olive Oil
Instructions
Warm Olive Oil in bottom of a dutch oven (or a large pot).
Place Beef in the oil, salt and pepper to taste. Then cook until all sides of the beef are brown–stirring occasionally (about 5 minutes).
Remove Beef from dutch oven and add onions, celery and carrots to the pot. Salt and pepper lightly, and stir until vegetables are softened (about 5 minutes).
Add Garlic and tomato Paste. Then Stir until tomato paste coats all the vegetables and it has darkened slightly and/or is fragrant (about 2 minutes).
Add 2 quarts of HOT water to your dutch oven then add beef base. Stir.
When liquid begins to boil, add potatoes and beef back into the pot. Let cook about 15-20 minutes until potatoes are tender and beef is cooked through.
Add Worcheshire sauce, thyme and peas. Let stew cook for another 5-10 mins (or more… low and slow is always an option!)
About 5 minutes before you want to eat it, mix equal parts cornstarch and water until no longer lumpy, then add to stew. Stir until you it is well mixed and let it cook for another 5 minutes. If you want it thicker, then add more cornstarch and water mixture.
Enjoy!
Nutrition Information:
Yield:

6
Serving Size:

1
Amount Per Serving:
Calories:

371
Total Fat:

10g
Saturated Fat:

3g
Trans Fat:

0g
Unsaturated Fat:

7g
Cholesterol:

80mg
Sodium:

1280mg
Carbohydrates:

39g
Fiber:

6g
Sugar:

7g
Protein:

32g
Some of the links in this article are "affiliate links", a link with a special tracking code. This means if you click on an affiliate link and purchase the item, we will receive an affiliate commission. The price of the item is the same whether it is an affiliate link or not. Regardless, we only recommend products or services we believe will add value to our readers. By using the affiliate links, you are helping support our Website, and we genuinely appreciate your support.
Please follow and like us:
---