Easy Grilled Asparagus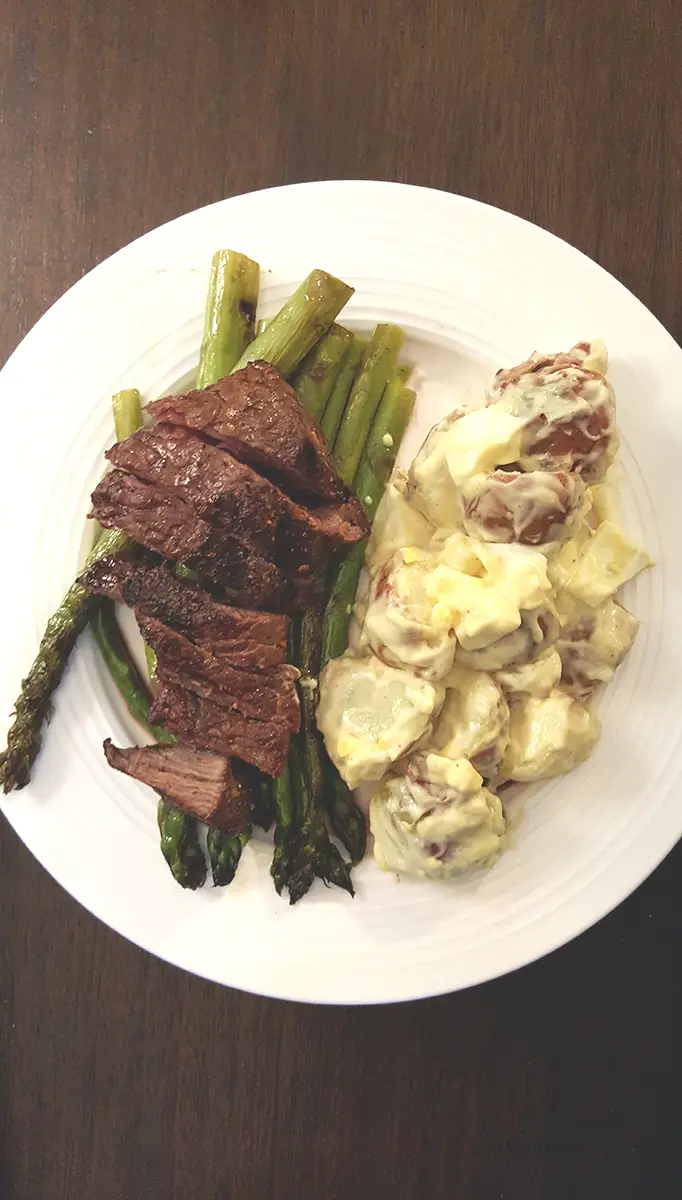 Have you ever watched people make grilled asparagus before? It seems to be an exercise in patience–at least it always was when I tried grilling them. When I am hungry, I do not want to play chicken with the open grill grates or even mess with fancy grill pans. Instead, I whip out my secret grilling weapon…foil packet.
Grilled Asparagus–the Easy Way
My secret weapon also enables me to cook for several people or meals at the same time. Since I am cooking for 1 or 2 people most the time, it insures we can pop the rest in the frig for easy to sides the rest of the week. So what's this secret weapon? Foil… yep, that roll of kitchen covering that most everyone has in their cabinets.
This super simple kitchen..er grill… hack can be used on a variety of vegetables and typically are done in about the same time it takes to cook an average sized steak on the grill. All you do is add a serving size of vegetables to the middle of a sheet of foil, add about 1/2 – 1 T of butter to each packet, then fold. (Learn to make your own butter here!)
When folding the packets, you do need to be careful not to puncture the foil. If you do, you will loose the steaming power of the packet and your butter will leak all over your grill. (If you do puncture the foil, just fold another sheet around the original.)
To Fold the Packets:
Fold the Long Sides Up to Meet in the Middle
Roll Down to Seal
Roll Each End Upward
Adding Other Vegetables to the Grill
Typically, when I'm throwing veggies on the grill there are a couple different kinds. When I was making asparagus the other night, I wrapped a some corn individually with almost a tablespoon of butter in each packet. Then threw them on the grill. This is the best way to make corn on the cob! Just load all your packets on a sheet pan, take to the grill, and cook. Your sheet pan is the perfect transport container after all your grilled treasures are done!
Recipes For the Grill
When you are finished making grilled asparagus, use your grill to prepare some poblano peppers for this Cheesy Chile Relleno recipe!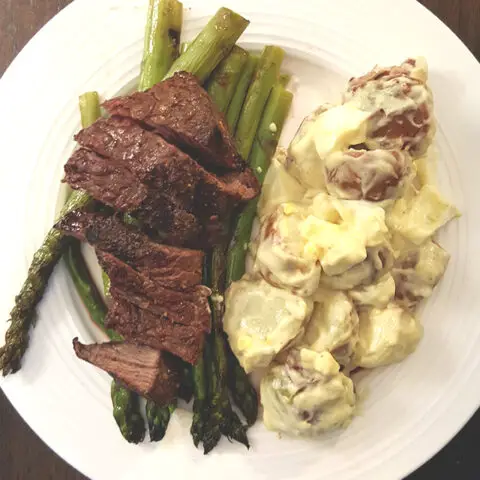 Easy Grilled Asparagus
Ingredients
Asparagus (or squash, corn, your favorite summer veggie)
1/2-1 T butter for each packet
Salt-to taste
Pepper-to taste
Aluminum Foil
Lemon–optional
Instructions
Place a serving size of vegetables in the middle of a sheet of foil.
Add butter
Salt and Pepper to taste
Fold grill packets
Grill for 8-10 minutes (or until vegetables are cooked to your liking).
Squeeze a little lemon juice over your grilled asparagus to brighten up your dish if you'd like!
Some of the links in this article are "affiliate links", a link with a special tracking code. This means if you click on an affiliate link and purchase the item, we will receive an affiliate commission. The price of the item is the same whether it is an affiliate link or not. Regardless, we only recommend products or services we believe will add value to our readers. By using the affiliate links, you are helping support our Website, and we genuinely appreciate your support.
Please follow and like us:
---