Cheesy Chile Relleno
When it is pepper season, one of my favorite dishes are Cheesy Chile Rellenos. Breaded and fried, cheese-stuffed poblano peppers are just so good!
Note: This post contains affiliate links and ads from Amazon and our other affiliate partners. We earn a commission from all qualifying sales. Thank you for your support as we continue to produce quality content for you!
What is a Chile Relleno?
A chile relleno is a grilled poblano pepper that is stuffed with cheese and then battered and fried. Usually you will find chile rellenos accompanied by a red sauce of some sort.
How to Remove Poblano Pepper Skins
After roasting the chilies on the grill until they are charred, immediately wrap the peppers in foil and allow to cool. Then, when they are cool enough to handle, the skins should easily slip off the peppers. Once the skins are off the chilies, it is time to de-seed the peppers.
De-seeding the peppers
For this step, you will want to wear food-grade gloves. Poblano peppers usually aren't all that spicy, but occasionally they are and you won't know until it is too late. Besides, you will be removing the seeds and ribs of the pepper which is where most of the heat in peppers live. Safety first, unless you like to life dangerously!
When cutting open the chilies, slit them lengthwise along one of the folds leaving the stem intact. Then gently cut out the pocket of seeds. The seeds and ribs then should come out easily.
Filling
Next comes the filling. You can fill these with a Mexican cheese blend, but these are much better with a traditional Mexican cheese-Oaxaca. Oaxaca is very similar to mozzarella cheese and is formed into long ropes of cheese. To prepare the cheese for the chilies, shred the cheese as you would shred any meat by breaking it apart with a fork. Once the cheese is crumbled, stuff the chilies and fasten the chile closed with a couple toothpicks.
Breading Chile Rellenos
Once the chiles are stuffed it is time for breading. Roll each chile in the flour and set aside. Then whip the egg whites until they are at stiff peaks when the whisk is removed. Finally, and maybe the strangest part, coat the chiles with the egg whites. This is where the coating or breading happens. More egg white means more coating.
How to Fry Chile Rellenos
Heat the oil in a dutch oven or medium sized pot. Then, after coating your chiles with egg white, immediately place the pepper into the hot oil. Cook each side until golden brown. Remove with a slotted spoon.
What to Serve with Chile Rellenos Recipe
Chile Rellenos are oftentimes served with a thick sauce-like salsa. (I prepared mine on the stove while I was making the rellenos.) Some elect to put it on the side, others put it right on top…it is really a personal preference.
Storing Chile Rellenos
While you can put leftovers in the refrigerator for a day or two, Chile Rellenos are really best when consumed immediately after cooking. If you would like to meal prep for this recipe, you can meal prep the grilled poblanos by grilling, cooling, and removing the skins and de-seeding. Then, put those in the refrigerator for a day or so before stuffing and frying.
Other Great Recipes
After you finish your Chile Relleno and you are still craving good Mexican food, how about some enchiladas? Check out this Enchilada Sauce Recipe!
Stay Connected
We love to stay connected with you! Join the Mason Jars and Me community on Facebook or Instagram to stay up-to-date on new recipes, tips, and our community.
You can also sign up below for our newsletter to receive an email when we publish a new recipe!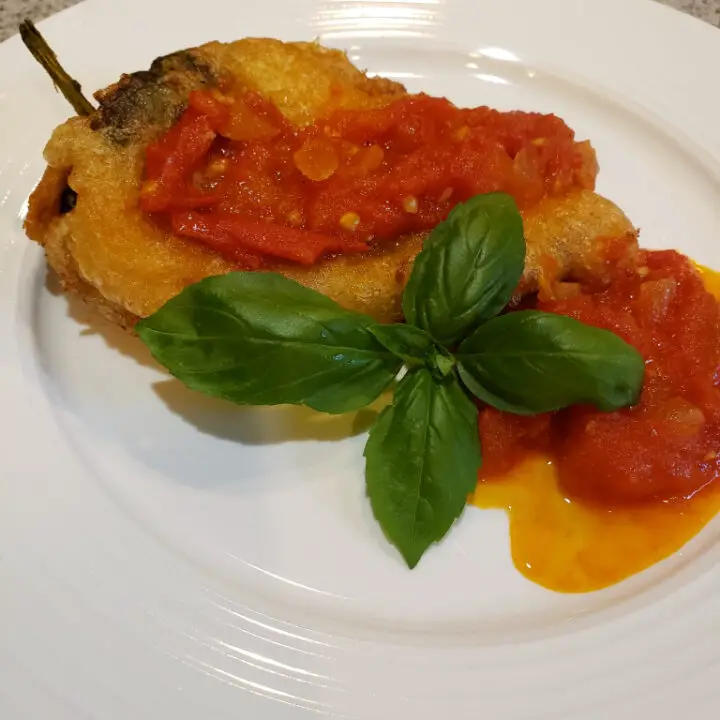 Cheesy Chile Rellenos
Ingredients
4 Poblano Peppers
1 package Oaxaca Cheese
3 Egg whites
3 T flour
4 C Vegetable Oil
2 Large tomatoes, quartered
1 small onion
3 cloves garlic
Salt
Pepper
Instructions
Roast the poblano peppers on the grill until the skin is black in spots and the pepper softs slightly.
Immediately place in a foil packet so the peppers steam. Leave for 5 mins or more.
Remove skins and seeds from peppers and set aside.
Crumble cheese.
Stuff the peppers and secure with a toothpick.
Start the sauce by cooking onions in the bottom of a medium sized pot until soft. Add garlic and cook for a min.
Add tomatoes, cover and cook until the tomatoes break down (you may need to add a little water to keep it all from sticking).
Blend the salsa mixture until smooth using an immersion blender. Season with salt and pepper to taste. Set aside.
Coat chiles with flour.
Beat egg whites until stiff and then coat chiles with the egg whites.
Heat 4 cups vegetable oil in a dutch oven until a drop of egg whites begins to sizzle.
Fry Chiles in oil 2 at a time until each side is golden brown.
Remove and place on paper towel lined rack to drain and cool for a few minutes.
Serve with salsa and enjoy!
Nutrition Information:
Yield:

4
Serving Size:

1
Amount Per Serving:
Calories:

2023
Total Fat:

220g
Saturated Fat:

18g
Trans Fat:

6g
Unsaturated Fat:

192g
Cholesterol:

7mg
Sodium:

240mg
Carbohydrates:

14g
Fiber:

3g
Sugar:

5g
Protein:

7g
Some of the links in this article are "affiliate links", a link with a special tracking code. This means if you click on an affiliate link and purchase the item, we will receive an affiliate commission. The price of the item is the same whether it is an affiliate link or not. Regardless, we only recommend products or services we believe will add value to our readers. By using the affiliate links, you are helping support our Website, and we genuinely appreciate your support.
Please follow and like us:
---