Easy Homemade Enchilada Sauce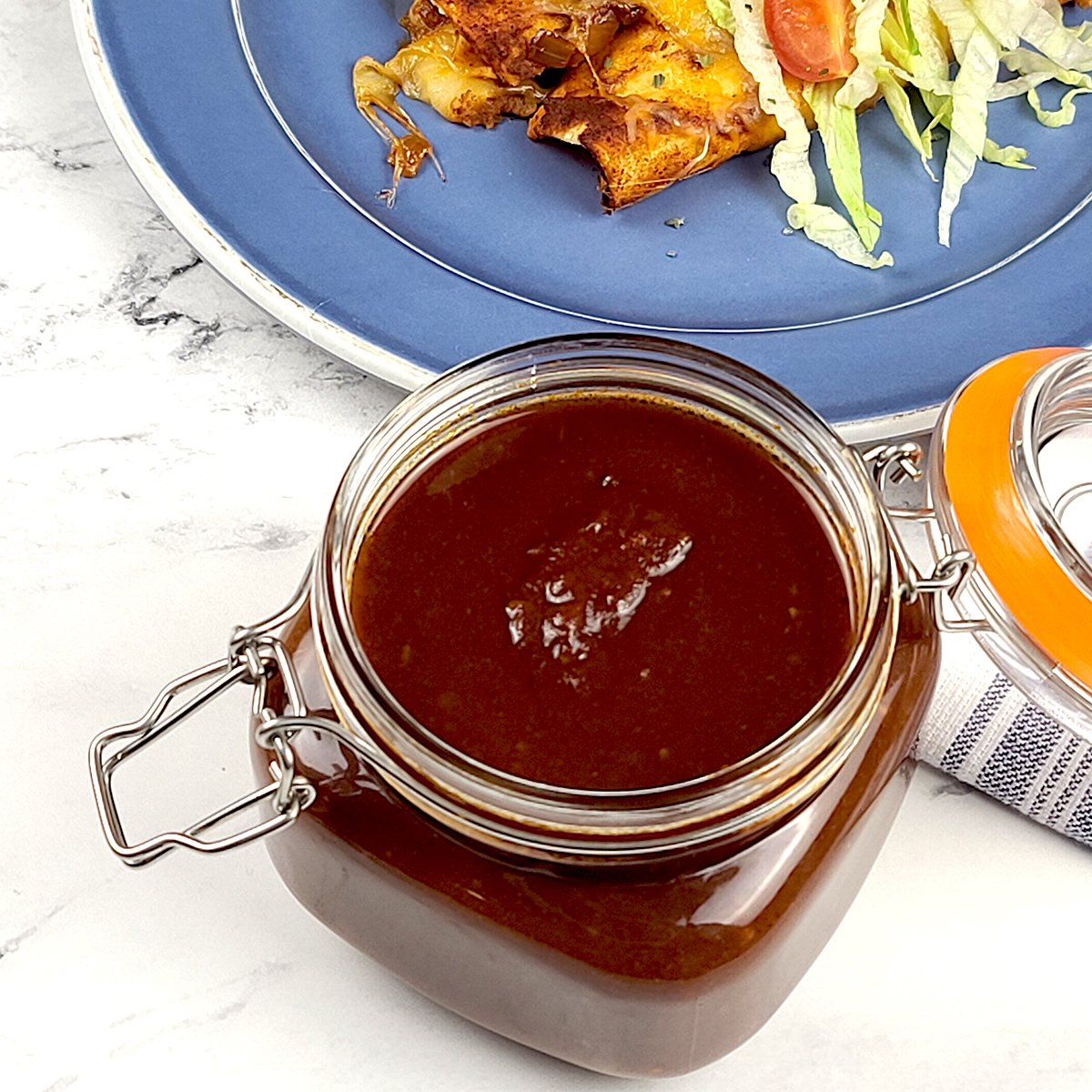 A quick and easy homemade enchilada sauce recipe, perfect for all your Mexican food recipes! It's even gluten-free!
Updated January 19, 2022. I am a Mexican food fanatic. The stuff is my Kropnite. So whenever I get the chance to have good Mexican food, I jump on the occasion. However, living were I do, the Mexican food options that I was accustomed to when living in bigger cities and markets is just not as vast. Maybe it is the 6 months of snow that deters warm-weather loving Mexican food connoisseurs from relocating to the snowy North–I get it. As a result, I have had to make my own morsels of goodness in order to get my fix on the regular–starting with this homemade enchilada sauce recipe. Besides the taste, the best part of this recipe is it is so easy!
Note: This post contains affiliate links and ads from Amazon and our other affiliate partners. We earn a commission from all qualifying sales. Thank you for your support as we continue to produce quality content for you!
Red Enchilada Sauce vs. Green Enchilada Sauce
When people think enchiladas, they usually have one of two visuals in mind. Either they see red enchilada sauce on their enchiladas or they see green. Some people are solidly in one camp or another, but both are extremely delicious and are on the menu here regularly. Green enchilada sauce is generally made with tomatillos, various green peppers such as jalapenos, serrano, etc for added heat. Red enchilada sauce generally has a tomato base, and is then seasoned with chili seasonings. Some people say green enchilada sauce is spicier than red… others say the opposite. It's really all in how you make it, and the glorious thing about cooking at home is you can leave out or add ingredients to make it fit you and your family's tastes!
Meal Prepping with Enchilada Sauce
Enchilada sauce is something you can make in 10-15 minutes one night, store in the frig and then use later in the week. This makes it a great recipe for all you who do your weekly prep cooking ahead of time! When you are ready to use it, just warm in a sauce pan.
Using Red Enchilada Sauce
This sauce is really a building block for using whatever you might have on hand too. Just because you made a red enchilada sauce, you do not have to pair it with a certain type of enchilada. You can make enchiladas in all sorts of forms! Typically, I make a batch or two and throw it in the frig and/or freezer then make several enchilada recipes from it depending on what else I have in the kitchen. Cheese and onion, Chicken, Beef, pork, bean and cheese…it all can go in an enchilada which makes this a perfect meal for using up those leftovers you have in the refrigerator.
How to Make Enchilada Sauce
As mentioned before, this recipe for enchilada sauce is also very versatile. Don't like things spicy? Leave out or reduce the Chipotle Chile powder. Want more spice? Add more in, or even add a can of green chilies to the mix! The way this enchilada sauce recipe is written, it is 'sneaky spicy'. Meaning, it isn't a sudden, mouth-on-fire burn, but it is a spice which develops as you eat it. The chipotle pepper bring a depth of flavor and spice to this recipe which really does turn it into something special.
Making this enchilada sauce recipe is super simple. Just cook your onions in a pot, add the dry seasonings and garlic and cook until it is a red glob. Then add in your chicken stock to deglaze the pot, and finish up with the rest of your ingredients. After everything has enjoyed 10 minutes of simmering, your enchilada sauce is ready!
How Much Does This Make?
This recipe makes about 3 cups of enchilada sauce for me. One cup is 8 fluid ounces which means this recipe made the equivalent of about 2 1/2 cans of enchilada sauce which is the perfect amount for making a large pan of enchiladas for a family.
Want a Smooth Enchilada Sauce?
Do you have kids who look at chunks of vegetables in their food and instantly decide it is gross? Or do you simply want a smooth-looking enchilada sauce? After the sauce has cooled, pour it into a blender and puree until the onions disappear or use an immersion blender. Voila!
Storing Enchilada Sauce
If you have a smaller family like mine, then you can make a batch and store the enchilada sauce like I talked about earlier by putting it in the refrigerator for up to a week. I would recommend using a glass storage container (like a mason jar) to avoid staining your plastic containers red–a tip from personal experience!
You can also portion out the cooled sauce into containers or freezer bags in 1 or 2 cup portions and freeze for up to 3 months. (Enchilada sauce rarely makes it to the 3 month mark before getting used at my house!) When ready to use the frozen enchilada sauce, just put it in a small pot and heat on low until it has completely thawed.
Tools for this Recipe
Other Great Recipes
Stay Connected!
We love to stay connected with you! Join the Mason Jars and Me community on Facebook or Instagram to stay up-to-date on new recipes, tips, and our community.
You can also sign up below for our newsletter to receive an email when we publish a new recipe!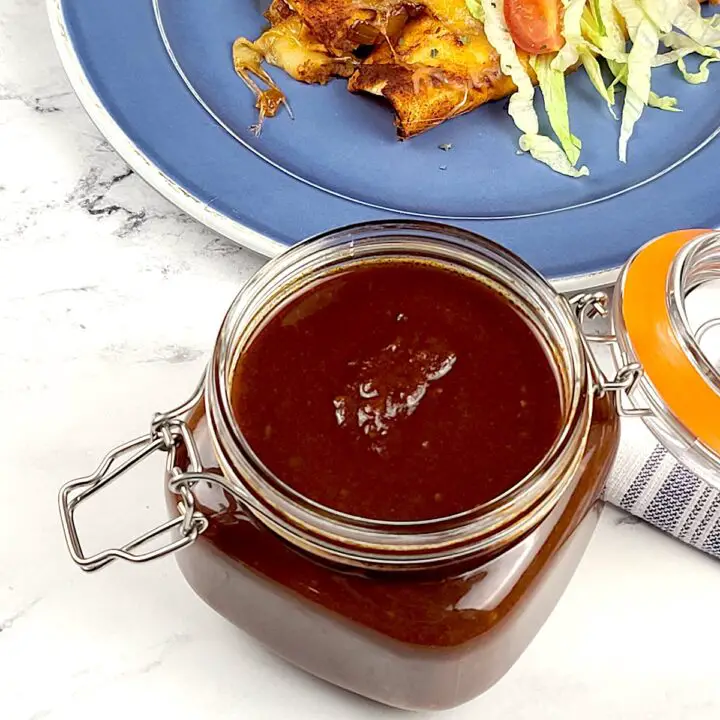 Homemade Enchilada Sauce
A Quick and Easy Enchilada Sauce recipe.
Ingredients
1 T Olive Oil
1 Onion, diced
2 Cloves Garlic, minced
3 T Chili Powder
1 T Cumin
1/2 t. Ground Chipotle Pepper, optional
2 t. Sugar
1- 15 oz can Tomato Sauce, plain
1 C Chicken Broth
Kosher Salt, to taste
Ground Pepper, to taste
Instructions
In a medium pot, cook onions in oil until soft and slightly golden brown.
Add garlic, chili powder and cumin to the pot. Cook about 30 seconds until fragrant and it looks like a red glob of onions and spice.
Add chicken stock to the pot and scrape the bottom of the pot while stirring to deglaze the pan.
Add tomato sauce and sugar. Stir to combine, and then bring to boil.
Once at a boil, reduce the heat to simmer and allow to simmer for 10 minutes.
Salt and pepper to taste and remove from heat.
Notes
If you only have 8 oz cans of Tomato Sauce, use 2 of those instead of the 15 oz can of Tomato Sauce.
Don't have chicken broth? Then substitute 1 C. water and chicken bouillon cubes to make 1 C. of broth. Or 1 t. Better Than Bouillon Chicken base and 1 C. Water.
Want less heat? Leave out or reduce the ground chipotle pepper.
Nutrition Information:
Yield:

6
Serving Size:

1
Amount Per Serving:
Calories:

72
Total Fat:

3g
Saturated Fat:

0g
Trans Fat:

0g
Unsaturated Fat:

3g
Cholesterol:

1mg
Sodium:

687mg
Carbohydrates:

11g
Fiber:

3g
Sugar:

6g
Protein:

2g
Some of the links in this article are "affiliate links", a link with a special tracking code. This means if you click on an affiliate link and purchase the item, we will receive an affiliate commission. The price of the item is the same whether it is an affiliate link or not. Regardless, we only recommend products or services we believe will add value to our readers. By using the affiliate links, you are helping support our Website, and we genuinely appreciate your support.
Please follow and like us:
---