Risotto Demystified–Mushroom Risotto Recipe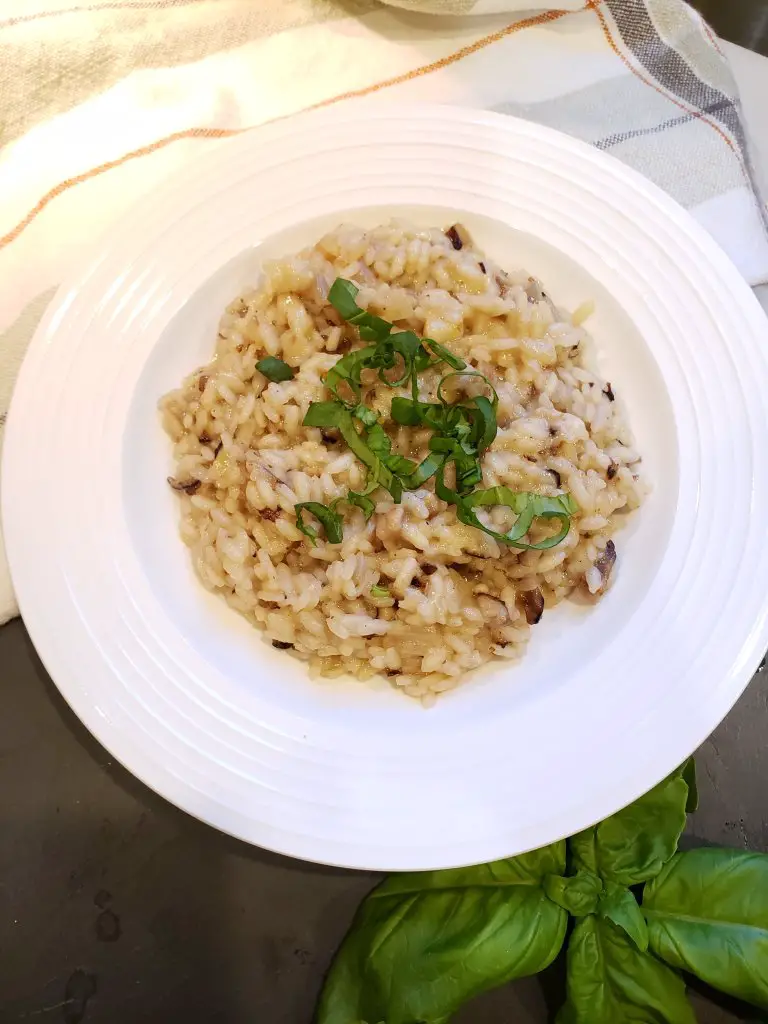 For years, I avoided making risotto because of all the things I'd heard about risotto–it was hard, advanced, super finicky, etc. Then one day, I had had enough of listening to the naysayers of the world and tackled Mushroom Risotto–and I am so glad I did! The resulting risotto recipe is one I hope you enjoy for years to come too.
Note: This post contains affiliate links and ads from Amazon and our other affiliate partners. We earn a commission from all qualifying sales. Thank you for your support as we continue to produce quality content for you!
Risottos Come in Many Forms
You can usually make risotto with a variety of vegetables you might already have in your pantry or refrigerator. I have seen risotto made plain with Parmesan, or with vegetables like broccoli, asparagus, peas, leeks, etc… the options are endless! Today, however, we are making a delicious mushroom risotto with shitake mushrooms. The process is the same for most risottos, just substitute your veggies in place of the mushrooms.
Easy Mushroom Risotto Ingredients
Mushrooms-I prefer shitake mushrooms
Shallots
Chicken Stock (or you can substitute vegetable stock)
Arborio Rice
Freshly Grated Parmesan Cheese
Salt
Pepper
Olive Oil
Fresh Basil (optional-for garnish)
Risotto Rice–What Kind Do I Use?
Risotto is one of those recipes in which the quality of your ingredients makes a huge difference–and the correct rice. Arborio rice is the traditional rice used for risottos in the US because it is higher in natural starch which makes the risotto creamier, firmer, and chewier. (I know, those three adjectives don't seem to be a logical description of properly cooked rice, but they do with risotto!)
Using Fresh Parmesan Cheese in your Risotto Recipe
As mentioned earlier, the quality of your ingredients makes a huge difference in the finished product here. Risotto is not a recipe that you want to use shelf-stable parmesan for–it just doesn't taste the same. Instead, spring for a small block of good parmesan and grate it yourself. The difference in the freshly grated cheese is truly remarkable.
Technique is Key to a Great Risotto Recipe
Technique and time (about 20 minutes) are key components of risotto. This recipe is one which you may want to pour yourself something nice to drink, and enjoy the process of stirring your risotto. Invite friends or family into the kitchen with you to enjoy a great conversation while you stir–a perfect way to casually connect while you are making dinner!
For all risottos, I use a large cast iron skillet and a flat-bottomed wood spatula for stirring. Once the veggies have been prepared, and rice has been toasted, it is time to start the most intensive portion of the dish. (And it is not that intense, really!).
The key to a perfectly cooked risotto is to add 1 cup of hot stock at a time and to keep moving the rice until has absorbed the stock. Then, when you push your wood spatula in a wide line through your rice and you don't see liquid immediately rush into the space you just created, it is ready for more stock. Once you are at that point, add your next cup and repeat until your rice is cooked. This part of the process usually takes about 15-20 mins of stirring.
Variations
A benefit of having Arborio rice on hand is the freedom to make the humble risotto your culinary canvas. Feel free to substitute other vegetables you might have on hand for those in this recipe. Leeks can be substituted for the shallots, peas can be added at the end, add some cooked shrimp, etc… risotto is truly your canvas!
Using White Wine in Risotto
One ingredient that I did not use in this recipe, but is present in so many good risottos, is a white wine. The wine adds just that little bit of something extra to the risotto which is makes this dish even more special. However, I didn't have any in the house when developing the recipe, so I made mine without the wine.
If you choose to use wine in your recipe, select a dry white wine which you enjoy drinking–after all, you won't be using the whole bottle in the recipe! Then, before you begin ladling in the stock to the pan of rice, add 1/2 C. to 3/4 C. of white wine to the pan. (The amount completely depends on what you prefer!) Stir the rice and veggies with the wine until the wine evaporates off; then begin adding your stock. This extra liquid may reduce the amount of stock you need in the end, so begin testing your risotto towards the end to see if you need to add the last cup or two of stock.
Items Used for this Recipe
Other Great Recipes from Mason Jars and Me
Andouille Crab Bow Tie Pasta Alfredo Recipe
Spinach Pesto and Sugar Snap Pea Linguine
Pan-Fried Salmon and Apple Hash
Staying Connected
We love to be connected with you! Join us on Facebook or Instagram or sign up for our newsletter here (it's free!).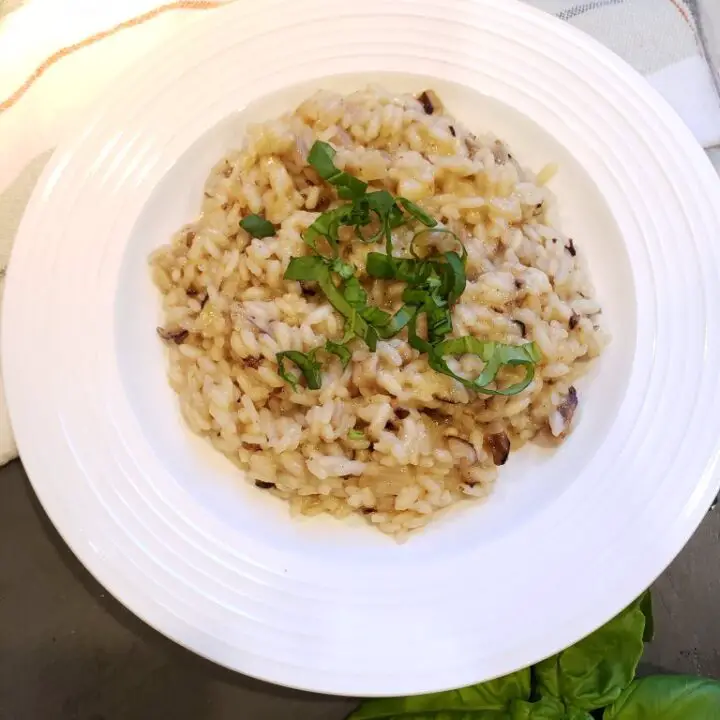 Mushroom Risotto Recipe
This easy Mushroom Risotto recipe is perfect for an evening in with friends or family!
Ingredients
5oz Sliced Shitake Mushrooms, diced small
2 Shallots, diced small
5-6 C Chicken Stock
1 1/2 C Arborio Rice
1/2 C. Freshly Grated Parmesan Cheese (or more to your liking!)
Salt
Pepper
Olive Oil
Instructions
Add chicken stock to a pot and bring to a simmer. Let it continue to warm on the stove as you cook the rest of the dish.
Heat large pan on medium-high heat then add mushrooms, sprinkle with salt and pepper. (No oil needed at this point.) Cook mushrooms until all the moisture has cooked off and they are brown (usually 2-3 minutes).
Add 1T Olive Oil to pan and add shallots. Cook until shallots are translucent (aprox 2 minutes).
If pan is dry, add another 1T of olive oil and 1 1/2 C Arborio rice. Stir until rice is coated and cook for 1 minute.
To the rice, add 1 C. Chicken stock and stir to deglaze the pan (A ladle full is about a cup).
When you are able to move the rice and the stock no longer immediately fills the area that you just cleared with your spatula, add another 1C of stock and repeat until you have used 5-6 cups of stock or until the rice is cooked to your liking.
Turn off heat, add Parmesan cheese, stir to combine until melted.
Enjoy!
Nutrition Information:
Yield:

4
Serving Size:

1
Amount Per Serving:
Calories:

842
Total Fat:

28g
Saturated Fat:

8g
Trans Fat:

0g
Unsaturated Fat:

18g
Cholesterol:

64mg
Sodium:

2926mg
Carbohydrates:

91g
Fiber:

2g
Sugar:

31g
Protein:

52g
Some of the links in this article are "affiliate links", a link with a special tracking code. This means if you click on an affiliate link and purchase the item, we will receive an affiliate commission. The price of the item is the same whether it is an affiliate link or not. Regardless, we only recommend products or services we believe will add value to our readers. By using the affiliate links, you are helping support our Website, and we genuinely appreciate your support.
Please follow and like us:
---