Andouille Crab Bow Tie Pasta Alfredo Recipe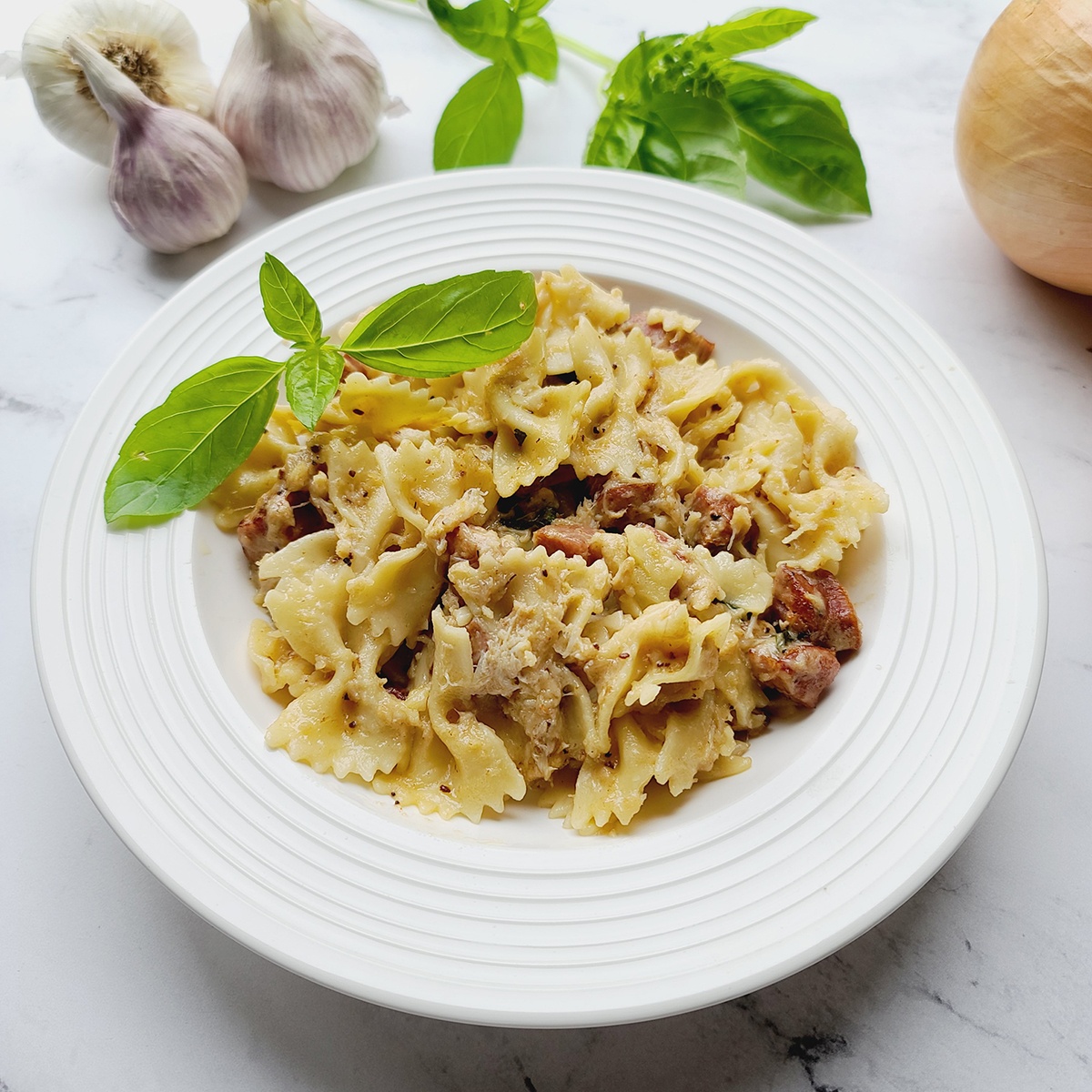 If you are looking for an easy and decadent meal, then this recipe is for you! This Andouille Crab Bow Tie Pasta Alfredo recipe is a perfect date night recipe when you want to impress, a meal to celebrate someone special, a holiday meal, or even a quick and delicious weeknight meal for the family!
Six words that make my mouth water: Andouille Crab Bow Tie Pasta Alfredo. Even just segments of that title are delicious on their own, but when combined, this recipe is one your family will be asking for again and again. So, let's get this party started, eh?
Please note: This post contains affiliate links.
Ingredients
As we all get busier and busier, we need to keep things simple. (Can I get an Amen?!?) So, in the spirit of keeping it simple, here is a list of all the ingredients you will need for this recipe. (Hello, online grocery order!)
Andouille Sausage
Crab Meat
Bow Tie Pasta
Butter
Garlic
Flour
Heavy Cream
Chicken Stock
Shredded Parmesan Cheese
Cajun Seasoning
Basil
Salt and Pepper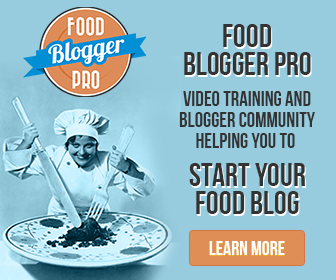 What is Andouille Sausage?
In the U.S., andouille sausage is a seasoned and smoked sausage made of pork butt. This spiced up version of the original andouille sausage which was brought to the states by the French is courtesy of our Cajun/Creole friends in the South–Thank you, Friends! It is pretty easy to find andouille sausage now since a few of the major sausage companies have picked it up, and I have also found some more local versions of andouille sausage which are fantastic too. Of course, the closer you are to Louisiana, the greater the number of artisan varieties you will find. For me, however, I usually use Aidells Cajun Style Andouille sausage because it is delicious and I can find it readily here.
What Kind of Crab Do I Use?
You can use whatever type of crab you want to for this recipe. Depending on your location, you may have an option for fresh local crabmeat. If so, go for it. If not, use what is in your local grocery store like I do. The processed crab meat you find in the jar or can is already steam cooked and ready to use. (I would not recommend using imitation crab meat for this.)
Since the crab is not an architectural star of the dish like it is with crab cakes, I typically go for the cheaper 8 Oz. jar of claw meat. I have not tried this recipe with canned crab meat, but I don't see why that wouldn't work here as well. Just make sure to drain any liquid off that might be in the can. (If you do use the canned crab meat, drop a comment below and let us know how it turned out!) The point is to get the flavor of the crab. You can use any grade of crab meat that you want, but the higher grades are not necessary for this dish to shine.
Do I Have To Use Bow Tie (or Bowtie) Pasta?
In the grand scheme of things, no. You can use whatever pasta you have on hand for this recipe, but if you have a choice to make use a pasta that retains more of the sauce in all of its nooks and crannies for a richer experience. Bow tie pasta is perfect for this recipe as it acts like a tiny serving dish on your fork for the rest of the recipe. Plus, it just looks fun! (The next question is, which is correct: Bow Tie Pasta or Bowtie Pasta??)
How to Make Perfect Alfredo Sauce
The hardest, but not hard, part of this recipe is making the alfredo sauce. In fact, alfredo is one of the first sauces I learned to make when I started cooking. They key is not to cook the sauce on high. Medium to Low on your burner is all you need when putting together this sauce–you want to be able to melt the butter without it browning. If you do that, you've got the right temperature. Once the butter is melted, add your garlic and cook for a minute until golden. Then add the flour to the mixture and whisk in until the flour is golden brown (about 1-2 minutes). Once the base is made, whisk in the cream and chicken stock and summer for about 5 minutes or until the mixture has thickened. If you are using parmesan in your alfredo sauce, this is where you remove the pan from the heat and stir in the cheese until it is melted.
For this Andouille Crab Bow Tie Pasta Alfredo recipe, once you have completed the alfredo sauce as described above, then you can stir in the cooked crab meat, andouille sausage, seasonings and pasta. The heat from the sauce, sausage, and pasta will warm up the cooked crab meat. Just garnish with parmesan and basil and you are ready to eat!
Is this Good as Leftovers?
Yes!! In fact, I almost think it is better the next day after it has time to meld flavors in the refrigerator overnight. Just remember that this dish does contain seafood, so I wouldn't keep leftovers more than a day or two in the refrigerator. (If it lasts that long!) I purposefully make more than we need in one night just to have this for lunch over the next day or two.
Can I Make This as an Instant Pot Recipe?
Yes! We actually spent a few weeks without a stove recently, and made a test version of this recipe in the instant pot. While it takes a little longer to make this way–and you loose a bit of the temperature control that you have on a cook top for making the alfredo–it is possible to make this dish with your pressure cooker.
The biggest difference from the more traditional recipe is how you cook the pasta. There is a great article on how to cook pasta in the instant pot here. If you choose to make it this way, I would recommend getting an extra instant pot liner because it just makes it easier to cook, drain and return the pasta to one liner and start the alfredo portion in a second instant pot liner.
Then, once your pasta is cooked, just use the Sauté function on your Instant Pot to brown the sausage and make your alfredo sauce. Once that is complete, mix everything in and enjoy!
Items Used For This Recipe
More Easy & Tasty Recipes
Looking for another meal to impress with? Try this Easy Mushroom Risotto Recipe!
Or this amazing dump and go slow cooker recipe: Green Chile Chicken Enchilada Soup
If you are looking for another easy weeknight meal, try our Cajun Seasoned Turkey Breast Instant Pot Recipe. Or for a another quick and easy pasta dish, try our Spinach Pesto and Sugar Snap Pea Linguine recipe!
Share the Fun!
We would love to hear about your experience when making this recipe! Please tag us in the photo of you and your family enjoying this on Instagram (@masonjarsandme) or on Facebook (@masonjarsandme), so we can enjoy the experience with you!
Also, if you never want to miss another future recipe from us, subscribe to our newsletter to get notifications when our next recipe is posted. (It is free!)
Thank you for reading, and Enjoy!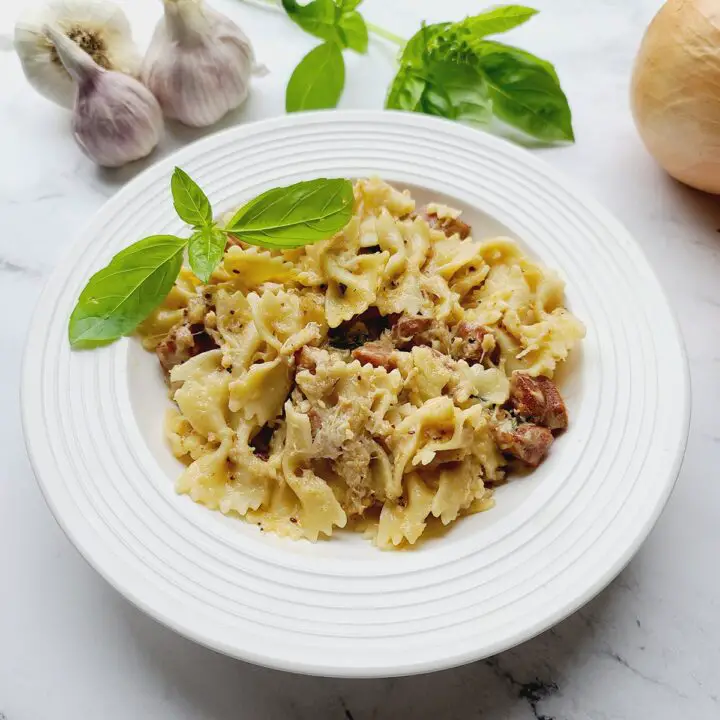 Andouille Crab Bow Tie Pasta Alfredo
A rich and easy meal sure to make any occasion special!
Ingredients
12 Oz. Cajun Style Andouille Sausage
1 lb. Bow Tie Pasta
3 T. Butter
3 Large Cloves Garlic, minced
3 T. Flour
1 C. Heavy Cream
1 C. Chicken Stock
1 C. Shredded Parmesan Cheese
1 1/2 t. Cajun Seasoning
8 Oz. Crab Meat
1 T. Dried Basil
Salt and Pepper, to taste
Instructions
Dice andouille sausage into bite-sized pieces.
Cook sausage in a sauté pan for 8-10 minutes or until the sausage has browned.
Meanwhile, in a large pot, boil water for the pasta with about 1/2 t. salt.
When boiling, add the pasta and cook following package instructions.
When the sausage is finished cooking. Remove from the pan.
Wipe the grease from the pan with a paper towel. Then add the butter to the pan to melt.
Once butter is melted, add minced garlic and allow to cook about a minute or until fragrant.
Add flour to mixture and stir. Cooking until the flour is golden brown (approximately 1-2 minutes).
Once flour is golden, add cream and chicken stock and stir. Cook for about 5 minutes or until the mixture has thickened, stirring occasionally.
Remove from the heat and stir in Parmesan Cheese until melted.
Add the cooked sausage, crab meat and Cajun seasoning to the pan and stir until combined.
If your pasta is not cooked at this time, set aside the sauce. If the sauce starts to seize (or thicken too much), add some of the pasta water a Tablespoon at a time to thin.
Once the pasta is finished, drain, then add to the sauce and mix well.
Garnish with a basil and parmesan then enjoy!
Nutrition Information:
Yield:

6
Serving Size:

1
Amount Per Serving:
Calories:

601
Total Fat:

41g
Saturated Fat:

21g
Trans Fat:

1g
Unsaturated Fat:

16g
Cholesterol:

142mg
Sodium:

1278mg
Carbohydrates:

31g
Fiber:

2g
Sugar:

3g
Protein:

26g
Some of the links in this article are "affiliate links", a link with a special tracking code. This means if you click on an affiliate link and purchase the item, we will receive an affiliate commission. The price of the item is the same whether it is an affiliate link or not. Regardless, we only recommend products or services we believe will add value to our readers. By using the affiliate links, you are helping support our Website, and we genuinely appreciate your support.
Please follow and like us:
---