Green Chile Chicken Enchilada Soup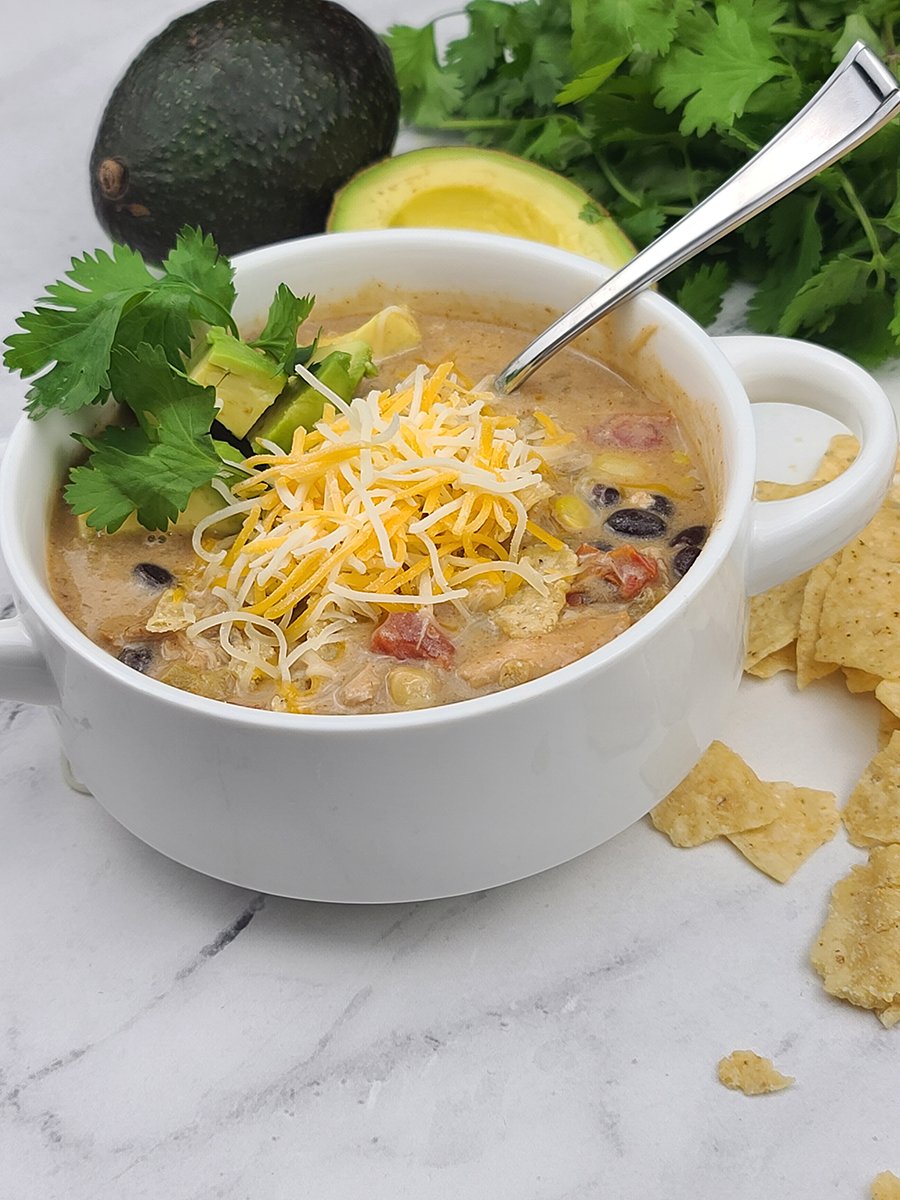 Chicken Tortilla Soup comes in many forms, but none are as good as this slow cooker Green Chile Chicken Enchilada Soup recipe. It has everything you would want in a Chicken Tortilla Soup recipe, plus so much more! With layers of amazing flavor, this soup is sure to be a hit with everyone in your family! Even better, this soup recipe is perfect for the crock pot and those busy nights when you need something delicious but just don't have a lot of time.
The other day I was looking aimlessly into the refrigerator looking for something to make for dinner–we've all been there, right?!? It was cold outside and I was really in the soup mood so was assessing the chicken noodle soup options, but I also wanted something with more flavor to it. Plus, it needed to be a slow cooker recipe since I was working all day. That's when the wheels started turning in my mind and this Green Chile Chicken Enchilada Soup recipe was born.
Note: This post contains affiliate links and ads from Amazon and our other affiliate partners. We earn a commission from all qualifying sales. Thank you for your support as we continue to produce quality content for you!
Ingredients
Cooked Chicken, shredded or chopped
Green Chile Enchilada Sauce
Chicken Stock (or Chicken Broth)
Water, optional
Canned Black Beans, drained and washed
Frozen Corn
Diced Tomatoes
Diced Green Chiles
Cream Cheese
Minced Onion
Minced Garlic
Cumin
Paprika
Chipotle Powder
Kosher Salt
Pepper
Shredded Mexican Blend Cheese
Lime Juice
Optional Toppings
Tortilla Strips
Avocado, diced
Lime Wedges
Shredded Cheese or even crumbled Cotija Cheese!
Cilantro
Sour Cream
Chicken Stock vs Broth
This recipe calls for chicken stock but you can easily substitute chicken broth for the stock. You might wonder what the difference between chicken stock and chicken broth is? Well, chicken stock is made with the bones of a chicken as well as aromatic vegetables and other herbs which cooks for hours. While chicken broth is made with mainly the meat of a chicken which generally cooks for a much shorter time. Broth is much lighter in color and flavor than stock which makes it great for upset tummies and dishes where you don't want a stronger flavor. I just happened to have stock on hand after making a chicken in the Instant Pot the other day. Once the chicken was cooked and deboned, I used all those scraps and leftover broth in the Instant Pot to make several quarts of stock with it to freeze for later (my recipe coming soon!). (The leftover chicken is also the meat I used for this soup!)
Crock Pot Green Chile Chicken Enchilada Soup Instructions
While you can cook this recipe on the stove top quite easily, I wrote this recipe as a slow cooker recipe because I was busy working that day and needed a quick dump and go recipe. Stir it a couple times during the day if you can and that's all it needs before adding the shredded cheese at the end! One caveat I have with this recipe is after dumping in all your ingredients into the slow cooker (except shredded cheese, lime juice, and optional toppings), you may have to add a cup or two of water to bring the liquid level to barely covering all the ingredients. Then cover and cook on High for 2-4 hours or on Low for 4-6 hours. About 5 minutes before the cooking time is over, stir the soup until all of the cream cheese is completely melted and then add your shredded Mexican cheese and stir until completely melted. Ladle up your soup into bowls and add a splash of lime juice to each bowl. Then top with any of your preferred toppings and enjoy!
Stove Top Instructions
If you prefer to cook this recipe on the stove top, just fill your pot with the ingredients (except the shredded cheese, lime juice, and optional toppings), bring to boil. Then reduce to simmer and simmer for 30-45 mins until everything is heated through.
Is this a Gluten Free Recipe?
This recipe can be made as gluten free. The biggest items to watch when shopping for ingredients are the green chile enchilada sauce and the tortilla strips. Both can be found in gluten free options–you can always substitute broken gluten free corn tortilla chips for the tortilla strips if you can't find the gf option. Otherwise, just be sure none of your other ingredients have hidden gluten in them and you are home free!
How to Store Green Chile Chicken Enchilada Soup
Since this soup contains cream cheese and shredded cheese, I would not suggest freezing this soup. Dairy tends to get a weird texture after it has been frozen. Instead, you can store the soup in air-tight containers in the refrigerator for up to 3 days.
Tools Used For This Recipe
Other Great Recipes
Green Chile Chicken Enchilada Soup
Additional Time:
5 minutes
Total Time:
4 hours
10 minutes
Packed with flavor, this dump and go slow cooker recipe will warm up any chilly evening!
Ingredients
3 C. Cooked Chicken, shredded or diced
2 cloves garlic, minced
14 oz Frozen Corn
8 oz Cream Cheese
1 Can Diced Tomatoes
10 oz can Green Enchilada Sauce
2 Cans Black Beans
1 Small Can Diced Green Chiles
2 T Minced Onion
2 t. Chipotle Powder
1/2 t. Paprika
1 1/2 t. Cumin
4-5 C. Chicken Stock (or broth)
1-2 C Water, optional
2 C. Shredded Mexican Blend Cheese
Splash of lime juices
Kosher Salt
Ground Black Pepper
Tortilla Strips, optional topping
Chopped Cilantro, optional topping
Lime Wedges, optional topping
Dab of Sour Cream, optional topping
Diced Avocado, optional topping
Instructions
Place all ingredients--except shredded cheese, lime juice and optional toppings--in an 8 qt slow cooker. (Use optional water to bring liquid level to just above the rest of the ingredients.)
Cook on high for 2-4 hours or low for 4-6 hours.
Stir soup until cream cheese is completely melted. Then add shredded cheese and stir until melted.
Ladle into bowls and add a splash of lime juice plus any of the optional toppings you want.
Nutrition Information:
Yield:

10
Serving Size:

1
Amount Per Serving:
Calories:

610
Total Fat:

30g
Saturated Fat:

12g
Trans Fat:

0g
Unsaturated Fat:

14g
Cholesterol:

97mg
Sodium:

1450mg
Carbohydrates:

52g
Fiber:

10g
Sugar:

15g
Protein:

36g
Some of the links in this article are "affiliate links", a link with a special tracking code. This means if you click on an affiliate link and purchase the item, we will receive an affiliate commission. The price of the item is the same whether it is an affiliate link or not. Regardless, we only recommend products or services we believe will add value to our readers. By using the affiliate links, you are helping support our Website, and we genuinely appreciate your support.
Please follow and like us:
---