Easy Homemade Taco Seasoning Recipe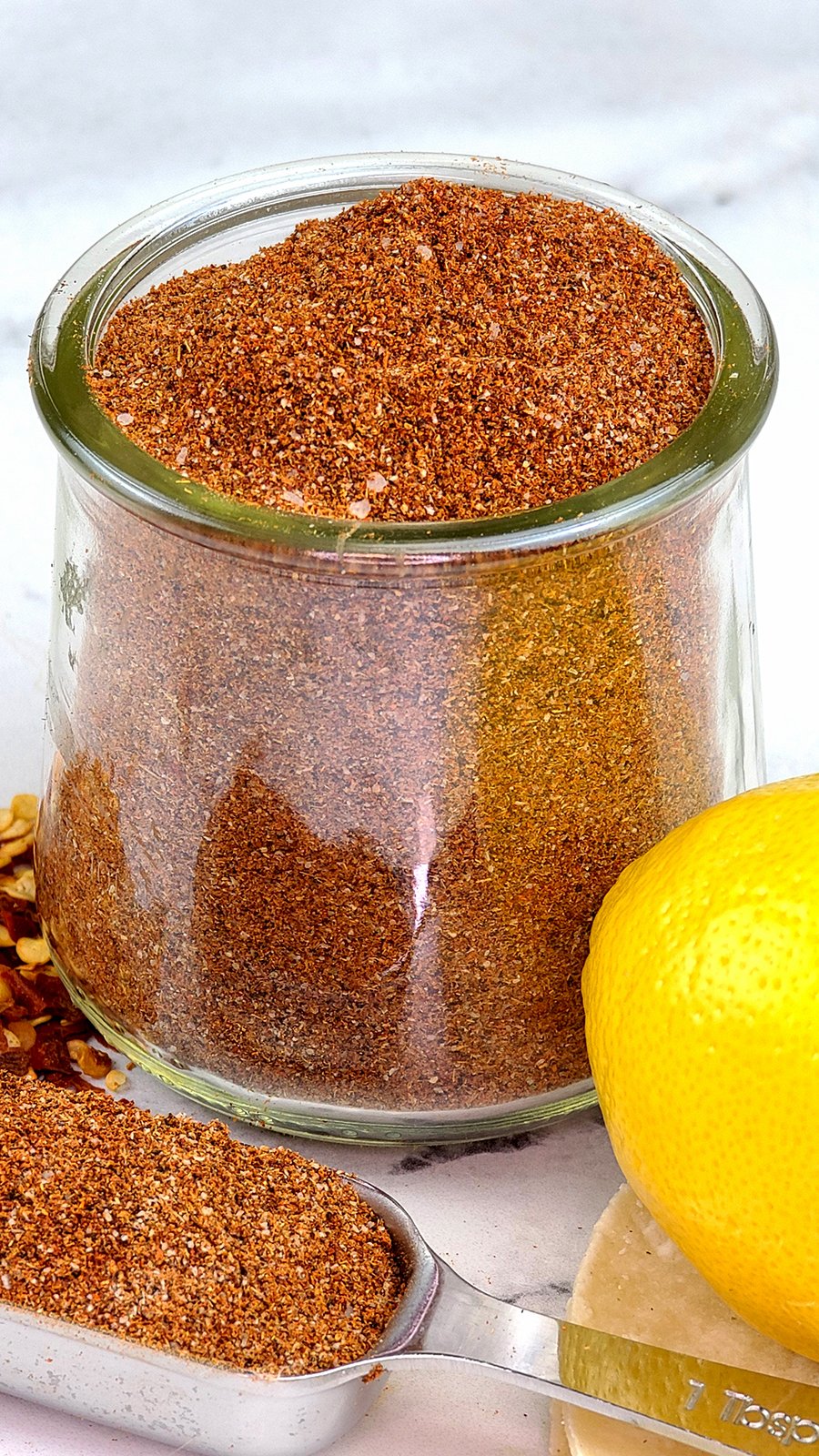 DIY taco seasoning is super easy to make and works great on everything from tacos to beans to salads. Once you make this homemade taco seasoning recipe, you will find yourself sprinkling it on veggies, chicken, seafood, and more–even when you aren't making tacos!
Updated 03/03/2022. Did you run out of taco seasoning and don't want to go to the store? Are you looking for an additive-free, gluten-free, or natural taco seasoning recipe? Or do you need to lower your sodium and are looking for a solution? Then this is the recipe for you! Easy to make and customize for your tastes, this recipe uses spices that you probably already have in your cupboard or pantry. Plus, it tastes so good!
Note: This post contains affiliate links and ads from Amazon and our other affiliate partners. We earn a commission from all qualifying sales. Thank you for your support as we continue to produce quality content for you!
What is in Pre-Packaged Taco Seasonings
After reading "Twinkie, Deconstructed:  My Journey to Discover How the Ingredients Found in Processed Foods are Grown, Mined (Yes, Mined), and Manipulated into What America Eats" by Steve Ettlinger, I became very much aware of the crazy things we are putting into our mouths everyday.  While I have not completely eliminated prepackaged foods, the slow process of developing other sources for the foods which we enjoy has begun.
And as we journey from less prepackaged foods and to the more natural side of things, one of the small mysteries has been seasonings.  What exactly is in some of those favorite packages of spicy goodness??   Well… I've found a lot of surprising words that aren't spices: Maltodextrin, Vegetable Oil Corn Flour, Citric Acid, Sugar, 'Natural Flavor', Yellow Corn Flour, Modified Corn Starch, Yeast Extract, Silicon Dioxide. Fillers, anti-caking agents, and non-spice flavorings. It was time to make my own homemade taco seasoning mix.
Why Make Homemade Taco Seasoning?
As mentioned above, you may be looking for a more natural alternative to the pre-packaged taco seasonings. Or you may be eliminating items from your diet. Either way, this DIY taco seasoning mix gives you the ability to adjust as need to fit your needs–plus it is incredibly easy!! Below are some adaptations you can make to ensure this recipe meets your needs:
Organic Taco Seasoning Mix By purchasing organic spices, you are ensuring your end result is certified organic.
All Natural Taco Seasoning Mix If you don't want to buy all organic (or can't afford to) the next best thing is to purchase spices which the labels show only the spice on the label. The most common additive I see on spice labels is silicon dioxide which serves as an anti-caking agent. If you are especially motivated, you can always grow and dehydrate your own spices and herbs to avoid the fillers. (Plus, it can be very economical to do! )
Gluten Free Taco Seasoning Mix Most spices are naturally gluten free, but just check the labels to make sure your spices do not have fillers or anti-caking agents which contain gluten.
Low Sodium Taco Seasoning Mix If you are looking for a low sodium alternative, then this recipe can be adapted to reduce or eliminate the salt completely. As written, this recipe has approximately 83 grams of sodium in each teaspoon of mix. Compare that to some of the leading brands I researched which have 300-430grams of sodium for just over a teaspoon of mix. That is a huge difference!

Homemade Smokey Taco Seasoning Mix Ingredients
Chili Powder
Paprika Powder (You can substitute smoked paprika if you want to increase the smokiness even more!)
Ground Cumin
Onion Powder
Garlic Powder
Ground Chipotle Pepper
Kosher Salt
Ground Black Pepper
Buying & Storing Spices
Spices generally become less potent the longer they are on the shelf of the grocery store and your cupboard. They also loose potency when to heat and light. So, buying the freshest and best quality spices you can and storing them in a place away from heat and light is important to extending the shelf-life of your spices. Do spices necessarily 'go bad'? Less so than the idea of milk 'going bad', but they do loose flavor the longer they are on the shelf. Let the 'best buy' date be your guide in determining the freshness of your spices.
So how do you know if your spices are fresh? Use your senses. If your spices look vibrant in color, that is a good sign they are fresh. If you can smell them and the aroma is strong that is another sign they are fresh. Finally, if they taste them to see if they are strong or have gotten to the weaker side. The older your spices, the more you will have to use to equate to a fresh measure of spice. If you are in a more humid climate, you may want to consider using a food grade oxygen absorber to keep your spices from caking. (There is no need to put silica in our food when we can use a desiccant packet as found below in the tools section.)
If you are looking for some great online sources for fresh spices, check out these merchants or find your local spice merchant and visit their store: Gryffon Ridge Spice Merchants, The Spice House (#ad), or The Spice Merchant are all great resources!
How Many Tablespoons of Taco Seasoning is in a Packet?
The standard pre-packaged packet of taco seasoning is generally 7 teaspoons, or 2 1/3 Tablespoons) of taco seasoning mix. This recipe will make a total of 42 teaspoons, or 14 Tablespoons, of homemade taco seasoning mix. That is equal to 6 packets of that pre-packaged taco seasoning you get at the supermarket.
How to Make Taco Seasoning
Making homemade taco seasoning is the simplest process!
Prepare Your Storage Container This recipe makes about 1/2 a pint of spice mix, so a pint mason jar is perfect. Plus it is easily sealed with a lid for air-tight storage.
Measure and Mix Measure all the spices into your container, then seal and shake to mix thoroughly.
Label If you are anything like me, you may forget what is in that jar when you look in the cabinet next time. Labelling your container with the name of your spice mix is a must. Additionally, adding an equivalency measurement to a standard taco seasoning packet is always helpful. In this case 7 t. equal one packet of taco seasoning mix.
Tools to Keep Your Taco Seasoning Fresh
Other Great Recipes
Stay Connected!
We love to stay connected with you! Join the Mason Jars and Me community on Facebook or Instagram to stay up-to-date on new recipes, tips, and our community.
You can also sign up below for our newsletter to receive an email when we publish a new recipe!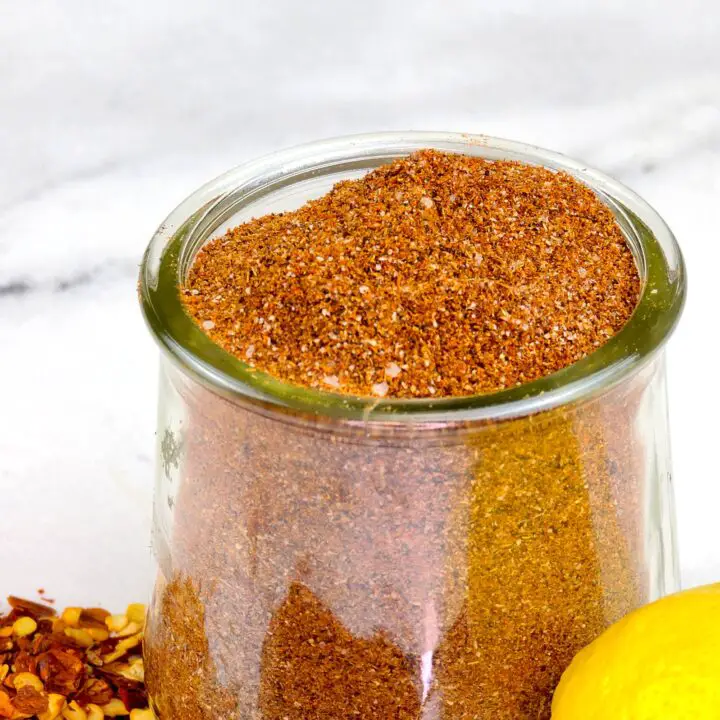 Homemade Taco Seasoning Recipe
This DIY taco seasoning is so good, and it is super easy to make! A homemade taco seasoning mix recipe which can easily made as a gluten-free, additive free, and even low sodium/sodium-free recipe.
Ingredients
4 T. Chili Powder
3 T. plus 1 t. Paprika Powder
3 T. Ground Cumin
1 T. plus 2 t. Onion Powder
1 t. Garlic Powder
1/2 t. Ground Chipotle Pepper
2 t. Kosher Salt
1 t. Ground Black Pepper
Instructions
Mix all ingredients together.
Store in an air-tight container.
One store bought packet of taco seasoning equals 7 t. of this seasoning mix.
Notes
This recipe makes approximately 42t. of taco seasoning which is equal to 6 packets of prepackaged taco seasoning you would find in the spice aisle.
*To spice it up, add 1 T. of red pepper flakes or even 1/2 t. ground cayenne pepper.
*To make a mild version eliminate the chipotle pepper
*To make this organic, used all organic spices.
*If you want to reduce the sodium content, leave out or reduce the salt. You can always add salt in later if you find you need it.
Nutrition Information:
Yield:

42
Serving Size:

1
Amount Per Serving:
Calories:

5
Total Fat:

0g
Saturated Fat:

0g
Trans Fat:

0g
Unsaturated Fat:

0g
Cholesterol:

0mg
Sodium:

83mg
Carbohydrates:

1g
Fiber:

0g
Sugar:

0g
Protein:

0g
Some of the links in this article are "affiliate links", a link with a special tracking code. This means if you click on an affiliate link and purchase the item, we will receive an affiliate commission. The price of the item is the same whether it is an affiliate link or not. Regardless, we only recommend products or services we believe will add value to our readers. By using the affiliate links, you are helping support our Website, and we genuinely appreciate your support.
Please follow and like us:
---