Creamy Potato Leek Dill Soup with Bacon Recipe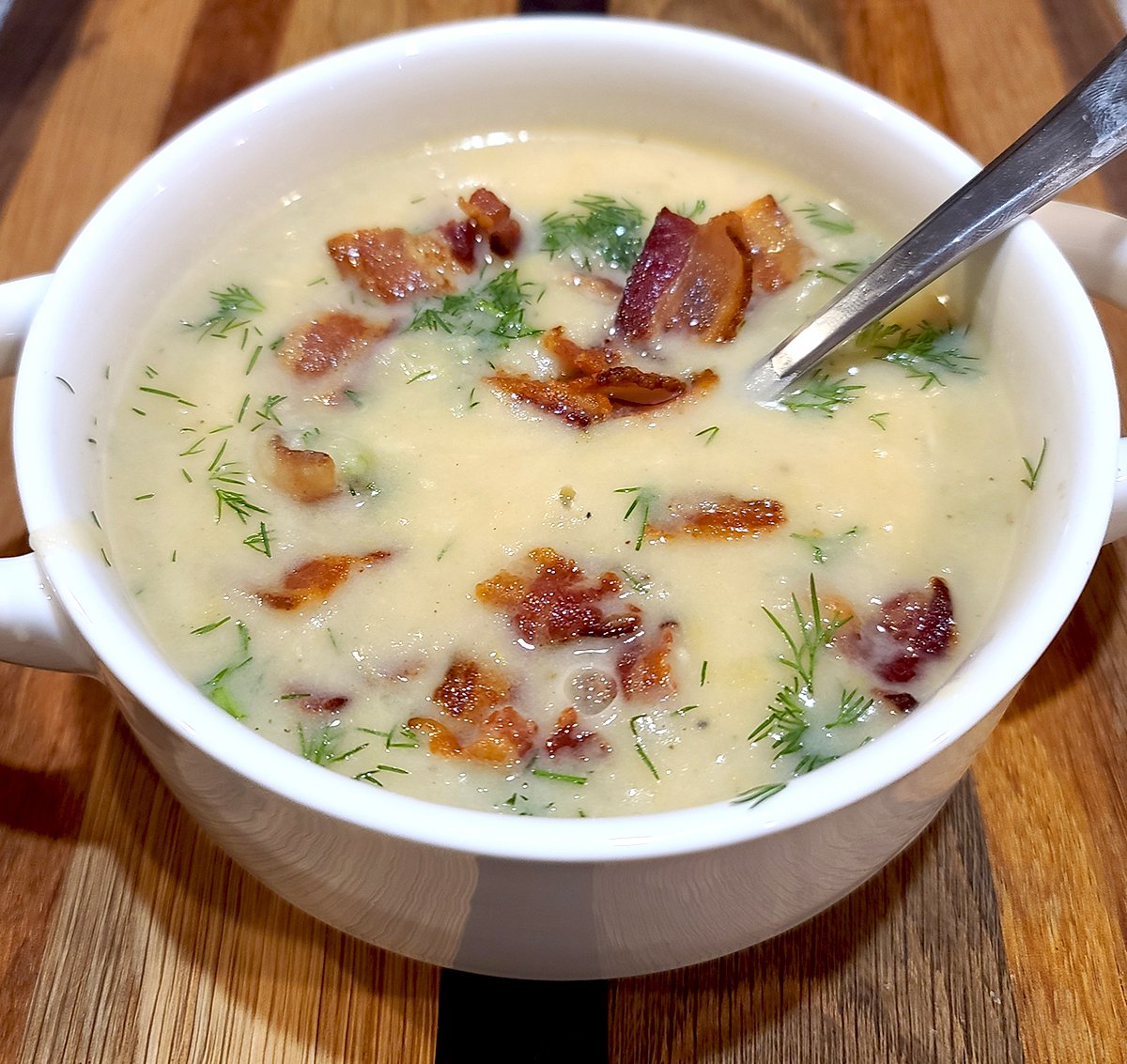 Perfect for those cold winter nights, this Creamy Potato Leek Dill Soup with Bacon recipe takes potato soup to a new level!
Recipe was updated 2/14/22. So, as I was craving soup last night, I looked around my kitchen and my eyes landed on the baked-potato-sized potatoes sitting in the basket. They needed to be used, and I just didn't want a plain potato soup. But I remembered the dill and leeks in my refrigerator, and this delicious, creamy soup recipe flooded back to memory.
Note: This post contains affiliate links and ads from Amazon and our other affiliate partners. We earn a commission from all qualifying sales. Thank you for your support as we continue to produce quality content for you!
While this isn't your typical Midwestern version of potato soup, this one-pot-wonder does have the bacon element which brings out the delicious dill and leek flavors. Plus, the garnishes are not merely ornamental. In this case, the garnishes of dill and bacon bring out another level of deliciousness which certainly should not to be missed!!
So, buckle your seat belts and hold on for a delicious ride into the world of Potato, Leek and Dill Soup with Bacon!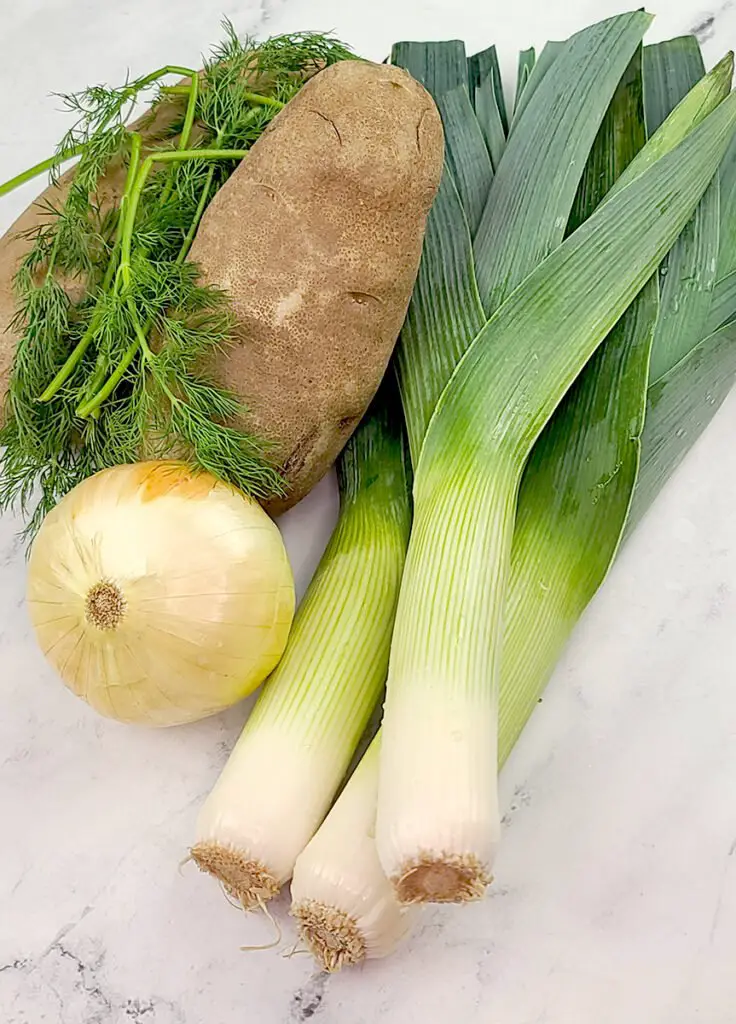 Ingredients
Russet Potatoes
Leeks
Yellow Onion
Minced Garlic
Kosher Salt
Freshly Ground Black Pepper
Chicken Broth
Water
Bacon
Fresh Dill
Heavy Cream
What are Leeks?
Growing up, I don't remember a leek ever being in our refrigerator. They may have been there, but I don't remember them–and those long thick white and green cylinder-like onions would be memorable! We were very much a meat and potatoes family growing up. When I got out on my own, I started to challenge myself with the strange and wonderful items in the produce section, and leeks were one of them that I have come to love.
Leeks are in the allium family and are cousins to onions, shallots, garlic, and green onions. Which makes them an option to substitutes for onions, shallots, and green onions in many circumstances. They have a fresh, mild onion flavor which become more sweet when cooked.
Fun fact: Leeks are also the national symbol of Wales.
Save Those Leek Tops!
This recipe does not use the dark green leek tops because they can be pretty fibrous and tough even when cooked. That doesn't mean you can't use them for something else! My favorite way to use the dark green leek tops is to thoroughly wash them to remove any dirt or sand then freeze them in a gallon-sized freezer bag to use in chicken or vegetable stock.
How to Clean Leeks
Leeks grow best in more sandy conditions, which results in the need to wash these thoroughly before using to remove any sand or dirt. To do this, cut the root end and the dark greens away from the white part of the leek. Then cut the leek in half. From here you can wash your leek one of two ways. First, you can rinse the cut side of the leek under water and then soak (cut side down) in water for a few minutes. Or, slice your leeks for cooking, place in a strainer, and then rinse thoroughly. Some leeks are more dirty than others, but both of these methods work well regardless.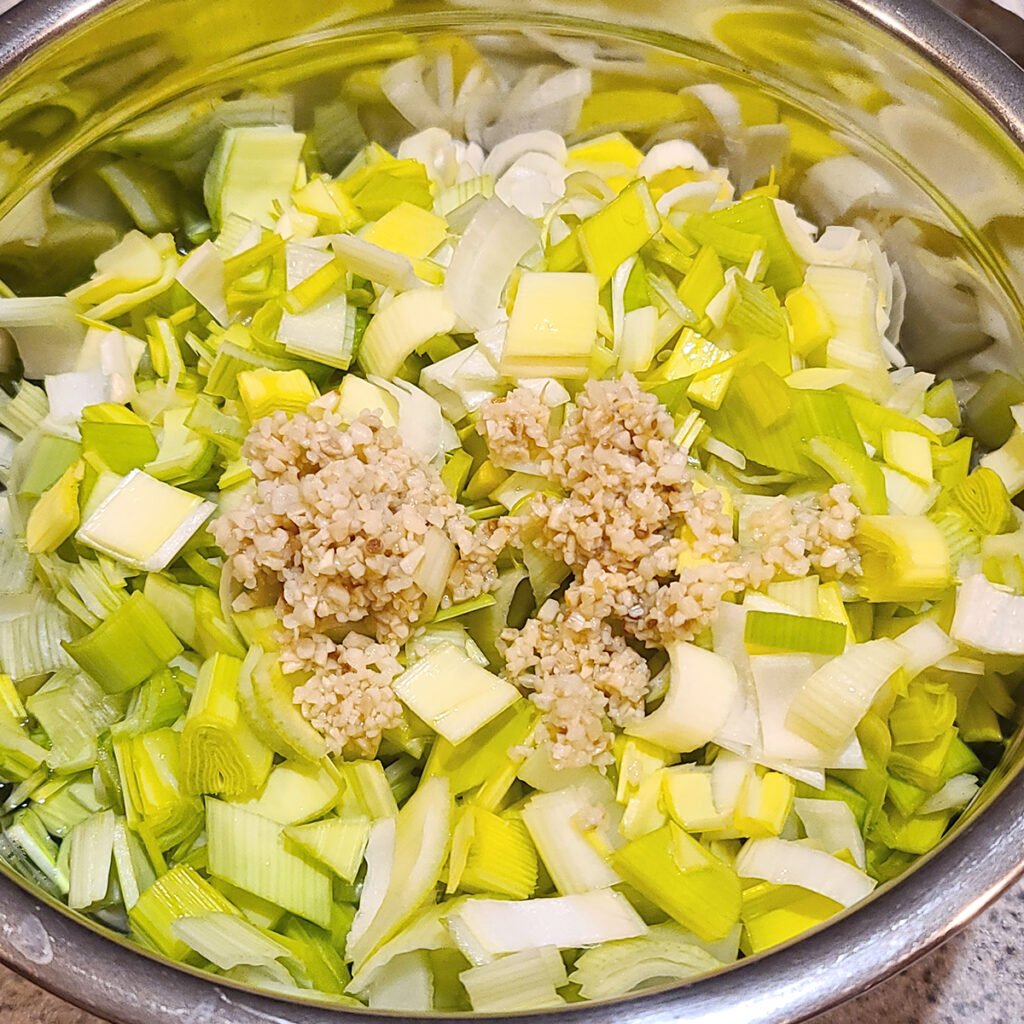 Best Potatoes for Potato Leek Dill Soup
For this soup recipe, I am using russet potatoes. However, if you don't have Russet Potatoes, White Round Potatoes (or Chef's potatoes), Yukon gold potatoes or even fingerling potatoes work great for this recipe. All of these hold up well when cooked for soups and add a great texture when blended.
Dill Substitute Ideas
Fresh dill, or dill weed as some call it, is a great partner for this potato soup. This time of year, however, it can be difficult to find fresh dill in the stores-especially this year! When I do find it, the dill is usually in a small hanging clamshell with the herbs in the produce section. Dill is also an herb that not everyone likes. So, if you don't like dill or can't find it in the stores, there are a few substitutes you can use to make a great version of this recipe:
Fennel Fronds–Use the ferny dill-looking part of your fennel instead of the fresh dill.
Green Onion Tops
Thyme
Tarragon
Chives
Dried Dill–1 Tablespoon of fresh dill=1 teaspoon of dried dill
Of the options listed here, if you want a more mild taste go with the green onion tops, chives, thyme, or the dried dill substitutes. If you want a more flavorful substitute then try the fennel fronds or tarragon!
The Best Soup Pot
When making any soup on the stove top, I like to use my enamel covered cast iron Dutch oven. The reason I love this pot is the cast iron heats at a more uniform consistency across the pot compared to a traditional metal pot. The uniform heat helps to lessen the burning on the bottom of the pot when initially cooking the vegetables, requires lower heat settings on the stove, and maintains heat for a longer time. I use this pot at least three times a week during soup season, and regularly to make other goodies like roasts and bread. If you don't have an enameled Dutch oven, you can always use a heavy-bottom pot now and put one on your Christmas list for next season!
How to Store Leftover Potato Leek Dill Soup
Any leftover soup you may have can be stored in an air-tight container in the refrigerator for up to 3 days. Store your fresh dill and bacon crumbles for garnish separately. Then, after you have reheated your soup, garnish with the dill and bacon.
Can You Freeze Potato Leek Dill Soup?
You can…. but I wouldn't freeze the fully prepared soup for a couple of reasons. First, most cream based soups come out of the freezer with a funky texture. (If your kids are like me when I was young, that funky texture might turn them off.) Second, the dill flavor will grow the longer it is in the freezer. I like dill, but there is such a thing as too much of a good thing.
Instead, if you wanted to make this into a freezer meal or meal prep for the week, I would make the soup all the way until you are ready to add the cream and dill. Put the blended potato soup into a freezer safe container and freeze. Then, when you are ready to eat: thaw, reheat, and then add in the cream and the dill. (You can also freeze the bacon crumbles in a separate container to use for topping!)
Tools for this Recipe
Other Great Recipes
Cajun Seasoned Turkey Breast Instant Pot Recipe
All our Gluten Free recipes
Stay Connected!
We love to stay connected with you! Join the Mason Jars and Me community on Facebook or Instagram to stay up-to-date on new recipes, tips, and our community.
You can also sign up below for our newsletter to receive an email when we publish a new recipe!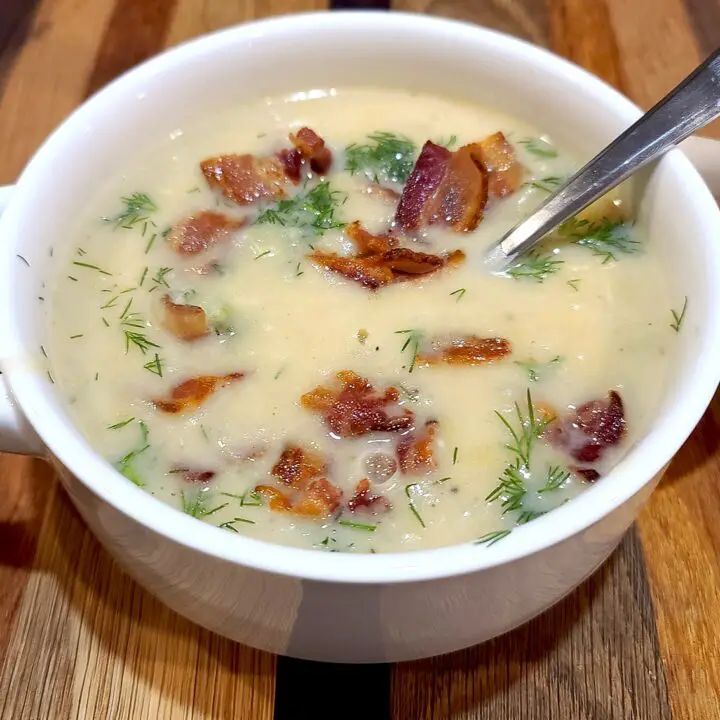 Easy Potato Leek Dill Soup with Bacon
A perfect soup to sit have simmering on a busy weekend day. This creamy Potato Leek Dill Soup with Bacon is amazing!
Ingredients
2 Large Russet Potatoes, Diced Large
2 Large Leeks, whites thinly sliced*
1 Medium Yellow Onion, diced
2 T. Minced Garlic
Kosher Salt, to taste
Fresh Ground Black Pepper, to taste
2-14 oz cans Chicken Broth
1 C. Water
5 Sliced Bacon
4 T. Chopped Fresh Dill
1/4 C. Heavy Cream
Instructions
1. Remove the green ends of the leek and the root ends. Then slice in half and soak in water cut side down for 5 minutes while chopping other vegetables.
2. Dice Onion and set aside.
3. Peel and large dice potatoes into 1 inch pieces. Put into a large bowl.
4. Mince Garlic and add to potatoes.
4. Chop Fresh Dill. Set aside
5. Remove leek halves from water and thoroughly rinse. Then thinly slice the leeks and add to bowl with potatoes and garlic.
6. Dice bacon into 1 inch pieces, and add to a large heavy-bottomed pot or dutch oven. Cook on medium until bacon is done and remove bacon from the pot.
7. To the bacon drippings in the pot, add the the onion and cook for 3-4 minutes or until onions are translucent.
8. When onions are done, add the bowl of leeks, potatoes, and garlic to the pot. Stir to coat everything with bacon grease and cook for 1-2 minutes.
9. Add half of the chicken broth to the pot. Stir/scrape the bottom of the pot to deglaze the pot. Then add the rest of the chicken broth and 1 C. Water.
10. The vegetables should be covered with liquid now. If not, add more water.
11. Salt and pepper to taste.
12. Bring pot to boil and then reduce again to medium heat and allow to simmer for 30-35 minutes or until vegetables are tender.
13. Remove from heat and blend with an immersion blender to your desired consistency. (Or transfer to a blender and blend).
14. Add heavy cream and 2/3 of the dill to the soup. Stir until combined.
15. Crumble the bacon that was cooked earlier, and top soup with bacon crumbles and the remaining dill.
Notes
*If your leeks are on the smaller side you can use three leeks instead of two.
*When using a blender with soup, be careful to avoid splashing hot soup onto yourself. Always work with a lid on the traditional blender, and keep the immersion blender under the soup.
*If you do not like dill, you can always substitute green onion tops for the dill.
Nutrition Information:
Yield:

4
Serving Size:

1
Amount Per Serving:
Calories:

314
Total Fat:

11g
Saturated Fat:

5g
Trans Fat:

0g
Unsaturated Fat:

5g
Cholesterol:

35mg
Sodium:

1164mg
Carbohydrates:

43g
Fiber:

5g
Sugar:

5g
Protein:

12g
Some of the links in this article are "affiliate links", a link with a special tracking code. This means if you click on an affiliate link and purchase the item, we will receive an affiliate commission. The price of the item is the same whether it is an affiliate link or not. Regardless, we only recommend products or services we believe will add value to our readers. By using the affiliate links, you are helping support our Website, and we genuinely appreciate your support.
Please follow and like us:
---