Air Fryer Chicken Cutlets Recipe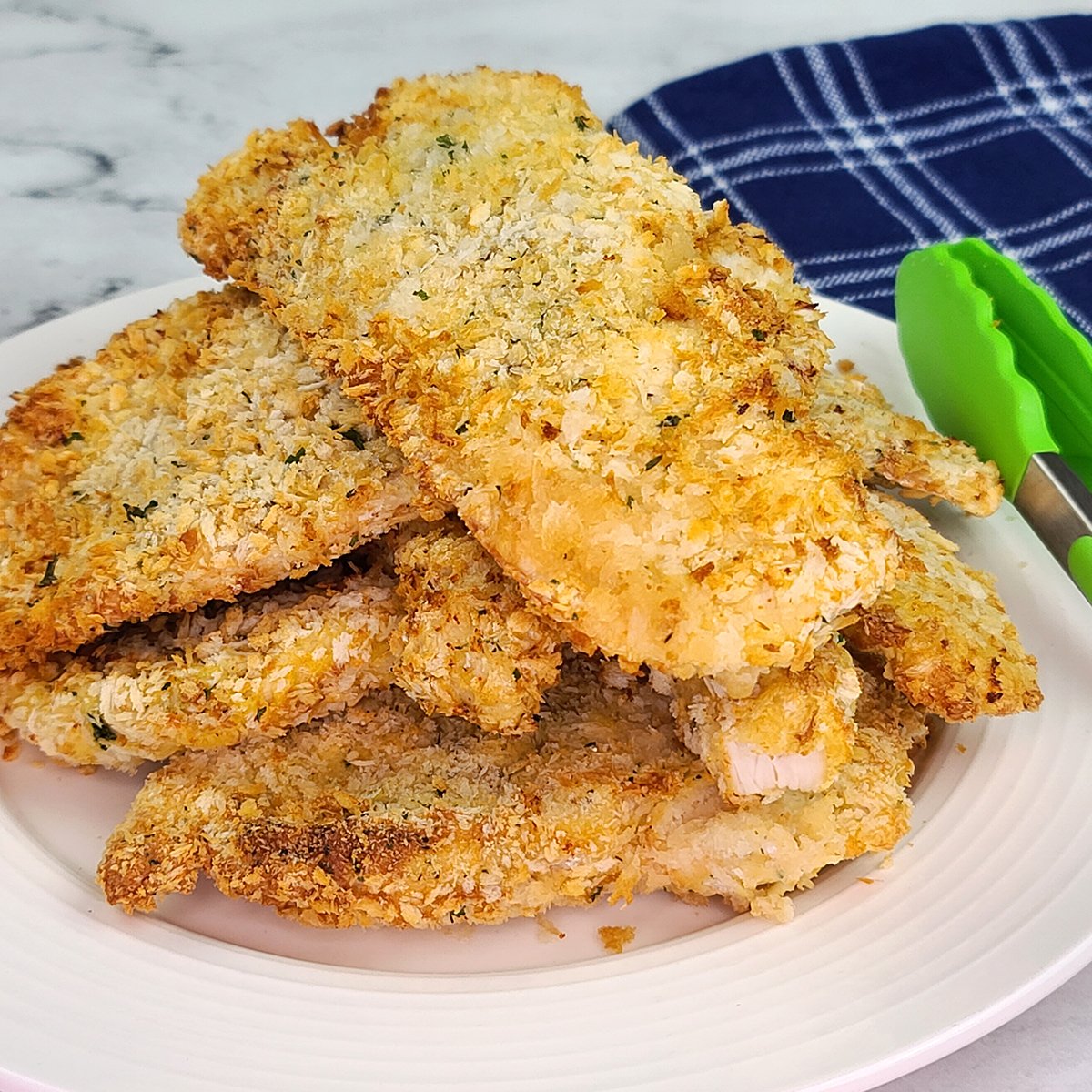 Recipes that can be used in multiple forms are kitchen hacks that every one should know. This Air Fryer Chicken Cutlets recipe is exactly that. Delicious, versatile, and healthier than traditionally cooked cutlets, this recipe is one I use when I want chicken cutlets in under 20 minutes!
Note: This post contains affiliate links and ads from Amazon and our other affiliate partners. We earn a commission from all qualifying sales. Thank you for your support as we continue to produce quality content for you!
What is a Chicken Cutlet?
Simply, a chicken cutlet is a thin cut of chicken breast. This cut of chicken can be found in the grocery store labelled as a cutlet or as thin-sliced chicken breast. The most popular way to prepare chicken cutlets is in a breaded form which is what many people visualize when you say chicken cutlets. These are often used as the base for meals like chicken parmesan.
Why You Will Love Making This Air Fried Chicken Cutlet Recipe
It is perfect for making sandwiches, salads, and chicken cutlet dishes!
Air frying reduces fat and calories in your food.
They taste great, and are healthier than traditionally prepared cutlets!
The air fryer makes short work of this healthier alternative.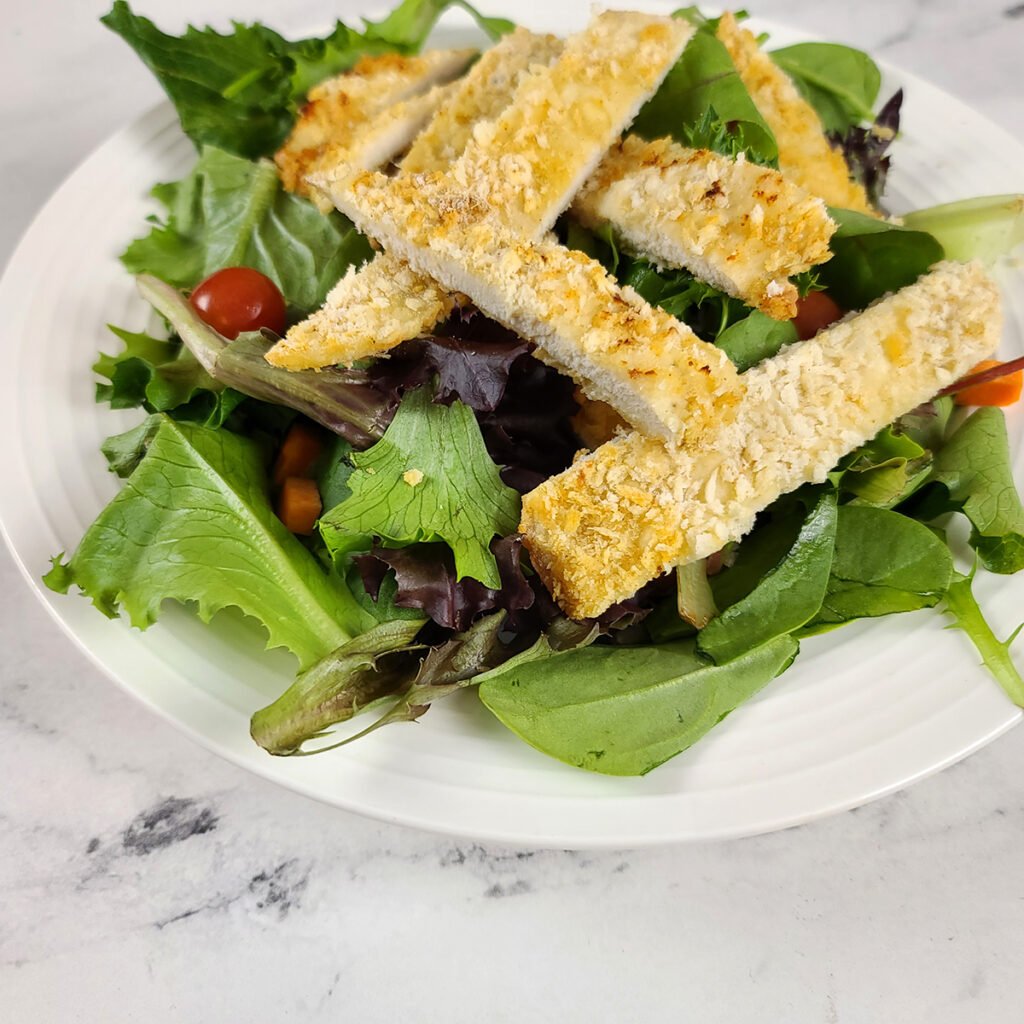 Air Fryer Chicken Cutlets Ingredients
Thinly Sliced Chicken Breasts
Eggs
Flour
Kosher Salt
Granulated Garlic
Onion Powder
Dried Parsley
Smoked Paprika, optional
Panko Breadcrumbs
Pecorino-Romano Cheese, Grated–optional
Olive Oil Spray
How to Make Chicken Cutlets from Chicken Breasts
If you cannot find thinly sliced chicken breast at your local grocery store–or you have regular chicken breast on hand and want to use those–there is an easy way to make your own cutlets. In order to make the cutlets, you will slice the chicken breast in half horizontally. You should exercise caution when doing this knife work, and please be sure your knife is sharp to start.
To make this process safer and easier, you will want a partially frozen chicken breast. It should not be rock hard, but just enough to give you slight resistance when cutting with a sharp knife–usually 20-30 minutes in the freezer will be enough. Once that is complete, you can then pound the chicken breasts to a more uniform and thinner form. My favorite tool for this job is my reversible meat tenderizer from Pampered Chef. (I have linked to a similar one below in the tools section.) If you are like me and enjoy seeing the process, there is a great post describing and showing the whole process here.
How to Bread Chicken
To bread your chicken cutlets, you will want to prepare a breading station to make this process as efficient as possible. I personally love using pie plates for this process since they are wide, shallow and using them for something other than pie makes me happy!
The first spot is the flour station. In this spot you will want another large flat pan where you can press your chicken cutlet into the mixture for both sides.
The second spot on your breading station is the egg pan. In this spot, you will want a large flat pan like pie plates or a 9 x 13 pan where you can place your chicken cutlets and coat them with the egg mixture.
The final spot on the breadcrumb station is the breading. Again, you will want a large flat pan so you can press the whole cutlet into the breading, then flip and bread the other side of the cutlet.
In order to make the cutlets you will work in the following order:
Spot #1–coat with flour mixture
Spot #2–dredge with egg mixture
Spot #3–coat with breadcrumb station by pressing the cutlet into the breadcrumb
How Long to Cook Chicken Cutlets in Air Fryer
Once breaded, to get perfectly cooked chicken cutlets in the air fryer, preheat your air fryer to 400 degrees. Then, when it is hot, place the chicken cutlets in the basket and cook. (You may have to cook the cutlets in batches depending on the size of your cutlets and your air fryer.)
The cook time to get perfect chicken cutlets at home in the air fryer is 4 minutes each side for a total of 8 minutes. If you have especially thin sliced chicken breast, you will want to check at 6 and 7 minutes to make sure your cutlets do not over cook. The internal temperature of your final product should be 165 degrees. If the cutlets are especially thick, they may require an additional minute or so.
Tips for Making Breaded Chicken in Air Fryer
Depending on the size of your air fryer and how many cutlets you are making, you may need to work in batches.
Use your microwave or oven as a warming box. While you are cooking other batches, keep your finished cutlets warm by putting them on a place, cover with a kitchen towel and place in the microwave. Don't turn on the microwave, just park the cooked cutlets in there while you finish the next batch.
Some air fryers have great non-stick surfaces which do not need oil. Others, like my Instant Pot Duo Crisp, really do need to be sprayed to reduce sticking. Check your with your manufacturer to see if you need to add oil to the basket or not.
Regardless of whether you spray the surface of your cooking basket, you do need to spray the cutlets with cooking spray. (I use olive oil in a sprayer.)
Do not overlap or stack your cutlets. These need room to crisp up appropriately, so give them a small amount of space.
How to Store Crispy Air Fryer Chicken Cutlets
After making your perfect crispy air fryer chicken cutlets, you may have a few leftover–maybe. If that is the case, you can store these leftovers in the refrigerator for 3 to 4 days in an air-tight container. Then, when you are ready to enjoy them again, you can pull them out of the refrigerator and reheat.
If you are batch cooking and would like to freeze these for later, you can freeze these for 3 to 4 months in a freezer-safe container or freezer bag. When ready to use these chicken cutlets, place in the refrigerator overnight to thaw. Then, when you are ready to eat, reheat and enjoy!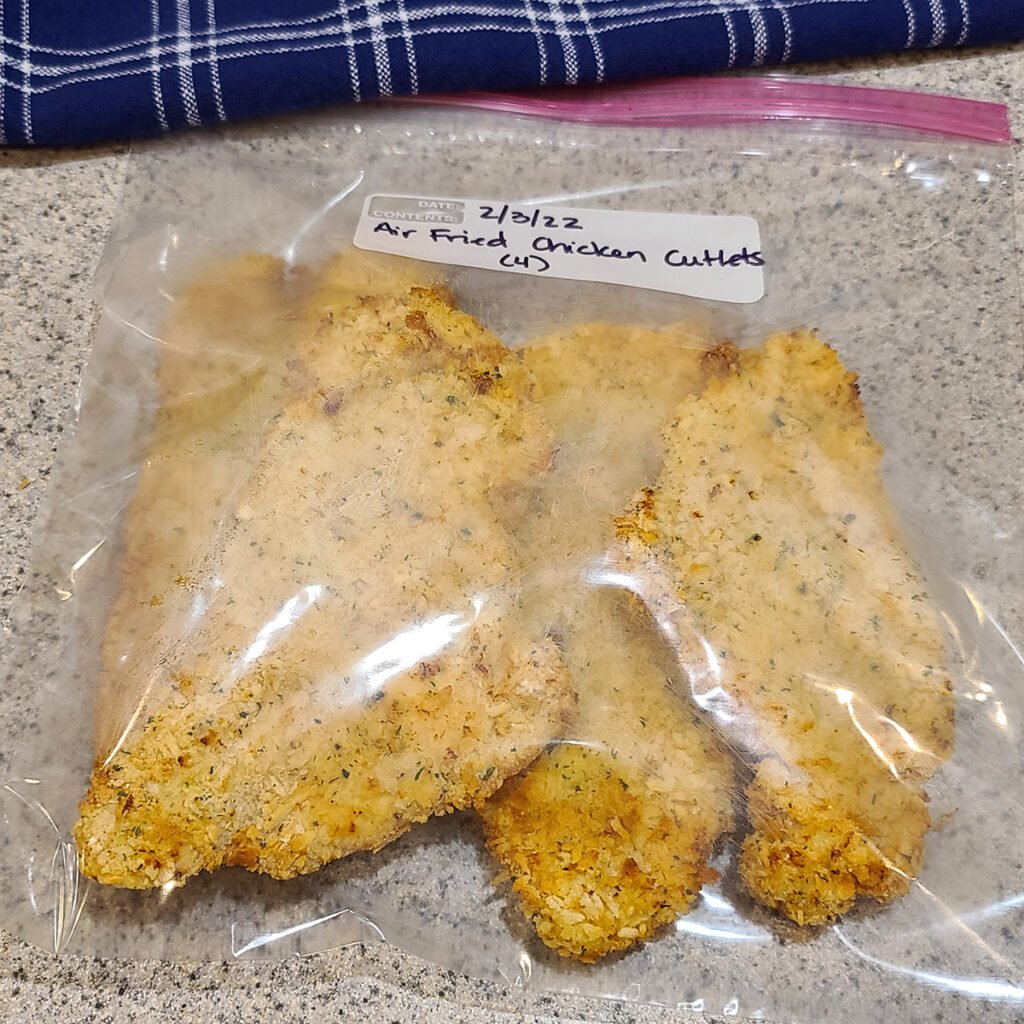 What if I Don't Have an Air Fryer?
If you do not have an air fryer, not to fear. There are a couple of alternatives for you:
First, if you have an Instant Pot, you can get after-market air fryer lids for them. Or, if you have an Instant Pot Duo Crisp, you already have the IP air fryer lid–I use this. These work just like an air fryer. They only draw back is you may have a smaller available cook area than what you may have in a stand-alone air fryer.
The second air fryer alternative cooking method is the traditional method of pan frying your chicken cutlets on the stove. Just put a thin layer of vegetable oil in the bottom of a deep frying pan and cook each side until slightly golden and the chicken is cooked to an internal temperature of 165 degrees F.
Tools for this Recipe
Gluten-Free Chicken Cutlets Tips
If you would like to make this as a gluten-free recipe, substitute the regular panko crumbs for gluten-free panko and the all purpose flour for a 1:1 gluten free flour replacement. The gluten-free alternatives will give your cutlets a different look, but are just as good.
Other Great Recipes
Green Chile Chicken Enchilada Soup
Cranberry Chicken Salad Sandwiches
Stay Connected
We love to stay connected with you! Join the Mason Jars and Me community on Facebook or Instagram to stay up-to-date on new recipes, tips, and our community.
You can also sign up below for our newsletter to receive an email when we publish a new recipe!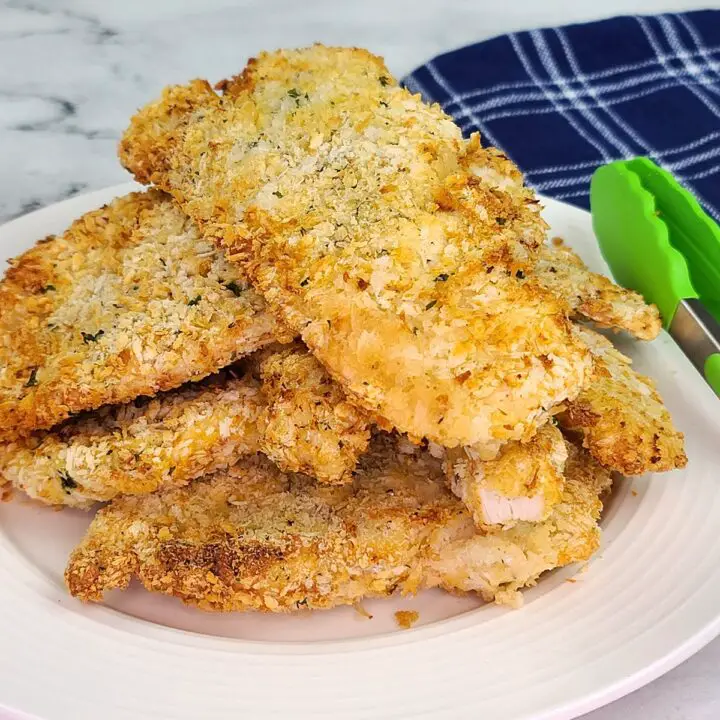 Air Fryer Chicken Cutlets
With less fat than traditionally prepared Chicken Cutlets, this Air Fryer Chicken Cutlet recipe is a healthier version of an old favorite.
Ingredients
8 Thin-sliced chicken breast pieces (or 4 chicken breast sliced in half)
1/2 t. Kosher Salt, divided
1/2 t. Freshly Cracked Black Pepper
3 eggs
1/2 C. Flour
1/2 t. Garlic Powder
1/2 t. Onion Powder
1/2 t. Dried Parsley
1/2 t. Smoked Paprika
1 1/2 C. Panko Breadcrumbs
1/4 C. Pecorino-Romano Cheese, grated--optional
Olive Oil Spray
Instructions
Use half the the kosher salt and all the black pepper to season both sides of the thin-sliced chicken breasts. Set aside.
In a pie plate or another wide dish, whisk three eggs together. Set aside.
In a 2nd pie plate or wide dish, mix flour, the remaining half of salt, garlic powder, onion powder, and smoked paprika.
In a 3rd pie plate or wide dish, mix panko breadcrumbs, parsley, and pecorino-romano cheese (if using). Set aside.
If your air fryer calls for spraying your basket, spray with olive oil at this point. (Non-stick baskets usually don't need sprayed.)
Preheat air fryer to 390 degrees F.
Place all three parts of your breading station next to each other and dip/cover the chicken in the following order: flour mixture, then egg mixture, and finally the panko breadcrumb mixture.
When air fryer is ready, spray both sides of the chicken cutlets with olive oil and place in the basket with some space around each cutlet. (If your basket is smaller, you may have to work in batches.)
Then air fry for 8 minutes--turning at the 4 minute mark.
When cutlets are golden and cooked to 165 degrees F, remove from air fryer.
While subsequent batches are cooking, place cutlets on a plate in the microwave or cover with a clean dish towel to keep warm.
Notes
If only making 4 chicken cutlets, reduce ingredients in half except eggs. In this case, use 2 eggs.
The cheese can be left out of the breading if you desire.
Nutrition Information:
Yield:

8
Serving Size:

1
Amount Per Serving:
Calories:

360
Total Fat:

10g
Saturated Fat:

3g
Trans Fat:

0g
Unsaturated Fat:

6g
Cholesterol:

174mg
Sodium:

379mg
Carbohydrates:

21g
Fiber:

1g
Sugar:

1g
Protein:

44g
Some of the links in this article are "affiliate links", a link with a special tracking code. This means if you click on an affiliate link and purchase the item, we will receive an affiliate commission. The price of the item is the same whether it is an affiliate link or not. Regardless, we only recommend products or services we believe will add value to our readers. By using the affiliate links, you are helping support our Website, and we genuinely appreciate your support.
Please follow and like us:
---