Chocolate Chip Banana Bread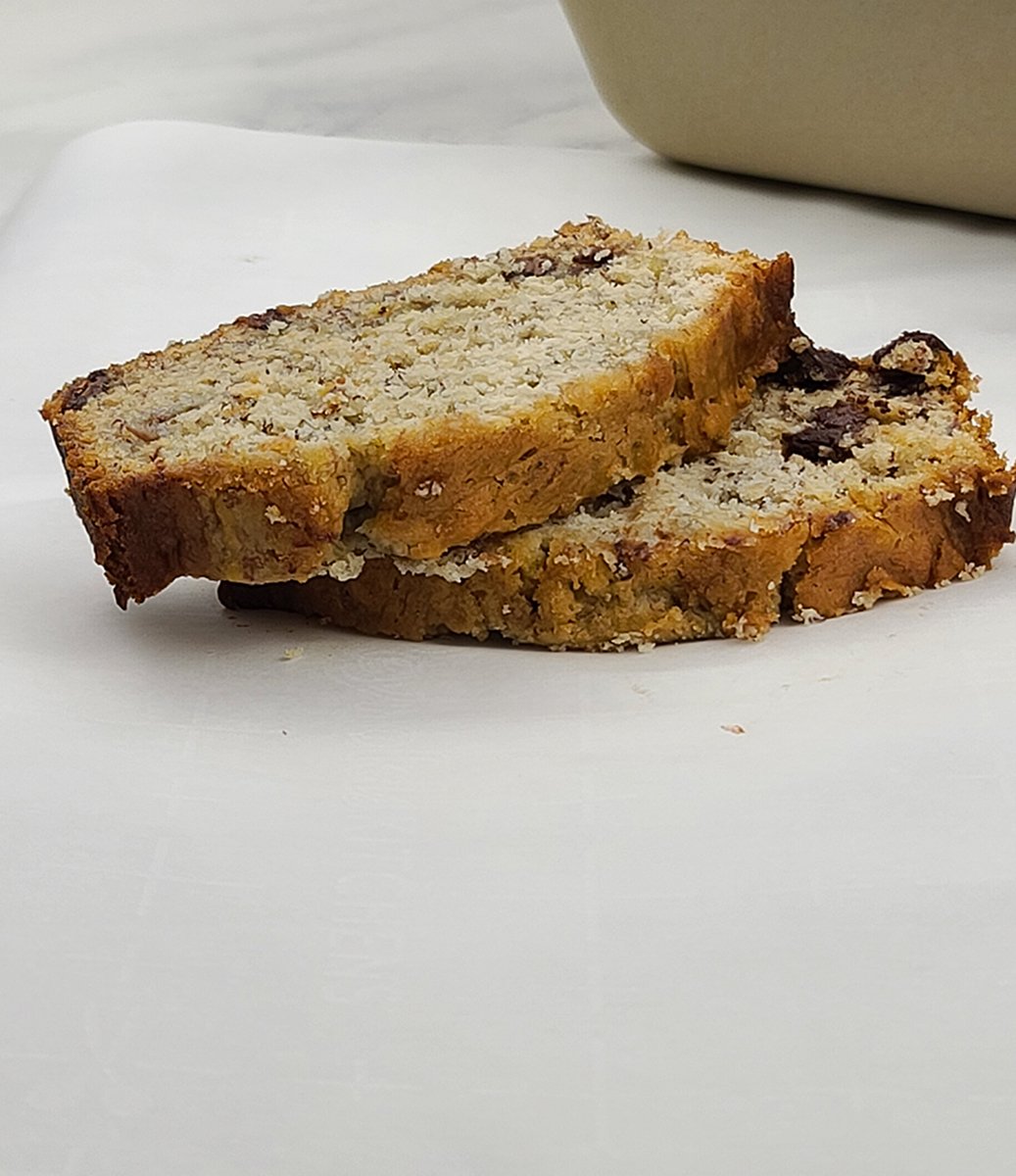 A classic for the ages, Banana Bread is a recipe that is seriously delicious. Add some quality chocolate chips and this Chocolate Chip Banana Bread Recipe will have your family and friends begging you to make it again and again. A perfectly moist banana bread with the added decadence of chocolate–who could ask for more!?!
Do you do the pre-grocery shopping kitchen sweep too? Looking around the kitchen this morning in search of anything that needs used, thrown, recycled to the chickens, etc. That is a weekly activity around here, and today I spotted 3 very sad bananas. Their compatriots had been eaten earlier in the week, and here they sat in the fruit bowl with brown spots on the peels and looking very rough. (Want to know why bananas turn brown? Check out this explanation!)
Note: This post contains affiliate links and ads from Amazon and our other affiliate partners. We earn a commission from all qualifying sales. Thank you for your support as we continue to produce quality content for you!
I have a couple ways to salvage very ripe bananas, but it had been a while since I made banana bread. So, I quickly whipped up this Chocolate Chip Banana Bread recipe with some basic kitchen ingredients, and I am so glad that I did!
Ingredients
Very Ripe Bananas
Butter, unsalted (melted)
Baking Soda
Kosher Salt
Sugar
Egg (beaten)
Vanilla Extract
All-Purpose Flour
Milk Chocolate Chips
An Easy Banana Bread Recipe
This recipe really couldn't be easier, and it doesn't require a fancy mixer of any kind! In fact, it is perfect for those little who hands who want to help in the kitchen–especially with the banana mashing! This easy Banana Bread recipe also uses ingredients that you likely already have at home. Who doesn't like simple, right?!?
In 15 minutes and a few steps, you can have your own delicious banana bread in the oven. Just:
Pre-heat the oven to 350.
Peel and mash the bananas
Mix in the rest of the ingredients-except flour
Stir in the flour
Add the chocolate chips
Pour in baking pan
Bake
Banana Nut Bread Recipe Option
If you are a Banana Nut Bread person and enjoy nuts over chocolate, then substituting a 1/2 cup of chopped walnuts instead of the chocolate chips will transform this into a more savory recipe. The result will be the same moist and delicious banana bread!
How to Store Chocolate Chip Banana Bread
By far, the best way to store banana bread is in an air-tight container. And honestly, I think every loaf of banana bread should be stored this way after it cools for at least an hour or two to develop that perfect banana bread texture. I remember seeing banana bread wrapped in foil as a kid, and that works, but be prepared to loose some off the top that sticks to the foil. If you want beautiful, moist, and delicious bread, then use an air-tight container with plenty of room in it. You can store banana bread on the counter this way for three to four days before you should consider throwing it out–but it probably won't last that long!
How to Make Perfectly Moist Banana Bread
Straight out of the oven this bread is delicious, but it is even more moist and delicious after it has had an hour or two in an air-tight container. Leaving this bread in the air-tight container overnight takes it to a whole other level! The ingredients are all there, you just need to add this small trick to level-up this recipe to perfection. It just takes so much self-control to not break into this treat right away!
Can You Freeze Banana Bread?
Freezing Banana Bread is a great way to preserve this treat for later. However, just know that your thawed treat may not be as moist as it was before you froze it. With that said, in order to freeze this Chocolate Chip Banana Bread recipe, be sure to wait until the bread is completely cooled then wrap in either plastic wrap or aluminum foil. (You can add a 2nd layer if you want to make sure it doesn't get freezer burn.) Then, put your loaf in an air-tight container or freezer bag. The bread should stay good for up to three months in the freezer. Just take it out, thaw in your frig, and enjoy!
Tools For This Recipe
Other Great Recipes
Stay Connected
We love to stay connected with you! Join the Mason Jars and Me community on Facebook or Instagram to stay up-to-date on new recipes, tips, and our community.
You can also sign up below for our newsletter to receive an email when we publish a new recipe!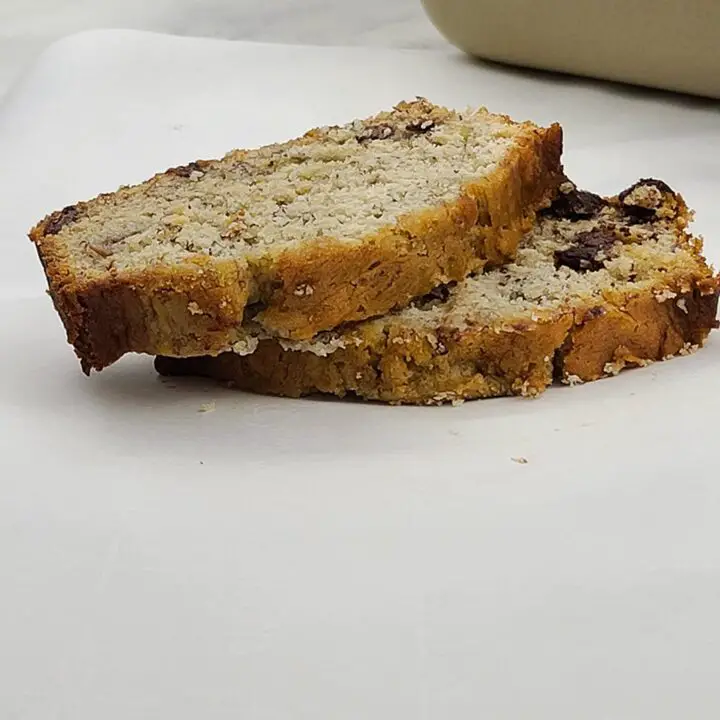 Chocolate Chip Banana Bread Recipe
Cook Time:
1 hour
5 minutes
Total Time:
2 hours
20 minutes
An easy Chocolate Chip Banana Bread recipe that is delicious and simple!
Ingredients
3 Medium Ripe Bananas
1/3 C. Butter, unsalted, melted
1/2 t. Baking Soda
1 pinch Kosher salt
3/4 C. Sugar
1 Large Egg, beaten
1 t. Vanilla Extract
1 1/2 C. All-Purpose Flour
1 C Milk Chocolate Chips
Instructions
Preheat the oven to 350 degrees.
Butter and/or spray an 8 x 4 inch loaf pan.
Peel and mash the bananas in a large mixing bowl with a potato masher.
Add in all the other ingredients--except the flour and chocolate chips--and mix with a large spoon until the mixture is mostly smooth and everything is blended in.
Add flour to the mixture and stir until the flour is completely incorporated in the mixture.
Stir in chocolate chips.
Pour batter into the loaf pan.
Bake at 350 degrees for 55-65 minutes or until a toothpick comes out clean from the center of the loaf.
Cool on a wire rack for 5 mins then turn loaf pan over and tap until the loaf falls out.
Let rest on the wire rack until cooled completely and store in an air-tight container.
Break can be enjoyed warm, or for a more moist texture, let cooled bread stand in the air-tight container for a few hours before enjoying.
Nutrition Information:
Yield:

10
Serving Size:

1
Amount Per Serving:
Calories:

310
Total Fat:

12g
Saturated Fat:

7g
Trans Fat:

0g
Unsaturated Fat:

4g
Cholesterol:

39mg
Sodium:

93mg
Carbohydrates:

48g
Fiber:

2g
Sugar:

28g
Protein:

4g
Some of the links in this article are "affiliate links", a link with a special tracking code. This means if you click on an affiliate link and purchase the item, we will receive an affiliate commission. The price of the item is the same whether it is an affiliate link or not. Regardless, we only recommend products or services we believe will add value to our readers. By using the affiliate links, you are helping support our Website, and we genuinely appreciate your support.
Please follow and like us:
---