Bok Choy Noodles with Chicken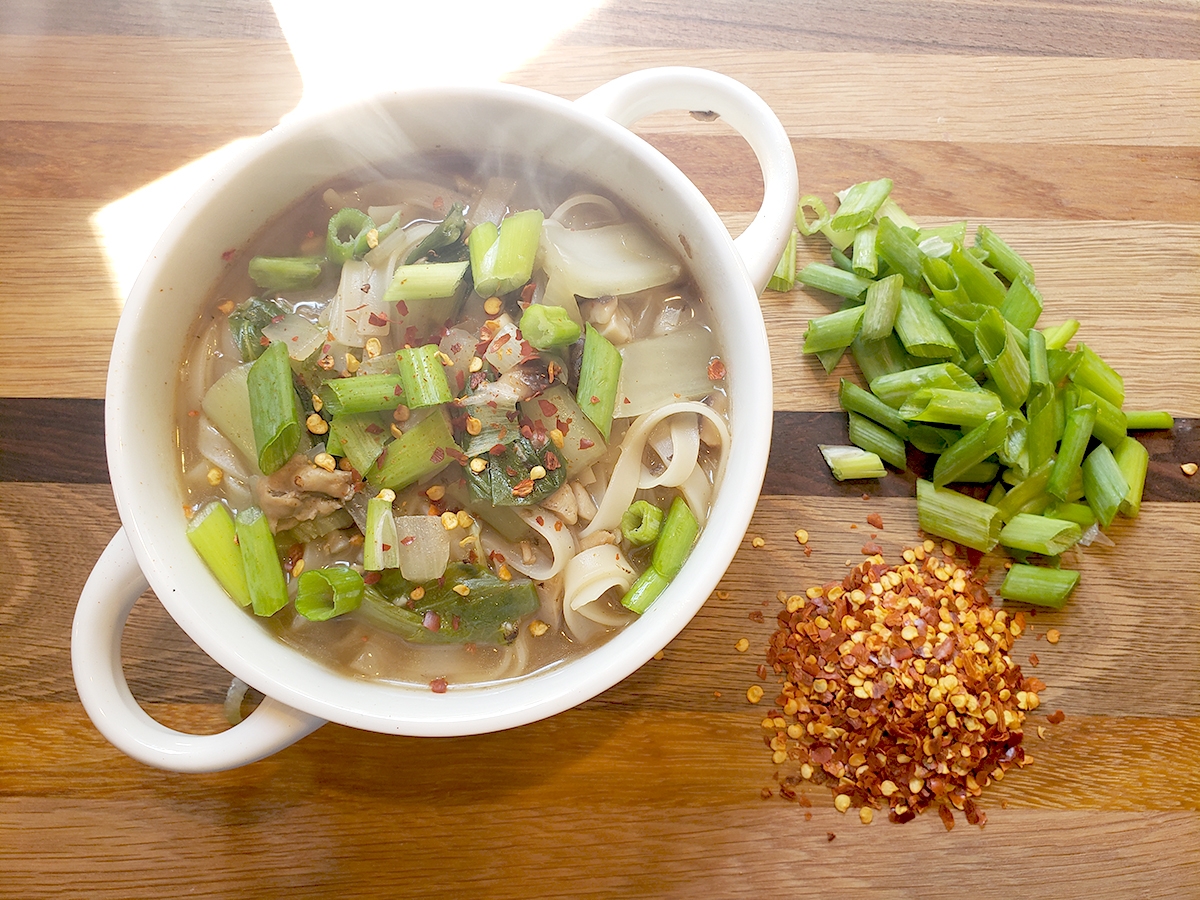 Bok Choy Noodles with Chicken will warm you to the soul!
Fall means soup is on the menu again, and I am ecstatic! Soup is a staple around here 6 months out of the year because of our mild weather. Which means I am always looking for a good recipe. Today, I made this mouthwatering Bok Choy Noodles recipe that had to be shared with you all immediately. It is that good! This recipe is also fast which makes it perfect for any busy weeknight. (Or a quick lunch break for those of you working from home–just prep your veggies beforehand!)
Note: This post contains affiliate links and ads from Amazon and our other affiliate partners. We earn a commission from all qualifying sales. Thank you for your support as we continue to produce quality content for you!
The inspiration for this recipe was more of a decision. I decided I needed to expand the menu a bit, saw some baby bok choy, and said to myself 'Why not?!?'. (Does anyone else do that??) The resulting baby bok choy recipe is one I will be putting on repeat for a while. Warm, rich in flavor, but perfectly balanced… oh so good!
Ingredients
Olive Oil
Shitake Mushrooms
Shallots
Green Onions
Garlic, minced
Chicken Stock
Cinnamon Stick (2 inches)
Soy Sauce
Rice Wine Vinegar
Sesame Oil
White Pepper, ground
Baby Bok Choy
Cooked Chicken
Rice Noodles
Kosher Salt
Red Pepper Flakes (optional)
How to Prepare Bok Choy
Bok Choy is an incredibly easy vegetable to prepare and cook. Typically, you will find it in the baby boy choy form, so just wash, separate the leaves, and use in your recipe as is. Or you can chop it up into more manageable bite-sized pieces. Either way, bok choy is a healthy and yummy addition to your stir fries, soups, or even your plate as a grilled vegetable!
Shiitake Mushrooms
One of the reasons this recipe is so delicious is the umami flavor that the shiitake mushrooms impart into the soup. You can always use other mushrooms, but if you can find them, I would highly recommend shiitake mushrooms. I try to buy these regularly because of their purported anti-inflammatory properties. (Also, they are one of a few mushrooms that I actually like!) If you have someone in your house who says they do not like mushrooms, just dice these finely. They cook down so much, they will not know they are in there. The mushrooms are a key to the delicious soup base. Skipping these would be a tragedy!
Another key to getting the most out of your mushrooms is to heat your pan first with a little olive oil. When the pan is hot, add your mushrooms. Once the mushrooms are in the pan, sprinkle with a pinch of kosher salt to draw out the moisture of the mushrooms. After the mushrooms start to brown slightly and the moisture begins to release into the pan, it is time add the rest of the ingredients.
How to Cook Bok Choy Noodles
With the mushrooms starting to brown, building the rest of the soup base begins. Add the diced shallots and the sliced white ends of the green onions and cook for a minute. Then add the garlic and cook until all the shallots and onions are cooked.
Once the base veggies are cooked, add the chicken stock, flavorings, a 2 inch cinnamon stick, the rough-chopped baby bok choy, and the optional chicken. Then bring the soup to a boil.
Cinnamon?!? Did I say cinnamon?? Yes I did! Traditionally, a whole star anise is used in this type of recipe, but since I did not have any in the cupboard cinnamon was substituted. And, honestly, I would do it again.
Back to the soup… Once it is boiling, add your noodles and cook for the recommended time until the rice noodles are done. An important note is halfway through the noodle cooking, I fished out the cinnamon stick to avoid getting too much cinnamon flavor. Believe me, you do not want to overdo the cinnamon flavor!
Ladle the resulting soup into bowls, top with red pepper flakes and some of the green onion tops and you are ready to experience a soup like none other!
Other Great Recipes
Cajun Style Red Beans and Rice
Items Used for this Recipe
Share the Fun!
We want to hear from you! If you make this or any of our recipes, tag us on Facebook or Instagram and show how you enjoyed it! Also, if you don't want to miss out on any of our future recipes, subscribe to our newsletter so you can receive a notification when our new recipes are published! Thank you for reading!!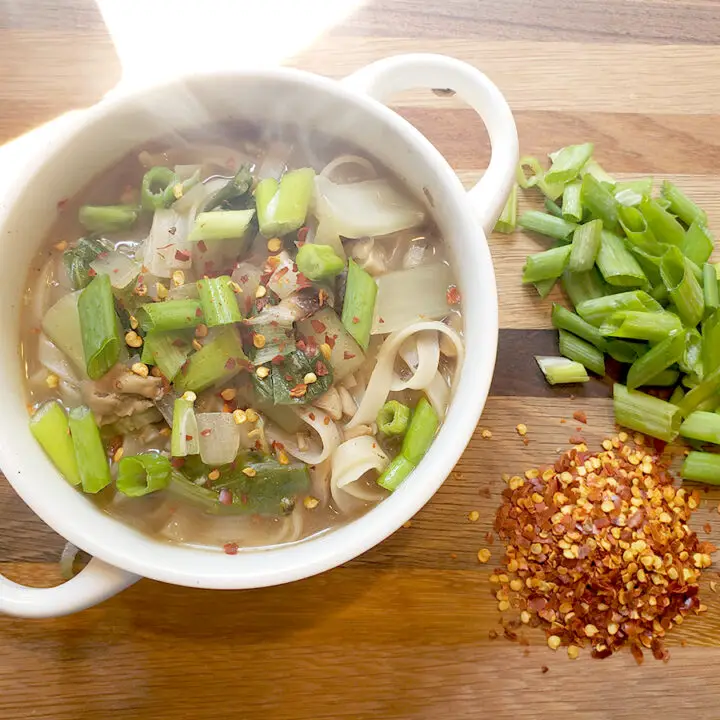 Bok Choy Noodles with Chicken
Cook Time:
20 minutes
15 seconds
Total Time:
25 minutes
15 seconds
One of the best ways to cook baby bok choy!
Ingredients
5 oz shiitake mushrooms, diced small
3 shallots, diced
6 green onions, sliced. Greens and whites separated
4 cloves garlic, minced
5 1/2 C. Chicken Stock
1 2-inch Cinnamon Stick
2 T Soy Sauce
1/4 t. Rice Wine Vinegar
1/8 t. Sesame Oil
1/4 t. White Pepper (more or less to taste)
2 heads baby bok choy, hearts removed and rough chopped
1/2 Cup cooked chicken, shredded or chopped
6 oz rice noodles
1 T. Olive Oil
Kosher Salt
Red Pepper Flakes
Instructions
Heat pot on medium with about a tablespoon of olive oil in the bottom.
Add mushrooms and a pinch of salt. Cook until slightly brown and the moisture begins to release from the mushrooms slightly.
Add shallots and whites of the green onions and cook for 1 minute.
Add garlic and cook for another minute.
Add chicken stock, cinnamon stick, soy sauce, rice wine vinegar, white pepper and baby bok choy. At this time, you can also add chicken if you would like to include it.
Bring to a boil, then add rice noodles and cook noodles per package instructions. Halfway through, remove the cinnamon stick.
When noodles are finished, ladle into bowls and top with red pepper flakes and the tops of the green onions.
Nutrition Information:
Yield:

4
Serving Size:

1
Amount Per Serving:
Calories:

309
Total Fat:

11g
Saturated Fat:

2g
Trans Fat:

0g
Unsaturated Fat:

7g
Cholesterol:

26mg
Sodium:

1113mg
Carbohydrates:

37g
Fiber:

6g
Sugar:

10g
Protein:

18g
Some of the links in this article are "affiliate links", a link with a special tracking code. This means if you click on an affiliate link and purchase the item, we will receive an affiliate commission. The price of the item is the same whether it is an affiliate link or not. Regardless, we only recommend products or services we believe will add value to our readers. By using the affiliate links, you are helping support our Website, and we genuinely appreciate your support.
Please follow and like us:
---