Carne Asada Recipe–So Easy and So Good!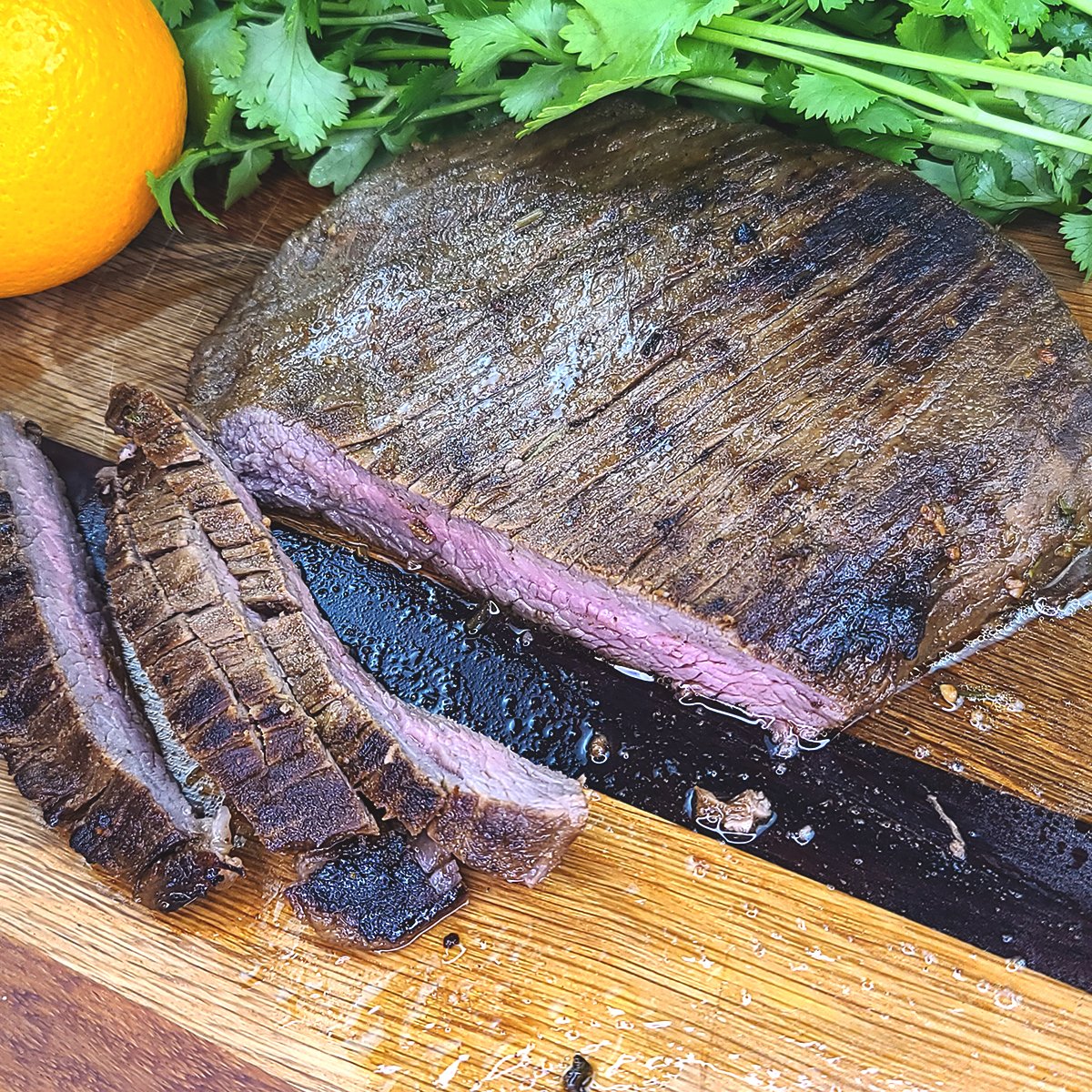 Unbelievably simple for such a flavorful dish, this Carne Asada recipe is one to make over and over! Carne Asada is one of those dishes I love to make when I know I don't want to be in the kitchen for a long time but want to make something special. Perfect as a stand-alone entrée, carne asada can also be used in a myriad of other recipes making it a MVP of the kitchen! Get creative and use this recipe on top of cheese fries or salad salad, or in tacos, burritos, nachos, or more–the sky is the limit!
Note: This post was written in partnership with Crowd Cow . It contains affiliate links and ads from them and other affiliate partners such as Amazon. We earn a commission from all qualifying sales. Thank you for your support as we continue to produce quality content for you!
What Is Carne Asada?
Carne Asada is a Mexican marinated meat which is grilled. The name carne asada means "grilled meat" in English. And this dish is as simple as the name sounds!
What Kind of Meat Is Carne Asada Made From?
Typically, a skirt steak or flank steak is used when making carne asada. Both are flavorful beef cuts which are on the tougher side. However, when marinated in an acidic marinade and grilled properly, these steaks are transformed into juicy and tender, flavor-packed meat morsels! When selecting your steak, look for one that does not have a lot of fat along the edges to eliminate the need for trimming before you use the steak. I also chose a flank steak because it is generally a little more tender than a skirt steak–really, either will work for this recipe.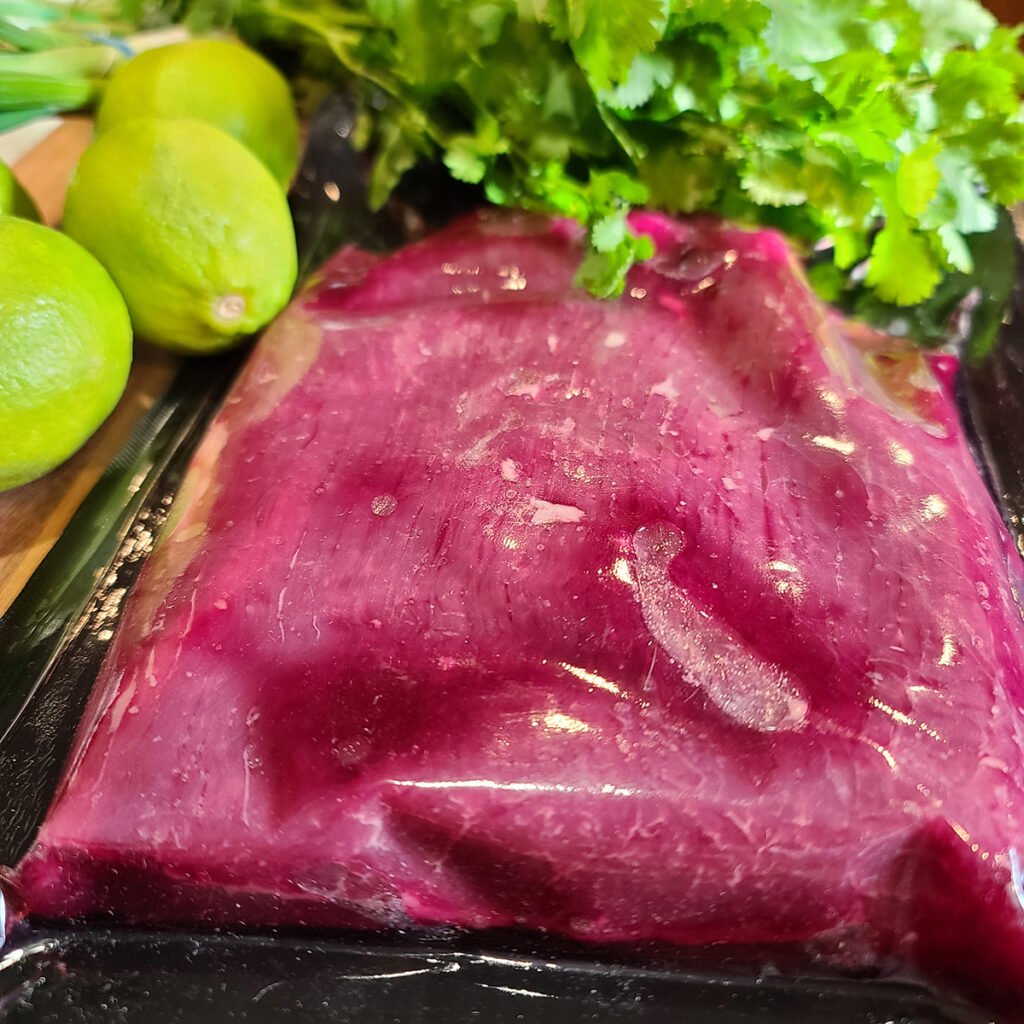 Regardless of the cut, using the best quality meat that you can is important if you want the best result. And knowing where our meat comes from is as important as the quality of meat we consume. That's where Crowd Cow comes in. They partner with ethical farms, fisheries, and producers to bring high-quality and sustainable food to your door. For this recipe, they sent us a beautiful vacuum packed, pasture-raised flank steak that was the star of the night. It made the most incredibly-tasting and juicy carne asada! (We also tried some of their Wagu stir fry beef and OH MY! It is another must try!) The ordering process was easy and everything we picked out was available (unlike my most recent trip to the grocery store!). It also arrived frozen to my doorstep. If you would like to try Crowd Cow, click on one of our affiliate links to learn more about this company and to start receiving high-quality, ethically-sourced meat, fish, and seafood at your door.
How Much Meat Do I Need Per Serving?
When serving meat as a main dish, I typically plan for 1/4 pound of meat for each serving/person. If you are planning to use this carne asada recipe as a topper for something like a salad or cheese fries you can certainly get away with using less meat to make it stretch further. The same goes for tacos and burritos, you can really scale down the amount of meat you use depending on how meat-y you want your final product to be. This recipe is so flavorful, that you really don't need a ton of carne asada to make this flavor profile a star of your dish.
Key Ingredients for Carne Asada
Flank Steak (or Skirt Steak)
Minced Garlic
Orange Juice
Lime Juice
Lemon Juice
Fresh Cilantro (if you don't like cilantro, leave it out)
Green Onions
Jalapeno, optional
Olive Oil
Apple Cider Vinegar
Brown Sugar
Cumin
Ground Chipotle Pepper
Kosher Salt
Fresh Ground Pepper
Vegetable Oil–if cooking in a skillet
How to Make Carne Asada
Learning how to cook Carne Asada is truly a simple task. The dish has three stages: the marinade stage, the cooking stage, and the resting stage–and none of these stages are complicated. So, let's get started!
Carne Asada Marinade
To make the marinade for carne asada, all you need is a gallon-sized resealable bag and your ingredients. (If you have reusable resealable bags, those work great for this to eliminate throwing out a regular storage bag.) First, put all the ingredients except your steak into the bag. Then seal and mix together by swishing the bag. Finally, put your steak in the bag–making sure the marinade covers all sides–seal and put in the refrigerator.
If you are marinating a piece of meat which will not fit into a gallon-sized bag, you can cut it down to fit, or you can use a 9×13 glass pan to marinade your meat in. I was using a 1 lb piece of meat, so that was not necessary, but if your steak is bigger you may want to switch methods. The amount of marinade in this recipe should work for up to a 3 lb piece of steak. Just cover and pop into the refrigerator for the same amount of time.
How Long to Marinade Carne Asada
Once your meat is in the marinade, leave it in the refrigerator for at least 1 hour. You can marinade it up to 24 hours. The longer the meat marinates, the deeper the resulting flavor will be.
The longer your meat is in the marinade, the more color change you will also see. (I left mine in for the full 24 hours.) This is because the acidic components of the marinade (juices and vinegar) are tenderizing the meat and slightly 'cooking' it on the outside. The 'cooking' is not enough to make it safe to eat without grilling, but it will help develop a nice crust on the outside–especially if you are cooking inside in a skillet.
How to Grill Carne Asada
Grilling carne asada is the most traditional form of this recipe. The key is to start with a very hot grill. Pre-heat your grill, then cook the steak for 5 to 7 minutes on each side to achieve the level of doneness you prefer. (Remember, the more well done the meat, the tougher it will likely be in the end.)
If you want those beautiful grill marks on your finished product, be sure to leave the meat alone as it cooks on each side. Moving the steak reduces the color of your grill marks, and will add in more where you might not want them.
How to Cook Carne Asada in a Skillet
If you don't have an outdoor grill to get those perfect grill marks, you can always cook your carne asada indoors in a skillet. I always use my cast iron skillet for this as it gives the meat a great sear and cooks more evenly. However, if you don't have a cast iron pan, you can still make this with a regular skillet.
Just like the grill, heat the pan up first then put the steak in the pan. Next, put a tablespoon of vegetable oil (or any high smoke-point oil you have) in the pan and bring it up to temperature. Now it's time to get that meat cooking. You want to hear the sizzle as it hits the hot pan! (The sizzle of meat hitting the pan is one of the auditory treats of cooking!) Cook the meat for approximately 5 to 7 minutes each side until the steak is cooked to your preference. (Remember, flank and skirt steaks become more tough when well done.)
How to Cut Carne Asada
How you cut carne asada will make a difference in the tender texture of your final product. Cutting the steak perpendicular to its grain as pictured below, will result in a much more tender bite of meat. By doing this, the meat is able to break apart more easily when you chew it since it naturally has the grain lines to separate at while chewing. You can see in the picture that the slices are already starting to separate at the grain lines after cutting.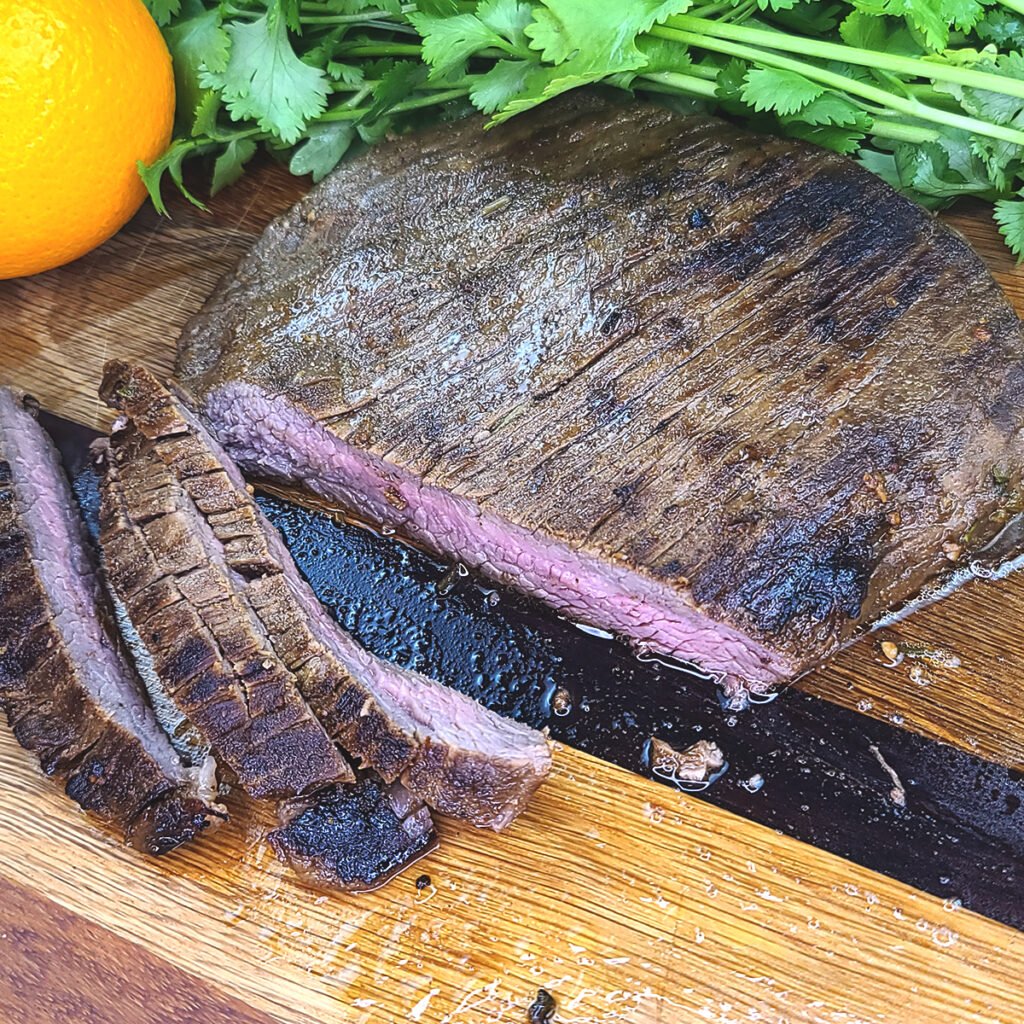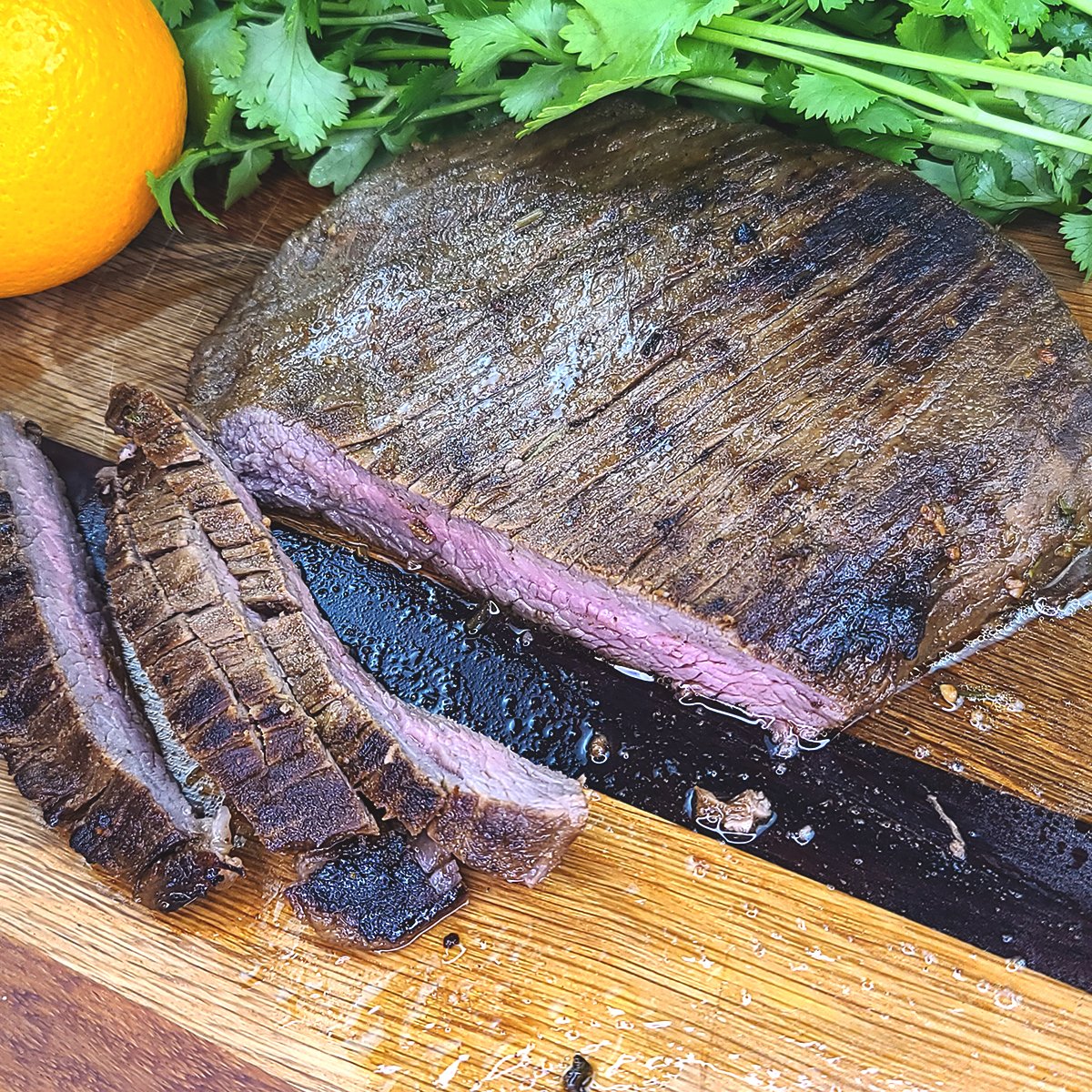 How to Serve Carne Asada
Traditionally, Carne Asada is thinly sliced and served with a side of rice and beans. Adding some Pico de Gallo or a chimichurri sauce to the top of the meat will dress up this entrée even more. Really, though, you don't need those extra toppings to get a great flavor from this dish.
If you want to include the carne asada in another recipe, thinly slice the steak perpendicular to the grain and add to anything you want. More traditional uses include in tacos and burritos, but this recipe is perfect for the top of a taco salad, cheese fries, or even scrambled cheesy eggs. You can even use our enchilada sauce recipe to make Carne Asada Enchiladas! Part of the fun of versatile recipes like this is playing with the leftovers to make your own masterpieces!
Tools for this Recipe
Meal Prepping
As mentioned earlier, you can marinade the meat for this recipe up to 24 hours in advance which makes it perfect for meal prepping. Once the meat is marinated, this dish literally takes 10-15 minutes to cook!
Storing Carne Asada
If you have leftovers, you can store the meat in an air-tight container for up to 3 days. Slice and top a salad with your carne asada for a quick lunch. Or, reheat to make tacos, burritos, nachos, etc. You can even mix with your scrambled eggs in the morning for a delicious start to the day!
Gluten Free Carne Asada
Yes! This Carne Asada recipe is gluten free! The beauty of cooking with fresh ingredients is you do not have to worry about gluten hiding in the background. The only place you may find gluten hiding here is in any anti-caking fillers in your spices, but a quick check of mine showed none.
Stay Connected
We love to stay connected with you! Join the Mason Jars and Me community on Facebook or Instagram to stay up-to-date on new recipes, tips, and our community.
You can also sign up below for our newsletter to receive an email when we publish a new recipe!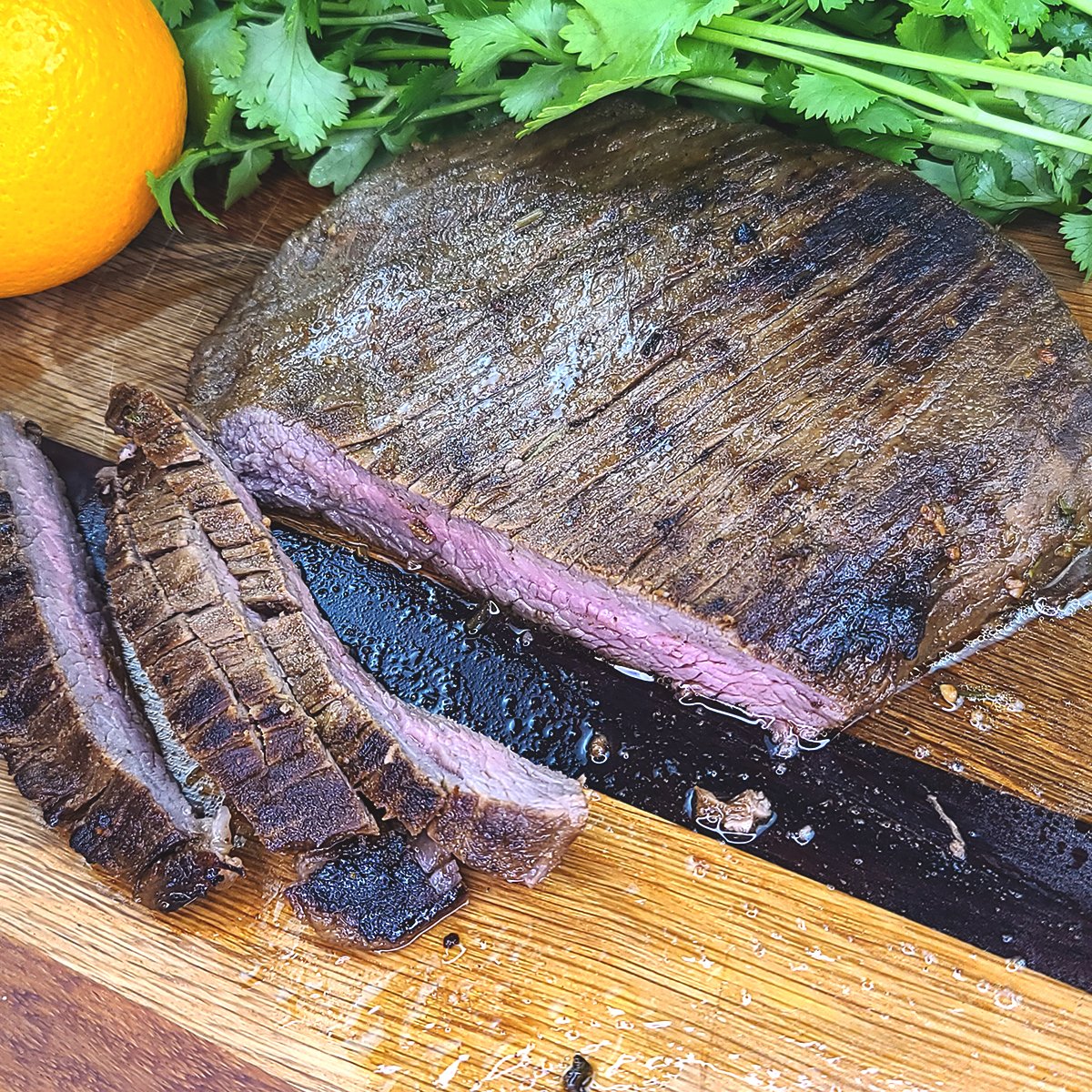 Carne Asada Recipe--So Good!
Easy and versatile, this Carne Asada Recipe is one to make over and over!
Ingredients
1 lb Flank Steak*
Juice of one Orange
Juice of one Lime
Juice of one Lemon
1/2 C. Olive Oil
2 T. Apple Cider Vinegar
1/4 C. Cilantro, chopped
2 Green onions, sliced with greens separated
1 1/2 T. Brown Sugar
1 T. Minced Garlic
2 t. Ground Cumin
1 t. Ground Chipotle Pepper
1 t. Kosher Salt
1/2 t. Freshly Ground Black Pepper
1 Jalapeno, chopped--optional
Instructions
In a resealable gallon-sized storage bag mix together everything except the steak and the green onion tops.
Place the meat in the marinade and seal the bag.
Refrigerate for a minimum of 1 hour up to 24 hours.
Heat Grill or (if inside) heavy-bottomed frying pan until hot. (If cooking inside add 1T. vegetable oil to pan).
Cook meat 5 to 7 minute each side until your desired level of doneness is achieved.
Remove from heat and allow meat to rest at least 5 minutes before slicing.
Thinly slice meat against the grain.
Garnish with green onion tops and serve.
Notes
*Marinate the meat for a minimum of 1 hour up to 24 hours.
*This recipe was written with a 1 lb flank steak. However, you can use up to a 3 lb steak with the same amount of marinade.
*You can substitute Flank or Skirt steak for this recipe.
*If using a larger flank or skirt steak and it won't fit into your gallon sized bag, you can prepare the marinade in a 9x13 pan and marinade covered in the pan so it all will fit.
*1 lb of steak will serve 4 people a 1/4 lb serving.
*If you do not like cilantro, just leave it out.
Nutrition Information:
Yield:

4
Serving Size:

1
Amount Per Serving:
Calories:

558
Total Fat:

37g
Saturated Fat:

8g
Trans Fat:

0g
Unsaturated Fat:

27g
Cholesterol:

90mg
Sodium:

429mg
Carbohydrates:

23g
Fiber:

4g
Sugar:

16g
Protein:

34g
Some of the links in this article are "affiliate links", a link with a special tracking code. This means if you click on an affiliate link and purchase the item, we will receive an affiliate commission. The price of the item is the same whether it is an affiliate link or not. Regardless, we only recommend products or services we believe will add value to our readers. By using the affiliate links, you are helping support our Website, and we genuinely appreciate your support.
Please follow and like us:
---