Roasted Cranberry Butternut Squash Recipe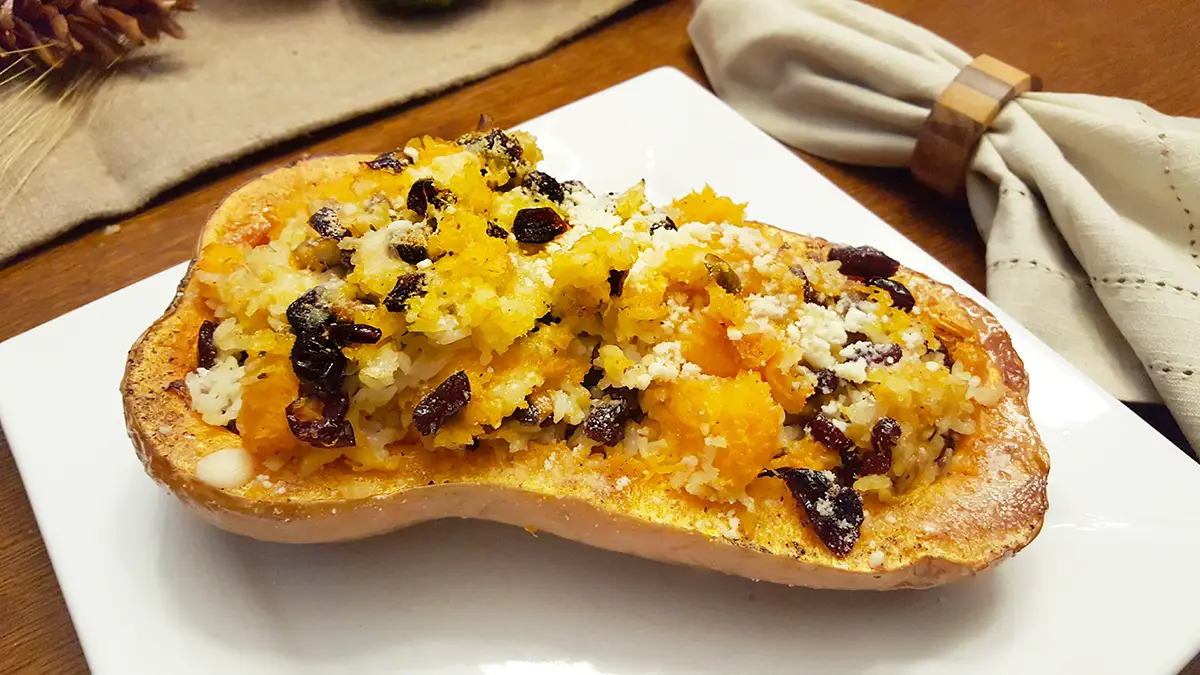 Roasted Cranberry Butternut Squash is a perfect balance of stuffed squash with Fall flavors! Plus, it is a healthier alternative to glazing!
It is Fall in Maine–the leaves are changing, apple picking is in full swing and the winter squashes are ripe for picking! I can't say that I have always been a fan of butternut squash. In fact, I didn't knowingly eat any until my late 30s! If you have had the same experience, this butternut squash recipe will ensure you enjoy squash!
As you probably know, butternut squash is a very healthy vegetable but it often needs to be paired with some great flavors for our taste buds to truly embrace the vegetable. I have tried some delicious maple glazes in the past, but when developing this recipe I was really trying to make this dish with less sugar but equally as good–this butternut squash delivered on all points!
A Vegetarian and Gluten Free Meal or Side
In addition to being a delicious use of butternut squash, this recipe is also vegetarian and gluten free! For all those who eat gluten free, be sure to grate your own cheeses for this recipe to insure there aren't any gluten-hiding preservatives in the cheese.
Key Ingredients
What do you need to make this Roasted Cranberry Butternut Squash recipe?
Butternut squash
Brown Sugar
Cooked Rice
Dried Cranberries
Roasted Pistachios
Grated Parmesan
Grated Pecorino Romano
Olive Oil
Kosher Salt
Pepper
Cutting Butternut Squash
The preparation of the squash is super simple. Start by cleaning the outside of your squash with water to remove any dirt. (No need to peel, since the outside of the squash will act as a 'boat' for all the goodness to come!) Then, pat dry with a paper towel or clean dish cloth.
Next, comes the semi-risky part–please be careful here! Take the biggest knife you have–make sure it is sharp–and cut the squash lengthwise.
Disclaimer: As an Amazon Associate, I earn from qualifying purchases.
How to Sharpen Kitchen Knives
You can get very hurt cutting this with a dull knife because it will require more force to cut it. To avoid using a dull knife, consider getting an electric knife sharpener to ensure your knives are sharp and ready for everything you put to them.
How to Roast Butternut Squash
Once you have the butternut squash cut into two halves lengthwise, scoop out the seeds and strings with a large spoon. You may need to scrape the flesh of the butternut squash to completely remove all the seeds and strings. Just don't take too much of the flesh off–that is what we want to keep to eat! When the the squash ready sprinkle it with salt, pepper and a drizzle of olive oil then pop it onto a foil-lined sheet pan and bake away!
Stuffing the Squash
After the squash has baked to tender perfection, scrape out the remaining flesh (leave about 3/4″-1″ of flesh on the skin) and mix with the remaining ingredients. Fill the squash halves with the mixture, sprinkle with some cheese for garnish and return to oven for 10 minutes or until the cheese has melted.
How Many People Will This Serve?
It all depends on the size of your squash. This recipe was written for a large butternut squash. So, if you start with a large butternut squash, each half will serve 2 people for a large entrée or 4 people for a smaller entrée or side.  
Tools Used for this Recipe
Other Recipes to Enjoy
If you are looking for another vegetarian and/or gluten free recipe, this Fall Kale Salad is an easy and delicious recipe. Or if you want a rich and decadent meal, this Andouille Crab Bowtie Pasta Alfredo is perfect!
Share the Love!
Food is a love language, and we would love for you to share ours! If you enjoyed this recipe, please consider sharing it to your social media. Also, if you don't want to miss any upcoming recipes, sign up for our newsletter to receive an email when we publish a new post!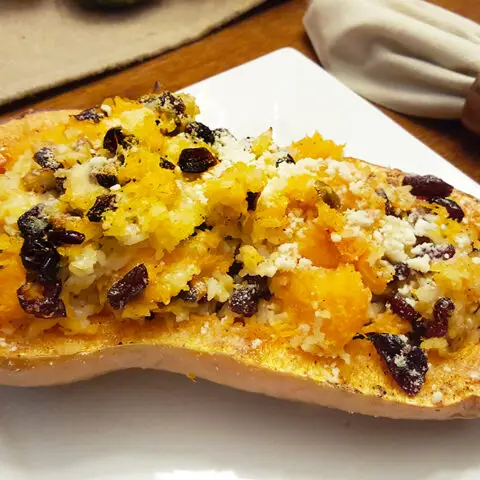 Roasted Cranberry Butternut Squash
Cook Time:
1 hour
10 minutes
Total Time:
1 hour
25 minutes
Ingredients
1 Butternut Squash
4 T Brown Sugar
2 Cups Cooked Rice
3/4 Cups Dried Cranberries
1/4 Cup Roasted Pistachio Meats
4 T Grated Parmesan
4 T Pecorino Romano
Olive Oil
Salt (I use Kosher salt)
Pepper
Instructions
Preheat Oven to 375 degrees.
Cut the butternut squash in half and remove seeds. 
Place both halves cut-side up on a foil-lined baking sheet.
Sprinkle halves with generous amount of salt and pepper. Then drizzle with Olive Oil.
Divide brown sugar in half and sprinkle 2 T on each half.
Place in the oven and cook for 1 hour or until done.
While the squash cooks, combine cranberries and pistachio meats in a large bowl.  Set Aside. 
After squash is cooked, remove from oven and scoop out the squash--leaving 3/4-1 inch on the squash. 
Add the squash and cooked rice to the cranberry/pistachio meats.  Stir to combine.  Add salt and pepper, then drizzle with olive oil.
Fill the squash halves with the filling.
Sprinkle with 2 T Parmesan and 2 T of pecorino romano cheese on each half.  
Return to oven for 10 minutes.  
Nutrition Information:
Yield:

4
Serving Size:

1
Amount Per Serving:
Calories:

437
Total Fat:

14g
Saturated Fat:

4g
Trans Fat:

0g
Unsaturated Fat:

9g
Cholesterol:

36mg
Sodium:

368mg
Carbohydrates:

67g
Fiber:

4g
Sugar:

34g
Protein:

15g
Some of the links in this article are "affiliate links", a link with a special tracking code. This means if you click on an affiliate link and purchase the item, we will receive an affiliate commission. The price of the item is the same whether it is an affiliate link or not. Regardless, we only recommend products or services we believe will add value to our readers. By using the affiliate links, you are helping support our Website, and we genuinely appreciate your support.
Please follow and like us:
---