Instant Oatmeal Jars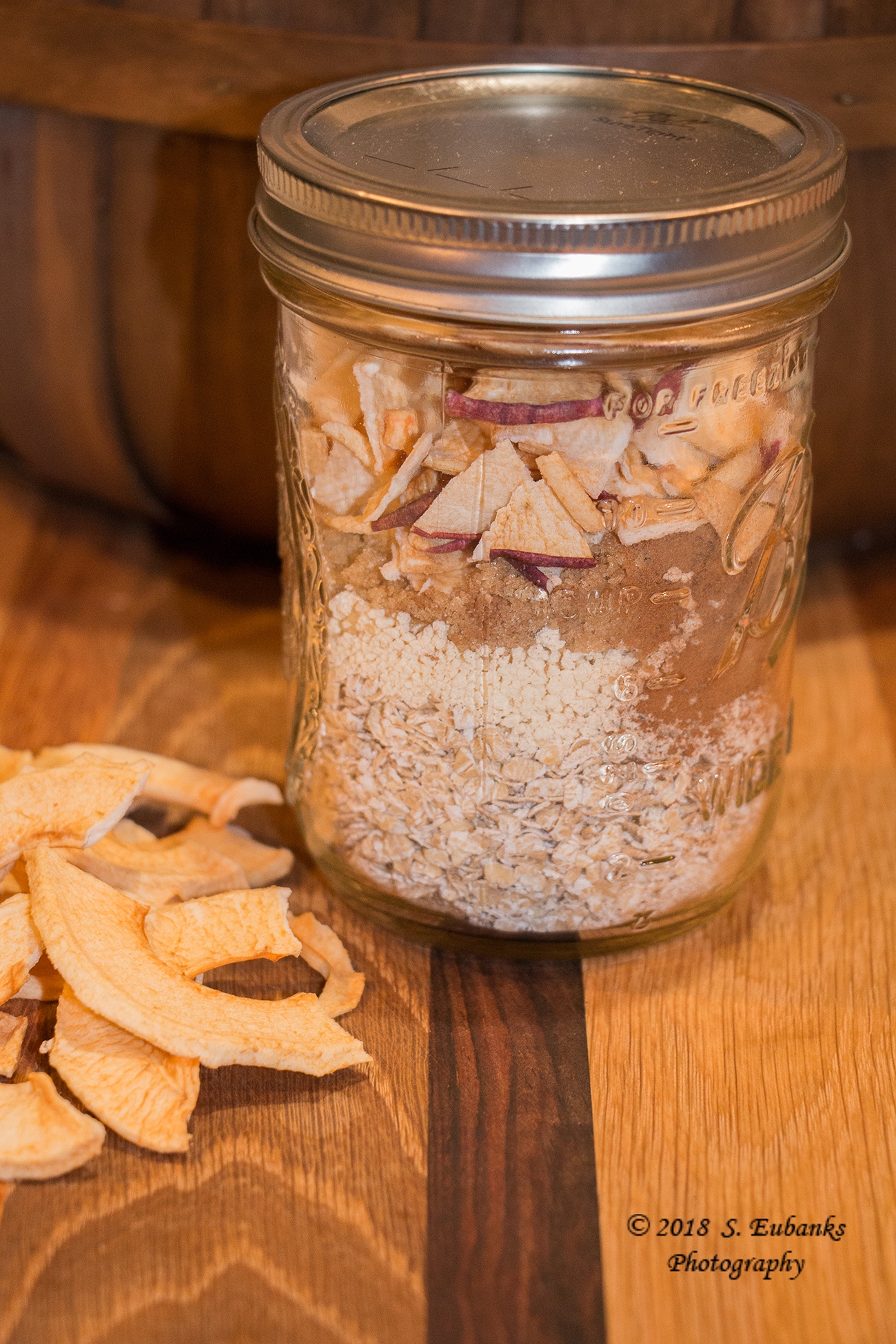 One of my favorite on-the-go breakfasts are homemade instant oatmeal jars.  Not only are they economical, but they are quick, completely portable and so, so simple to make!  I throw one of these in my work bag in the morning, fill with water from our hot water dispenser at the office and wa-la!  Instant oatmeal over Excel spreadsheets!
These stars of the morning rush are also super versatile and can be made in a plethora of  combinations–your imagination is the limit! (Just be sure to use dry ingredients that will re-hydrate easily.) You can also make them in any heat-safe container you have, so don't think you have to have a mason jar to make this. A heat-safe, BPA-free plastic container or even a leftover condiment jar would work just as well!
The Flavor Possibilities are Endless!
Since apples are in season, and the dehydrator has been running on full all week, dried apples and apple pie spice are the inspiration for this specific oatmeal recipe. However, the combinations for these instant oatmeal jars are limitless. Mix and match your favorite flavors with a little powdered milk and oats for favorites like:
Dried Cranberries and Apples
Apples, Walnuts, and Brown Sugar
Raisins and Brown Sugar
Dried Banana and Raisins
Apple and Brown Sugar
Disclosure: As an Amazon Associate I earn from qualifying purchases.
How to Make Instant Oatmeal–Meal Prepping Instant Oatmeal Jars
While this recipe is for one jar of instant oatmeal, I tend to make several of these up at once for several days of to-go breakfasts. All you need is:
Your pint-sized containers and lids
Bulk Quick Oats
Powdered Milk
Bulk Dried Fruits
Sugar
Spices
Gluten Free Options
If you are eating gluten free, quick oats are naturally gluten free. However, they occasionally pick up gluten when stored with other gluten containing grains during shipping and manufacturing. This article from Bob's Red Mill does a great job explaining the issue. In the end, to ensure you have gluten free oats, make sure to check the label to see if it is marked gluten free.
Also, another sneaky gluten trap can be the powdered milk. Make sure your powdered milk is marked gluten free as some brands can have gluten hidden in any preservatives they may use.
Items Used for this Recipe
Another Great Breakfast Recipe
If you liked this recipe, check out a weekend breakfast favorite: Perfect Eggs Benedict!
Share the Fun!
If you enjoyed this recipe, please share it with your friends and tag us on Facebook and/or Instagram! Also, if you don't want to miss another recipe from us, be sure to subscribe to our newsletter (it's free!).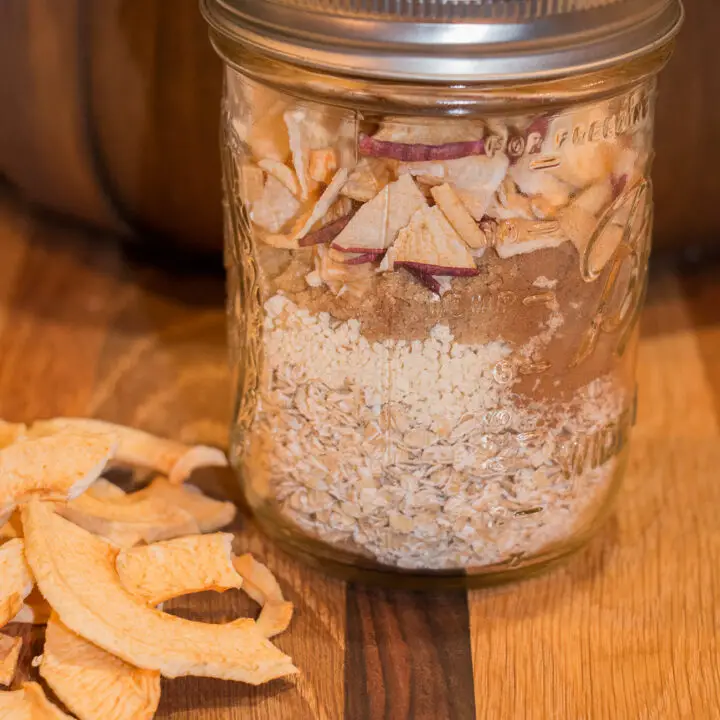 Apple Pie Oatmeal Jars
Additional Time:
2 minutes
An instant on-the-go breakfast all on your terms!
Ingredients
1/2 C Quick Oats
1 T Powdered Milk
2 T Brown Sugar
1 t. Apple Pie Spice
1/4 C Dried Apples
1/2 to 1 C. Hot Water
Instructions
Using a canning funnel, layer the ingredients in the jars starting with the oatmeal, then milk, brown sugar, apple pie spice and top with the dried apples.
Put a lid on the jar and store until you are ready to use it!
When you are ready to use it, pour in 1/2-1 C Hot water (enough to cover the apples)
Stir
Recover with lid.
Let the oatmeal sit 2-3 minutes or until everything has re-hydrated.
Uncover and enjoy!
Nutrition Information:
Yield:

1
Serving Size:

1
Amount Per Serving:
Calories:

288
Total Fat:

3g
Saturated Fat:

1g
Trans Fat:

0g
Unsaturated Fat:

2g
Cholesterol:

1mg
Sodium:

158mg
Carbohydrates:

61g
Fiber:

5g
Sugar:

38g
Protein:

6g
Some of the links in this article are "affiliate links", a link with a special tracking code. This means if you click on an affiliate link and purchase the item, we will receive an affiliate commission. The price of the item is the same whether it is an affiliate link or not. Regardless, we only recommend products or services we believe will add value to our readers. By using the affiliate links, you are helping support our Website, and we genuinely appreciate your support.
Please follow and like us:
---