Perfect Eggs Benedict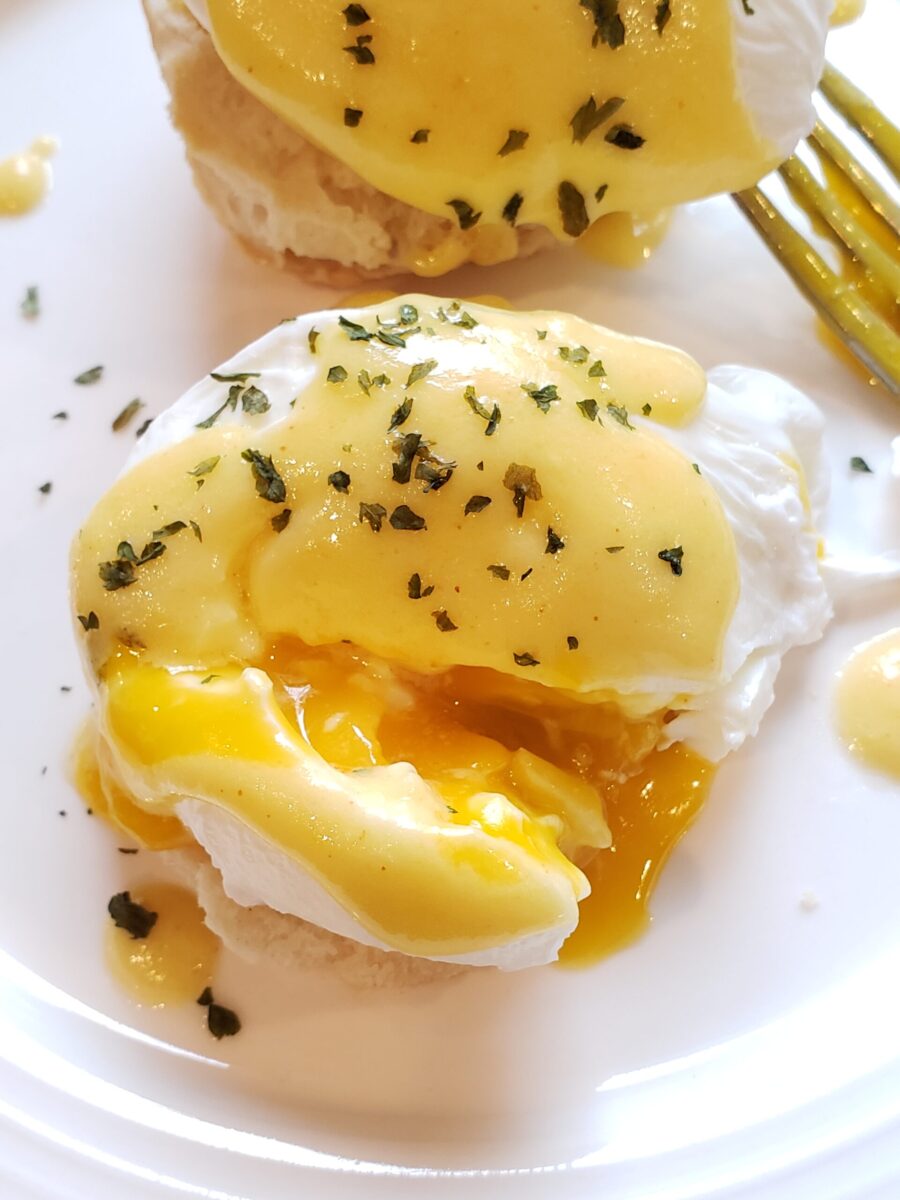 This week, I had the rare treat of being home all morning during the middle of the week. It does not happen often, but when it does I treat myself with a nice breakfast. (Besides, the puppy's internal alarm clock goes off at the same time every day, and after that, I am up for the day.) So, I tried my hand at Eggs Benedict, and it was a home run! I have seen various tricks over the years to get the perfect poached egg and Hollandaise Sauce that does not 'break' (aka separate), so I threw all the tricks into the mix and it worked!
How to Make Hollandaise Sauce
For the Hollandaise Sauce, put a small pot of water to boil on the stove and mix the sauce ingredients together in a slightly bigger stainless steel bowl. The bowl is then put on top of the pot of boiling water to become a double boiler (there is no need to go buy one!) Once the sauce begins to heat, start whisking the mixture until it thickens. You really can not leave Hollandaise alone or it will not be the silky creamy sauce. Besides, it only takes a few minutes to thicken.
How to Poach an Egg Perfectly
For the Poached Eggs, start another large pot of water, vinegar and salt to boil. When it started boiling, reduce the temperature to simmer. Then crack an egg into a ramekin (a measuring cup will work too). Since I was making two eggs, I put another into another ramekin and then started stirring the water gently. When a small tornado forms in the pot, dump the first egg in quickly. While the water comes up to simmer again, keep the water moving, then put your second egg in. Keep them moving and let them cook for about 3 minutes or until the just begin to float. Remove and place the eggs on a paper towel lined plate to 'dry'.
How to Make Eggs Benedict
Poach the eggs while whisking the sauce so the total cook time isn't all that long. It helps to have everything prepared beforehand–including the sauce mix. Then, you can stir both items at the same time!
If you have biscuits in the freezer, pull those out and put them in the oven before starting everything else. You don't have to use biscuits for your Eggs Benedict, you can use toasted English muffins or even toast…just use what you have!
Disclosure: As an Amazon Affiliate, this post contains links to products for which I earn a commission on qualifying sales.
Tools for this Recipe
Other Recipes You Might Enjoy
If you enjoyed this recipe, you may also enjoy our Scrambled Eggs Primavera Recipe!
Share the Fun!
Share pictures of your Perfect Eggs Benedict with us on Instagram or Facebook–we would love to see your successes!! Just tag us and follow/like us.
Also, subscribe to our newsletter so you don't miss out on any of our future recipes. Thanks for reading!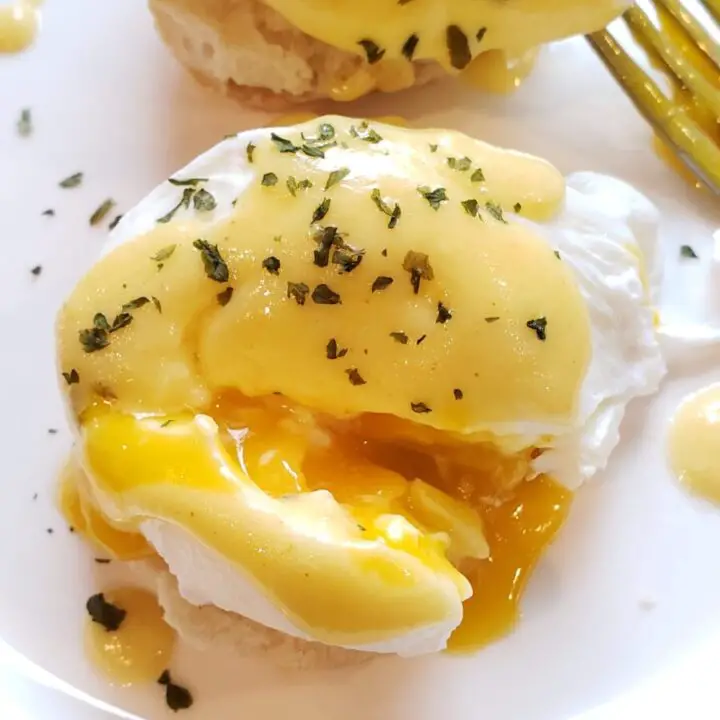 Perfect Eggs Benedict
A perfect way to start your weekend!
Ingredients
Sauce
2 Egg Yolks
1/2 Lemon, juiced
4 T Butter, room temperature
3 T. Heavy Cream
1/2 t. White Vinegar
Pinch of sugar
Pinch of salt
Pinch of Pepper
Poached Eggs
2 eggs
1 t. White Vinegar
1/2 t. Salt
Biscuits, English Muffins or Toast
Dried or Fresh Parsley, optional
Instructions
Fill a small pot of water, and bring to a low boil.
Fill a large pot of water, add salt and vinegar. Bring to a Boil then reduce to simmer
Combine sauce ingredients in a stainless steel bowl, then place on top of the small pot of boiling water. Wisk until the sauce thickens.
Remove thickened sauce from heat, and stir occasionally to prevent your sauce from breaking while you cook the eggs.
Swirl the large pot of water and drop the eggs into the water one at a time--allowing the water to come back to simmer between egg drops. Cook 3-5 mins or until eggs begin to float.
Remove eggs and place on a paper towel.
Build Eggs Benedict by placing biscuit/toasted bread/toasted/English muffin on place, add egg, top with Hollandaise sauce and garnish with fresh or dried chopped parsley flakes.
Nutrition Information:
Yield:

2
Serving Size:

1
Amount Per Serving:
Calories:

685
Total Fat:

50g
Saturated Fat:

25g
Trans Fat:

1g
Unsaturated Fat:

21g
Cholesterol:

552mg
Sodium:

1645mg
Carbohydrates:

40g
Fiber:

3g
Sugar:

6g
Protein:

19g
Some of the links in this article are "affiliate links", a link with a special tracking code. This means if you click on an affiliate link and purchase the item, we will receive an affiliate commission. The price of the item is the same whether it is an affiliate link or not. Regardless, we only recommend products or services we believe will add value to our readers. By using the affiliate links, you are helping support our Website, and we genuinely appreciate your support.
Please follow and like us:
---