Incredible Baby Back Ribs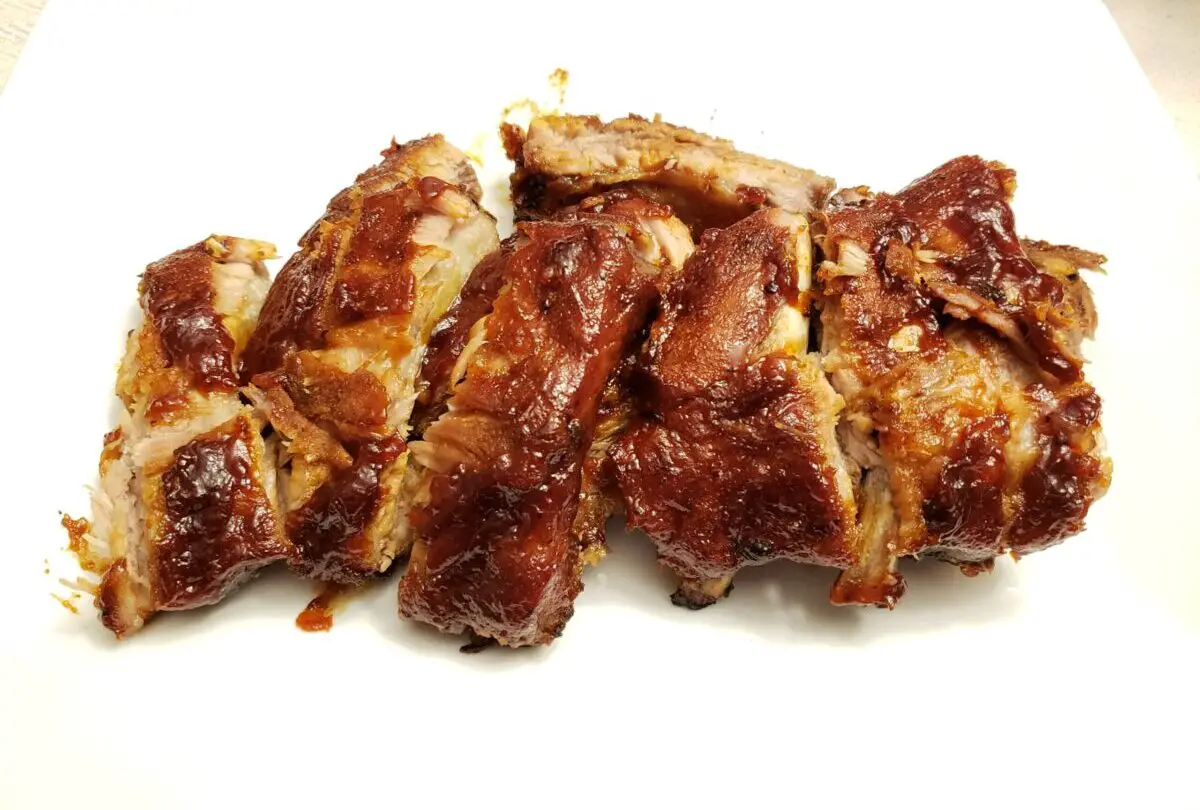 These irresistible baby back ribs will be the hit of your next dinner or party!
This weekend, I was poking around in the chest freezer and found a treasure trove of goodness in the form of two racks of baby back ribs! (When ribs go on sale, you can bet we stock the freezer!) Sunday was the day for a big football game in this house, so I pulled one of those out to make as Game Day food. These game day treats were fall-off-the-bone tender, tangy, and sweet from the dry rub and sauce.
Wet or Dry Baby Back Ribs?
Some people like their ribs saucy (or wet), others like them dry. I'm a saucy kind of girl and usually make my own, but I didn't have everything on hand. What I did have, however, was a bottle of BBQ sauce that is stocked for BBQ emergencies such as this. Whether you make your own or use a favorite from the store is up to you. I just went with what I had since I didn't want to snow blow the driveway before getting these started.
Besides the baby back ribs and sauce, the next attendee at this party of goodness is the dry rub. Dry rubs and BBQ have a long and personalized history in the BBQ world. You might even call each cook's rub their signature. What this means for you is, you can play with any dry rub recipe you find and make it your own. The main ingredient categories you usually see in a rub are Salt, Sugar and Spice–all so nice! The kind of salt or sugar and the spices are totally up to you!
How to Remove Silver Skin from Ribs & Why You Want to!
One of the ways to get fall-off-the-bone ribs is to remove the touch layer of silver skin from the backside of the ribs. This connective layer of tissue is found on most racks of ribs I find in the grocery store, and it really makes a huge difference when you remove it. The best way that I have found to do this is to slip the edge of your knife just under the silvery/translucent layer of tissue to loosen. Then grab the loosened layer with a paper towel and just pull it off. You will be glad you did this step when you have the most tender ribs!
How to Cook Baby Back Ribs in Oven & The Secret Ingredient
The last element that you might not think of as necessary or even tasty for ribs is Apple Cider Vinegar. I know…vinegar… ribs…whaaat?!? You really don't want to eliminate this as it helps the meat break down into the tender fall-off-the-bone goodness that makes this recipe so good. Just put the seasoned ribs and vinegar in the foil pan, cover and cook. (Following the instructions in the recipe, of course. 🙂 )
A Word on Disposable Pans
This recipe uses some pretty standard kitchen supplies: Foil, foil pans, basting brush and a baking sheet. You would be fine to use the vinegar with glass baking pans, but I would hesitate using a good metal roasting pan for this. I always use disposable foil pans for ribs for easy cleanup, handling and I'm not risking damage to a metal pan from vinegar sitting on it for hours at a time. It may not be a valid concern, but it's one I have so I just use the disposable metal pans instead. As for basting brushes, I always recommend getting a silicone brush for ease of cleaning–especially when basting raw meats (linked below).
So for your next game day party or get-together, why not try these beautiful and tasty baby back ribs? Your guests will not be able to resist! Oh, and don't forget the wet wipes!
Disclosure: As an Amazon Associate I earn from qualifying purchases.
Items Used for this Recipe
Other Great Recipes
If you like what you see, check out our Seasoned Sweet Potato Fries recipe or this Bacon Ranch Orzo Salad. They are the perfect sides to these delicious Baby Back Ribs!
Share the Fun!
If you make this recipe, we want to hear from you. Just tag us on Instagram or Facebook with pictures of you enjoying these incredible ribs with your family!
Also, if you want to know when our next incredible recipe is published, subscribe to our newsletter! Thanks for reading!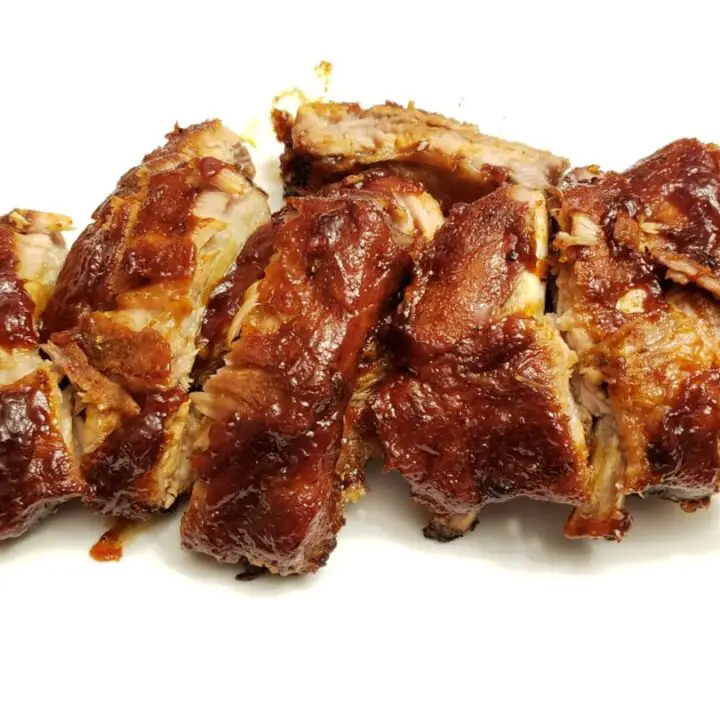 Baby Back Ribs
Cook Time:
2 hours
30 minutes
Total Time:
2 hours
45 minutes
Baby Back Ribs that will leave you wanting more!
Ingredients
1 Rack Baby Back Ribs
1/2 C Dark Brown Sugar
1/4 C Kosher Salt
1 T Onion Powder
1 T Cumin
1 T Garlic Powder
1 t. Cayenne Pepper
1 t Smoked Paprika
1 t Ground Mustard
1/2 t. Ground Chipotle Chile Pepper
2 t Apple Cider Vinegar
2 C. BBQ Sauce
Instructions
Preheat oven to 250 degrees.
Mix all dry ingredients in a bowl and set aside.
Remove the 'silver skin' from the back of the rack of ribs if present. (You can start it by prying it up with a knife, then grabbing with a paper towel and pulling off.)
Poke small holes in the back of the ribs.
Apply dry rub liberally to all sides of the ribs, patting it on so it sticks. (There maybe leftover rub. If you haven't contaminated it, you can always store it for use later!)
Place rack meat side down in a foil pan and place on a baking sheet (if you have a larger rack of ribs, you may have to cut it in half and use two pans).
Add 2 t Apple Cider Vinegar to the pan (if you use a 2nd pan, put 2 t in the 2nd pan too).
Cover tightly with foil (shiny side up).
Cook in a 250 degree oven for 2 hours. Do not uncover or peek!
When the ribs have cooked for 2 hours, take them out of the oven and increase the temperature to 350 degrees.
Pour off all liquid from the pans.
Baste all sides of the ribs liberally with BBQ sauce, and return to pan meat side up.
Cook at 350 degrees for 10 minutes.
Baste meat side again and return to 350 degree oven for 10 minutes.
Turn on Broiler and cook for 5 minutes or until ribs start to sizzle.
Remove from oven and let cool for 5 minutes, then cut ribs for serving.
Nutrition Information:
Yield:

4
Serving Size:

1
Amount Per Serving:
Calories:

600
Total Fat:

19g
Saturated Fat:

6g
Trans Fat:

0g
Unsaturated Fat:

11g
Cholesterol:

66mg
Sodium:

7980mg
Carbohydrates:

88g
Fiber:

3g
Sugar:

72g
Protein:

21g
Some of the links in this article are "affiliate links", a link with a special tracking code. This means if you click on an affiliate link and purchase the item, we will receive an affiliate commission. The price of the item is the same whether it is an affiliate link or not. Regardless, we only recommend products or services we believe will add value to our readers. By using the affiliate links, you are helping support our Website, and we genuinely appreciate your support.
Please follow and like us:
---