Seasoned Sweet Potato Fries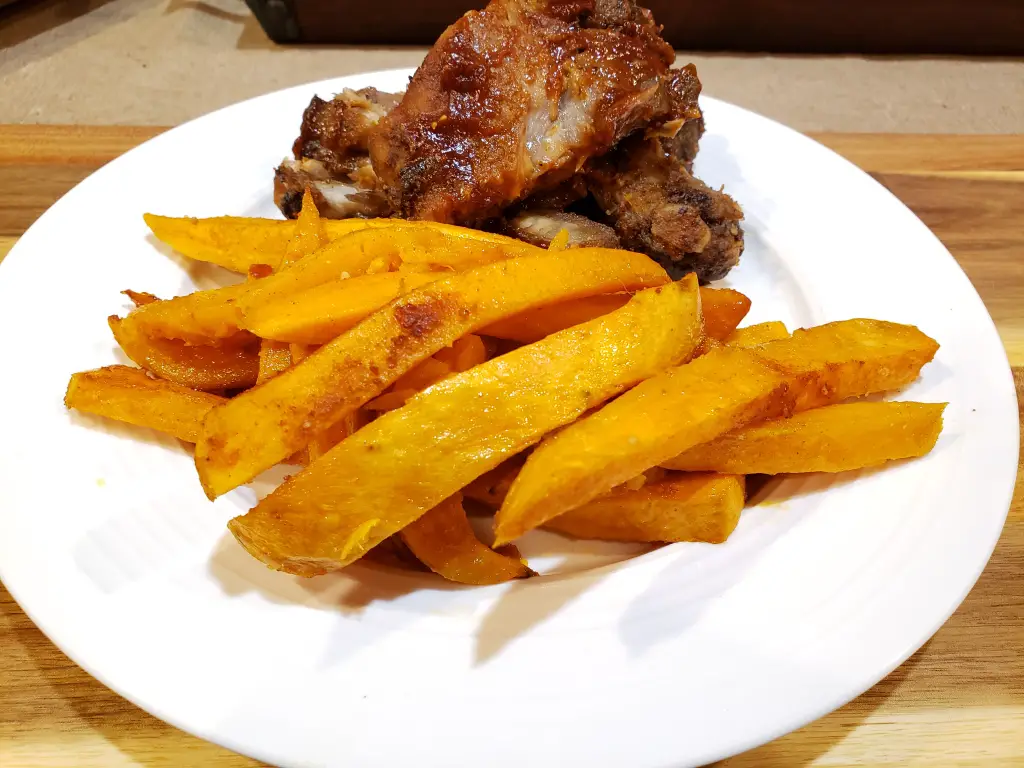 This Seasoned Sweet Potato Fries recipe will knock your socks off!
Sunday was a fun-filled day with friends as we watched the team that I have been a life-long fan of win the Big Game. It was a great day to get together and share good food, good conversation, and a great football game. (Even the kids had a great time!)
Note: This post contains affiliate links and ads from Amazon and our other affiliate partners. We earn a commission from all qualifying sales. Thank you for your support as we continue to produce quality content for you!
Part of my preparation for the Big Game was to make those Baby Back Ribs I posted a couple weeks ago again. These sweet, spicy, and oh-so-good Kansas City style ribs were a hit among the crowd. On the side, I served these incredible Oven Baked Sweet Potato Fries. Now, I don't normally associate sweet potato fries with Kansas City style BBQ, but I had a pile of sweet potatoes that needed to be used so that's what we had.
Seasoning–Not your Ordinary Sweet Potato Fry!
What makes these fries different than the hundreds of other sweet potato fries I have had over the years is the seasoning blend. I made a batch with a lighter amount of seasoning and another batch with a heavier amount of seasoning, and honestly, I liked the heavily seasoned fries better. They had a zing to them that put them over the top.
How to Prepare Sweet Potato Fries
These fries were also rather easy for party food since I prepped them earlier in the day then put them in a bowl of water in the refrigerator. The prep work on these really isn't a ton of work. Just peel the sweet potatoes, cut into 1/2 inch thick steak fries, drop in some water and refrigerate.
How to Make Sweet Potato Fries
Once it is time to cook the fries, just pat dry with a paper towel before seasoning. It is then time to coat the fries with seasoning. Coating the fries consists of mixing up the seasoning blend, lightly coating the fries with some olive oil, then tossing them with the seasoning.
I then used my favorite pizza pan to cook these. I find these pans with the holes in them make incredibly crispy pizza–my favorite–and do a great job at cooking items like fries as well. If you don't have one of these, I would highly recommend them!
Items Used for this Recipe
Other Great Recipes
Pair these with our Incredible Baby Back Ribs, and you will be in for a treat tonight!
Stay Connected
We love to stay connected with you! Join the Mason Jars and Me community on Facebook or Instagram to stay up-to-date on new recipes, tips, and our community.
You can also sign up below for our newsletter to receive an email when we publish a new recipe!
Thanks for reading!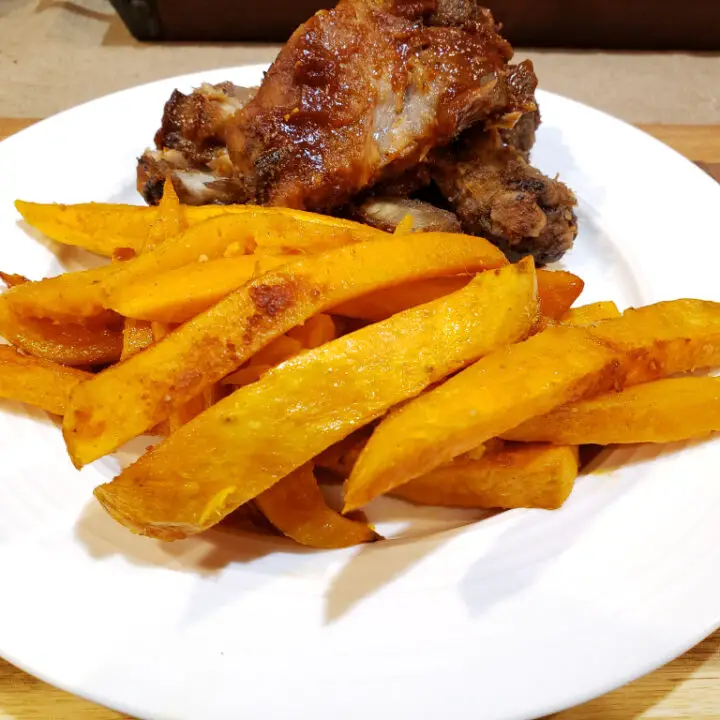 Seasoned Sweet Potato Fries
Seasoned Sweet Potato Fries that will have you coming back for more!
Ingredients
2-3 lbs of Sweet Potatoes
2 T Olive Oil
2 T Garlic Powder
2 t. Smoked Paprika
2 t. Kosher Salt
1 t. Ground Black Pepper
Instructions
Preheat oven to 400 degrees
Cut sweet potatoes into 1/2 inch thick steak fries. If you are lucky enough to have a fry cutter, use that!
Put fries in water and put in frig for up to 2 days or put fries in a bowl and coat with olive coat.
Mix seasonings and then toss with fries.
Put fries on baking sheet(s). (I piled mine on one.)
Bake for 30-40 minutes or until fries are done.
Nutrition Information:
Yield:

6
Serving Size:

1
Amount Per Serving:
Calories:

462
Total Fat:

5g
Saturated Fat:

1g
Trans Fat:

0g
Unsaturated Fat:

4g
Cholesterol:

0mg
Sodium:

941mg
Carbohydrates:

97g
Fiber:

16g
Sugar:

30g
Protein:

10g
Some of the links in this article are "affiliate links", a link with a special tracking code. This means if you click on an affiliate link and purchase the item, we will receive an affiliate commission. The price of the item is the same whether it is an affiliate link or not. Regardless, we only recommend products or services we believe will add value to our readers. By using the affiliate links, you are helping support our Website, and we genuinely appreciate your support.
Please follow and like us:
---