The Undercover Kale Salad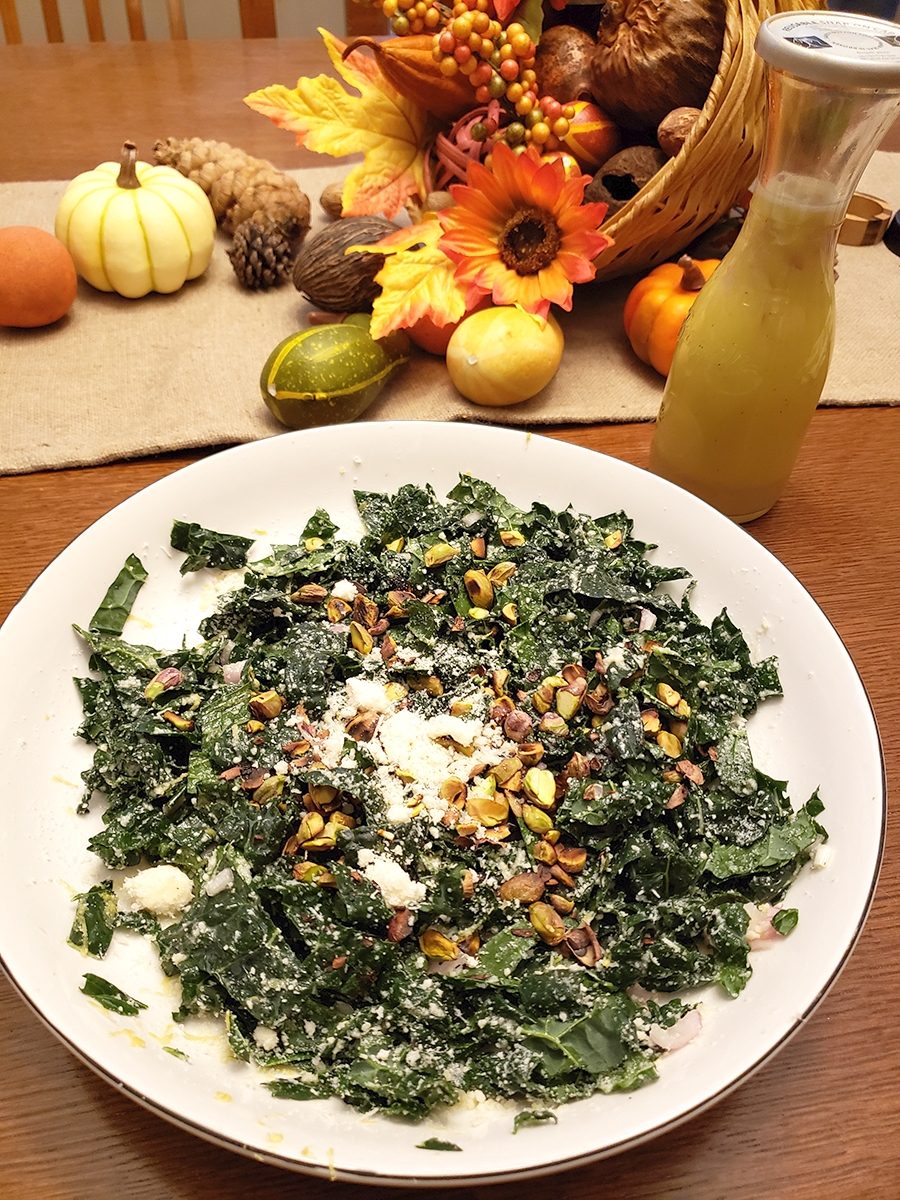 I have something to admit….. I have never been a big fan of kale. Kale really was not a vegetable that I enjoyed over the years–mostly because no one I knew actually made anything with it. However, as time passed, I have tried kale at various time in various ways and have developed a couple recipes that I do really enjoy with it. One of those recipes is this Undercover Kale Salad that I made for our cook together meal this week.
This salad is one that I would serve to anyone who says they do not like kale and would expect that most of them would like it. Why? Because it has some awesome accompaniments to the kale which bring a ton of flavor to this salad! The most forward of them all is the Honey-Lemon Vinaigrette that I wrote about earlier this week. You can make this vinaigrette and use is on a wide variety of salads throughout the week. The key, however, is moderation. A little goes a long way!
This recipe has the vinaigrette built into it, so don't feel you need to go look up the other to make this dish. I am all about one-stop-shopping! (Who else loves their grocery store pick up service?!?)
Disclosure: As an Amazon Associate I earn from qualifying purchases.
The Kale Salad
The rest of the recipe is pretty simple. The most intensive part is preparing the kale–and that isn't all that intensive. For this recipe, I used a large bunch of Lacinato Kale which is traditional Italian kale that you find in many Italian soups. (You can use whatever kale you have on hand though.) I ran the kale under some cold water, then pulled the stems from the kale leaves and ran the leaves through my amazing salad spinner. Once the kale leaves were dried, I stacked them and then started cutting them into 1/4 inch strips. Some where longer than others, so I did shorten them a bit with a couple chops to make them more manageable.
After the kale was prepared, it was time to move onto the rest of the salad! Literally 10 minutes later, I had this for dinner. It is that easy!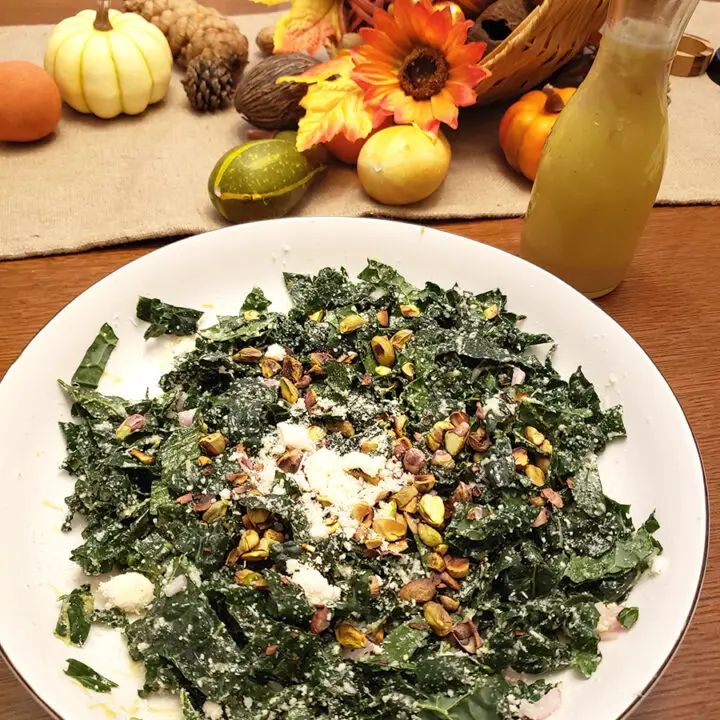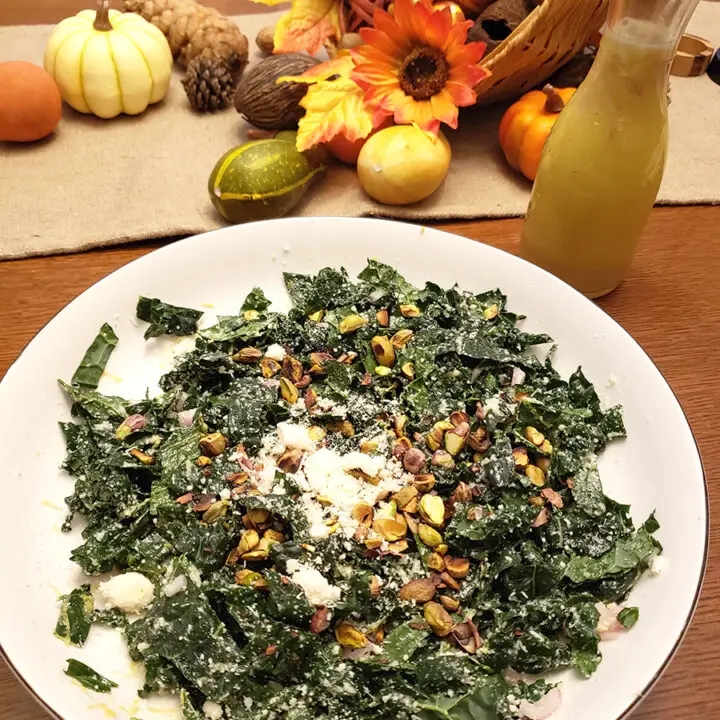 Undercover Kale Salad
Ingredients
1 Large bunch of kale (I prefer Lacinato kale)
1/2 t. Sea salt
2 Lemons
1/4 C Pecorino Romano Cheese, Grated (or more if you like cheese!)
1 Scallion, finely chopped
1/4 C. Pistachio Nuts, rough chopped
1/4 C. Extra Virgin Olive Oil
2 t. Apple Cider Vinegar
2 T. Honey
Salt and Pepper to taste
Instructions
Wash and cut your kale into 1/4 inch strips.
Add sea salt and 1 t. Lemon zest from one of your lemons to the kale and about a Tablespoon of lemon juice from your lemon. Then massage your kale with a set of tongs for a minute or so.
Sprinkle with 1/4 cup (or more!) grated Pecorino Romano Cheese. Set aside.
Add your finely chopped scallion to a mason jar along with the juice from your 2 lemons and an equal amount of olive oil. (You should have about 1/4 cup juice so the olive oil will be about 1/4 cup. You can add more lemon juice for a more tangy flavor or more olive oil for a more mellow flavor.) If you didn't get enough lemon juice from your lemons, add some from your pantry.
Add Apple Cider Vinegar and Honey to the mason jar along with salt and pepper to taste and then mix. (I just shake it all up in the jar.) Set aside.
Heat a skillet on the stovetop for a minute and add pistachio meats to toast in the dry pan for 1 minute. Be sure to stir and do not allow to burn.
Once finished roasting, sprinkle the nuts on the salad and dress with vinaigrette. The salad should be well-dressed, but start with a little and add more as you sample.
Nutrition Information:
Yield:

4
Serving Size:

1
Amount Per Serving:
Calories:

238
Total Fat:

19g
Saturated Fat:

3g
Trans Fat:

0g
Unsaturated Fat:

15g
Cholesterol:

5mg
Sodium:

479mg
Carbohydrates:

17g
Fiber:

3g
Sugar:

11g
Protein:

4g
Enjoy!
Some of the links in this article are "affiliate links", a link with a special tracking code. This means if you click on an affiliate link and purchase the item, we will receive an affiliate commission. The price of the item is the same whether it is an affiliate link or not. Regardless, we only recommend products or services we believe will add value to our readers. By using the affiliate links, you are helping support our Website, and we genuinely appreciate your support.
Please follow and like us:
---