Roasted Garlic & Butternut Squash Mash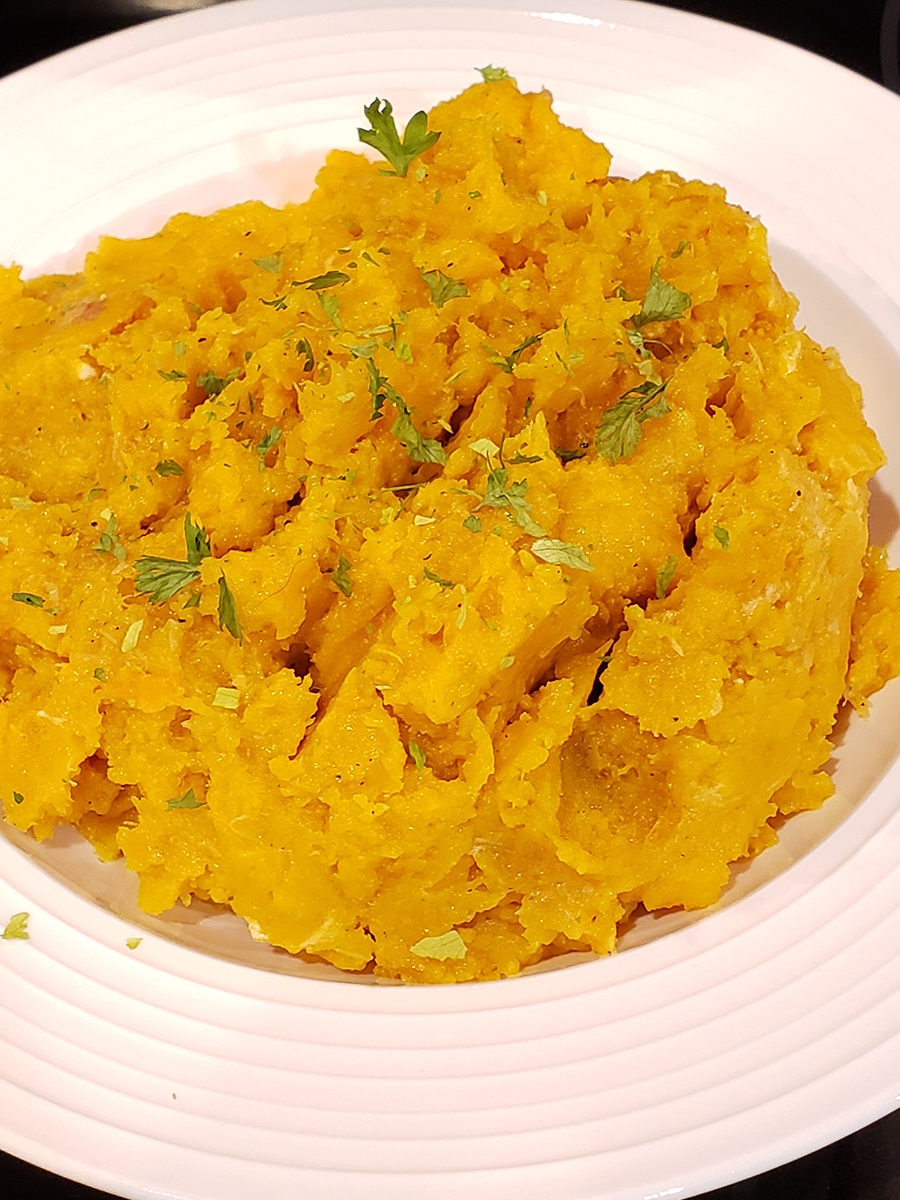 This week I was looking for something quick, easy and good to pair with a roast I bought last weekend. Typically, I throw some potatoes, onions and carrots in the pan with a roast and that's the meal, but I have an overabundance of vegetables in the kitchen this week that need to be used. So as the saying goes, "Necessity is the mother of invention." This butternut squash recipe is a great way to quickly use that squash you have sitting on the counter.
Disclosure: As an Amazon Associate I earn from qualifying purchases.
I purposefully made sure to make the Roasted Garlic recipe and this recipe so they baked at the same temperature. Plus, the roast I made cooks at the same temperature, so they could all be one big happy family in a 350 degree oven!
Paring Butternut Squash Mash
The next couple of recipes on the blog will be a Cook With Me series in conjunction with the Roasted Garlic recipe to make the beautiful dish as seen here:
For this recipe, I used a medium sized butternut squash from my favorite farm stand. It made enough mash to use for 4 servings of this meal. You don't need to use a ton on each plate if you are serving it as a side as shown above.
Preparing the Butternut Squash
Raw butternut squash can also be prepped up to 5 days in advance and put in the refrigerator. You can also roast and store it for a day or two in the refrigerator. (I typically use these containers when I'm meal prepping or for storing leftover soups.)
On to the prep work–just peel your butternut squash, remove the seed, and dice into 1/2 inch cubes. When you are ready to roast them, spread them out on a foil-lined baking pan, sprinkle with salt and pepper, then sprinkle over some olive oil. Toss, bake and your prep is finished!
Making the Mash
Now onto finishing the recipe….just mash the roasted squash with the roasted garlic and melted butter. Then add the seasonings of salt, pepper, and dried parsley. I used my trusty potato masher to make mine more of a rustic consistency. If you want a smoother consistency, you can use an electric mixer.
Other Great Recipes
Pair this mash with a delicious pot roast tonight!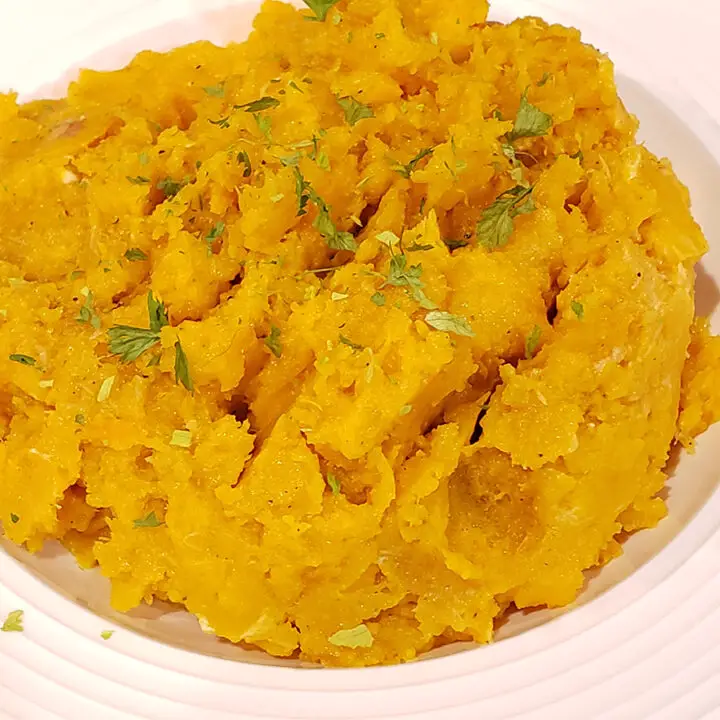 Roasted Garlic & Butternut Squash Mash
Cook Time:
40 minutes
30 seconds
Total Time:
50 minutes
30 seconds
Ingredients
1 medium Butternut Squash, diced in 1/2 inch cubes
1-2 heads of Roasted Garlic (**this can be baked at the same time as the butternut squash)
1 T Butter, melted
Olive Oil
Salt
Pepper
1 T Dried Parsley
Instructions
Peel the Butternut Squash, cut in half and remove all seeds.
Dice Butternut Squash into 1/2 in cubes.
Toss Butternut Squash with a drizzle of Olive Oil and salt and pepper to taste.
Spread on foil-lined baking sheet.
Bake at 350 degrees for 30-40 minutes (or until squash is soft).
Remove from oven and transfer to a bowl.
Add Roasted Garlic and melted butter to the bowl.
Mash Squash and Garlic together with a potato masher or your electric mixer for a smoother consistency.
Season with Salt and Pepper and top with Dried Parsley.
Nutrition Information:
Yield:

4
Serving Size:

1
Amount Per Serving:
Calories:

80
Total Fat:

6g
Saturated Fat:

2g
Trans Fat:

0g
Unsaturated Fat:

4g
Cholesterol:

8mg
Sodium:

172mg
Carbohydrates:

6g
Fiber:

2g
Sugar:

1g
Protein:

1g
Next up is the Honey Lemon Vinaigrette for our salad!
Some of the links in this article are "affiliate links", a link with a special tracking code. This means if you click on an affiliate link and purchase the item, we will receive an affiliate commission. The price of the item is the same whether it is an affiliate link or not. Regardless, we only recommend products or services we believe will add value to our readers. By using the affiliate links, you are helping support our Website, and we genuinely appreciate your support.
Please follow and like us:
---